Where to eat on Seymour Place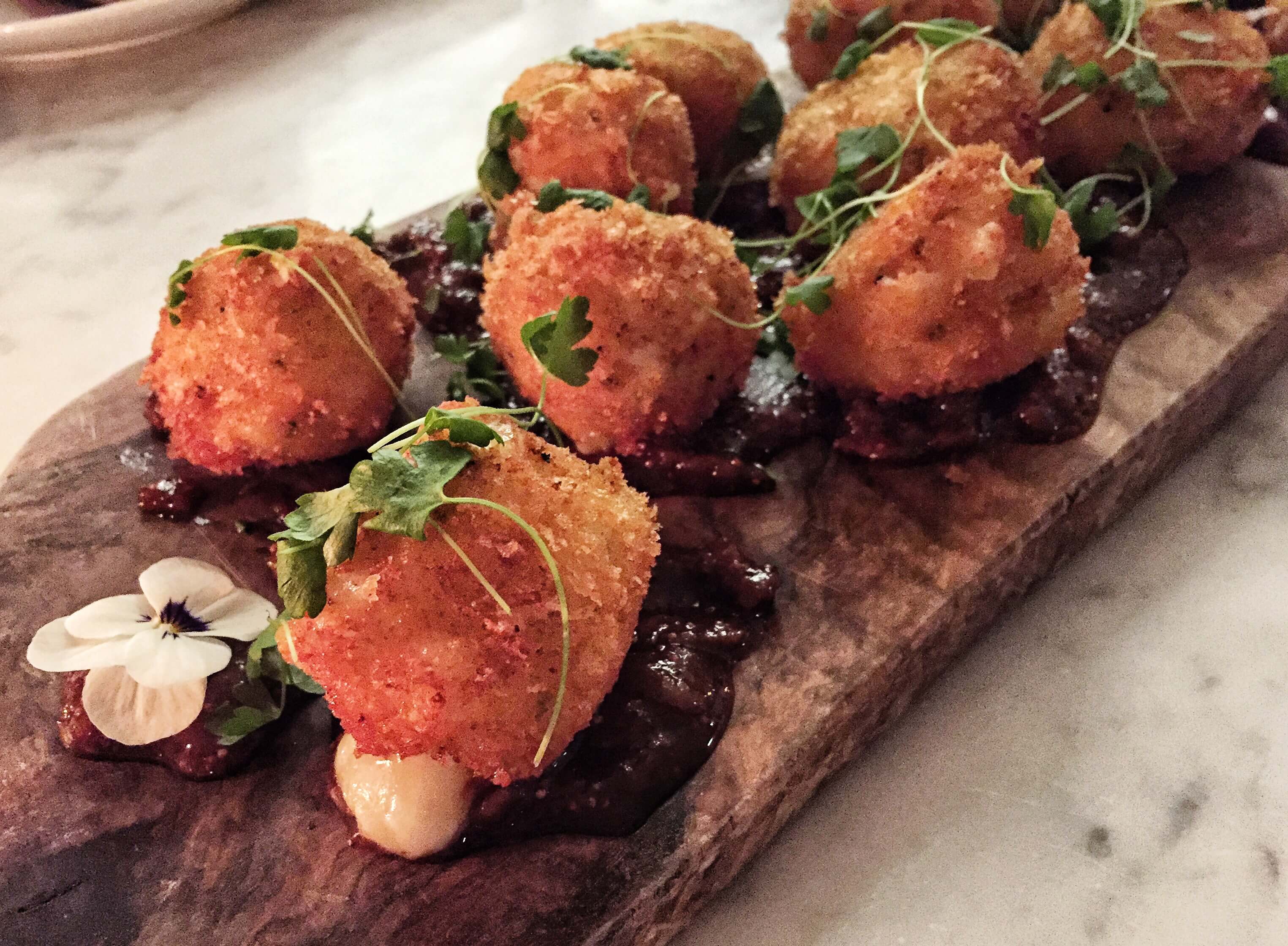 Once upon a time, I had a truly terrible job working for a company on Seymour Place.  I think I lasted all of four months, and they felt like the longest four months of my life.  There wasn't even anything exciting in the area to make up for the work woes.  I spent my free time eating claggy pasta salad from the local caff or drinking cheap wine in one of the old man pubs nearby.  So, funnily enough, it's not a part of town that I tend to frequent much these days.  But, London being what it is, Seymour Place has evolved and developed over the years into somewhere really rather interesting.  The lower part of the street, closest to Marble Arch, is now a hub of independent shops and restaurants, with everything from Italian to Basque to the good old fashioned British pub.
Bernadi's
Located right at the bottom of Seymour Place, Bernardi's is a slick Italian restaurant with the relaxed atmosphere of a neighbourhood bistro.  The team behind it – the Bernardi brothers and chef Sabrina Gidda – have injected both the venue and the food with a youthful energy, while still retaining classic Italian flavours.  A large globe of burrata was wonderfully squidgy, its richness offset by the sweet roasted peppers from the accompanying peperonata.  Cornish squid with garlic, parsley and peperoncino (a type of chilli) looked simple, but the perfectly tender squid and smack-in-the-mouth flavours demonstrated real culinary skill.  Italian staples like arancini and pizza are given a modern twist with the inclusion of more unusual ingredients such as n'duja,  taleggio or celery leaf.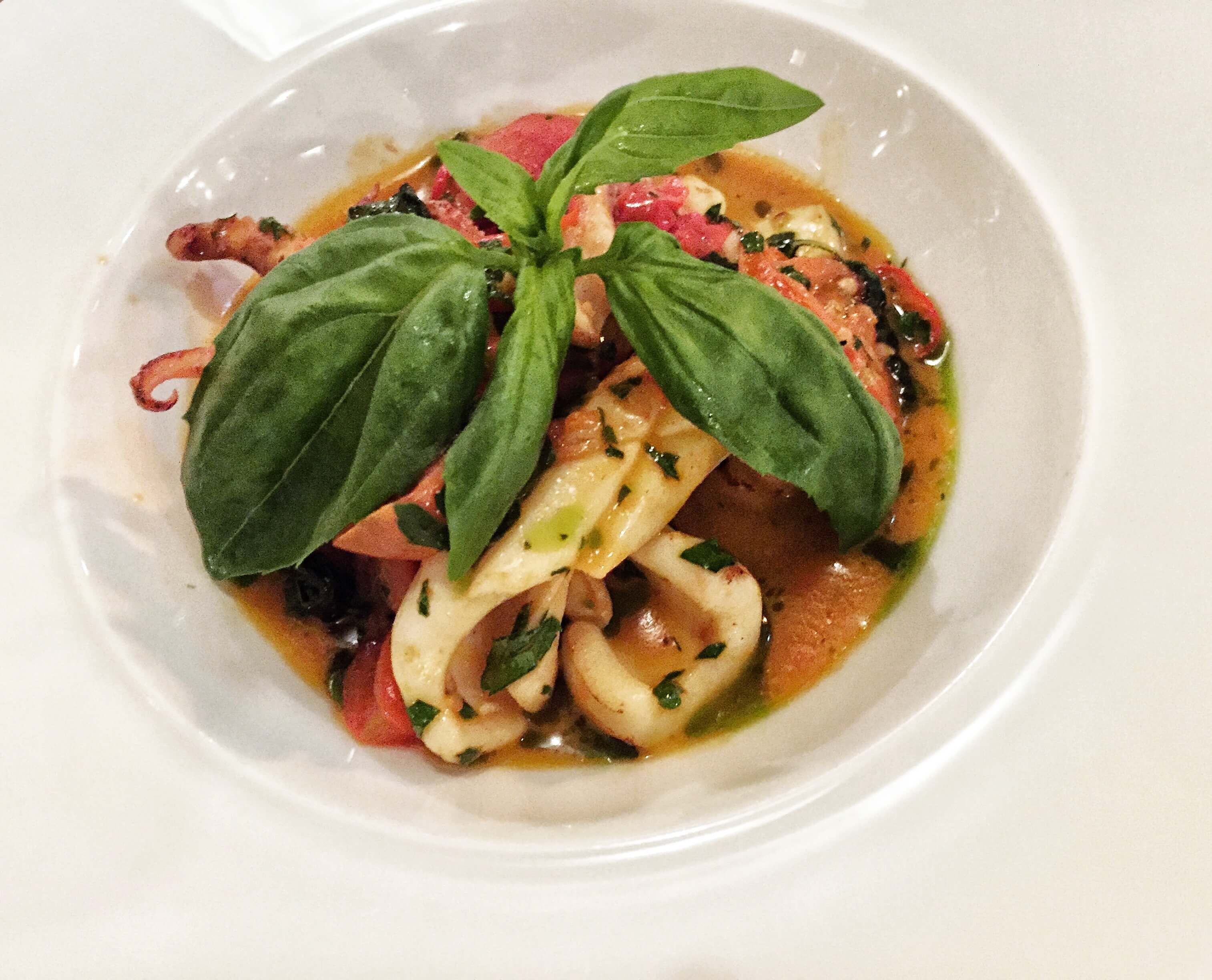 Donostia and Lurra
If you're a lover of Basque food then you need to get down to Seymour Place asap, as you will find not one, but two, great Basque restaurants.  Both are owned by Melody Adams and Nemanja Borjanovic; a couple who decided to jump head first into the hospitality industry with no prior experience.  Their gamble has paid off because both Lurra and Donostia are now firmly on the culinary map.  If you're feeling flush, go for the dry aged Galician Blond beef.  It's everything a great steak should be.  The meat was presented on a sizzling hot plate and was already sliced, making it easy to share.  Not only was it melt-in-the-mouth tender, it embraced all the naughty stuff like beautifully rendered fat and a generous sprinkling of rock salt.  Their cheesy croquettas, bursting with bechamel sauce, are also worth checking out.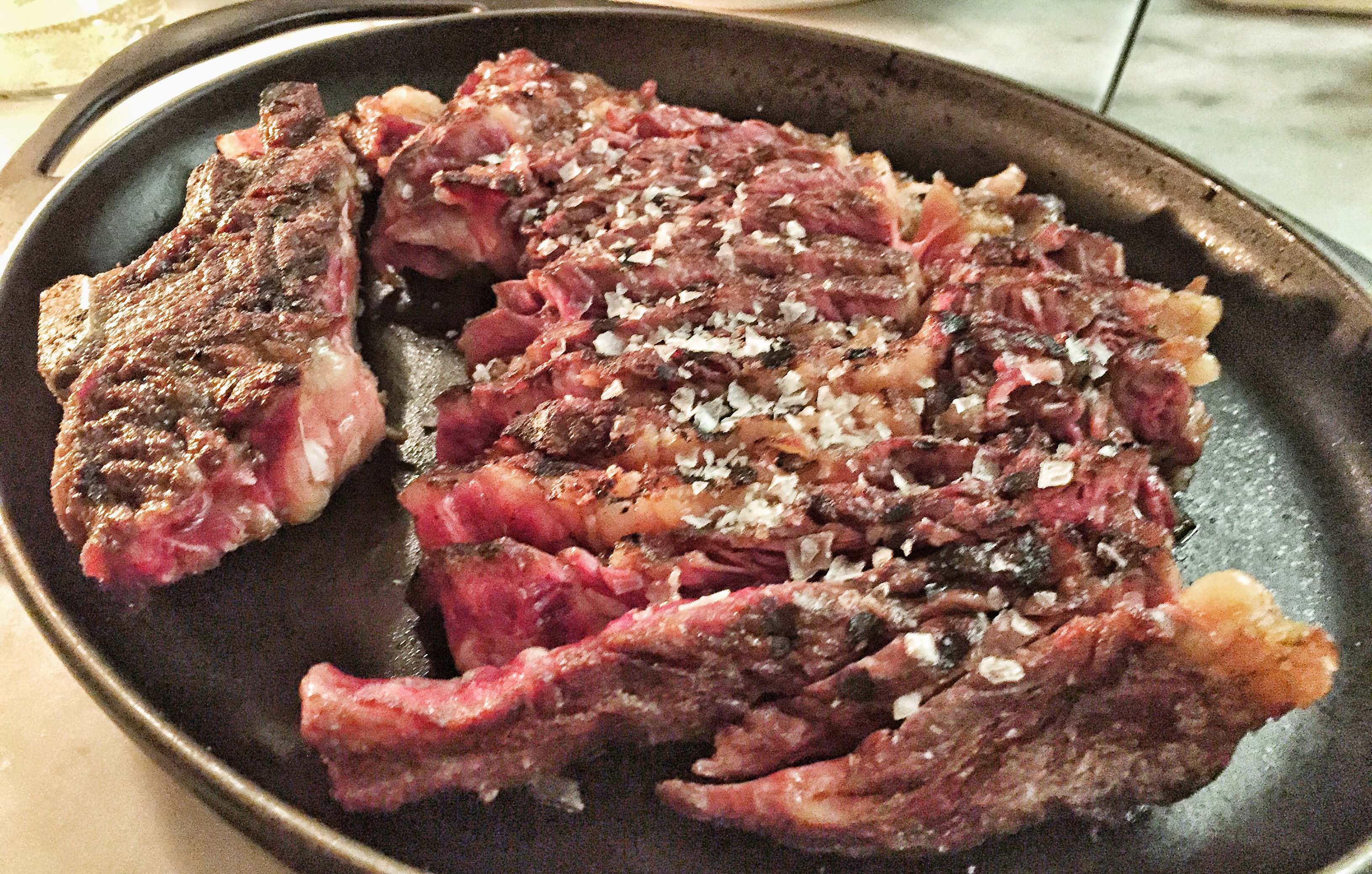 Vinoteca
I'm a big fan of the Vinoteca brand and have visited some of their other branches several times over the years.  They're always reliable; you know that you'll get good, safe food, together with a stellar wine list.  Their Seymour Place offering is consistent with the rest of the group.  It has a relaxed, bistro feel, with a broadly European menu that changes every day.  What's more, they have over 300 different wines available – so even the most discerning oenophile will find something they like.  If Oxford Street drives you completely around the bend, then you can escape just around the corner to Vinoteca and numb the pain with a few glasses of wine.  It may only be a few minutes walk, but it feels a world away from the West End nightmare of nasty shops and slow moving tourists.
Sandy's
Sandy's is an old fashioned pizzeria – with a twist.  Their speciality is Corsican cuisine.  If you love beer and pizza but you're bored of the usual fare, then I recommend paying Sandy's a visit.  Their pizzas feature lots of gruyere; a departure from the usual mozzarella and indicative of that French/Italian fusion that's so typically Corsican.  The pizza bases are light and thin, letting the toppings take priority.  They even have a pizza named after Napoleon Bonaparte, in a cheeky nod to Corsica's history.  Another first for me was Corsican beer.  I'm not much of a beer drinker but I really enjoyed the glass of light, crisp Pietra that came with our pizzas.  Oh, and they also do takeaway.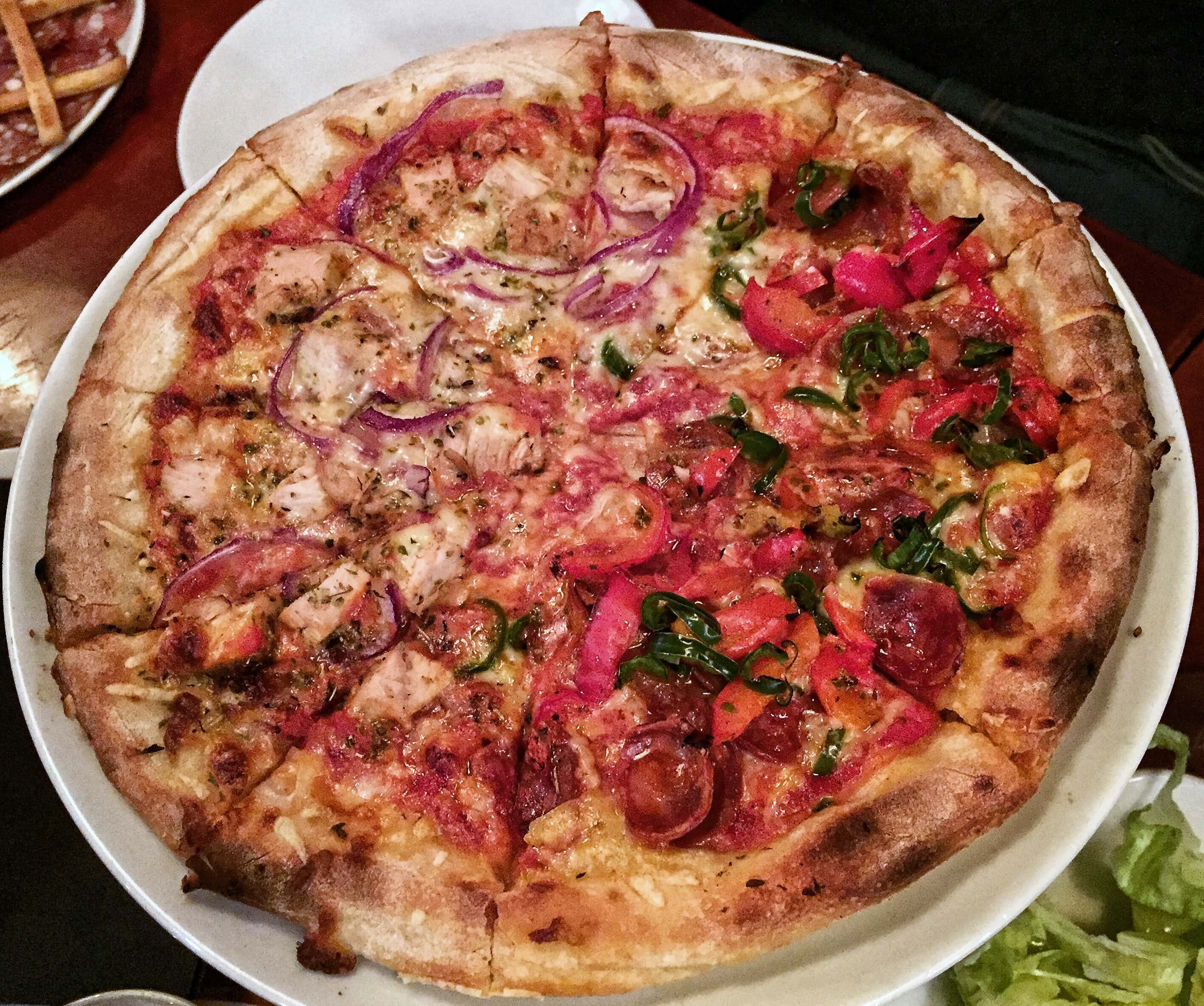 The Gate
The Seymour Place location is the third and latest branch of vegetarian powerhouse, The Gate.  Even a dedicated carnivore like me can find something interesting on their menu (which has so many allergies flagged that it reads like a periodic table).  I tried their butternut rotolo – sage infused potato lined with a mushroom duxelle and stuffed with butternut squash.  It was served with smoked butter beans and courgettes, a maple parsnip puree and a few other miscellaneous veggies.  I'm pretty certain I got all of my five a day in one meal but, perhaps unsurprisingly, I found it all a bit too sickly and rich.  Their jalapeno margarita, on the other hand, was immense.  I consider myself to be a bit of a margarita connoisseur – or a bit of an alcoholic – and this fiery version of a classic ticked all the boxes.
The Portman
The Portman is a two in one experience.  Downstairs, it's a traditional pub; upstairs, it's a smart restaurant.  If "classic British" is what you're after, then this is the place to be.  Their menu plays it fairly safe with dishes like fish and chips or pie of the day.  However, everything is given a little more finesse than you would perhaps expect from a West End boozer.  My shepherd's pie was made with generous chunks of slow cooked lamb in a rich, meaty gravy, with fluffy mashed potato prettily piped over the top.  It was a hug in a pie dish.  In true "classic British" form, The Portman also specialises in game so you can expect to find things like venison, hare or teal on their daily changing menu.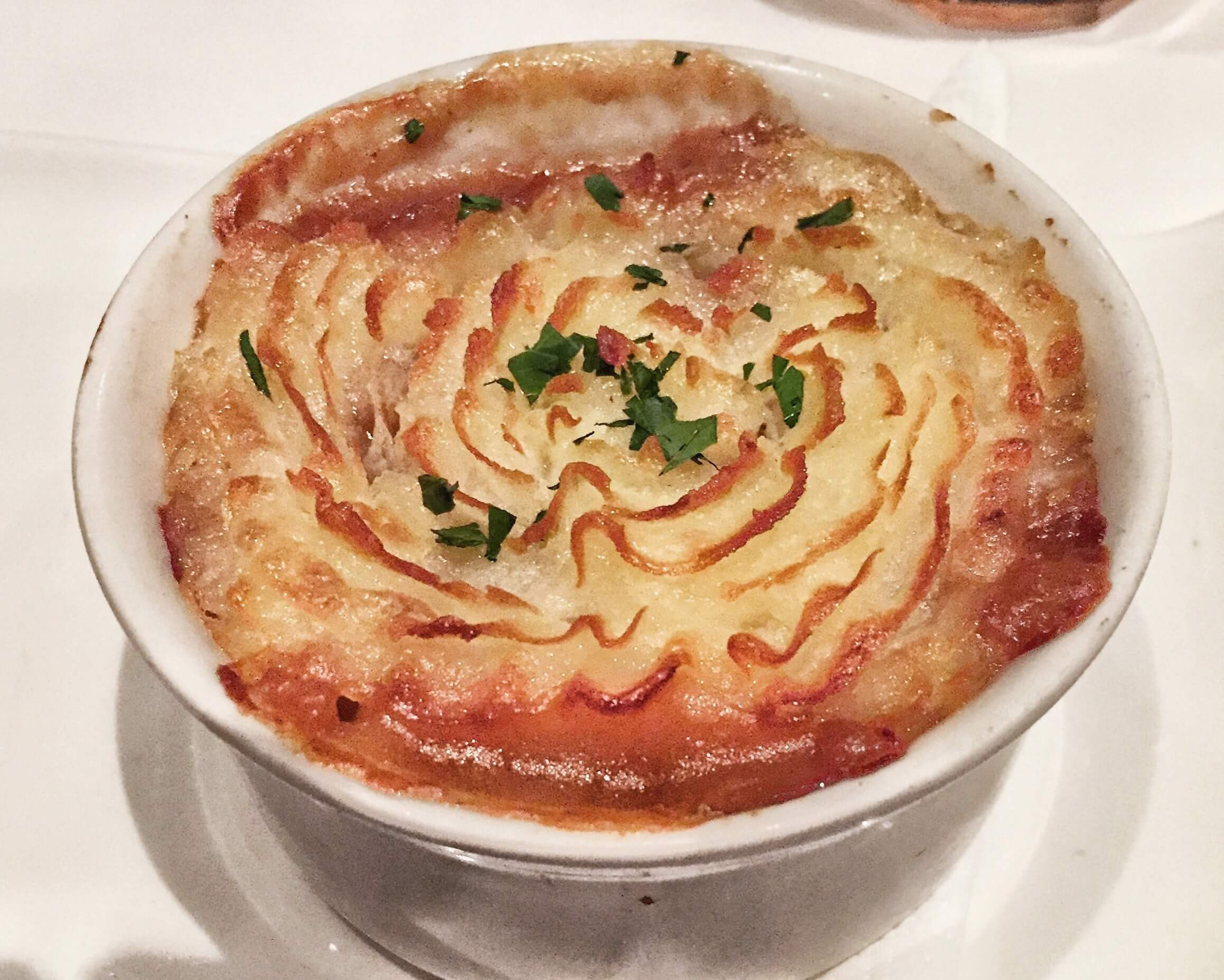 Many thanks to The Portman Estate and Coverdale Barclay for giving me the opportunity to visit the restaurants on Seymour Place.  All views are, as ever, my own.