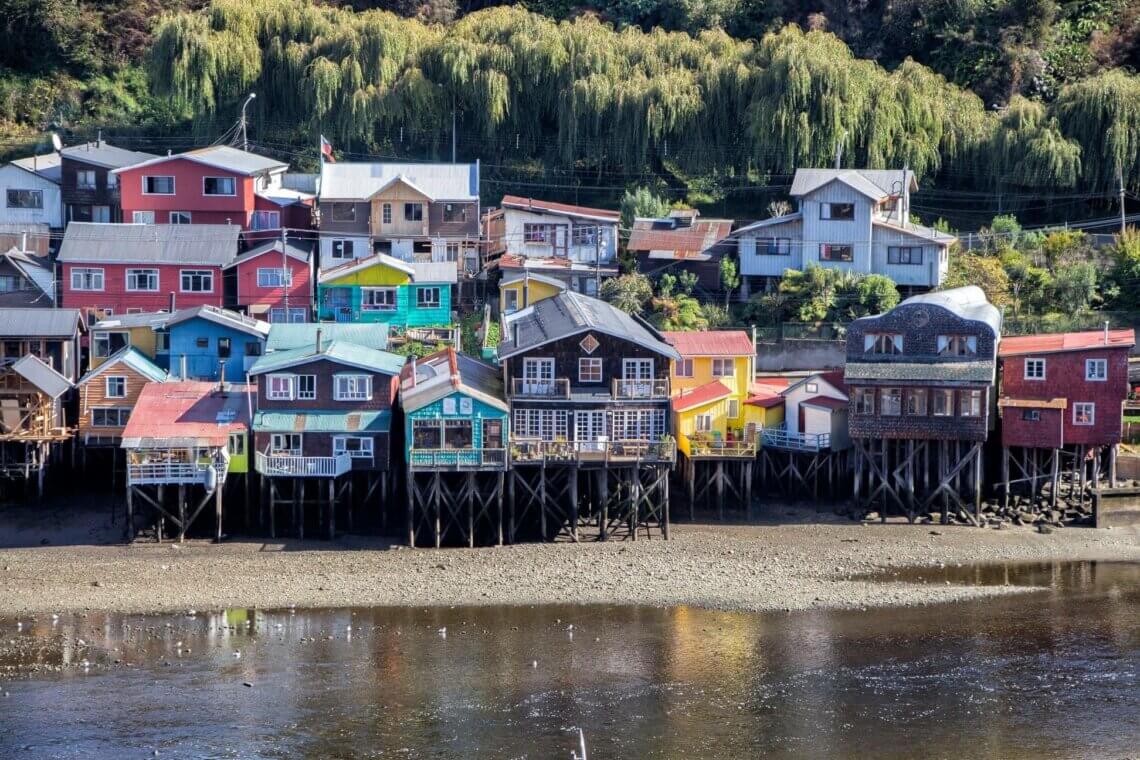 Chiloe: witchcraft, mermaids and saltwater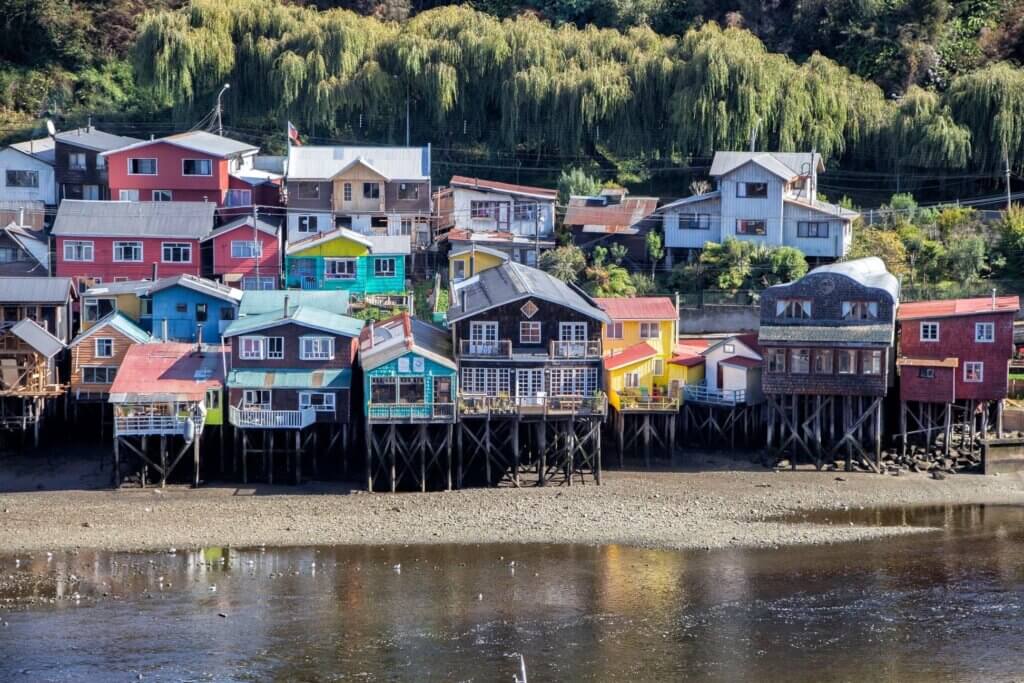 Chiloe is damp. The heavens opened to greet me as soon as I arrived and by the time I reached my hotel, I was drenched. But it was somehow ok. Chiloe is perhaps at its most atmospheric when the clouds roll in and the islands are wrapped in mist, hidden, Brigadoon-like, from the mainland. It's located off the coast of Chilean Patagonia, only a few hours from the town of Puerto Montt, but it feels like an entirely separate world. The Chiloe archipelago has a distinctive culture formed out of its maritime roots – it's a land of fog and saltwater, where mermaids lurk and a ghost ship glides silently between the islands. The myths of Chiloe are as alive and vibrant today as they were hundreds of years ago. But that's not all there is to discover – Chiloe is as famous for its wooden churches, colourful stilt houses – known as palafitos – and national parks as it is for its magic.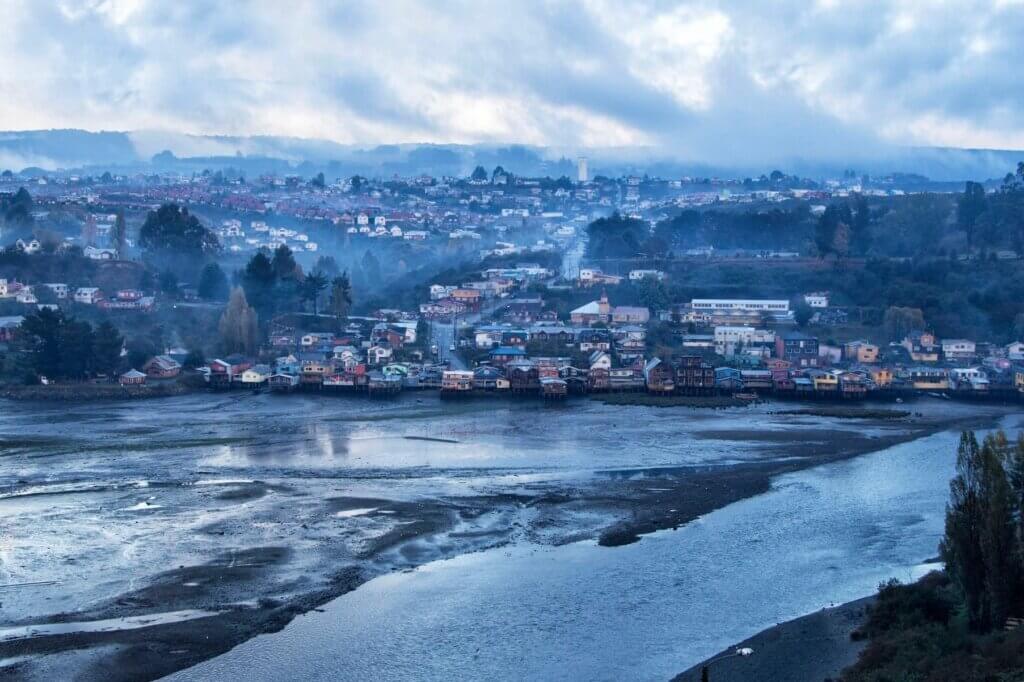 The best place to start is in one of the two biggest towns on the main island: Ancud or Castro. I chose to stay in Castro, which is a mix of pretty and gritty, and was delighted to discover that my B&B overlooked one of the town's loveliest viewpoints – the brightly coloured palafitos across the mouth of the river Gamboa, which were often veiled in mist during the mornings and evenings. The palafitos aren't the only thing bringing a splash of colour to rainy Castro. The town square is dominated by a canary yellow cathedral, made of wood like the other churches across the archipelago. It looks almost cartoonish set among the relatively pedestrian surroundings of the town square, like a toy building. It's certainly memorable.
In order to fully see the islands, you will need a car. I don't often advise this, mainly because I don't drive and also because hiring a car is a bit of a luxury when you're backpacking. However, in this case, it's an absolute must. I happened to meet a guy at my hostel in Puerto Montt and it turned out that we were both moving on to Castro at roughly the same time. We exchanged phone numbers and agreed to explore Chiloe together, splitting the cost of a car. Even more fortuitously, the guy was half Uruguayan so could speak pretty decent Spanish. If we hadn't met, my experience of Chiloe wouldn't have been anywhere near as rich as it was.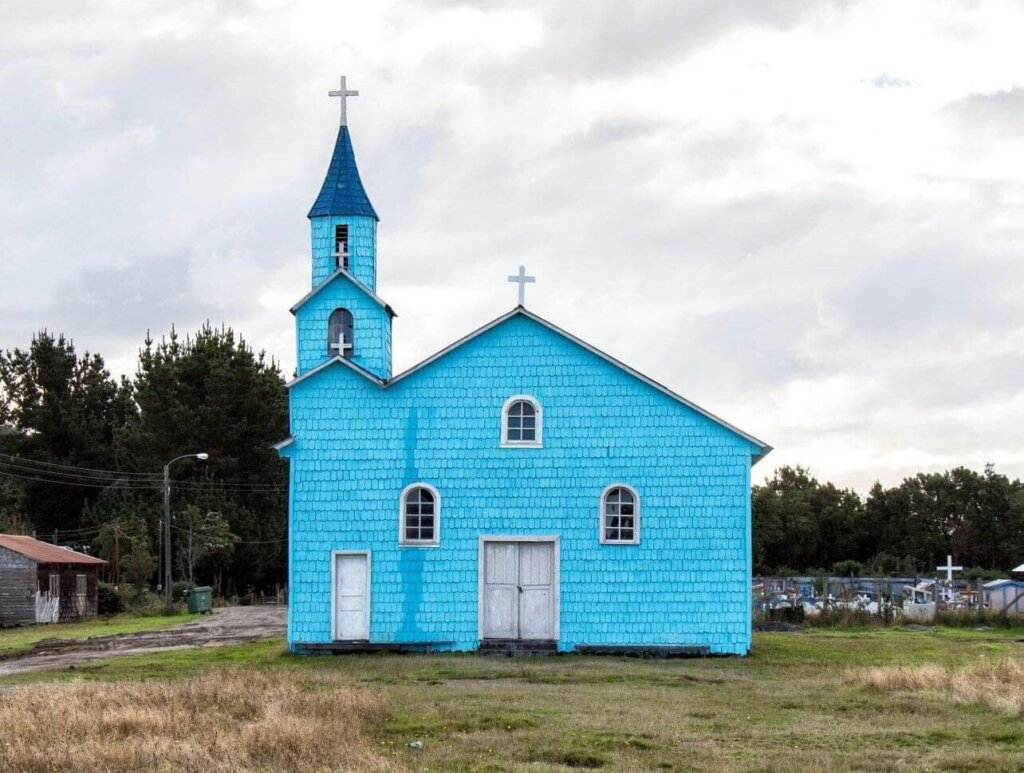 It doesn't really matter if you're not into churches. I'm not massively into them either. But Chiloe's wooden churches are a UNESCO World Heritage Site and deemed to have outstanding universal value. They represent a fusion of Catholicism with indigenous folklore and were built to withstand Chiloe's damp, maritime climate. They also provide a good basis for exploring the archipelago. My new friend and I spent a morning tooling around the north of the main island in our little hire car before taking the ferry to Quinchao, one of the smaller islands. We headed for the town of Achao and its magnificent church, stopping en route at the mirador (view point) of Changüitad. Like everywhere else on Chiloe, the scenery here is wild and richly green, reminiscent of Ireland. Achao is a fairly ordinary, fairly blue collar fishing town. We ate lunch at a family-run restaurant, one of those places with no menu, where what's available depends on what was at the local fish market that morning. I ended up with a kind of seafood stew which looked a bit like slop but which tasted fantastic. It came with a plate of traditional Chilote potato bread, made to a decades old recipe by the elderly woman who owned the restaurant with her husband.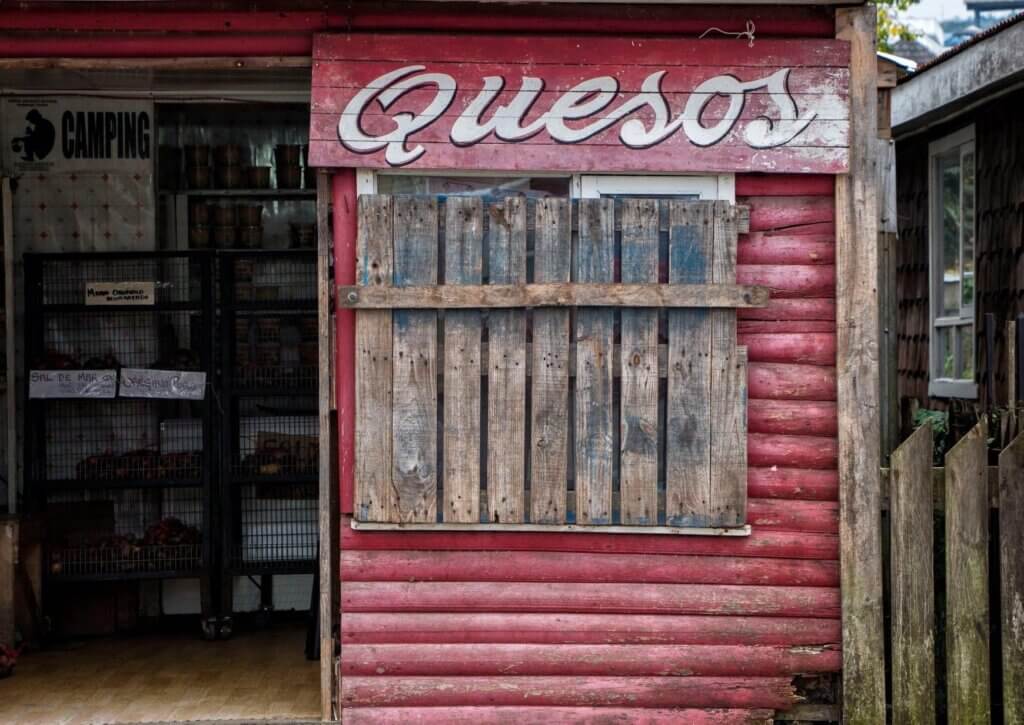 The ferry to Quinchao leaves from the town of Dalcahue, where there's another remarkable wooden church and a good crafts market. At the market you can see the myths and legends of Chiloe made real – knitted mermaids and witches, wicker fish and other sea creatures. Chiloe's separation from the mainland meant that it escaped much of the colonial Catholic influence forced upon the rest of the country. Here, the sea is at the centre of everything. The archipelago was created by two giant sea serpents locked in battle, there's a royal family of the sea with a king and prince who control the sea creatures and a princess who determines the outcome of a day's fishing (if you see her facing away the shore, it means your haul will be bountiful). Another member of this nautical royal family is the sirena Chilote, a beautiful mermaid who carries the bodies of drowned sailors to the Caleuche, a ghost ship crewed by the dead (an alternative story is that the Caleuche is used by Chilote warlocks for parties and transportation).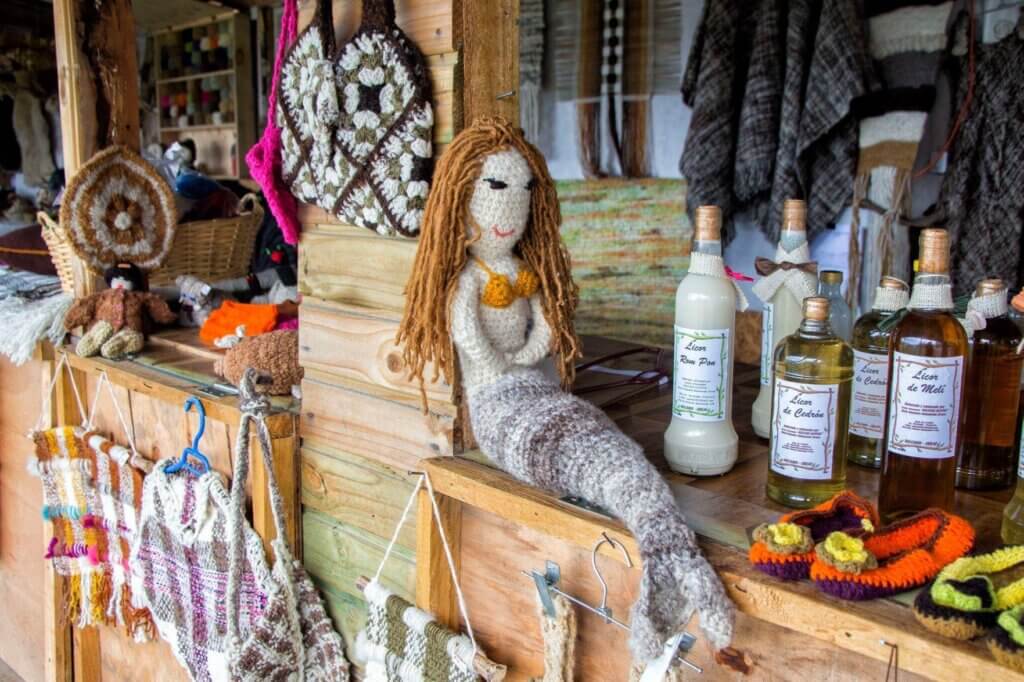 The warlocks of Chiloe – known as La Recta Provincia – are another important part of the archipelago's culture. These guys were sinister and powerful, with their headquarters in a vast cave lit by torches burning human fat and guarded by a hideously deformed human called the Invunche. Even the initiation into La Recta Provincia was gruesome – wannabe warlocks were allegedly required to kill a loved one and use their skin to fashion a bag for their spellbook. In reality, it appears as if the warlocks were a kind of mafia, who used threats of black magic to get what they wanted. They demanded tribute from villagers to ensure they would "have no accidents during the night". If anyone refused, they could expect their crops to be destroyed or they could even be poisoned. The warlocks were not to be messed with.
Mythology and folklore is also very much in evidence on the other side of the island. Midway down the eastern coast is Muelle de las Almas or Dock of Souls. This is an installation by a Chilean artist inspired by the belief that the souls of people who died onshore sail away to the afterlife, ferried by a local version of Charon the boatman known as Tempilcahue. However, sometimes Tempilcahue would refuse to take someone, so that person's soul was doomed to remain in permanent unrest on this stretch of coastline. These souls were known as Animas de Cucao (Cucao being the name of the closest town) and if you hear their cries, you should never reply lest you join them, trapped for eternity. Although we didn't make it as far as the dock, we walked halfway along the coast and it's easy to see how such legends came about. The wind howls, the mist gathers, the horizon dissolves and it feels like you could easily step – or sail – into another world.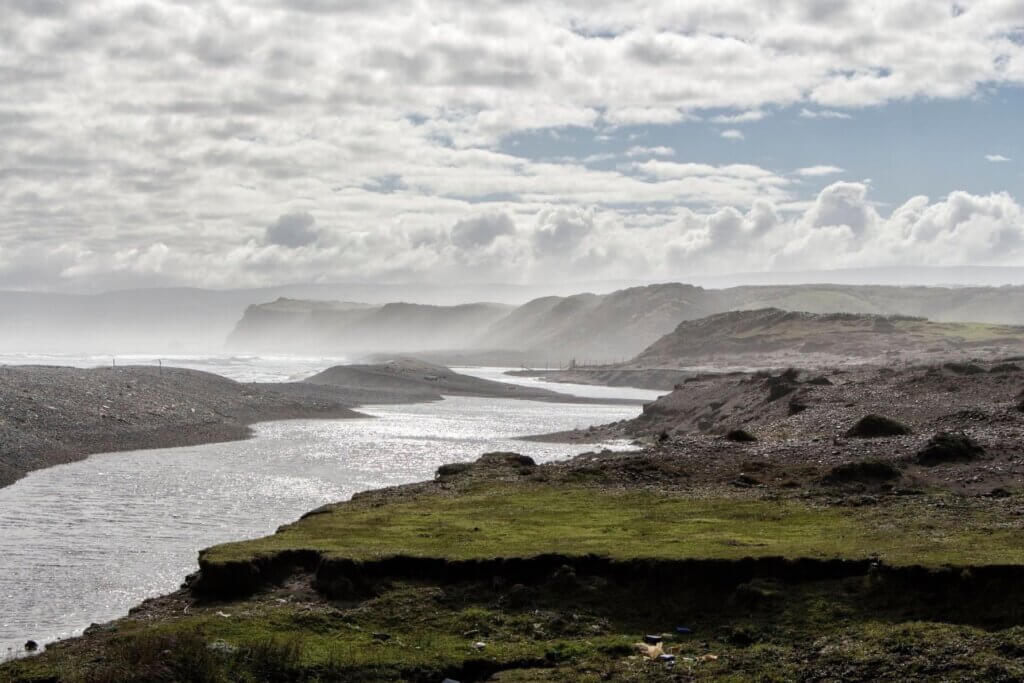 There's more to Chiloe than the sea, however. Inland, there are two national parks, the largest of which is Parque Nacional Chiloe. It's heavily forested, thick with mossy green trees. There's a boardwalk that takes you on a trail through the swampy terrain. And remember what I said about Chiloe being damp? Well, that applies about 100-fold to the National Park. Take appropriate footwear/legwear and be prepared to have your hike disrupted by the weather. Despite the early morning showers eventually petering out, we had to cut our explorations short when we reached a point where the path was completely flooded, making it impossible to continue. We still managed to enjoy the feeling of having the forests almost entirely to ourselves and it's not too far from Muelle de las Almas so it didn't feel like a wasted effort. If you're really, really lucky and visiting at the right time of the year, you might even see whales off the coast of the national park.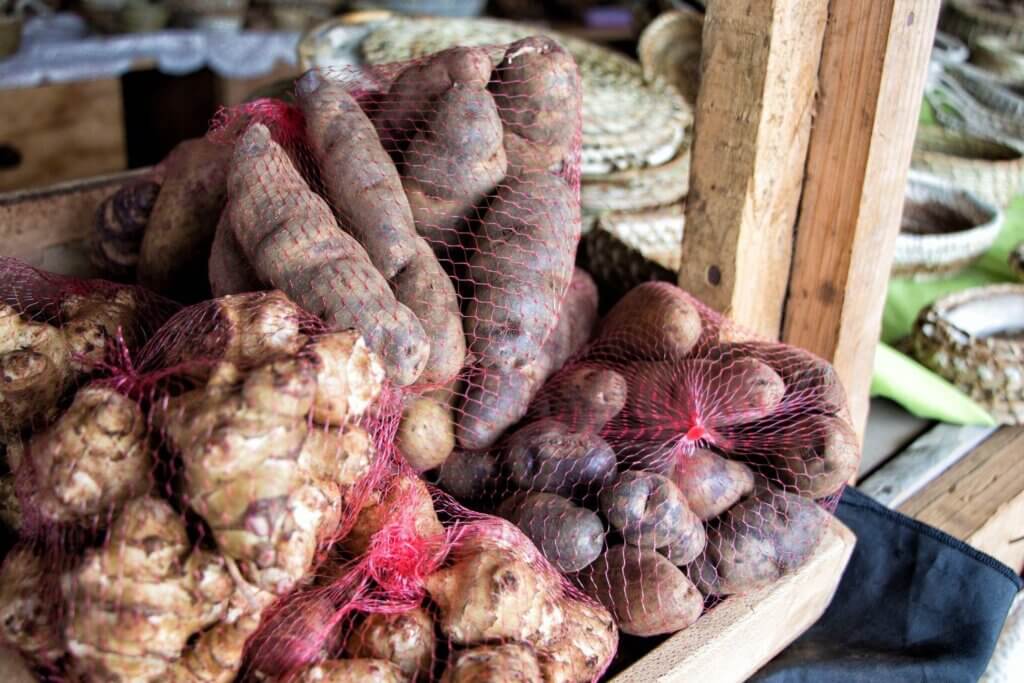 The other thing Chiloe is famous for is considerably more prosaic. And that's potatoes. It's one of the places where the most potato varieties in the world are grown and, unsurprisingly, potatoes feature in Chiloe's mythology. They also feature heavily in the local cuisine, most specifically in a dish called curanto. Curanto blends the best of Chilote food – seafood and potatoes – into one extremely substantial meal. It comprises shellfish, usually clams and mussels, different varieties of potatoes, potato dumplings, a potato pancake and a few kinds of meat – I got sausage and smoked ham hock in mine. It's placed in a hole in the ground, covered in leaves (Chilean rhubarb or cabbage/vine leaves), wet sacks, stones and earth, and left to steam. Curanto really is a whole heap of food and I barely made a dent in mine before I had to admit defeat. Ideally, it should be shared.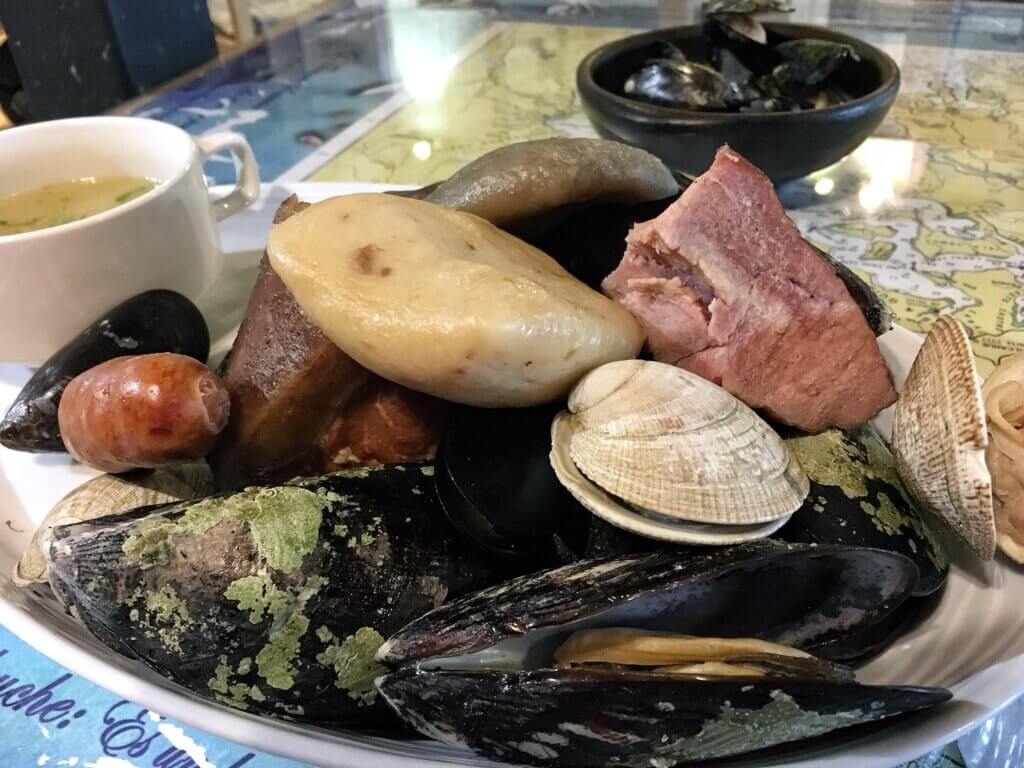 It's not surprising that Chilote cuisine is the sort that sticks to your ribs when the weather practically begs you to eat hearty food. I battled the wind and the rain and the steep, slippery streets of Castro on my first night just to eat at Restaurante Travesia, a tiny, bright yellow, wood panelled house inhabited by a female chef who serves up food as comforting as she is (in this case, slow braised pork ribs in adobo sauce, chimichurri and potato gratin). Another great restaurant in Castro, and a good place to try curanto, is Nueva Galicia, down on the waterfront. You can find a range of Chilote dishes here and the ingredients are second to none in terms of quality and freshness. In a nice touch – and a nod to Chiloe's maritime culture – you're given mussels as a free appetiser instead of bread. They also serve a decent local beer which pairs well with the rich Chilote food. One of the most enduring memories of my travels in South America was leaving this restaurant just before sunset, watching the mist form over the water and being struck by the stillness of the evening, as fishing boats chugged towards the harbour and the smell of woodsmoke hung in the air. It was my last night in the archipelago and it seemed a fitting end to my time here.
Need to know:
You can reach Chiloe by bus from Puerto Montt or by ferry from Chaiten. The ferry take around five hours and tickets can be purchased from Navieaustral. The bus is slightly quicker (three and a half hours), depending on where you are, and tickets can be purchased online via Busbud or at Puerto Montt station.
Out of the two main towns, Ancud and Castro, I much preferred Castro. It seemed to have more character than Ancud plus it's where you can see the palafitos.
Speaking of which, you can find Castro's palafitos in two places – on Ernesto Riquelme (go to Mirador Gamboa or Diego Portales for the best view) and just outside of town along Highway 5.
Other than view palafitos and eat, the best thing to do in Castro is visit the market, which is also a bit of a walk uphill out of the centre. Here you'll find a huge array of local produce and it'll really give you a sense of the food culture of the archipelago. It's also a good place to stock up on snacks if you're planning on a Chiloe road trip.
As mentioned, it's definitely best to have access to a car in order to make the most of your time in the Chiloe archipelago. There's a reasonably priced car hire service at the Hostel Cordillera in Castro. Be aware that even though the roads across Chiloe are relatively quiet, there are a lot of extremely steep hills. We got ourselves into a bit of a pickle trying to do a hill start in the hilly town of Quemchi and almost lost control of the car!
Also as mentioned, it rains a lot and it's quite chilly. So take appropriate clothing and footwear.
Like it? Pin it!