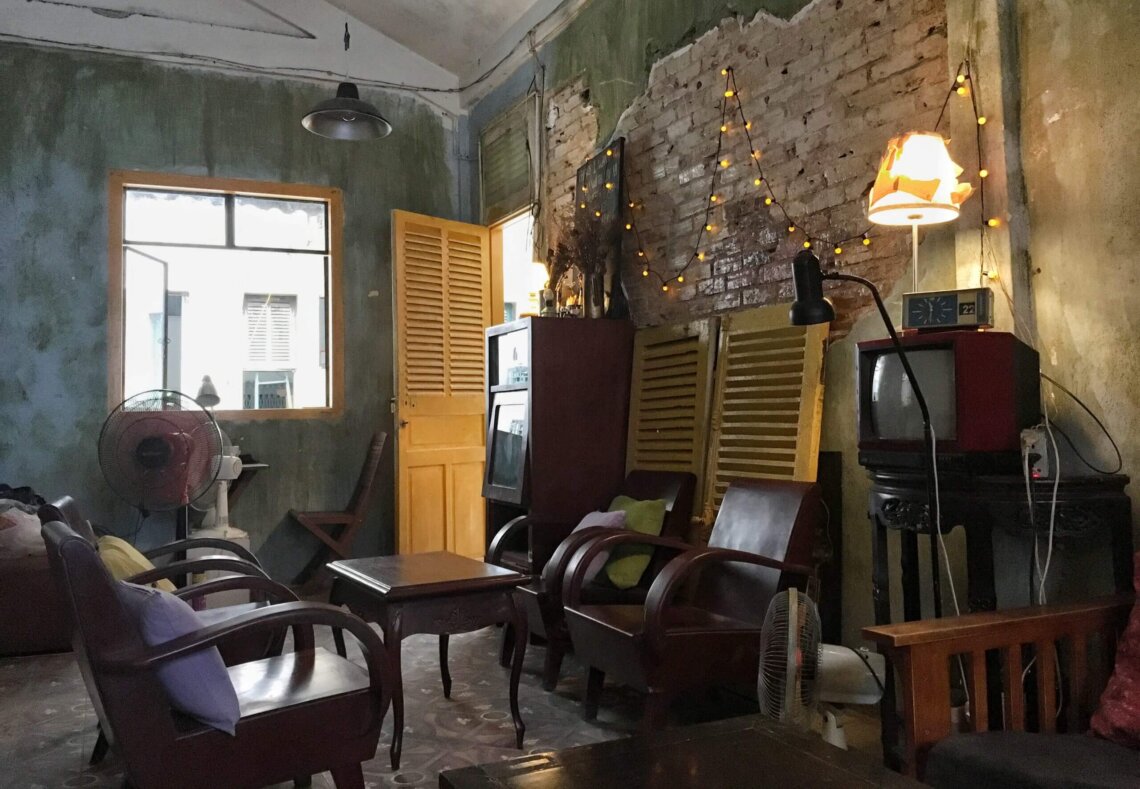 14 Ton That Dam Street: Ho Chi Minh City's hidden cafes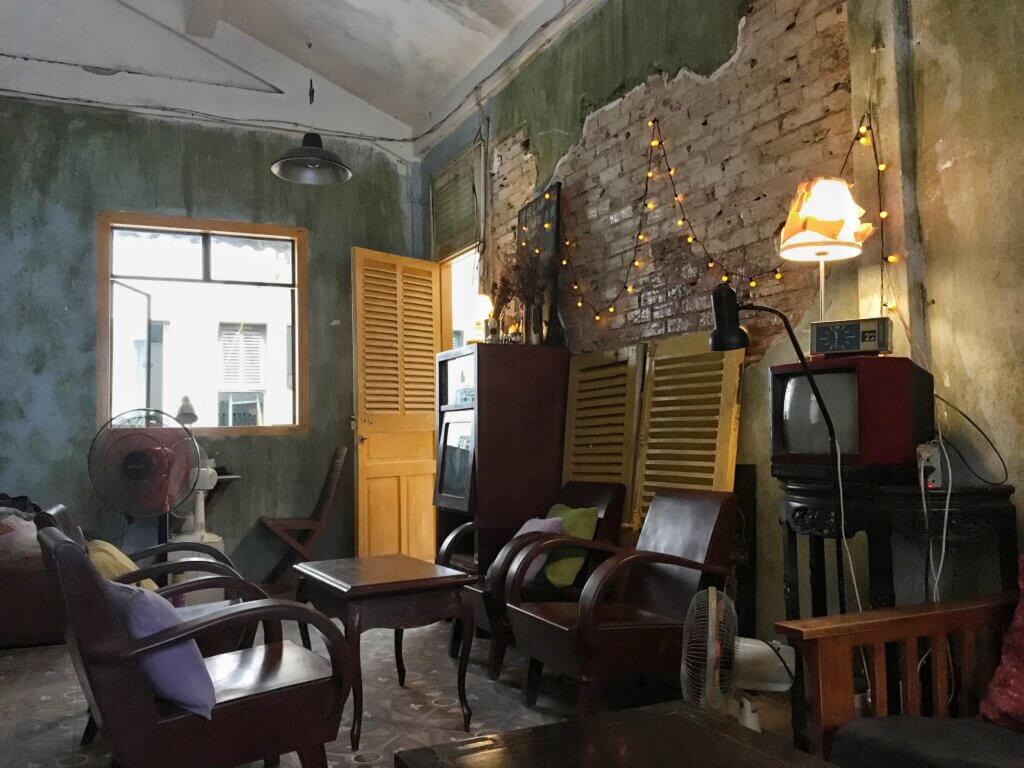 I struggled to enjoy my time in Ho Chi Minh City. I found the combination of unrelenting humidity and traffic all a bit too much, plus I was in the grip of a depression which made everything that much harder. So I decided to take it easy and focus on things I enjoyed, rather than forcing myself to be a tourist. I had been looking for some (quite literally) cool cafes where I could escape the heat and throw myself into my work, so I was delighted when my Google research threw up a whole load of gorgeous-looking places. Then I noticed that they all had the same address – 14 Ton That Dam Street. I just assumed they were located in a shopping centre, which was a little bit of a let down, but when I walked up and down Ton That Dam Street, I couldn't even find number 14. These cafes were seriously well hidden.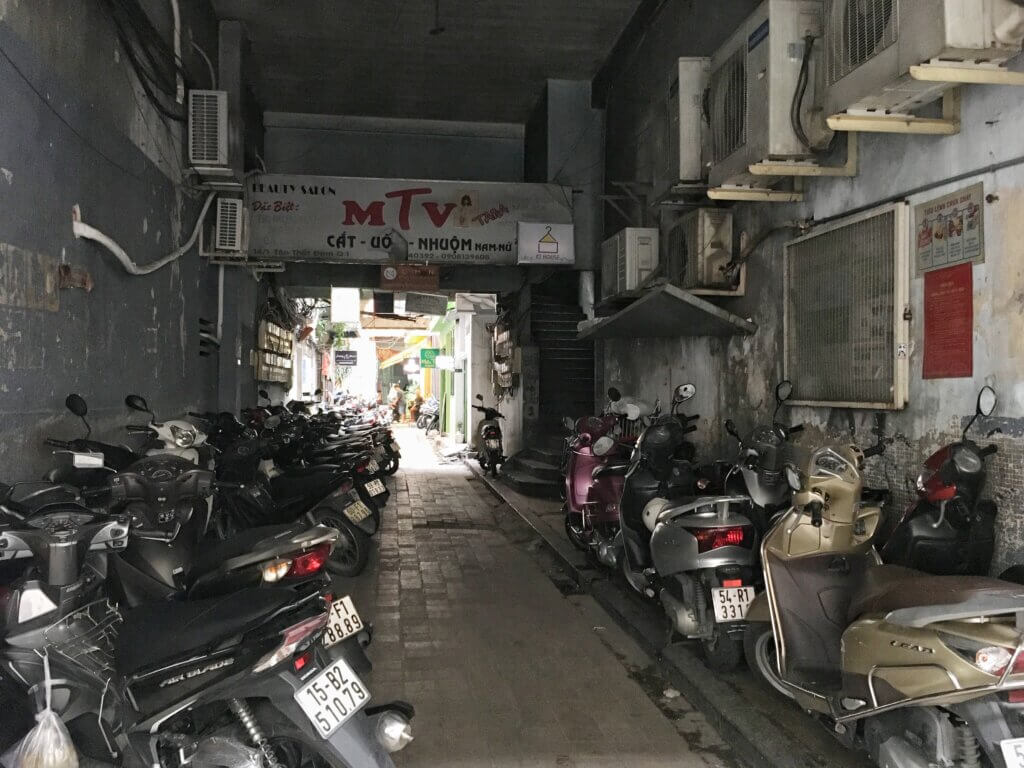 In fact, they were so well hidden that I actually thought they'd all closed down. However, I just hadn't been looking hard enough. These cafes are more speakeasies than Starbucks. The first thing to know is that 14 Ton That Dam Street is actually an old apartment block that has been taken over by a number of independent businesses. So if you're wandering up and down the road looking for a shop front, as I was, you're not going to have much success. However, I struggled to even find a building with the number 14 on it. And that's because the entrance to the apartment block is down a small, covered alleyway that's used as a place to park motorbikes. I only spotted it by chance when I noticed some signs for the cafes on the alley wall.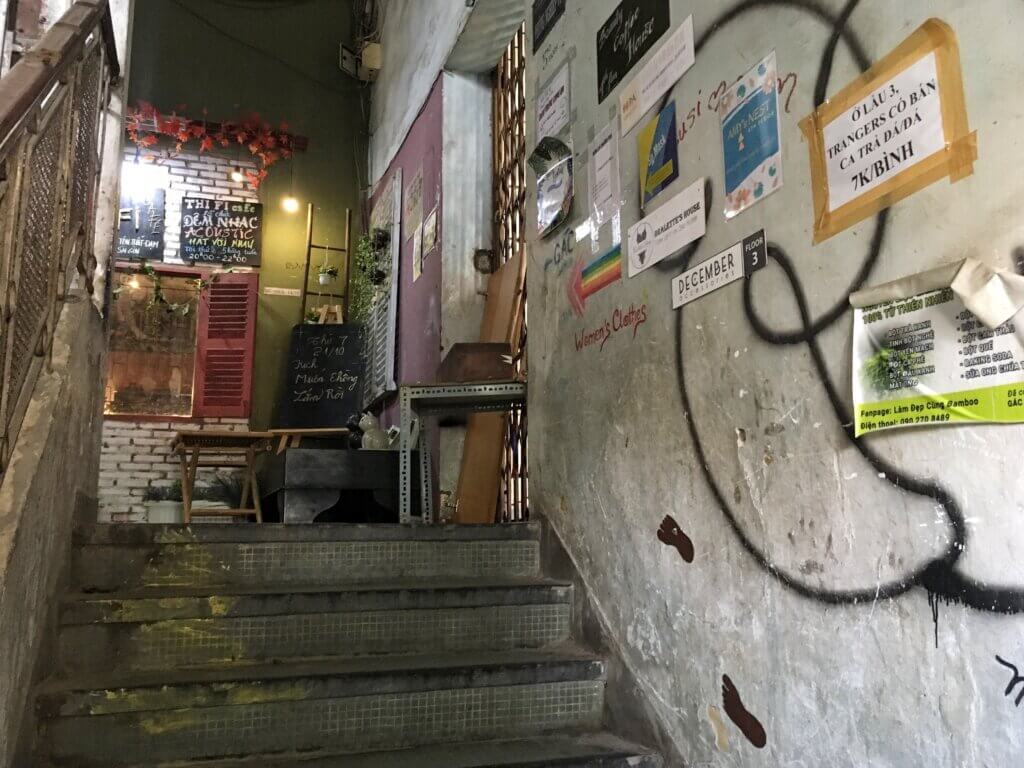 The entrance to 14 Ton That Dam Street looks pretty unsavoury but don't let that put you off. It's an old building and the entire place looks run down at first glance. But as soon as you venture further in, you'll see that these guys have got the whole shabby chic vibe down. It's a rabbit warren of graffiti, peeling paint and vintage furniture which reminded me slightly of the old Tacheles squat in Berlin (sadly now closed down). I didn't really know where to begin so, unless you've got a specific place in mind, it's best to just wander around and discover the surprising mix of cafes, bars and shops that lie behind each mysterious door.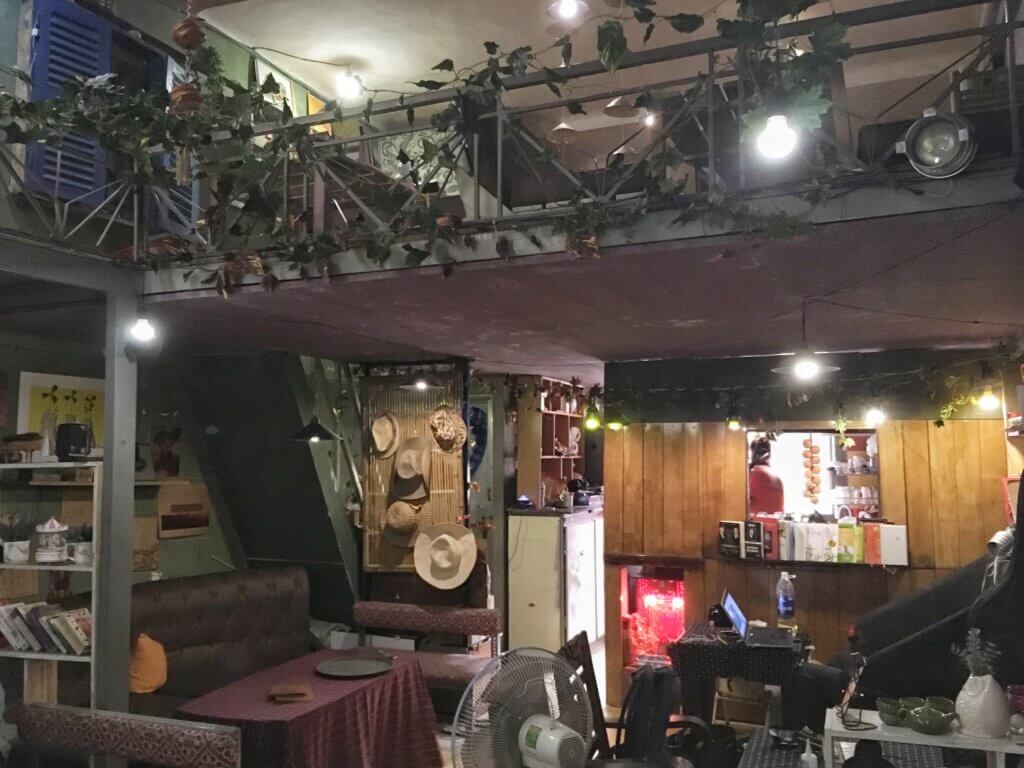 I started on the third floor for some reason. I think it was mainly because I had no idea where I was going and I couldn't immediately spot anywhere that looked open on the lower floors so I just kept going up the stairs. That's how I ended up in Thi Fi Cafe, a dimly lit room strewn with fairy lights, bookcases and mismatched furniture, so that it resembled a cooler version of something you'd find in a student house. Apparently there's live music in the evenings but as I was there on a weekday afternoon, it was pretty quiet. It was so quiet, in fact, that the service was pretty much non-existent so I decided to leave and continue exploring the building.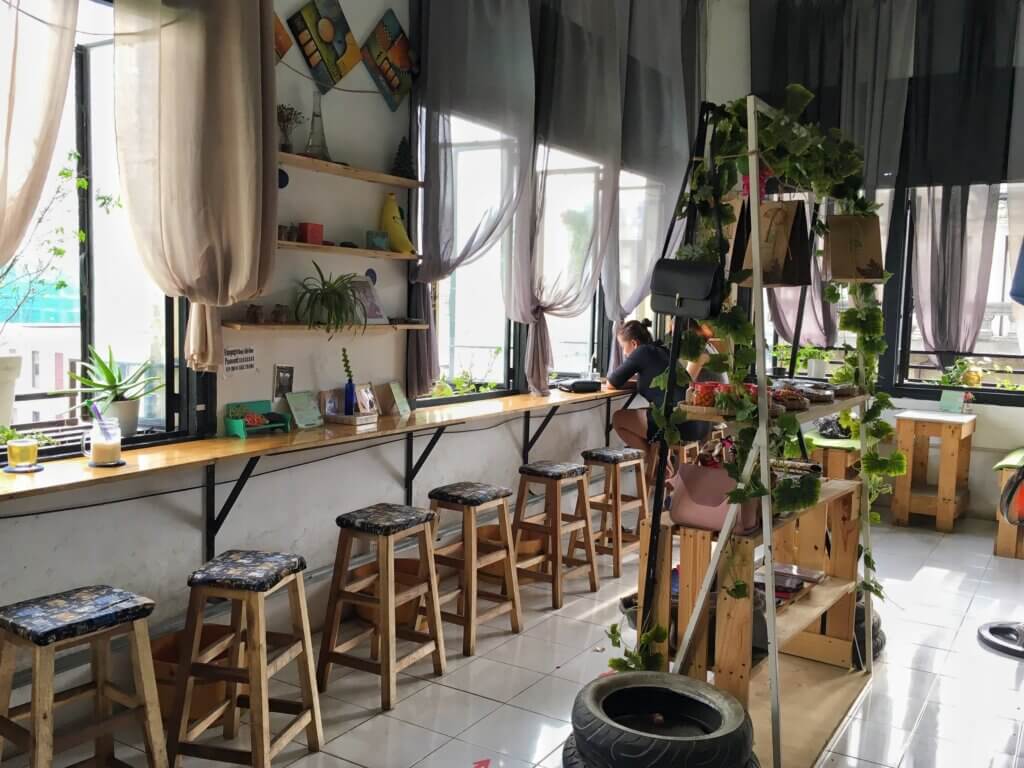 My next stop was a complete contrast to Thi Fi. Beauty Cafe is a cafe/shop that's light, white and airy with big windows along two sides of the room. Stepping from the grungey interior of 14 Ton That Dam into Beauty Cafe was like stepping into another building altogether. It was lovely to sit in the window while drinking an iced coffee. They also had adorable little snugs where you can lounge on a pile of pillows and hide from the world behind gauzy curtains – some of them were set up like bunk beds with dinky ladders up to a comfy perch. Once you've finished your coffee, you can pick up a handbag or wallet from the selection on display around the room.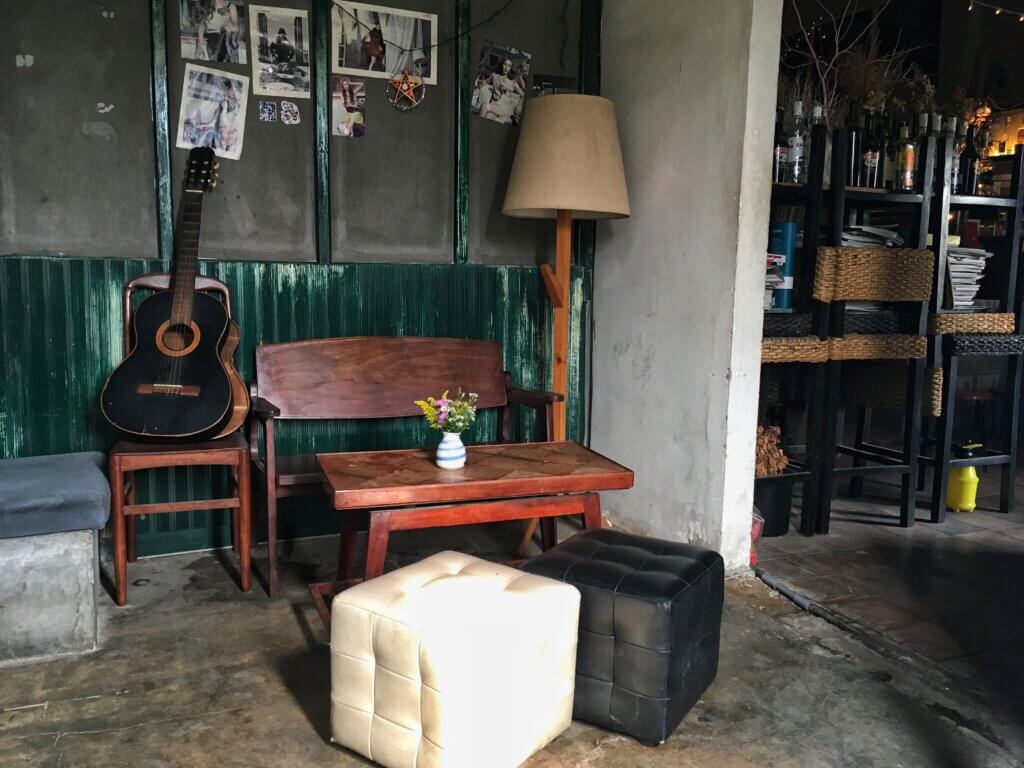 Mockingbird Cafe frequently appears on lists of best cafes in Ho Chi Minh City and for good reason. It's a gloriously boho collection of rooms and you're almost convinced you've stepped back in time to 1960s Saigon. There's even a guitar propped up among the low slung modernist chairs and sofas. Fairy lights, flowers and photographs make it feel like you're in someone's living room instead of a cafe. There's also a cute little balcony AND a bar if you fancy changing up the iced coffee for something a bit stronger… It was quiet when I visited but I can imagine it's really popular in the evening. In fact, I recommend hitting up 14 Ton That Dam at night as there are quite a few bars in the block. Unfortunately most of them were closed when I visited (day drinking is perhaps not a thing in Ho Chi Minh City…) but I plan to make a beeline back here if I'm ever back in town.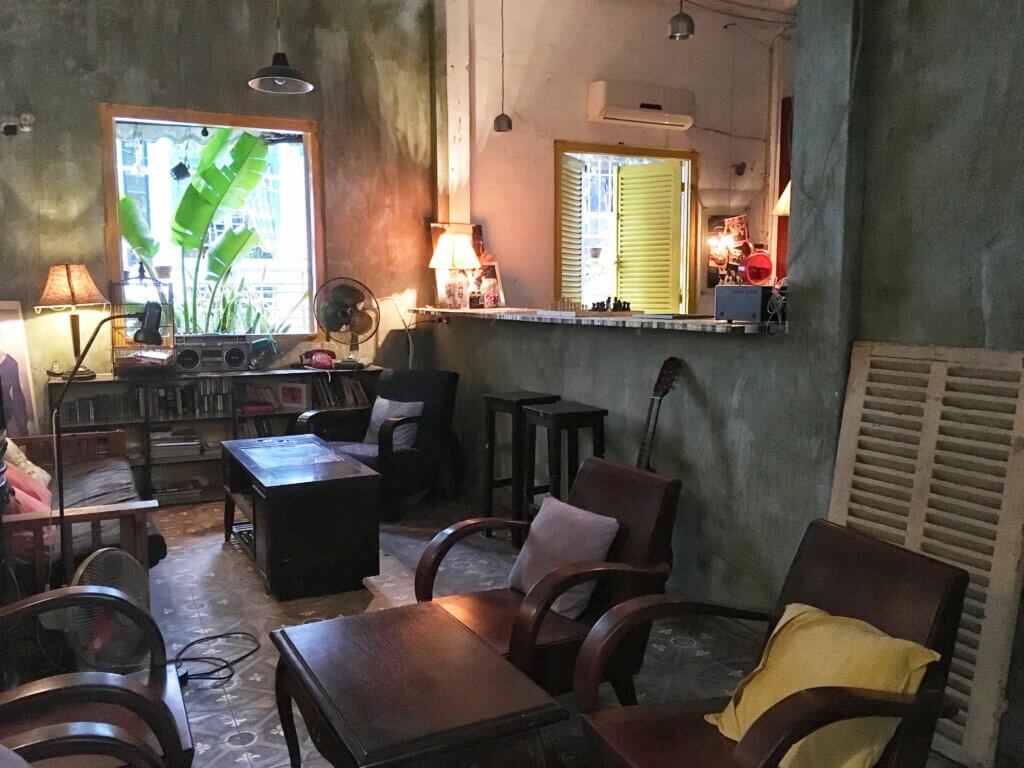 The final cafe I visited was also my favourite. Things Cafe is located on the first floor and it follows the same 'grungy living room' vibe as Mockingbird and Thi Fi. However, it felt more uniquely 'Asian' than the other two with its patterned tiled floor, proliferation of plants, brightly painted shutters and whirring ceiling fans. And there are cats. Actual cats, not decorative ones, that mooch around and sprawl and – occasionally – allow you to fuss them. Anywhere with the addition of furry friends instantly goes up in my estimation. Things Cafe was exactly the sort of place I had been looking for, somewhere I could happily sit for hours and write. Or, failing that, just pose with a highbrow novel… Yes, it could be seen as a little too self-consciously cool, especially with all the random touches like the vintage TV set but, for me, it all worked.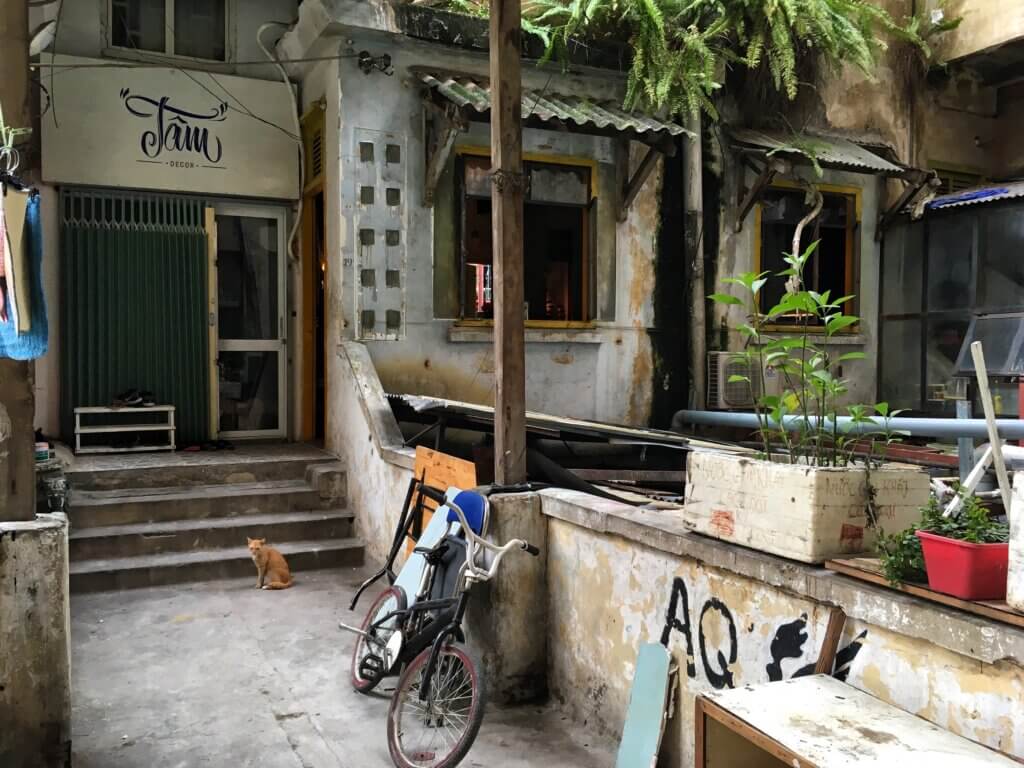 They say absence makes the heart grow fonder and my current circumstances mean I would actually be delighted to jump on a plane to Ho Chi Minh City, despite all the things I initially disliked about it. I think it's a city that grows on a person. Like the cafes at 14 Ton That Dam Street, many of the things that make Ho Chi Minh City special are hidden away and you have to put a little effort into uncovering them. I can't wait to give the city another chance and hunt down more of its hidden cafes.
Need to know
The traffic in Ho Chi Minh City is crazy – it's the worst I've ever seen. This makes crossing the road a leap of faith because no-one will stop for you until you actually step out into the road. It's a completely counter-intuitive thing to do. Good luck!
On a related note, even pavements aren't traffic-free. I lost count of the number of times I was almost mown down by a scooter on the pavement.
Ho Chi Minh City is not a place conducive to walking but Ubers are cheap and plentiful. Save yourself the hassle of walking from A to B and hop into an Uber instead.
You know what else is cheap and plentiful? Street food. There's no excuse for not completely over-indulging.
I was in Ho Chi Minh City on two separate occasions. During my first visit, I stayed in Cozy House 140 which is a simple yet comfortable hotel close to Bui Vien Street. Although I was happy there, I decided to treat myself and upgrade to their sister property, Cozy House 160, just around the corner. Out of the two hotels, I preferred Cozy House 160 (mainly because my room had a window) but they both offered great value for money, were clean, well decorated and had lovely staff.
Like it? Pin it!