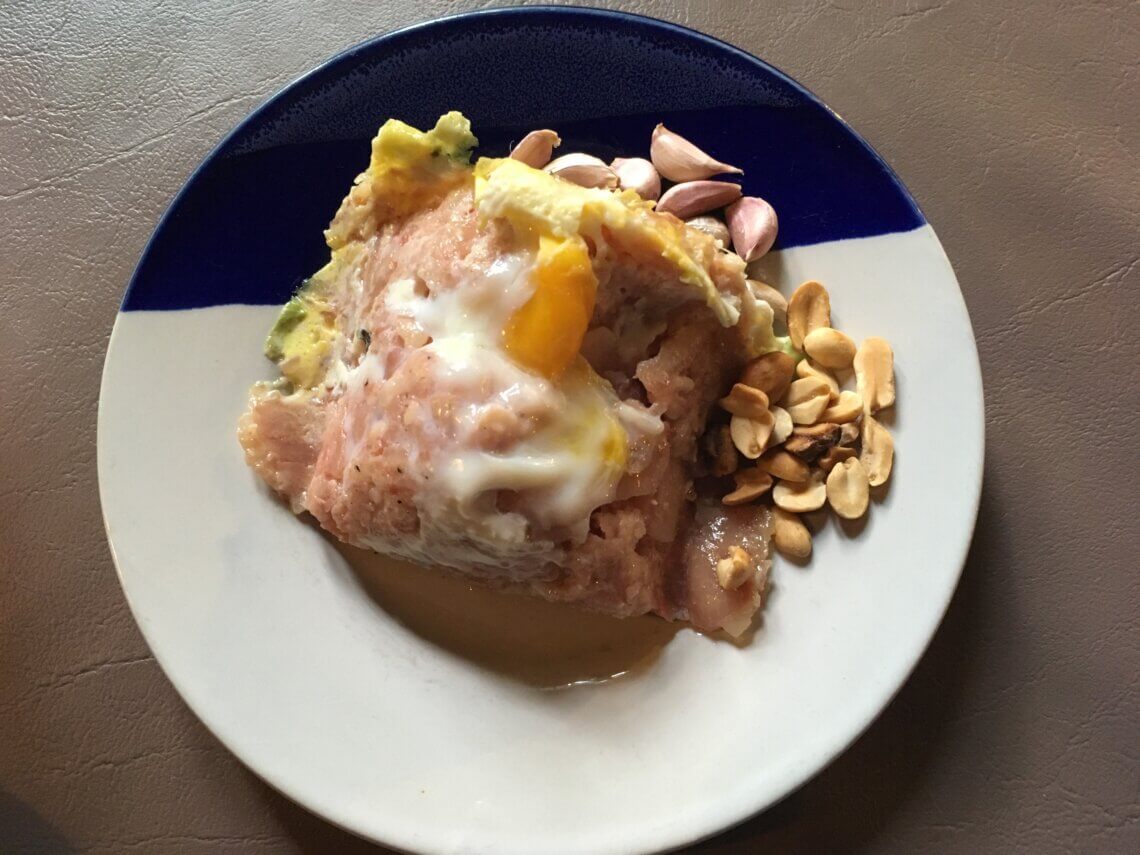 Lanna food: the flavours of northern Thailand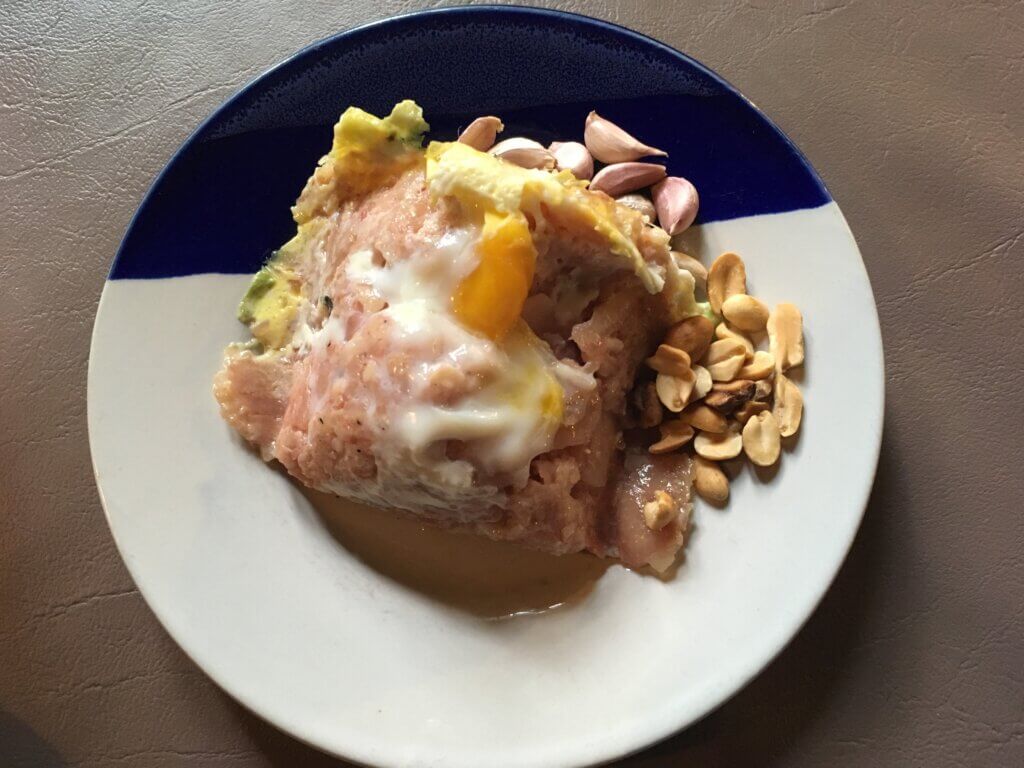 I thought I was already familiar with Thai food. You know, green curry, pad thai and all those kinds of delicious things. Then I actually travelled to Thailand and found that I was so wrong. Yes, there's plenty of green curry and pad thai in Thailand. But there's so much more. I spent the vast majority of my time in Thailand in the north of the country and it's there that I discovered the joys of Lanna food. This is the regional cuisine of northern Thailand, named after the ancient Lan Na kingdom. It's hearty food with bold, punchy flavours and is one reason why I'm pretty much always counting down the days until I can get on a plane back to Chiang Mai. So what Lanna dishes should you try?
Northern Thai sausages (with chilli sauce)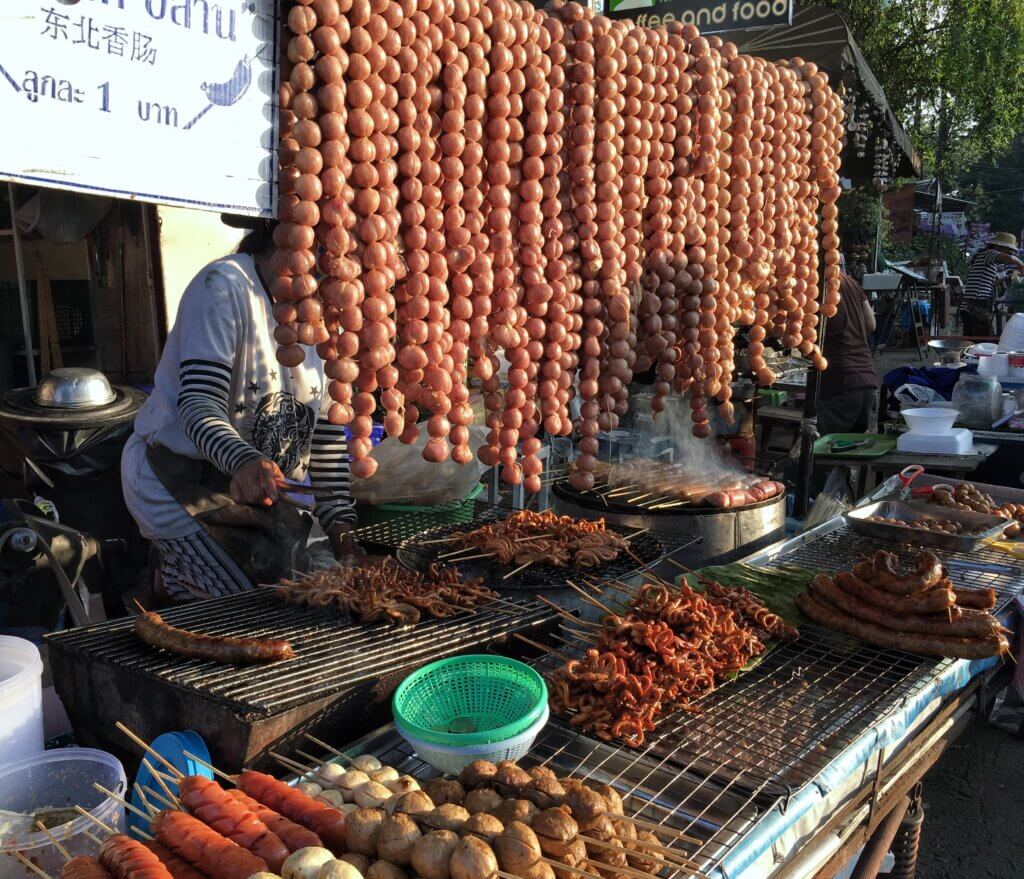 Anyone who's ever visited Chiang Mai will be familiar with the ribbons of sausages looped over the food stalls found on most streets, especially at Chiang Mai's famous Sunday night market. Sausages may not be the first thing you think of when it comes to Thai cuisine but these ones – also known as sai oua – are stuffed with classic Thai flavours of lemongrass, kaffir lime, chilli and galangal, all mixed through rich minced pork. The sausages are sold as an entire link which is then grilled, snipped into individual sausages and served up in a bag with a cocktail stick, so you can dip in, jab them and eat on the move.
My love of pork products is a running joke among some of my friends so it's no great surprise that these sausages became a regular evening snack for me when I was in Chiang Mai. Perhaps one of the reasons for this is the chilli sauce they're served with, usually nam prik noom. This super fiery dip, made with green chillies, is something I became weirdly addicted to. Be warned – I wasn't being hyperbolic when I described it as "super fiery".  The first time I asked for it, the woman manning the stall actually questioned whether I really wanted it. She clearly took one look at the pasty-faced farang standing in front of her and assumed I wouldn't be able to cope. And yes, it may be hot and it may have made my lips go numb but my god, it's good.
Fermented pork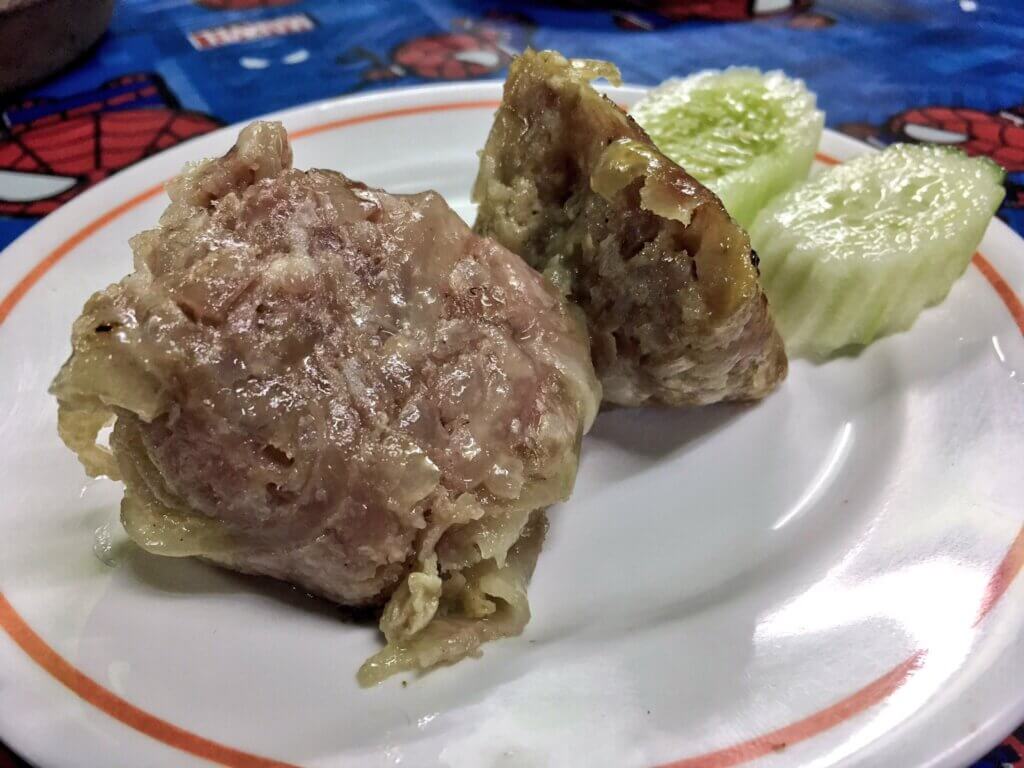 It might sound weird and perhaps a little bit gross but trust me when I say that fermented pork – or naem – is absolutely delicious. It's made by mixing cooked sticky rice with pork mince, which develops a sour flavour as the rice ferments. Naem is essentially another type of sausage but it's usually served packed into a little pyramid shape and wrapped in banana leaf. Sometimes it comes with an egg on top. It's definitely not for the fainthearted. It tastes extremely funky, for a start, and can sometimes be served 'raw' because the fermentation process essentially cures the meat. I wasn't actually aware of this at the time, for which I'm glad because it might have put me off trying it and I'd have missed out on a real treat. Fermented pork became one of my 'go-to' appetisers whenever I saw it on a menu in Chiang Mai and I recommend giving it a try at least once.
Burmese pork curry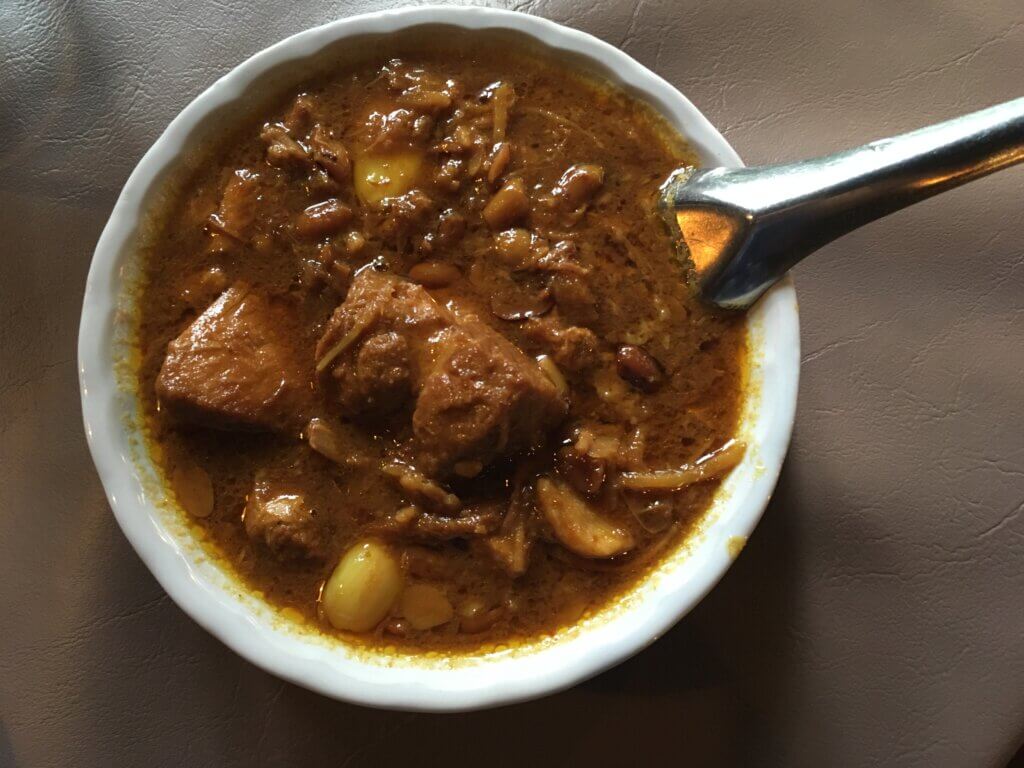 Also known as Northern Thai curry or gaeng hung lay, this pork dish is absolutely banging with flavour and became another one of my favourite dishes. This region of Thailand is close to the border with Myanmar and the Lanna kingdom was a tributary state of the larger Taungoo dynasty in ancient Burma, so there's a shared culture that's influenced the cuisine of northern Thailand. The curry is rich with slow cooked, fatty pork that falls off the bone and a dark, earthy sauce flavoured with turmeric, ginger and tamarind. The spicing is complex yet the dish isn't hot. And depending on where you eat it, it can also be pretty garlicky – one restaurant included whole, meltingly sweet, garlic cloves in the sauce. It's a good job I wasn't planning on kissing anyone!
Khao soi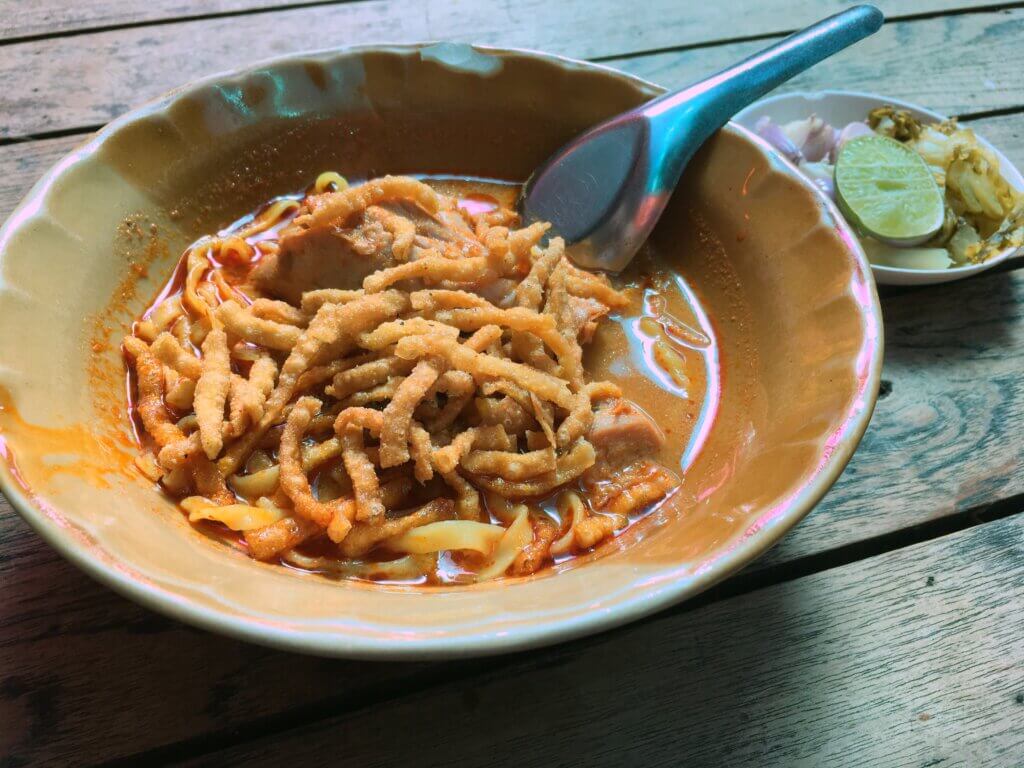 Forget pad thai. Khao soi is perhaps the best known of all northern Thai dishes and you'll find it on menus all over Chiang Mai. It's essentially a type of yellow curry or curried soup made with slow cooked joints of chicken, such as the thigh and drumstick, coconut milk, boiled egg noodles and topped with squiggly, crispy, fried noodles. It usually comes with pickled mustard greens, shallots and lime on the side for some freshness to cut through the richness of the curry. It's another dish with a fascinating, blended history, that perhaps has its origins in Myanmar and perhaps was influenced by Muslim-Chinese traders. The version of khao soi eaten in Chiang Mai is different to the one eaten in Chiang Rai, which contains curdled blood (and which I didn't try). It's also incredibly easy to eat – mild and creamy and sweet – and is best slurped up noisily via chopsticks and a soup spoon.
Laab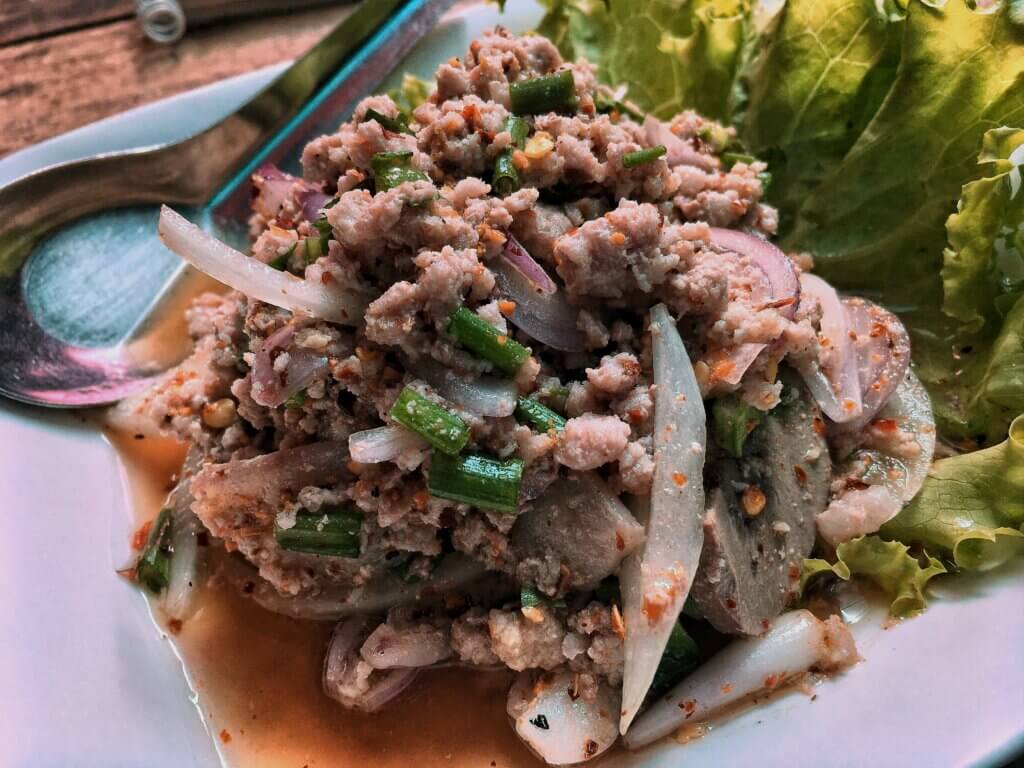 Laab (or larb or lap) may be unofficially known as the national dish of Laos but it's extremely popular in northern Thailand too. Like nearly every other dish in this article, laab offers several variations on a theme. At its heart, it's a minced meat salad but what exactly you get depends on where you eat it. The Lanna version is earthy, made with offal, blood and sometimes even bile. In some cases the meat is buffalo. Sometimes it's raw. Dried spices such as chillies, star anise, coriander seed and and cloves are mixed through the meat. The other version you're most likely to see is the northeastern Thai – or Isaan – variety. This laab is perhaps more palatable for Westerners as it's cooked through and doesn't contain any blood or organs. Isaan laab is made with minced pork, flavoured with lime juice, fish sauce, shallots, dried chillies, mint and ground toasted rice. It's fresh, light and perfect to fill you up on a humid Thai day. Both versions are served with sticky rice on the side as well as greens like runner beans and Vietnamese mint.
Salt crusted fish with lemongrass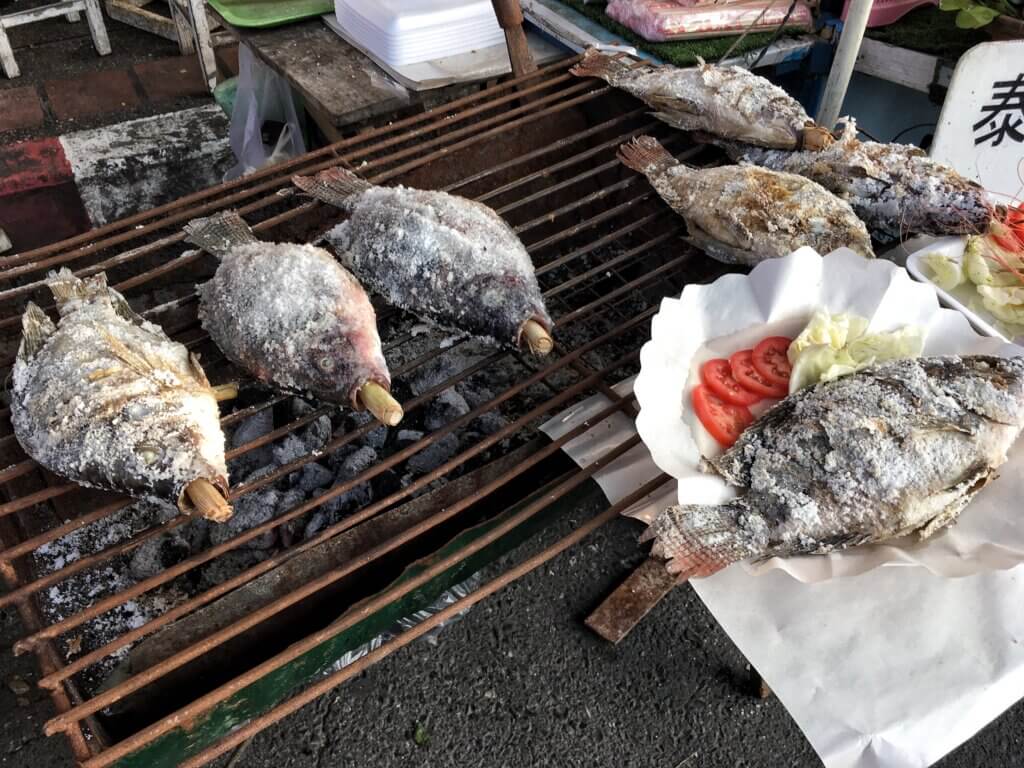 This one isn't strictly Lanna but you'll see it everywhere around northern Thailand and it's so delicious, it'd be a sin not to try it. When you wander the streets of Chiang Mai or any one of the night markets in northern Thailand, you'll smell the unmistakable scent of the barbecue even before you see the clouds of smoke. Follow your nose like one of the Bisto kids and you'll see rows of silver fish being grilled whole, stuffed with lemongrass and kaffir lime leaves. I always think the simplest dishes are some of the tastiest and this grilled fish – usually tilapia – cooked in a salt crust is right up there. The salt crust keeps the moisture in the fish and prevents it from drying out as it's being grilled. It's served as simply as it's cooked – whole on a plate with no frills, not filleted or skinned.  You have to dive in yourself, excavating the flesh, peeling back the skin to get at all the lovely flavours.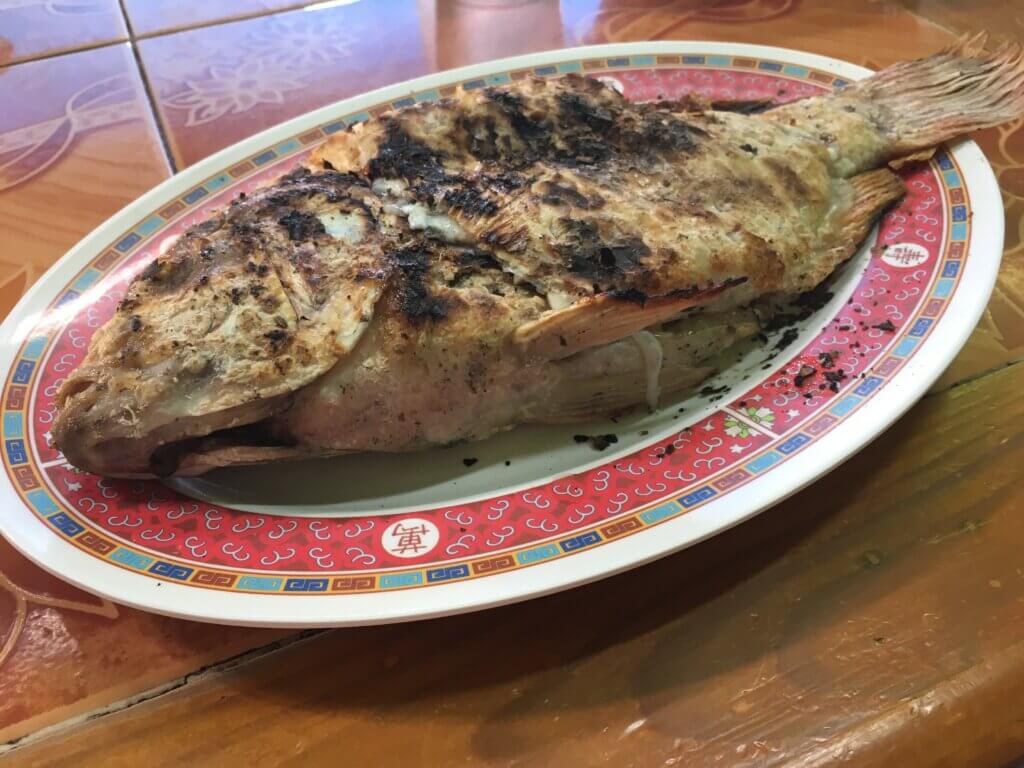 The food culture in the region is so distinctive and so delicious that many of my memories from my time there are bound up around food. And food is everywhere. Each town I visited in northern Thailand had at least one regular night market – often every night – where you could choose from a huge range of dishes. But you could also find individual food stalls on most streets, selling things like the above-mentioned sausages or sticky rice with mango. These food stalls were ideal for nights when I wasn't hungry enough for a restaurant meal or when I couldn't face the madness of a night market or when I just wanted to grab something for a quiet night in. I'll always remember buying some sausages (what else eh…) from a woman and her family on a side street in Chiang Mai and being made to dance along to the radio with them. The food always brought such joy with it.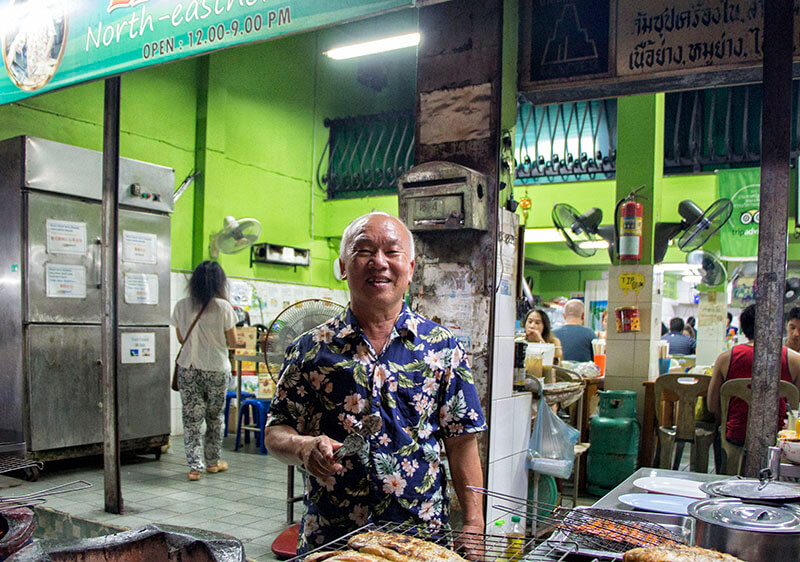 So where can you go to eat these amazing dishes? Although I spent time in Chiang Mai, Chiang Rai and Pai, all of my favourite restaurants were based in Chiang Mai. I stayed there for several weeks so had the pleasure of visiting some of these restaurants multiple times. My absolute favourite restaurant was Tong Tem Toh in the Nimmanhaemin district. It's slightly less touristy than the restaurants in the old town and is always busy, so be prepared to queue to for a table at times. I promise it's worth it though. Their fermented pork and Burmese pork curry is the best I had. Lert Ros is where I'd go for salt crusted grilled tilapia. The chef/owner is lovely and often found outside the restaurant, busily cooking behind a row of blackened, ancient looking stoves. Another restaurant known for its great Lanna food is Huen Phen and I'd often visit for their laab, although their service leaves a lot to be desired (don't go if you're in a hurry!). I also loved Huaikha, not just for its great all-round Thai food but also for the relaxed vibe that came from sitting on piles of cushions on the floor and letting your feet dangle off the edge of the building while you eat with an ice cold beer. And don't forget the various night markets, including the one just north of the old city at Chang Phuak gate, where Anthony Bourdin's 'cowboy hat lady' sells her amazing pork curry.
So the moral of this delicious story is…even when you think you already know a cuisine, even when you believe you're on a well trodden path, there's always more to discover.
Like it? Pin it!