Esala Perahera in Sri Lanka: what you need to know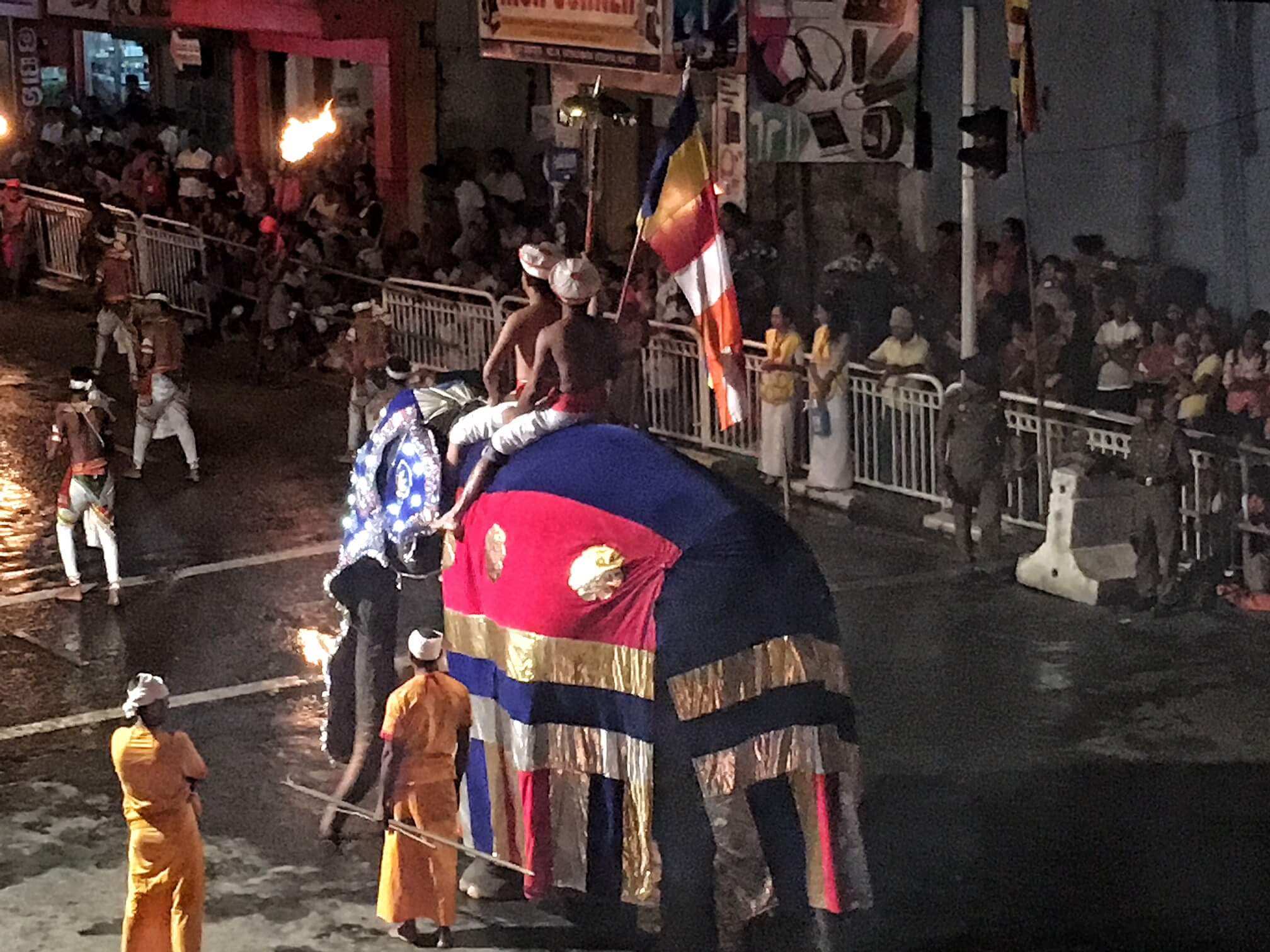 I'll be honest. I had never even heard of the Esala Perahera before, let alone considered getting in on the action. But, in one of those wonderful strokes of luck, we arrived in Kandy in time for this most magnificent of Asian festivals.
The Esala Perahera is linked to the Buddhist Temple of the Tooth in the Sri Lankan hilltop town of Kandy. The temple holds the sacred Buddha's tooth and, for 10 nights every summer, a grand procession is held to honour this relic. It's one of Sri Lanka's – indeed, Asia's – biggest festivals. So that's why it helps to be at least a little bit organised if you want to visit Kandy at this time – unlike us! For a start, hotels are more expensive and get booked up much faster. If you want to stay in Kandy but you're not bothered about seeing the festival, choose a different date. That way you'll get a much better deal on your accommodation.
Kandy town centre is EXTREMELY busy during the Esala Perahera, making it pretty much impossible to explore at your leisure. People start camping out on the pavement hours before the parade starts and most of the pavements are fenced off, so you either have to climb over the sardine-like sets of families picnicking on tarpaulin sheets laid over the floor or take your chances with the traffic on the road. You also get funnelled through security checkpoints where your bag is searched and you get a very "thorough" pat down. None of this makes for a particularly relaxing experience.
However, gird your loins because it's totally worth checking out this incredible festival. For a start, you get to see a totally different side to daily life in Sri Lanka. The general sense of excitement is wonderful; people start getting into the party mood well before festivities properly kick off and the streets are filled with vendors selling balloons, flags, whistles, popcorn and other snacks. The festival attracts visitors from all over Sri Lanka and it's fascinating to observe the anticipation building throughout the day. It's nothing like anything you would see in the UK.
So, how do you get to watch the parade? You can join the locals on the pavements if you don't mind making a day of it. It's free but you'll need to get there early to get a good spot – and bring plenty of provisions with you. However, you can also buy tickets for the numerous seats that are dotted around town. One of the most popular places for tourists seems to be the Queens Hotel. This old colonial building is located right at the start of the parade route so you will get a great view. Tickets here are very expensive though; you're looking at paying between $95-$125 per seat! They also tend to sell out pretty quickly so you need to be a bit more organised than we were.
We had done hardly any research before rocking up into Kandy and, in fact, had only found out about the Esala Perahera the night before we arrived. So we literally had no idea what we were doing. The owner of the guest house we were based at said that he could get us tickets for the parade at a cost of 9000 rupees, but he couldn't tell us exactly where we would be sitting. Without having seen the parade route or even the town, we weren't confident that we would actually have good seats. However, upon heading into town we saw that there were loads of different seating options available. Pretty much every local business had opened up the front of their shops and/or constructed makeshift balconies with seating. The owners hang around outside selling tickets and most of them will approach you if they see you looking. We simply wandered along the route, checked out a few different places and eventually bought a couple of seats above an electronics shop for 6000 rupees each (about £30).
The only "problem" was that, because we hadn't got our shit together beforehand, our seats were three rows from the front. All the front row seats tend to sell out in advance so if you want a first-class view then you need to get straight onto it. Bear in mind that you will pay more for a front-row seat, however. We were seated a couple of hours before the parade started as well – it's basically a case of bagsying your spot. Oh and it can be a bit of a squeeze and a scramble to reach some of the balcony seats, so if you're wobbly on your feet then look for a seat at pavement level.
Squishing in with a bunch of other tourists and locals was all part of the fun of the Esala Perahera, however. It really helped build a sense of anticipation and when we heard the distant cannon fire, signifying the start of the parade, followed by the sound of the first whip-crackers coming down the road, the excitement was palpable. The parade kicks off with the whip-crackers and incredible fire dancers, who "clear" the streets before the flag bearers arrive, solemnly carrying Buddhist flags. Next up is wave upon wave of dancers and musicians in traditional dress, who become increasingly frenetic as they process down the street. The atmosphere is intoxicating; the frantic sound of drums and pipes swells in the smoke-filled, flame-lit night. After each wave of dancers, come elephants – yes, actual massive IRL elephants. These really are an incredible spectacle. Splendidly caparisoned and covered in fairy lights, they stomp through the streets with costumed riders sat astride.
There are five phases to the Esala Perahera and the tooth relic makes an appearance during the first one. It arrives on the back of the Maligawa Tusker – a huge, magnificently decorated elephant. All the locals stood up and bowed their heads as it passed by (although these days the "relic" is actually a replica; the original stowed safely away in the temple). The other phases of the procession include peacock dancers and female dancers venerating different deities, as Hinduism mixes with Buddhism in that way that is so typical of Asia. We didn't stay until the end; jet lag was kicking in and the Esala Perahera is very long – something else to bear in mind if you're visiting. Getting back out of the town centre was a bit tricky and I'm pretty certain I stepped on a LOT of people!
The Esala Perahera is definitely worth it. If anyone really needs any more reasons to visit Sri Lanka, this is one of them. It's a spectacle like nothing else and was such a wonderful way to kick off my trip to Asia. I can't wait to see what else I'll discover over the next few months – but hopefully we'll try to be a bit more organised from now on!
What amazing things have you accidentally stumbled upon when travelling? Let me know in the comments!
PS. My photos are DIRE because I was sat so far back and it was dark. If you want to get good pics, bag a seat right at the front somewhere and bring the usual low-light equipment.
Like it? Pin it!