"This drink tastes of plants" declared my dining companion.  Our lurid green sorrel and elderflower bellinis were perhaps an inauspicious start to our meal at The Manor, as was our rather over-keen waitress who had seemingly been told to push the tasting menu for all it's worth or risk pain of death.  At one point, we did think that she was going to hang around the table while we perused the a la carte options, but thankfully duty called elsewhere.  However, things only improved from then on.
The Manor is owned by the team behind The Dairy, which has had rave reviews and full tables since it opened in Clapham last year.  The concept is "British tapas" but, instead of a whole selection of dishes arriving at once, the menu here is arranged by four savoury courses – snacks, vegetables, fish, meat – with small plates of each served in that order.  I usually approach tapas-style menus with a degree of trepidation….How large each plate will be?  Should I order something if my companion doesn't like it?  What if we order too much, or not enough? What if my brain implodes from all the choice?  Fortunately help was on hand in the form of our ardent waitress, who advised us to select two dishes from each section and, as neither of us is particularly fussy, the decision making process was fairly painless.  Phew!
At this point I should offer some advice.  Don't visit The Manor if you are a staunch vegetarian.  Even the butter was made of chicken!  Yep, you read that correctly.  Chicken butter.  I have no idea which bit of the butter was the chicken or which bit of the chicken was in the butter (I suspect the delightfully little crunchy bits scattered on top), but it tasted so nice combined with warm, crusty sourdough that I really don't care.  I could have quite easily eaten an entire loaf to myself, together with the pork & fennel salumi that we ordered as our starter – rich, meaty, with a powerful punch of fennel.  Our second starter of crab, charred celeriac, buttermilk and hazelnuts was perhaps a little too delicate as a companion to the salumi but, as a stand-alone dish, it was delicious and we used up the rest of our bread on the thick buttermilk sauce.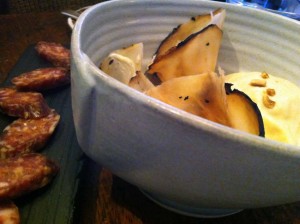 The remainder of the meal is where the idea of British tapas fails me a little.  Maybe I'm just an old fashioned bird, but I generally prefer to have my meat/fish served with my veg so I can eat them together.  Not so at The Manor.  The vegetable course is most definitely a course unto itself and, as yummy as the burnt kale, cavolo nero and toasted almonds was, I don't really feel the need to eat an entire plate of cabbage on it's own (my mother will probably disagree…).  Things stepped up a notch with the arrival of our fish dishes – salty, tangy mackerel fillets with cucumber and dill (surprisingly served warm) and two chunky pieces of monkfish served with roasted salsify and chanterelle mushrooms, topped off with some strips of zingy pickled salsify.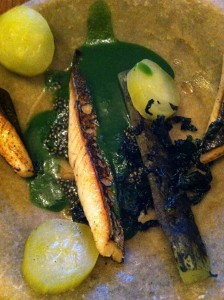 From here on it was plain sailing into the meat course which was, of course, superb.  Suckling pig belly had chewy crackling, alongside unctuous braised head meat and slices of roast squash, and hay smoked partridge consisted of both tender breast meat and confit leg served with roast parsnips and "fermented grains", which was a lovely creamy risotto type affair.  I particularly liked the toasted grains that were added to the top of the breast meat, which tasted caramelised and added an extra bit of crunch to the dish.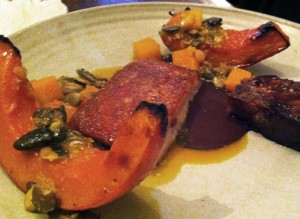 But oh….wait….there's more!  Dessert!  What can I say….other than for me this was probably the highlight.  Frozen chocolate fondant may sound like a bit of a cop out when anyone who has ever watched Masterchef will know that the oozy melting middle – or lack of – can be the downfall of many a chef, but when it tastes this good who cares.  And when it's teamed up with dulce du leche and freeze dried milk (which is MUCH more appetising than it sounds), it's so delicious that I went back to see if I could possibly scrape another spoonful out of my bowl – and then tried the same on my friend's bowl.  You know you're on to a winning dessert when you're talking about bowl scrapings.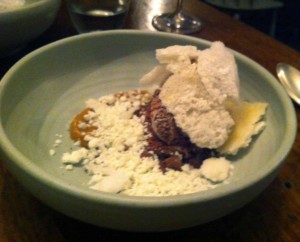 At times The Manor smacked of being a little too poncey for it's own good (the overtly self-conscious graffiti by way of interior design is not really necessary), but restaurants of this calibre are rare outside of the "city centre" and should be welcomed with open arms and empty stomachs.  We waddled off into the night, safe in the knowledge that The Manor will be here to stay and that sorrel should never be used in cocktails.
We paid £138 for two people including a bottle of wine