Recipe – Chard & Taleggio Risotto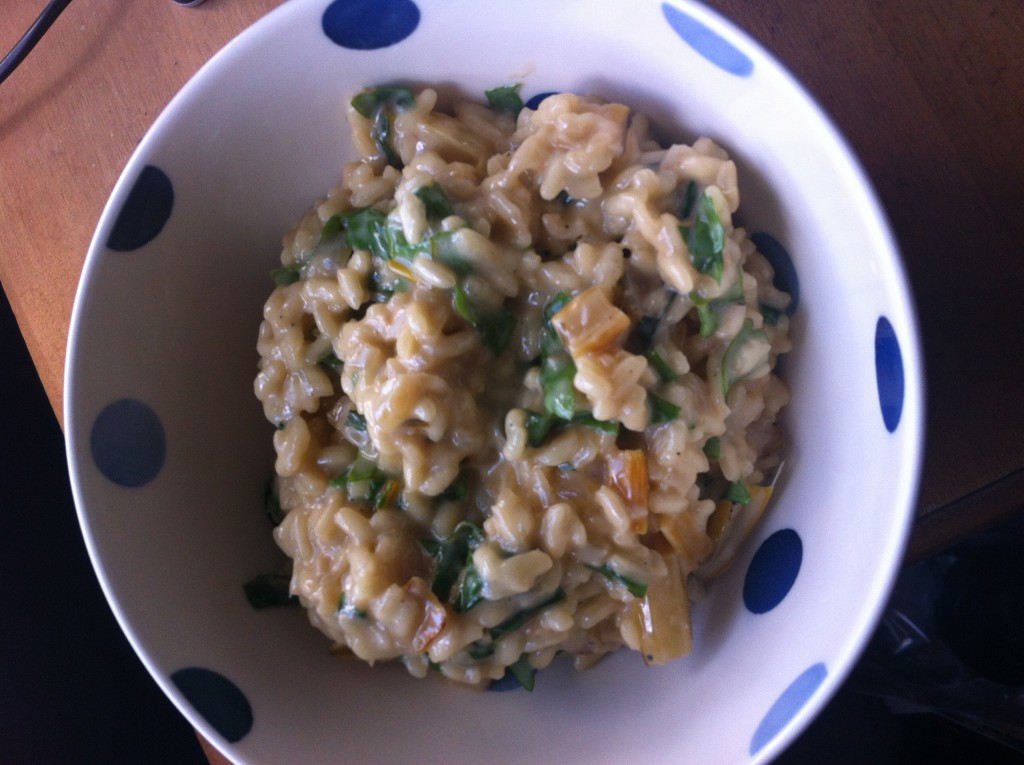 Disclaimer: I generally don't cook with exact measures, unless I'm baking.
"Chard risotto??", I hear you cry.  Yes, it may sound odd but, believe me, it tastes really good.  Winter is all about comfort food, and this risotto will give you a great big hug while still being (vaguely) healthy. Chard is currently in season and is a great source of iron.  You can use it as a side dish with most meat and fish, but here we make it the star of the show.
Risotto rice
A knob of butter
Vegetable stock
A small bottle of white wine
1 x onion – finely chopped
3 x garlic cloves – crushed
A few bunches of chard – remove the stalks and roughly chop them
Taleggio cheese to taste
Seasoning
Start by melting the butter in a saucepan and sweating down the onion & chard stalks until soft.  Add the crushed garlic and stir on a low heat to prevent it burning.
Add the risotto rice, followed by a ladle of the vegetable stock and the small bottle of wine.  Cook until the liquid is absorbed, then keep adding the stock ladle by ladle until the rice is cooked through.
Stir through the taleggio, tasting as you go.  Be careful not to add too much from the outset, as this is quite a strongly flavoured cheese.  Roughly chop or shred the chard leaves and stir them through the risotto until wilted.
Enjoy!