Was it the screaming baby right behind me?  Was it the two drunks next to me who only stopped slurping cans of Carling to pass out?  Was it the food so smelly that it assaulted my nasal passages and walloped my sinuses?  Or was it the person playing their music so loudly that I'm sure they were only wearing headphones as a fashion accessory?  It was shaping up to be the journey from hell, and by the time I arrived in London I was feeling about as festive as a turkey on Christmas Eve.
Returning to an empty kitchen and having already made myself sick after gorging an entire box of Quality Street in one sitting (it was a small box!!), I was in the mood to eat the least Christmassy food that I could find.  And in Tooting that means one thing – curry!  Now, I have lived in Tooting for five years but, embarrassingly, I tend to divide my time between only two of the neighbourhood's famed curry houses.  So, as the title of this website declares, I am determined to break the habit of a lifetime (or of five years at least) and venture forth into new territory!  With this in mind, I boldly strode into the first restaurant I came to, which happened to be Spice Village.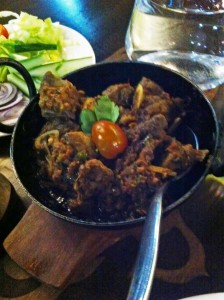 I vaguely recalled hearing good things about Spice Village so I felt fairly confident that I would be fed well, despite the fact that there seemed to be more people at the humongous Chicken Cottage next door.  Maybe they had been dazed by the oversized "crystal" chandeliers that adorn the ceiling of Spice Village and stumbled into Chicken Cottage by accident, who knows….?  However, the chef at Spice Village is definitely better than their interior designer.  I began my feast with the "world famous" masala fish – cod that had been marinated in masala spices then deep fried.  As it was a starter, I had imagined being served delicate little goujons of fish that I could elegantly nibble on.  Not so.  I was unceremoniously presented with a huge fillet of fried fish.  It may have looked like something you would find down the local chippy, but it sure didn't taste like it.  Moist, flaky white fish coated in delicately spiced crispy batter, with just enough heat to keep things interesting.  I gobbled the whole thing down in record speed.
For my main course I had ordered Afghani lamb karahi, with an onion kulcha and raita on the side.  A karahi is a cooking utensil similar to a wok, but is used for slow cooking.  Therefore Afghani lamb karahi is basically a lamb stew, or as the waiter described "it's a bit dry, a bit saucy, it's dry-saucy".  It was big chunks of lamb on the bone, slow cooked so that the meat fell apart, coated in a rich sauce.  It had a little bit of heat, but not so much that it obliterated all the other flavours.  I ate it with the raita to be on the safe side, which I was pleased to note was "proper" raita with bits of cucumber and tomato mixed through the yoghurt.  The "dry sauce" was mopped up with the onion kulcha – a large flatbread stuffed with minced onions and topped with sesame seeds.  I wish I could tell you exactly what was in the lamb karahi (other than lamb!) but the waiter wasn't able to share that information with me – apparently it's top secret!
Spice Village has apparently been voted the best Indian and Pakistani restaurant in Tooting by the local residents.  In an area with so much competition, this is praise indeed.  I was impressed both by the food and the service, but do I think it's the best in Tooting?  I'll have to try a few more restaurants before I decide…..
£19.99 for one person, excluding drinks.  Salad, chutneys and a jug of water were provided.  Service not included.