Recipe – Pan Seared Pigeon Breasts with Red Wine Sauce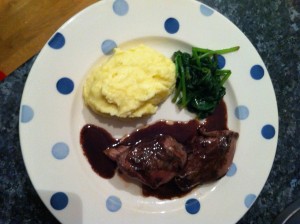 Following a meeting on New Year's Eve, I decided to head into town and ended up wandering into Borough Market, which was surprisingly not packed to the rafters for a change.  Despite the risk to both my post-Christmas bank balance and waistline, I couldn't resist roaming around and picking up various goodies.  One of the delectable morsels that I purchased was a wild pigeon from Furness Fish, Poultry & Game.  I have always loved their stall and I defy any foodie to be able to walk past it without buying something from their amazing range of food.  I had never cooked pigeon but, having seen almost every contestant on this year's Masterchef: The Professionals turn out lovely pigeon dishes,  I decided that now was the perfect opportunity to give it a try.
This recipe serves one person.
1 whole pigeon
1 x small glass red wine
Butter
Sugar
Thyme
Salt
Thoroughly clean the pigeon then remove both breasts and set aside.  In a large pan, pour a glass of red wine and add the pigeon carcass.  Add the thyme and salt, then top up with enough boiling water to cover the pigeon carcass.  Leave to simmer for approximately 20 mins.  Remove the carcass and strain the sauce into another pan.  Add a knob of butter and 1 teaspoon of sugar (depending on taste), and reduce until it reaches the desired consistency.
Score the skin side of each pigeon breast then place into a very hot frying pan.  Cook each side for no more than 2-3 minutes, then remove and leave to rest for 5 minutes.
I served this with mashed potato and wilted spinach.  Be careful not to overcook the pigeon – I do like my meat rare but if you cook the pigeon breasts for too long then the meat will become tough and unpleasant to eat.
Enjoy!