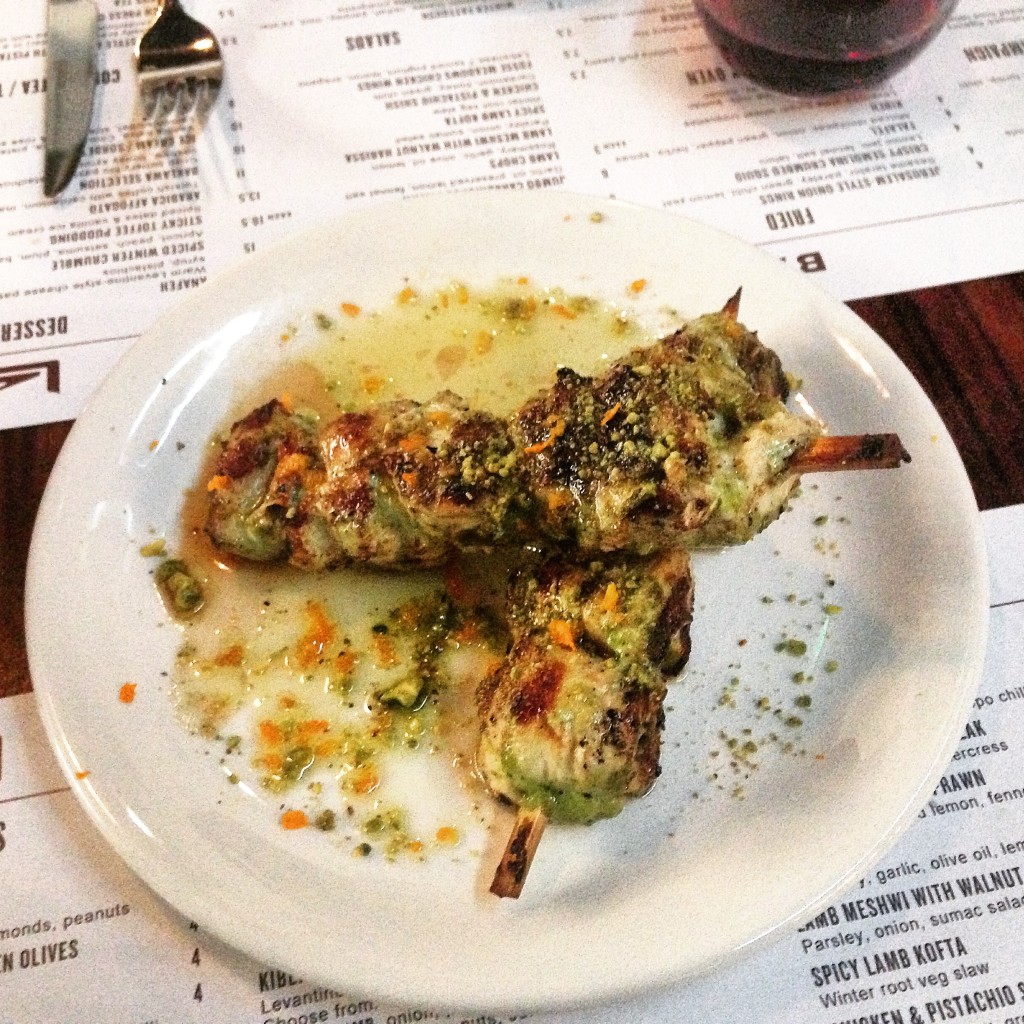 You're supposed to feed a cold, or so the saying goes.  So when my birthday rolled around and I was feeling less than fabulous, it made perfect sense to go to one of the few restaurants where I could easily eat pretty much everything on the menu.  Arabica Bar and Kitchen regularly features in Time Out London's Top 100 Restaurants list, and it's been on my radar for some time.  With food "inspired by the sun rise nations of the Levant", it offers more than your bog standard mezze restaurant.  The menu features dishes such as whipped feta with chillies, mint and pumpkin seeds, Lebanese style roasted cod, and sticky lamb belly and ribs with a pomegranate honey glaze.  It's not difficult to see why I was so spoiled for choice.
The restaurant itself is a rather sexy little number and, like the menu, offers a happy departure from the majority of Middle Eastern restaurants.  Exposed brick walls replace heavy fabric drapes, you sit on actual chairs instead of cushions, and there's not a belly dancer in sight.  It's more like a trendy urban cafe and has the same busy vibe.  We began with an aperitif.  In my case, this was the spiced Lebanese wine, which was basically mulled wine served in a dainty little cup.  Operation Defeat Cold was on.
Our waiter advised us to choose a selection of small plates to start with, and then one main course each which we could share between us.  We kicked off with some moutabel, which is smoked aubergine with tahini, garlic, olive oil and lemon, falafel (natch), halloumi (can't resist), and spiced venison bourekas.  This latter dish was a puff pastry parcel filled with pulled venison meat and sultanas, topped with flaked almonds and icing sugar.  It was like a richer version of the Moroccan pastilla, and one of the few more unusual dishes I got to try during this meal thanks to some fairly unadventurous dining companions.  That said, the mezze staples like falafel and halloumi were pretty fantastic and definitely a cut above the usual stuff that gets trotted out at most Middle Eastern restaurants.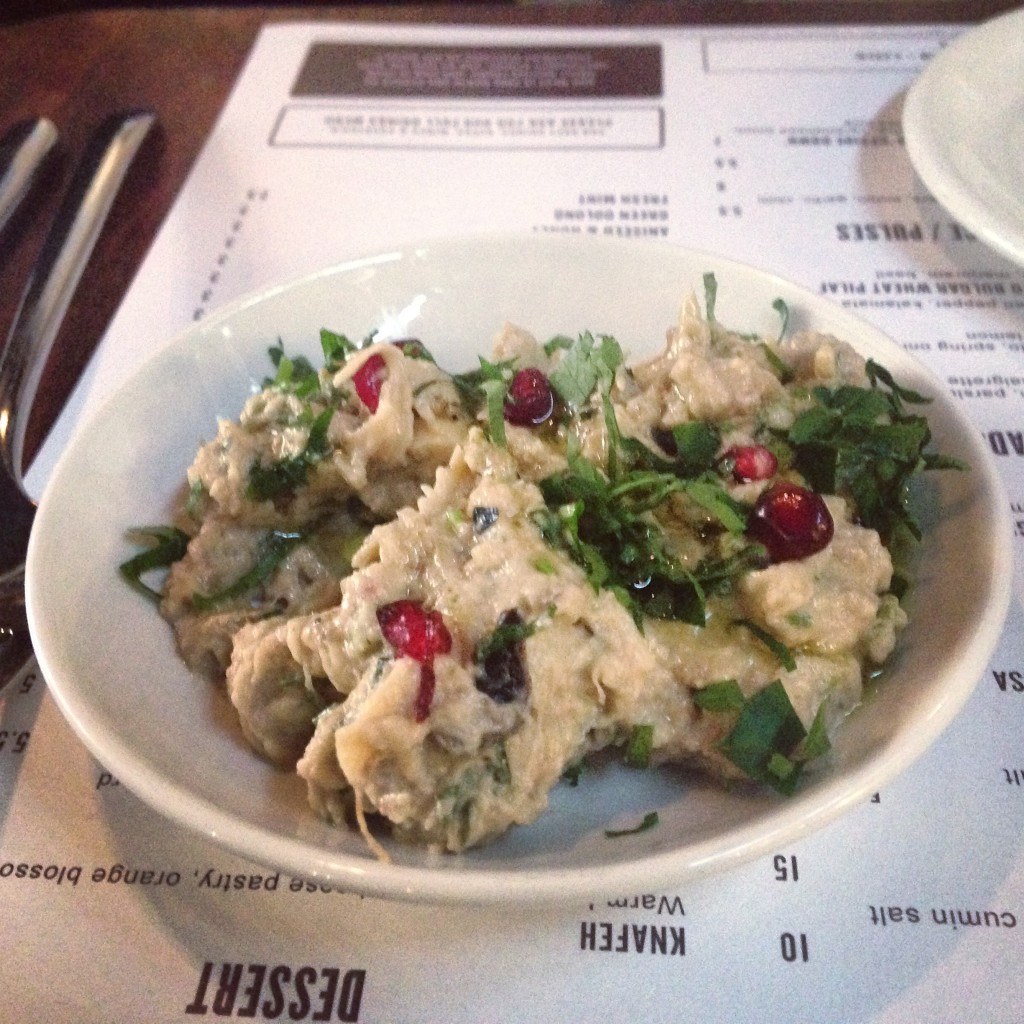 Again, our main course options were fairly limited thanks to my two companions both ordering the same dish.  Their choice was the chicken and pistachio shish with cardamom, honey and green chilli.  I'm always a bit wary of chicken kebab dishes, having eaten more than my fair share of dry, chewy scraps of meat.  Happily, these particular kebabs were moist and flavoursome, rich in their own juices.  My choice of main was the imam bayaldi.  This was half a roasted aubergine filled with a spiced lamb ragu and topped with tomatoes and pine nuts.  It was pleasant enough but I feel that it could have been a lot richer, with more depth of flavour.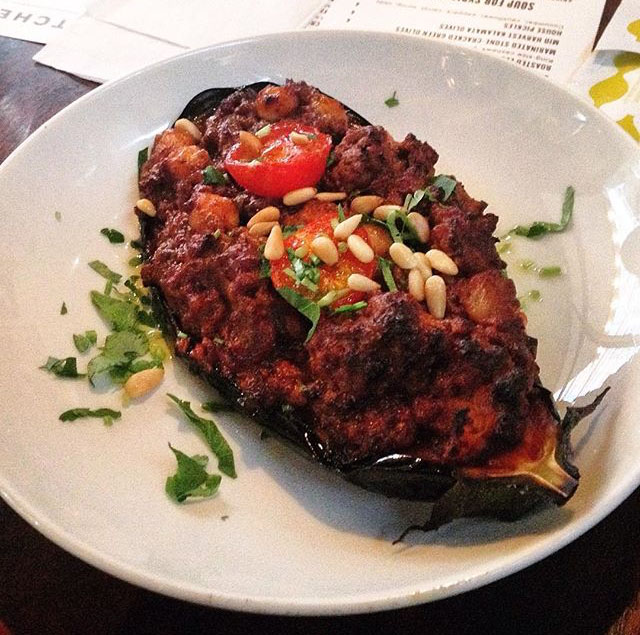 There was a smidgen of room left for dessert and right from the start I'd had my eye on the knafeh.  This is a Lebanese cheese pastry served warm, with orange blossom honey and crushed pistachios.  I had never tried one of these before so I was looking forward to scoffing it down.  The pastry was fine and flaky, like that on a baklava, and soaked with sweet honey.  It was filled with soft, elastic cheese – more like cooked mozzarella than baked cheesecake – but this was actually a lot nicer than it sounds.  Using a semi-hard cheese means that the whole dish is prevented from becoming overly rich and sickly.  Plus I'm sure all that honey did wonders for my sore throat…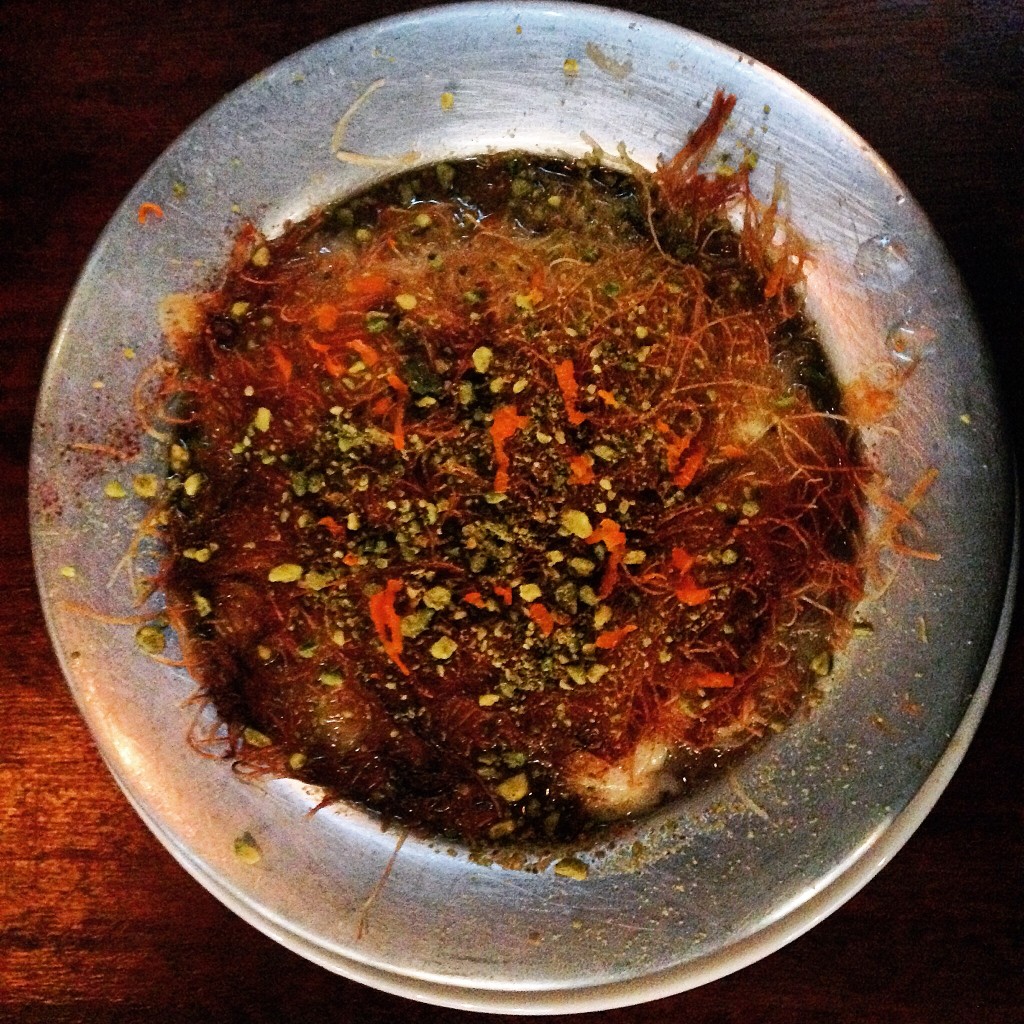 Getting to Arabica involves running the gauntlet through Borough Market, and I would advise you to keep your head down and not let yourself get distracted by all the loveliness on offer there.  You need to go to Arabica hungry.  Cold or no cold, there's no excuse for not stuffing your face.
Arabica Bar and Kitchen, 3 Rochester Walk, SE1 9AF
£45 per person for three courses including drinks