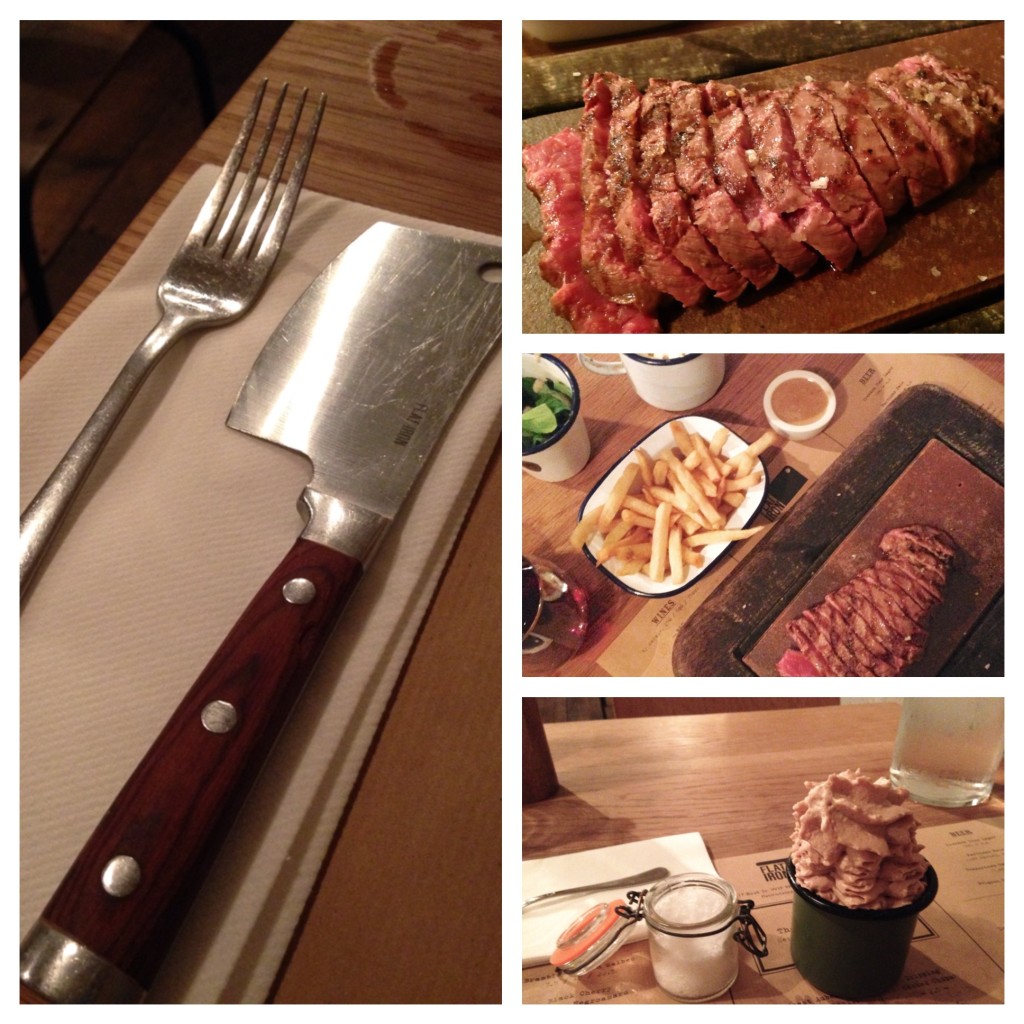 I've been watching a lot of "Parks and Recreation" lately and have fallen a little bit in love with Ron Swanson – the deadpan, mustachioed, all-American red blooded male.  Ron Swanson has no time for nonsense such as salad or kale smoothies.  He likes his meat rare and his whisky neat.  He is probably my soulmate….  So I paid a visit to a restaurant that Ron Swanson would most definitely approve of – Flat Iron.  There is just one thing on the menu here and that's steak.  Really really good steak.
Flat Iron is part of the annoying "no reservation" trend that seems to have swept London lately, so I played it safe and visited late on a Monday lunchtime.  I love my food but I'm not prepared to queue outside a restaurant on a grey, muggy day for it.  Safely seated inside, I was taken through the procedure by one of the waitresses.  Their star dish is a flat iron steak, served with salad and a range of sides and sauces.  They do now offer specials, such as burgers or other cuts of steak, but it's not a place to visit if you're not into red meat.
As I was a Flat Iron virgin, I decided to go for their signature dish accompanied by peppercorn sauce and dripping-cooked chips.  The steak came already sliced and perfectly rare, just the way I like it.  It was incredibly tender which made me think that the meat cleaver "knife" was possibly a little OTT, although Ron Swanson would probably disagree.  The peppercorn sauce had a sweetness from shallots and the chips were…well, what you would expect when the menu reads "dripping-cooked chips".
As if all that artery-clogging fare wasn't enough, I decided to add a dessert to my expanding waistline.  There was only one choice, so if you didn't like chocolate salted caramel mousse then tough.  Although if you don't like that then there's frankly no hope for you anyway.  The mousse was served squirty-cream style, sprayed into an enamel mug by the waitress.  I was also provided with a pot of rock salt on the side with the advice that I was to sprinkle this over my mousse, for an extra salty kick.  This just served to prove my theory that there is nothing that can't be improved by the addition of salt.
While single cuisine restaurants in London are now verging on the ridiculous (Come Fry With Me??), Flat Iron manages to maintain a degree of credibility.  The decor is New York chic, the service is slick and friendly without being intrusive, and the steak is damn fine.  I may not have gone full Swanson and ordered five courses of steak with a side of steak, but the quality of the meat on offer could tempt you to go on an all-out binge.  Oh and they do sell some green stuff too.  Sorry Ron.
Two courses, a side, sauce, and glass of house wine – £23.00
Flat Iron, 17 Beak Street and 9 Denmark Street