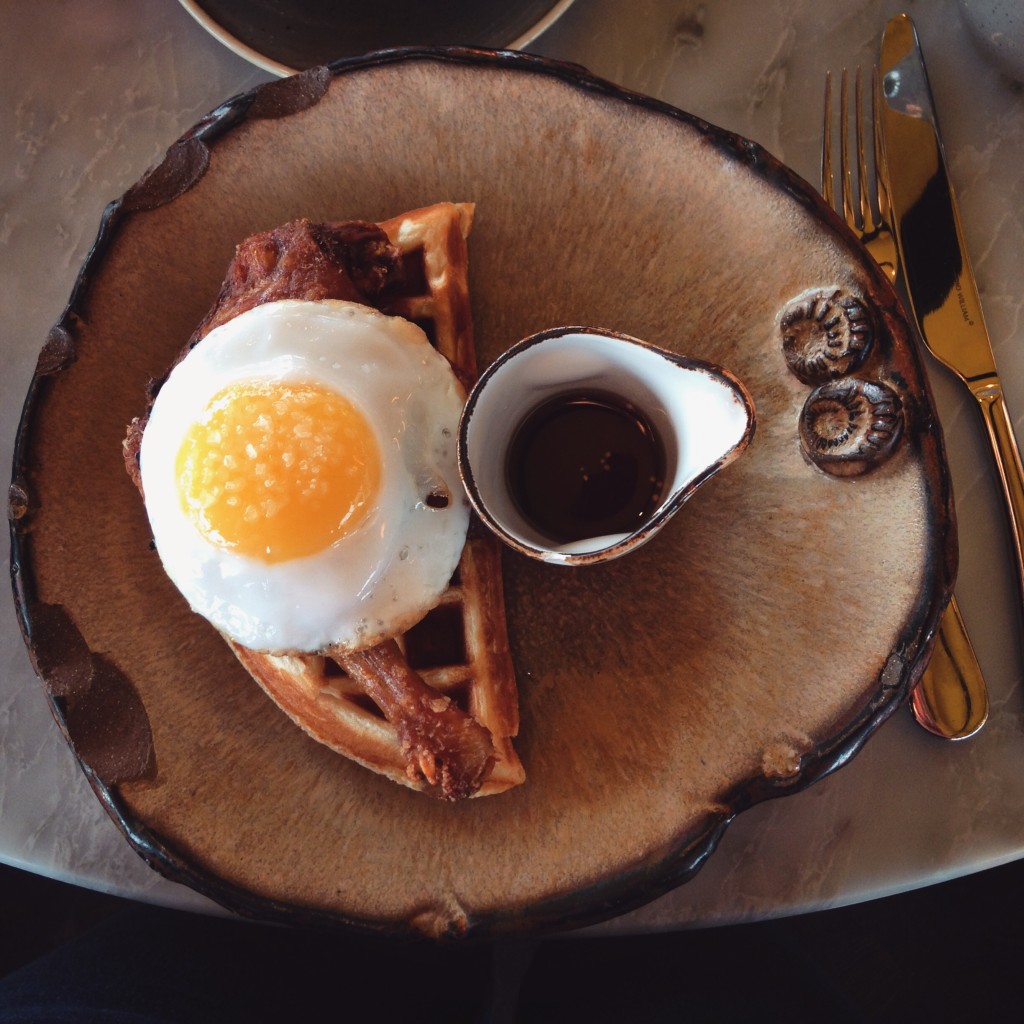 After spending quite a bit of time hanging around in establishments at the top of tall buildings, I have realised that a pattern is emerging.   The higher up in the sky you are, the worse the service usually is.  Which is a shame for many reasons, not least because most of these places seem to implement a kind of "sky tax", meaning you pay through the nose for the privilege of being there.  True, the views are spectacular so at least you have something nice to stare at while you wait half an hour to get served at the bar (Hutong, I'm looking at you).  However, is feeling like you're on top of the world enough, when the staff seem determined to drag you back down to earth with a bump?
Duck and Waffle is located at the top of the Heron Tower, one of the newish skyscrapers to adorn London's skyline.  It is open 24/7, so you can grab a bite to eat no matter what time of the day or night you fancy it.  It's been on my "list" for a long time so when my friend suggested a sunrise breakfast there, I was already grabbing my coat and dashing out of my front door.  Our reservation was at 5:45am – yes, that's AM – which meant that I had to get up at 4am. On a Sunday morning.  I'm notoriously sloth-like, so the dawn start is testament to how much I wanted to go to Duck and Waffle.
On arrival at the Heron Tower, we headed for the roped-off entrance to the restaurant which was manned by a security guard/Door Nazi.  Despite having clearly spotted my friend and I, the doorman chose to ignore us and have a conversation with another security guard/Door Nazi who was lurking behind a desk just inside the building.  Door Nazi 1 then emerged to usher through a couple who had arrived after us, while still managing to avoid acknowledging our presence.  Eventually contact was made, although we still had to wait on the pavement while he checked our booking with Door Nazi 2.  Once we got inside the foyer, we then had to wait while our booking was checked again, as well as being grilled about the exact whereabouts of the rest of our party.  For a moment it looked as if we would be turfed out onto the street to wait until the remaining three diners arrived, but my friend and I had completely lost patience by this point so made an Indiana Jones-style dive for the lift doors.  Finally we got to the inner sanctum….
Unfortunately the service didn't really improve once we made it to our table in the sky.  Despite the restaurant being three quarters empty, we were kept waiting to place our order, to have our table cleared, to pay the bill.  The latter is one of my biggest pet peeves.  I appreciate that most people probably aren't moving too quickly at that time on a Sunday morning but, if a restaurant is not keen to take the money that is rightfully theirs, then it makes me question why they are even bothering with this whole running a business thing.
The food and view did somewhat make up for the lack of everything else.  The breakfast menu is fairly limited but their signature duck and waffle dish was available.  And it was gooooood.  The waffle was fluffy, the duck was juicy, the egg was runny and, frankly, you can never go wrong with the addition of maple syrup to anything.  Everyone else in our party ordered the full English which met all expectations.  It's just a shame that you have to negotiate your way through security worthy of a nightclub at 3am to even get through the front door.  Sadly the views > people theory remains unchallenged.
One course plus tea and juice- £27.00
Duck and Waffle, Heron Tower, Bishopsgate, EC2N 4AY