London Cocktail Week 2015 – My Highlights
Mini clothes pegs.  Dainty egg-cup style glasses.  Drinks made with condiments, pork fat and even ants.  Yes ladies and gentlemen…London Cocktail Week is here.
There are so many things that I loved about London Cocktail Week.  The sheer number of bars taking part, not including the pop ups at Poland Street and Spitalfields, making me feel like the proverbial kid in candy store.  The opportunity to try something that I may not usually order.  How amazingly friendly everyone has been.  But most of all, I really loved how enthusiastic the bar staff have been.  Each person who served me clearly took so much pride in their bar and the effort that had gone into their LCW cocktail.  Here are my personal highlights from the week:
The Lucky Elder Martini – The Lucky Pig
Bombay Sapphire gin, St Germain elderflower liqueur, apple juice, lime juice and egg white went into this refreshing little number from one of my favourite bars – although  I think the egg white might have been forgotten…  I almost felt quite wholesome drinking this seemingly innocent cocktail.  My head was telling me a different story the next day, however.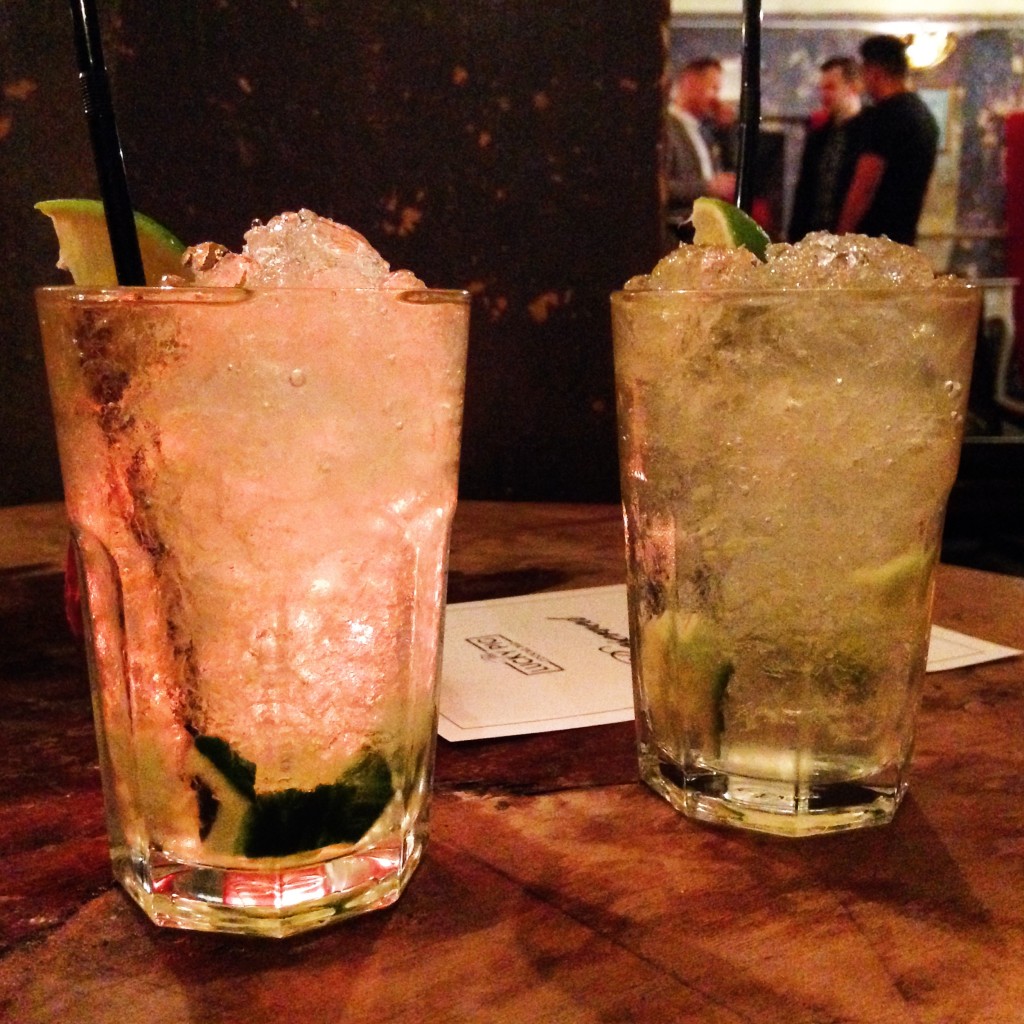 Sakura – Shochu Lounge
This didn't taste at all like I imagined although, with ingredients like sakura tincture, I'm not sure what I was expecting to be honest.  Sakura is Japanese cherry blossom and is therefore an appropriate ingredient for a cocktail at this Asian-inspired bar beneath ROKA restaurant, mixed with Nikka whisky, vermouth and plum soda.  Surprisingly sweet, but not overly so, with a hint of smokiness from the whisky.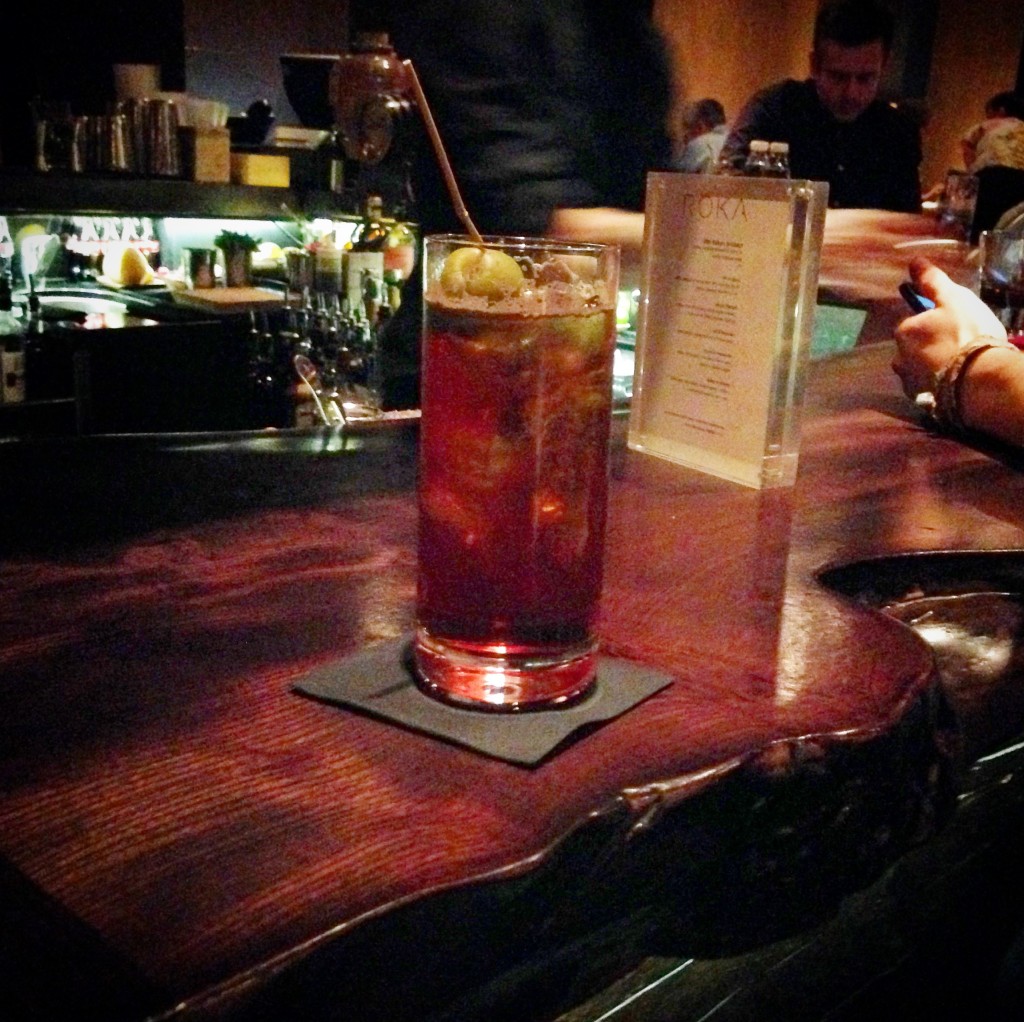 Muggles Mark – Reverend JW Simpson
What a pleasant surprise to learn that the team at the Reverend had not one, but two signature cocktails on the menu for LCW.  Their recommendation was the Muggles Mark – Maker's Mark, Liqueur 43, lemon, egg white and homemade spiced pumpkin juice served up in a mini tankard.  Only politeness prevented me from using my finger to scoop out what remained of the appropriately autumnal flavoured froth from inside my glass.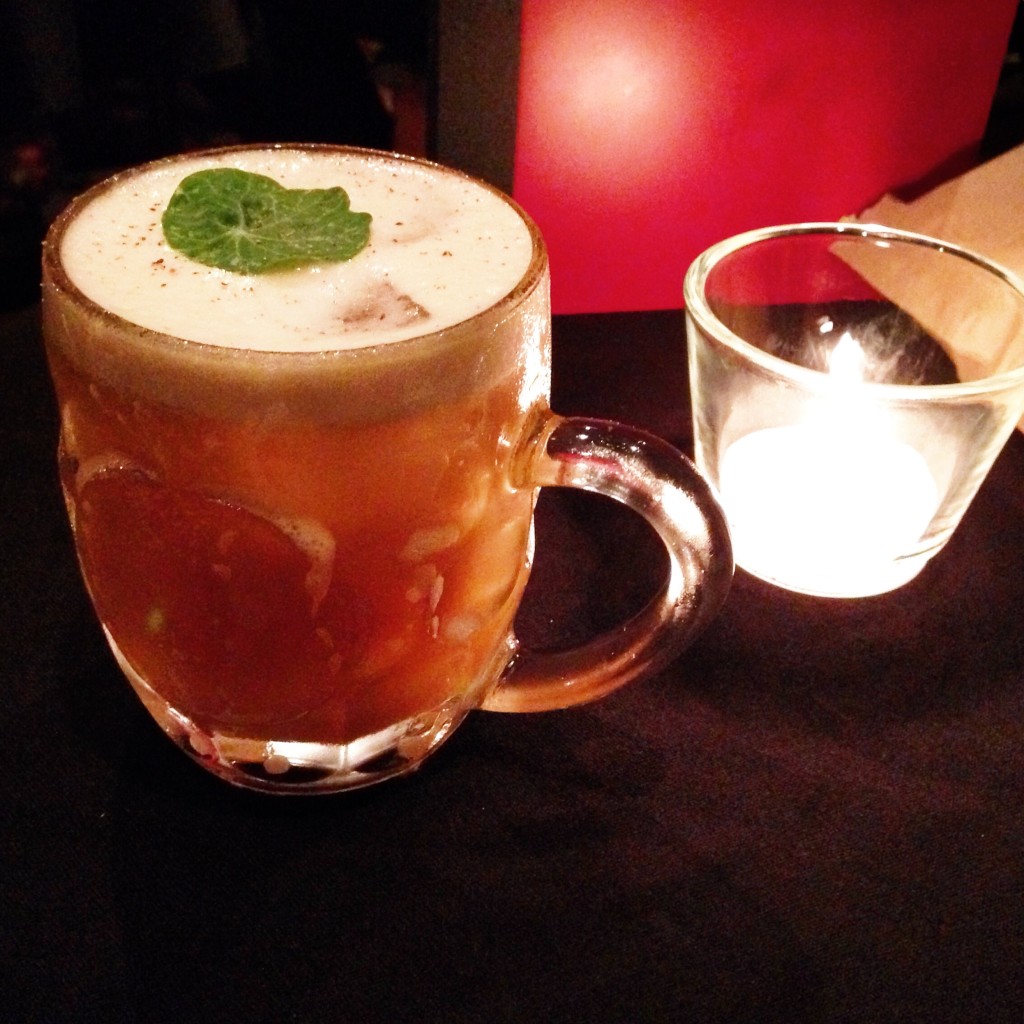 The Pemberton – The Sun Tavern
Named after John Pemberton, the man who invented Coca Cola (you learn something new everyday!), this was made with Glendalough Double Barrel Irish whisky, lime juice, a coke and ginger reduction, and spiced chocolate bitters.  I was expecting a long drink tasting of coke but instead was presented with a little glass containing a creamy mixture with a hint of lime in the background.  Another one that was dangerously drinkable.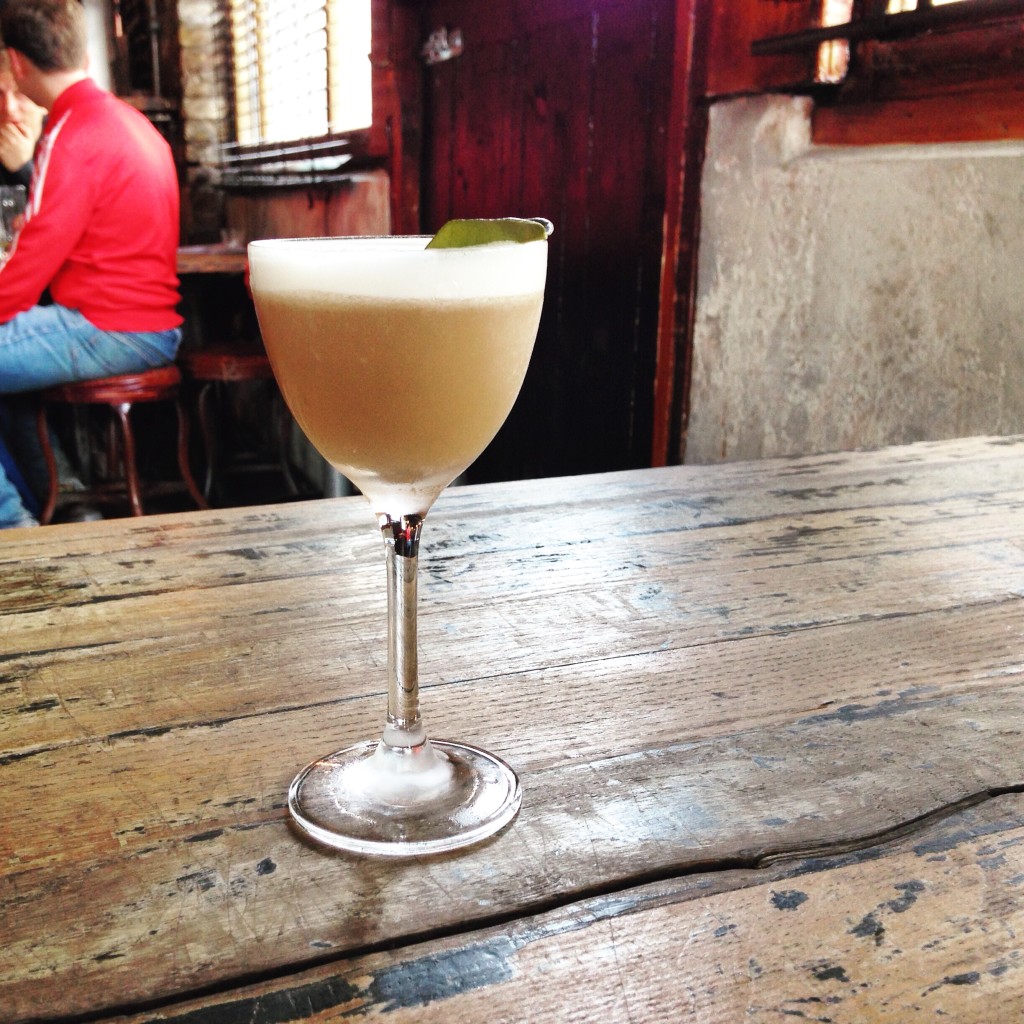 Blessed Thistle – 46 & Mercy
I read the description of this and thought "What the actual fuck??"  Any drink made up of vodka, sherry vinegar, and vermouth washed with pork fat and thyme is going to be a gamble and I had visions of being presented with something that had translucent circles of fat floating around in it, a bit like my nan's gravy.  Fortunately, no actual fat goes into the drink; it is filtered through a muslin cloth so only the smoky taste remains and it tasted fantastic!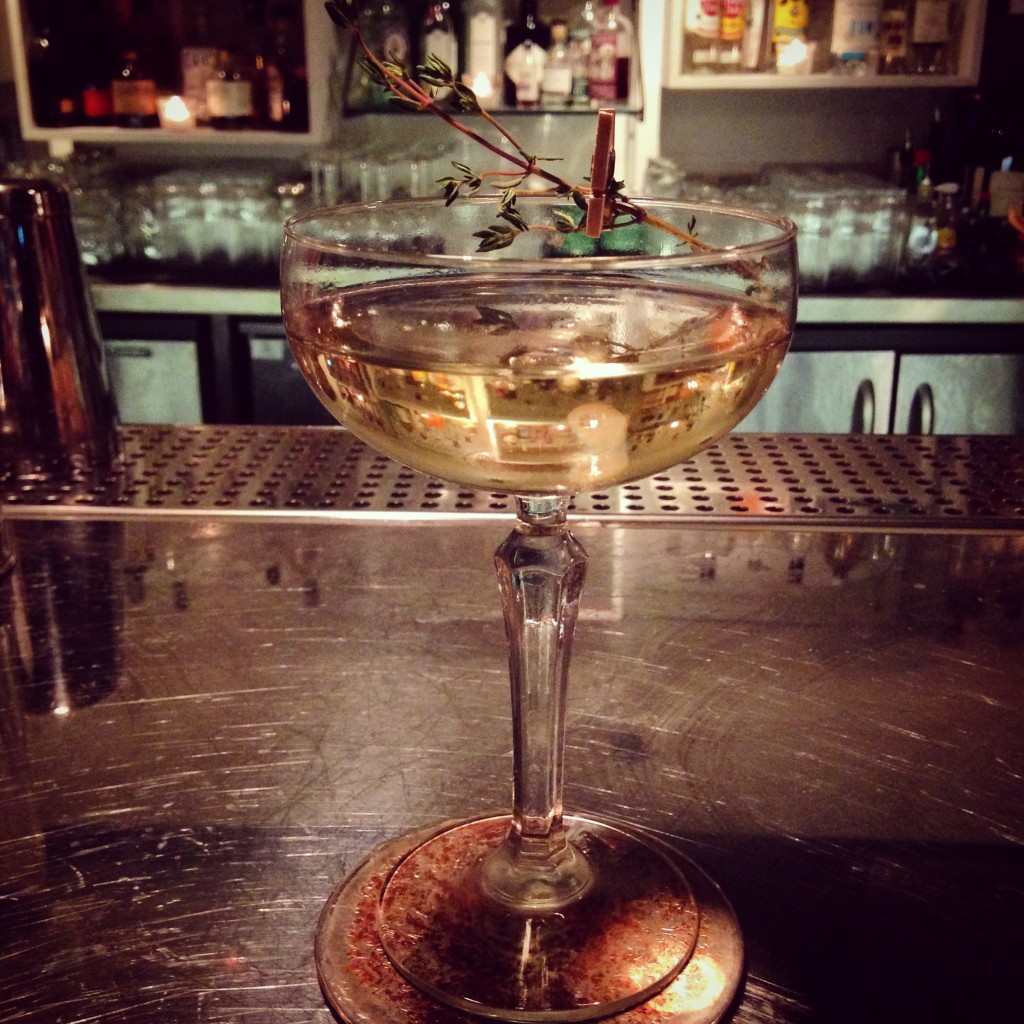 Latilla de los Muertos – Discount Suit Company
Firstly – I bloody love this place.  A proper little speakeasy around the corner from Petticoat Lane Market with barely any room to swing a cat.  Secondly – their LCW cocktail rocked.  Made with Ocho Blanco tequila, Briottet manzana verde liqueur, lemon juice, honey syrup, egg white, chocolate bitters, and Tabasco, this was another one that could have been "piss in a glass" (a phrase I have stolen from my friend who used it to describe one particular cocktail not featured here).  It was sweet, sharp and aromatic all at once, with the warmth of honey and a strange but not-unpleasant tingling sensation in my mouth.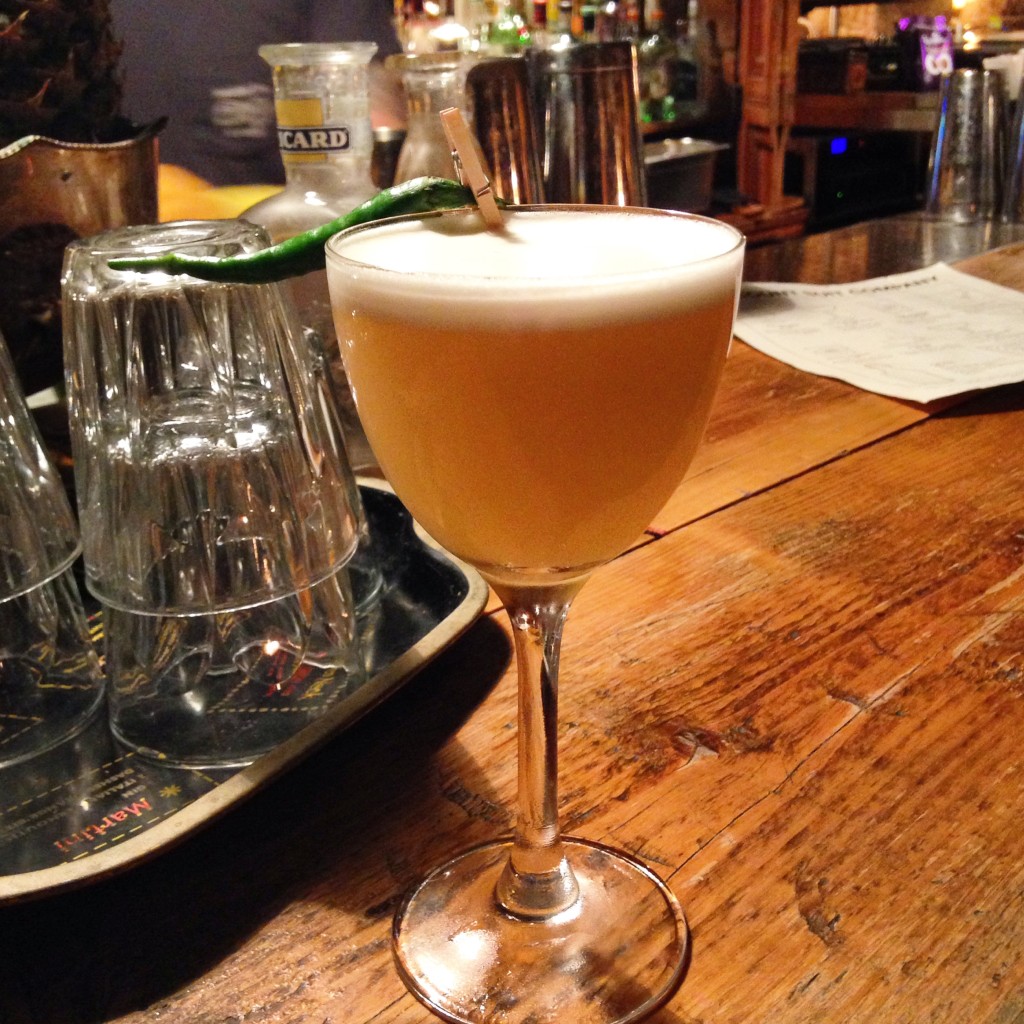 I would have loved to have had the time, money, and liver capacity to try each and every cocktail on offer this past week.  I barely scratched the surface and already feel completely broken.  My top pick of the week, however, is the Blessed Thistle from 46 & Mercy.  It takes some skill to make vinegar, pork fat, and thyme work in a cocktail, and to then create a drink that dings each and every one of your tastebuds is something to be applauded.  I'm looking forward to visiting again and trying some more of their selection.  But first, I need to detox for at least a month!