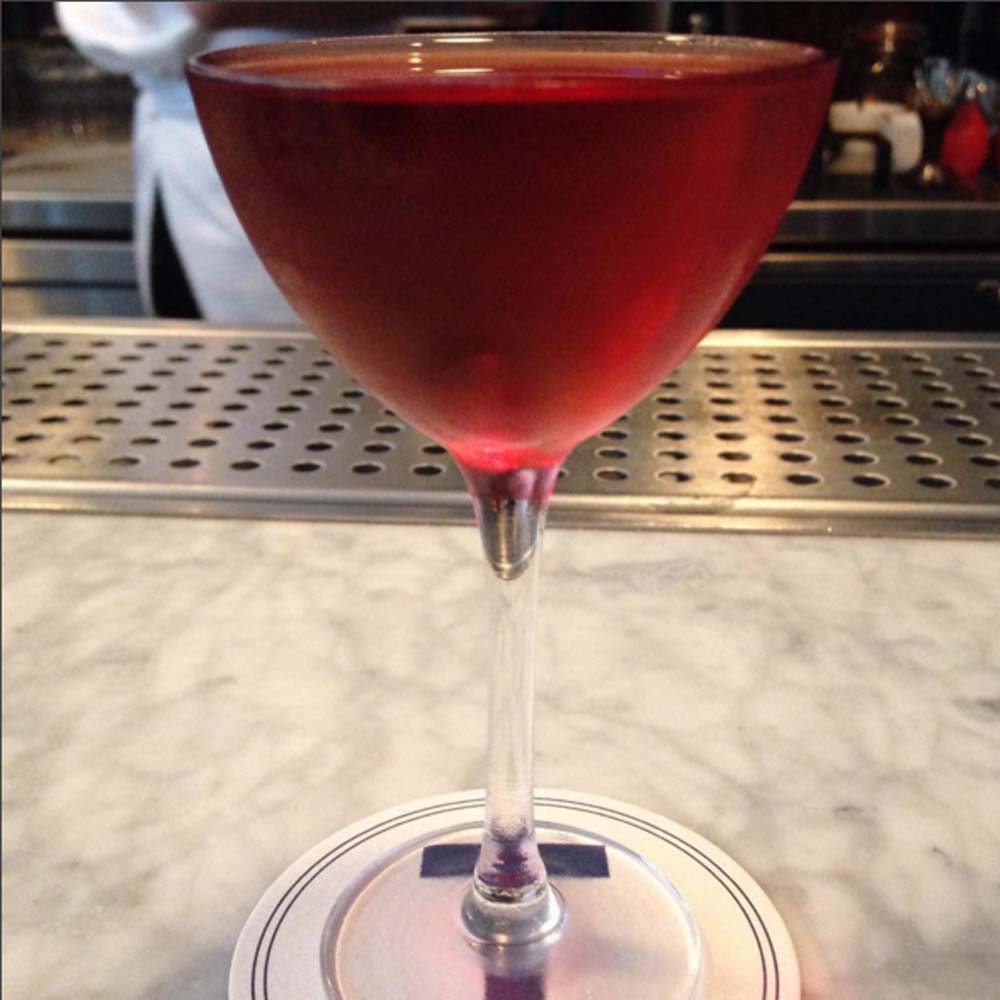 Regular followers will know how much I love Soho.  I frequently lament the aggressive pace of change and new development in the area.  However, no matter how much I adore it's grimy underbelly, I did not want to get up close and personal with the damp pavement of Brewer Street…..  I'm putting the blame squarely at the doorstep of Bar Termini and their fabulous Negronis.
I discovered Bar Termini a few months ago and have been a regular visitor ever since.  I love its chic, retro vibe – all staff in white coats, shiny coffee machine, and marble surfaces.  I love its teeny tiny, time capsule, Continental feel.  Perched at the bar, cocktail in hand, it almost feels like I'm in a Fellini film.  Most of all I love their sexy sexy drinks.  Bar Termini is perhaps best know for their Negronis.  A Negroni is a cocktail made from one part gin, one part vermouth rosso and one part Campari.  It is, without doubt, a drink for grown ups.  I first tried one earlier this year – at Bar Termini – and am now a bit of a Negroni addict.
Bar Termini is the brainchild of Marco Arrigo, the Head of Quality for Illy coffee, and renowned mixologist Tony Conigliaro.  So you can expect top notch drinks before you even step through the door.  The menu offers a choice of three Negronis – Classico, Rosato and Superiore.  The Classico is, of course, the classic Negroni recipe but cooked for a little longer to give a smoother finish.  The Rosato is made with a rose petal infusion, which gives a hint of sweetness.  The Superiore includes pink peppercorns, cooked through a sous vide to release the bitterness.  All are served in dainty little glasses, in true aperitivo style.  There is more to Bar Termini than just their Negronis however.  They also offer some seriously bad ass cocktails.  My personal favourite is the Marsala Martini, made with marsala dolce, vermouth, gin and almond bitters.
I take everyone I know to Bar Termini, so when my mum recently visited she was no exception.  She had never tried a Negroni before so, as she is a lover of gin, I was pretty confident that this was something she needed to know about.  The fact that she had to shortly catch her train back to Wales was by the by. As I recently read elsewhere, the bar is about coming for one before moving on.  Yeah….not in my world.  Mum loved the drinks, so several Negronis plus a Marsala Martini later and suddenly we were cutting it very fine for that train.  A mad dash across town ensued, as we wove on unsteady feet through the soggy streets of Soho.  And then, as I was doing that whole London thing of stepping off the pavement to overtake slow moving tourists, my foot slipped off the kerb and bam!  I fell flat on my face, toddler style, complete with bruised knees and scraped palms.  So much for that whole La Dolce Vita thing.  Anita Ekberg I most definitely am not.  Fortunately the embarrassment factor, made even more acute by the fact that my mum was there to pick me up off the floor, was diminished thanks to all the gin in my system.
So Bar Termini, your killer cocktails were quite literally my downfall, but that's not going to stop me coming back for more.  I do have a Negroni addiction to feed after all.
Oh and mum missed her train.
Then sent me this….
Bar Termini, 7 Old Compton Street, W1D 5JE