Taking A Bite Out Of….Las Vegas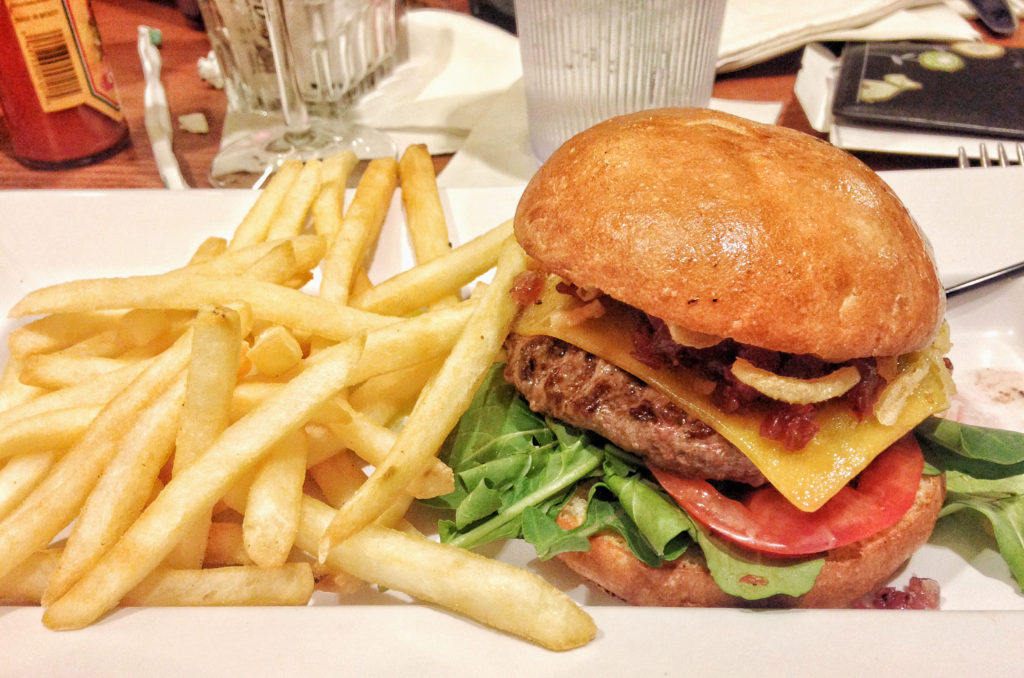 Las Vegas has a certain reputation.  Brash. Blingy. Larger than life.  And with so many top chefs setting up shop in Sin City you would expect its food scene to be just as epic.  But guess what?  It really isn't.  Dining out in Vegas is a bit like losing on the slot machines.  You get drawn in by the shiny colours and flashing lights, excited by what could happen.  But you end up disillusioned and broke.
This was my experience after visiting Zefferino, an high-end Italian restaurant in The Venetian.  The location is perfect, overlooking the "Grand Canal".  However, the food is no better than what you would find in an average Italian chain in the UK.  This is somewhat disappointing when you're paying between $26 – $46 for a bowl of pasta.  My starter of tuna carpaccio with avocado, capers and lemon dressing (clocking in at $24) just tasted of stale olive oil.  The penne with caramelised onions, pancetta, peas and spinach in a Parmesan sauce did actually taste really good, but was it worth $27?  No.  My friend ordered the fettucine with lobster, jumbo shrimp, crabmeat and fresh tomato.  For $45 you would expect this to be flawless, but there were bits of shell mixed in with the pasta.  She couldn't eat it.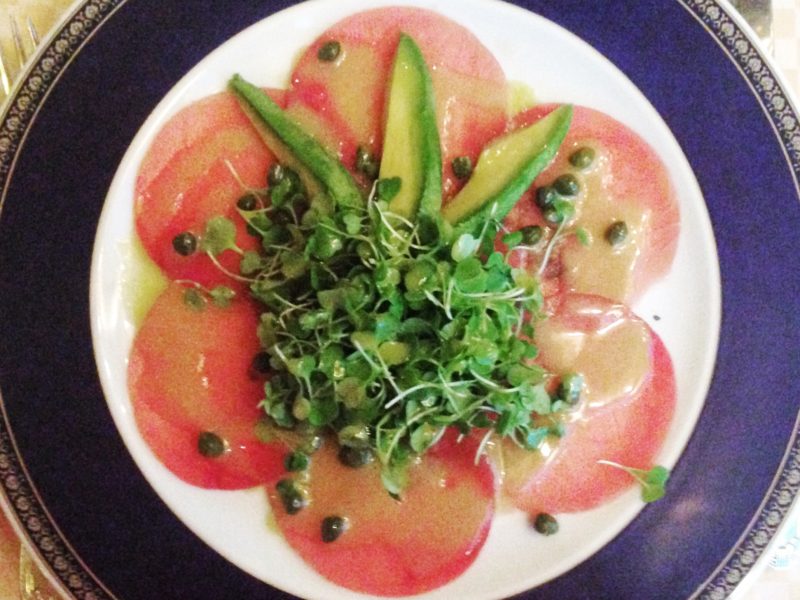 We learned our lesson after that and stuck with cheaper chain restaurants, like The Cheesecake Factory, for the rest of the trip.  My knowledge of The Cheesecake Factory up until now came purely from The Big Bang Theory.  I was actually pretty impressed though.  The menu is HUGE and everything on it looked amazing.  I could honestly have ordered everything.  I restricted myself to "just" the mini crab cakes, followed by crispy chicken Costoletta.  This is described as chicken breast lightly breaded and sauteed, served with lemon sauce, mashed potatoes and asparagus.  The reality was actually three chicken breasts.  Whaaaaaat?  It was tasty enough but come on….  I barely made a dent in it.  The crab cakes were just "meh" by the way and barely worth mentioning.
Of course, we had to get cheesecake from The Cheesecake Factory even if it was to take away.  The list of cheesecakes alone was something like three pages long.  Between us we ordered the Toasted Marshmallow S'mores Galore, the Ultimate Red Velvet, Adam's Peanut Butter Cup Fudge Ripple (no idea who Adam is but he makes a good cheesecake…) and the Snickers Bar Chunk.  Admittedly we ate them much later that night after consuming a great deal of gin, but they all tasted as decadent and naughty as you would expect.  From what I can recall…
Speaking of decadent and naughty, a special shout-out has to go to the Bellagio buffet.  You just know that an all-you-can eat buffet in the States is going to be crazy.  For $44 you can get unlimited food and alcohol at the Bellagio brunch buffet, and we approached it like the starving.  Actually, not eating for a good 24 hours before our visit probably would have been a good idea because we could not do it justice.  The range of food is staggering – pancakes, pasta, smoked salmon, salads, all kinds of meat and fish, sushi, pizza, cheeses….  And don't even get me started on the desserts.  Considering the amount of food and the fact that the unlimited alcohol includes champagne, this is actually a pretty good deal.  And the Bellagio is a very cool hotel.  If they ever make Ocean's 14, I'm definitely playing the fat one.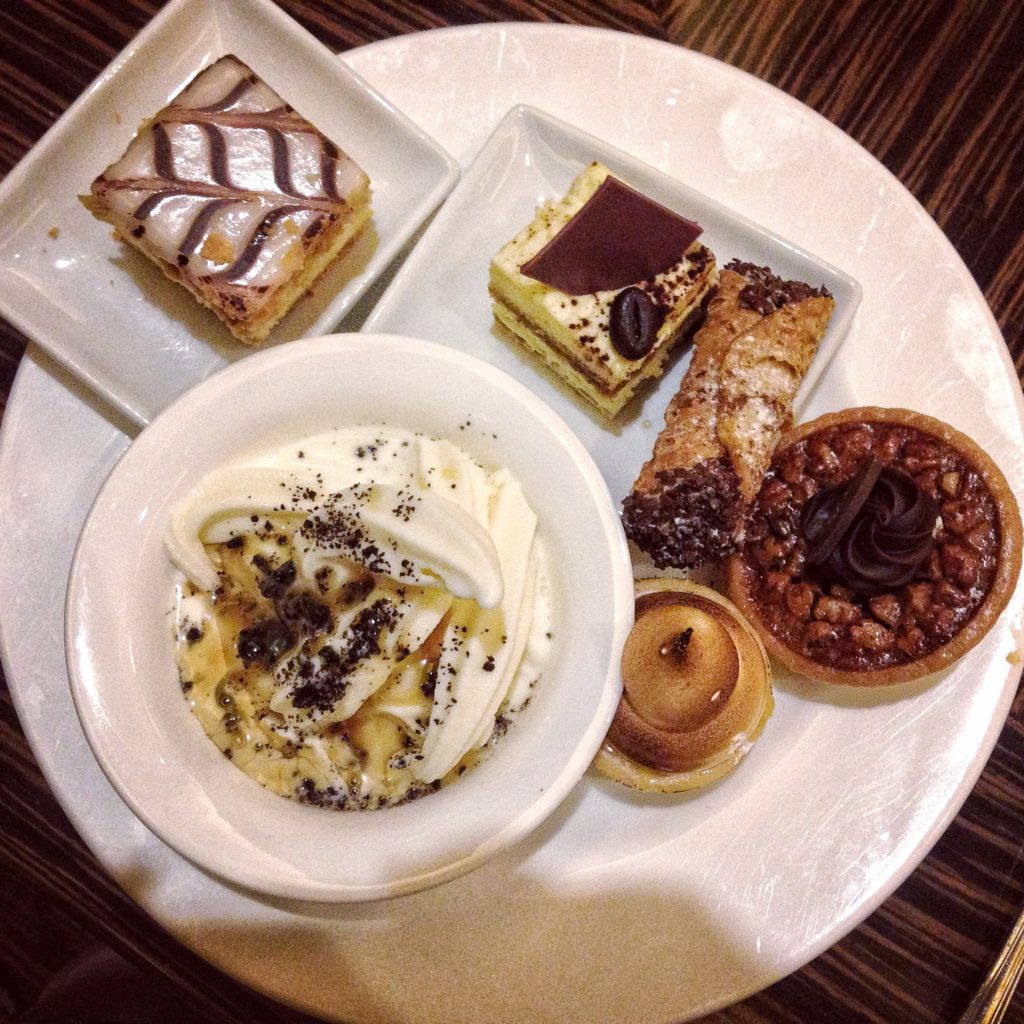 So with the exception of Zefferino, which was terrible, most of the food I ate in Vegas was just kind of ok.  Then…finally….a meal that ticked all of my boxes.  A big, fat, juicy burger and fries from….the airport.  Yes, that's right.  My best Vegas meal was actually from the PGA Tour Grill at McCarran airport.  God it was good.  Massive, but not obscenely so, and cooked to perfection with loads of cheese, salad and relish.  I can honestly say that I did not expect my best meal in Vegas to come from a bland airport restaurant.  But maybe there's a metaphor for life in there somewhere.
If you're a Vegas virgin, like I was, then you can expect it to be even crazier and even better than you ever imagined.  Every taste is catered for – except perhaps the taste for mind-blowingly great food.  Maybe I shouldn't be surprised that, in a town that's all about style over substance, the best restaurants are the ones that don't expect you to be a high roller to dine there.