Recipe – Beef Stew With Dumplings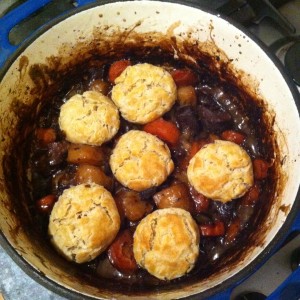 As I was dragging my sorry self to work on a recent dark and dreary morning, I noticed a brightly coloured van tootling it's way around Tooting.  It was from a company called Riverford Organics and was dropping off lots of boxes of loveliness to my fellow SW17 residents.  As soon as I got into the office, I googled Riverford to see what they are all about, and was pleasantly surprised to see that not only do they provide boxes of organic fruit and veg, they also supply organic meat.  I placed an order for a veg & meat box and, soon after, received a delivery of a range of seasonal veg plus beef mince, stewing steak and a shoulder of lamb.  Should keep me going for a while!
In light of the wintery weather and using the contents of my Riverford box, I made a beef stew with red wine and dumplings.
For the stew:
Diced beef
Carrots
Celery
Leeks
Potatoes
2 x garlic cloves
Butter
Olive oil
150 ml red wine
500 ml beef stock
1 x tblspn plain flour
3 x tblspn fresh thyme
3 x tblspn fresh parsley
2 x bay leaves
Worcester sauce to taste
For the dumplings:
125g plain flour
1 tspn baking powder
60g suet
Pinch of salt
Water
Heat the oven to 180C/Gas Mark 4/350F.  In a large casserole or oven proof pan, heat the butter and oil, then fry the beef until browned, then stir in the flour and cook for a further 2-3 minutes.  Add the garlic and vegetables, and cook for a few more minutes.  Keep an eye on the pot so the meat doesn't start to catch.  Stir in the red wine, stock, herbs and Worcester sauce, salt & pepper, then cover and transfer to the oven.  Leave to cook for approximately 2 hours.
To make the dumplings, sift the flour and baking powder into a bowl, then add the salt and the suet.  Gradually add cold water until a thick dough is formed.  Sprinkle flour over your work surface and onto your hands, then roll small balls out of the dough.  After the stew has cooked for two hours, place the dumplings onto the surface and cook for a further 20 minutes, or until the dumplings are tender.  For a golden top, leave the lid off.
I ate this on it's own as the potatoes and dumplings bulked it out, but it could be served with mashed veg such as swede or potato.  I would recommend a full bodied red wine, such as a Burgundy or an Australian Shiraz, to accompany.