Yala National Park: Is it any good?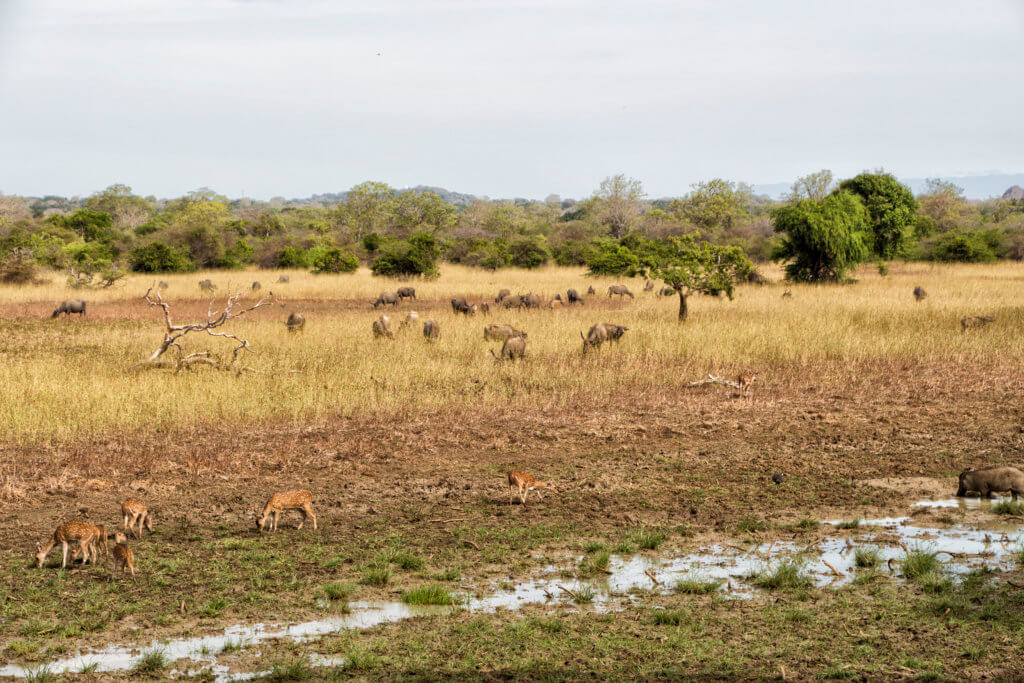 Sri Lanka is justifiably famous for its wildlife and one of the best ways to spend a few days while in the country is to go on safari. There are three national parks to choose from – Yala, Udawalawe and Wilpattu with Yala being the most popular thanks to its leopard population and its location in the more visited south of the country. But does popular equal good? Not necessarily…
I visited Yala as part of a wider trip throughout the south of Sri Lanka. Wilpattu is in the far north so it wasn't practical to visit on this occasion. Udawalawe is the place to go to observe elephants and I've been lucky enough to see quite a bit of these amazing creatures already. But Yala is famous for leopards and the chance to see one in the wild was too much to pass up. So this is how I found myself sitting in the back of a jeep in the chilly 4am gloom of Tissamaharama, a dusty town approximately 35km from Yala national park, ready to head out on my first ever safari.
Sunrise is one of the best times to spot animals in the wild but the exceptionally early start in this instance was because our tour company aimed to be one of the first jeeps to enter the park when it opened at 6am. A good idea in theory – except all the other tour companies aim to do the same thing. So you start the tour by spending about 45 minutes just sitting in the car park of Yala National Park in the dark, waiting for the gates to open. And when they do open….well, my best advice to you is to strap in and hold tight because it's like Formula 1. You'll be in one of at least twenty other jeeps with their accelerators hard against the floor, jostling for pole position as you're enveloped in clouds of dust and exhaust fumes.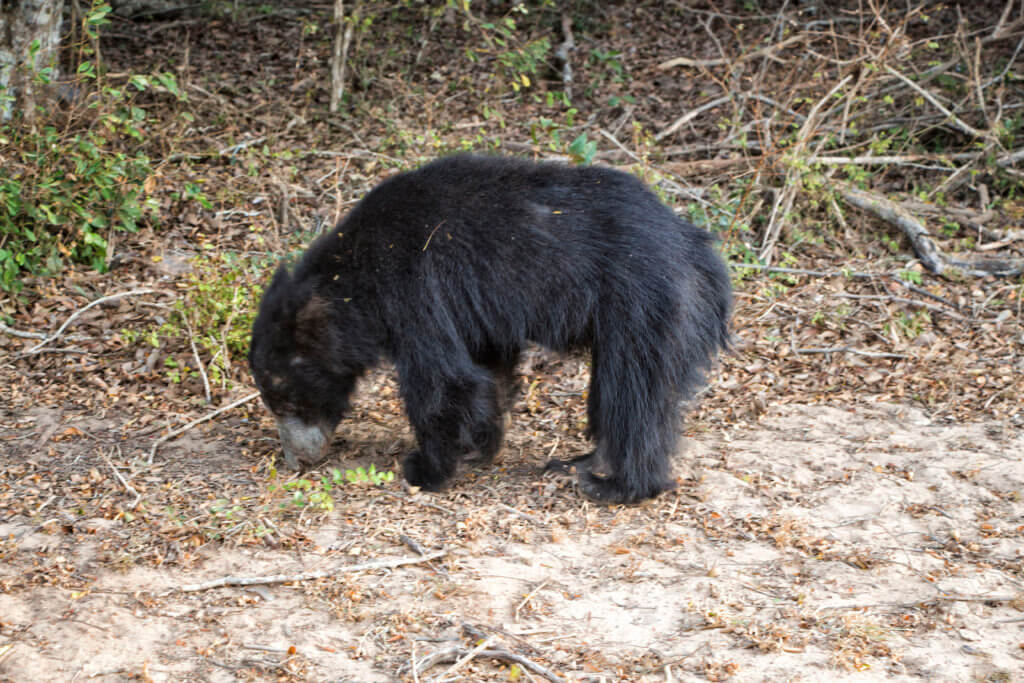 Our jeep gradually found its own groove and we shook off the rest of the pack to explore the park in relative solitude. We scored a big hit early on in the form of a sloth bear, shuffling and snuffling its way along the edge of one of the trails. We were able to get fairly close and the bear seemed completely oblivious to us, as it ambled off into the forest (which is perhaps for the best as sloth bears are apparently one of the most aggressive species of bears out there!). This was shaping up to be a great experience. But would we see any of those elusive leopards?
Even if you don't see a leopard, Yala contains such a vast array of wildlife that you're bound to spot something incredible. Over the course of the morning we saw monitor lizards, peacocks (I never tire of seeing them in the wild), buffalo, crocodiles, monkeys (black faced langurs), a mongoose, wild pigs, deer, and elephants. And despite the number of jeeps at the park's entrance earlier that morning, the vastness of Yala means that it doesn't feel crowded – until one of the jeeps spot something worth stopping for.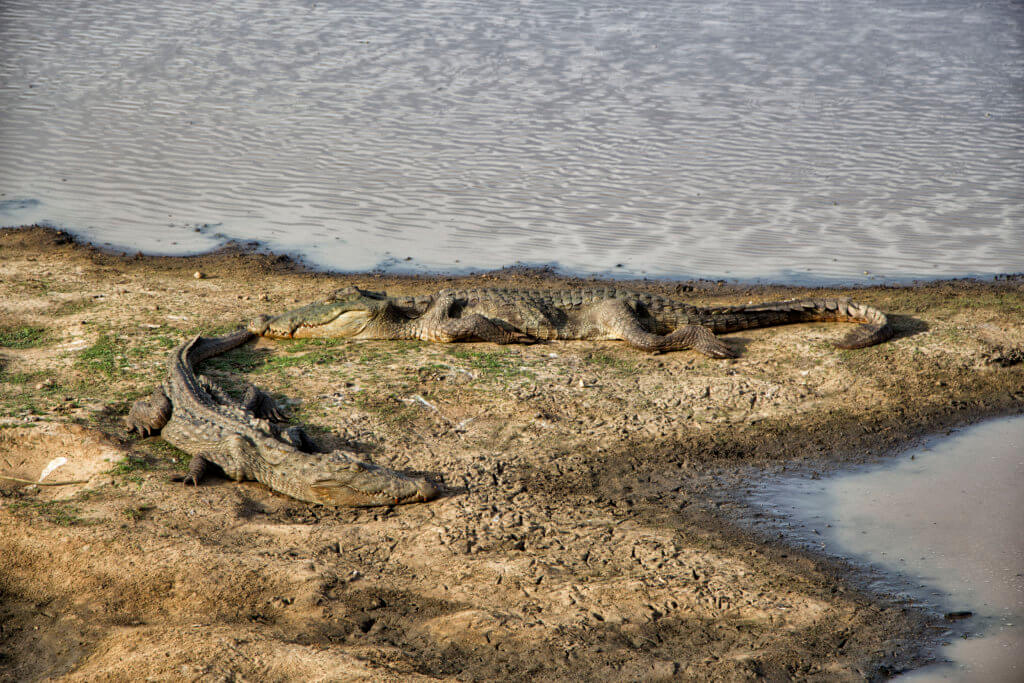 Of course, every tour company wants their clients to see as much of the wildlife as possible but there are never any guarantees. So if one jeep spots that another one has stopped,  they'll also zoom over to see if there's anything interesting going on, risking scaring off whatever was causing the jeep to stop in the first place. What's more, there's the potential for you to get caught in a traffic jam thanks to drivers refusing to move on when their clients have a good view of something. Our group very nearly missed out in getting a proper look at some elephants because the jeeps in front of us (of which there were several) blocked the road. 
Things took a particularly unpleasant turn when there was a suspected leopard sighting. A guide claimed to have spotted one camouflaged in a tree and all hell broke loose. We ended up in a legit traffic jam (in the middle of a national park – wtf??) as approximately 10 jeeps tried to jostle their way along a dirt track and manoeuvre their clients into prime leopard-spotting position. The fact that the leopard was extremely well hidden meant that no-one was in a hurry to move on as they squinted through their binoculars. We were trapped between jeeps, so we couldn't even reverse and go back the way we'd come.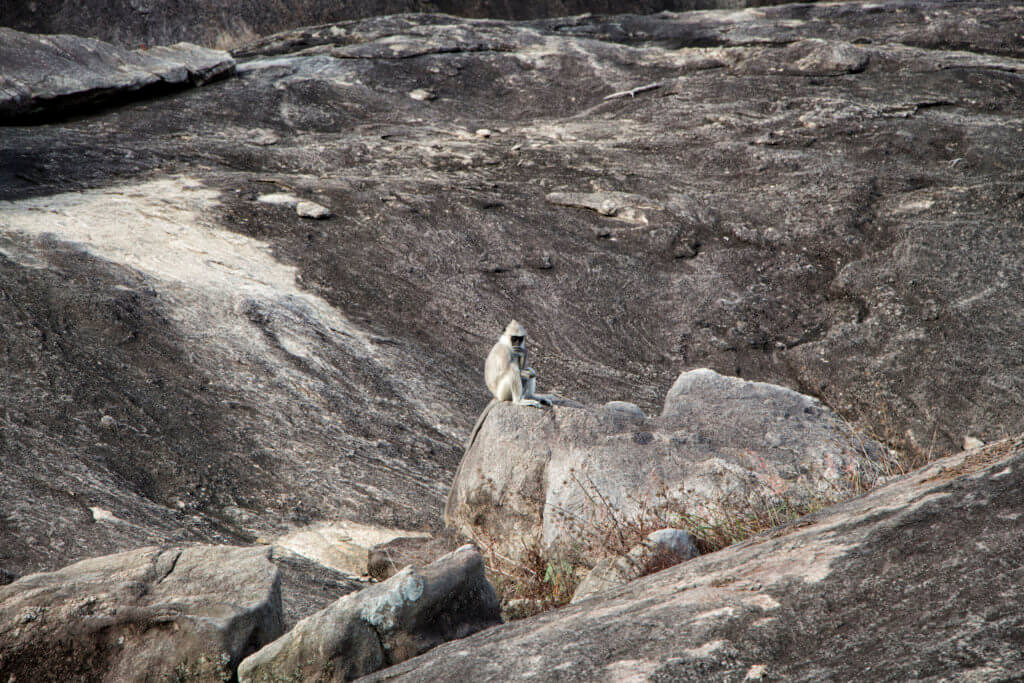 Part of the problem was someone who was on a private tour. Her guide had been the one to spot the leopard so they were parked up right in front of the tree where it was supposedly hiding. This particular tourist had told her guide that they were absolutely not to move on until she gave the order, leading to the sort of congestion I thought I'd left behind in London. Sitting in traffic, breathing in exhaust fumes was not what I'd expected from a safari in Sri Lanka. What's worse, I didn't even get to see the leopard that was the cause of all this chaos.
 I don't regret going to Yala National Park. Taking the time and geographical constraints of my trip to Sri Lanka into consideration, it was definitely a great decision. I saw some really incredible wildlife, some of which – like the sloth bear – I'd never seen before and was extremely lucky to catch a glimpse of. However, it is extremely popular with tourists and as mass tourism continues to extend its grasp across the world, Yala will probably only get busier – more jeeps, more traffic jams, more exhaust fumes. If I were to get a do-over on my time in Sri Lanka, I'd head north and visit Wilpattu instead. At the time, I'd read that it's a better option than Yala and Sri Lanka's north generally receives fewer visitors compared to the south but the tight, two week schedule that had been foisted on me ruled this out. Still, it means there's a good reason to return, right?
Need to know:
The closest towns are Tissamaharama, Kitaragama or Yala itself. Most tour companies will pick you up from your hotel if you stay in one of these towns.
I stayed in Aeon Hotel in Tissamaharama and found it to be one of the better hotels of my trip. However, recent reviews seem to suggest that it's no longer rated (thefts reported from rooms) and it's also no longer available on Booking.com, although it does seem to be on Trip Advisor, Expedia and Hotels.com.
There are many tour companies to choose from but I went with Yala Wild Safaris because they had good reviews, last minute availability and charged a reasonable rate.
If you go on the morning safari, bear in mind that it will be fairly cold at first so you'll need to wear a sweater or lightweight jacket. Once the sun is up, the temperature will soar so take layers that can be easily removed. Just don't then leave your jacket on the jeep like I did!
Ask your hotel to provide a breakfast or packed lunch for you – most of them will as a matter of course.
Like it? Pin it!