Adam Handling at The Caxton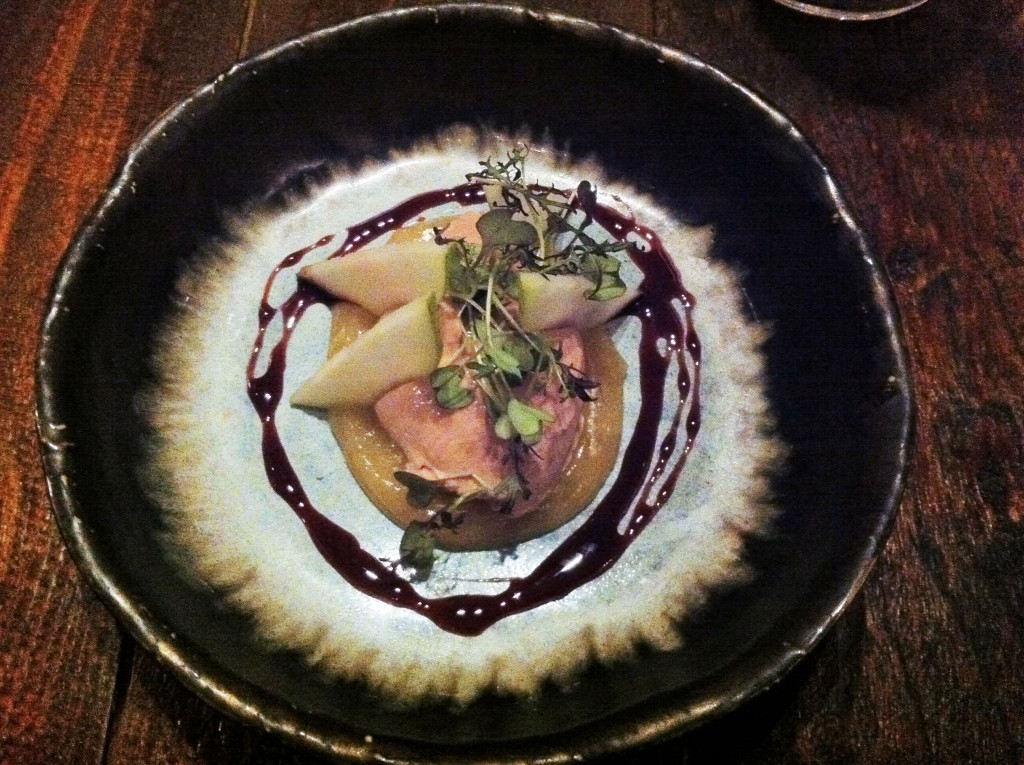 My best friend has found a new best friend.  And that new best friend isn't even an actual person.  It's the rather brilliant Bookatable, purveyor of shiny restaurant bargains.  There's no way I can compete so, as the old saying goes, if you can't beat 'em, join 'em.
Our first foray with Bookatable took us to Adam Handling at The Caxton.  As a huge fan of Masterchef, I was very excited to eat at the restaurant of one of my favourite former contestants.  Handling was a finalist in the 2013 series of Masterchef: The Professionals, and right from the outset he impressed with confident and competent cooking.  I adored him even more after watching him struggle with "conceptual cooking" in one of the later episodes, and still managing to nail it by coming up with a dish inspired by how angry he was about the whole task.  A favourite to win, with a feisty streak a mile wide, I think he was robbed of the title; but he doesn't seem to have done too badly out of being a runner up.
Handling is based at Caxton restaurant within the St Ermin Hotel, an elegant venue near St James' Park.  The interior is immaculately decorated, with a convivial, gentleman's club atmosphere.  A large glass of red at the bar was accompanied by small plates of delicious bread, cheese and ham; the risk of spoiling our dinner was great!  Before we could fill our bellies too much, we headed into the dining room for our three course meal where more appetite-ruining temptation was placed in front of us in the form of warm sourdough bread with rich, salty chicken butter.  Wonderful.
As we were dining with Bookatable, we were offered a set menu instead of the a la carte but even with more limited choice, we struggled to decide between dishes as they all looked so delicious.  To start, I ordered the enigmatically titled "duck liver, pear & rosemary".  This turned out to be an oozingly unguent duck liver pate served with slices of toasted brioche, and offset by a sharp, sweet pear puree.  If I had been served three courses of just this, I would have been a happy girl.  Unfortunately things only went downhill.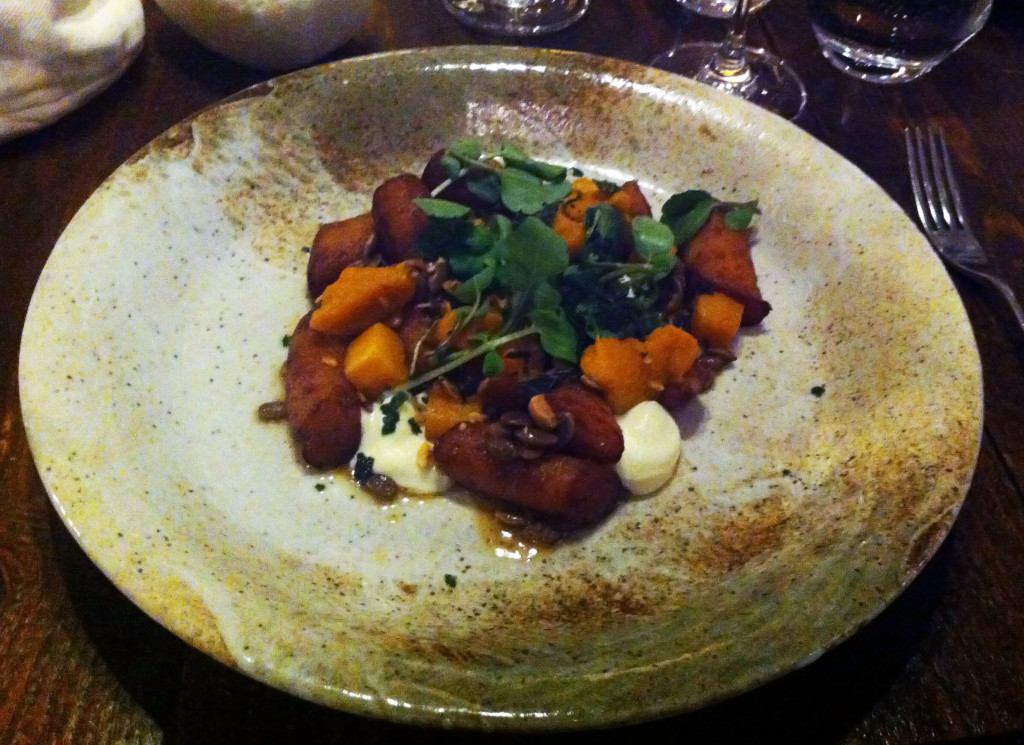 My main course was gnocchi, pumpkin, almonds and burnt butter.  A winning combination.  However, for me, the mixture of burnt butter and pumpkin seeds was slightly too bitter on the palate.  It was a surprisingly strong tasting dish that sat a little too heavily in my stomach.  I enjoyed it….but I probably wouldn't order it again.  After requesting a short break before the next course, which the staff happily accommodated, it was time for dessert.  I had ordered the orange & chocolate trifle; it had been highly recommended by our waiter so I was expecting great things.  What I wasn't expecting, however, was to be served something so unpleasant that I wasn't able to finish it.  It looked pretty enough; a jam jar filled with all manner of naughty, decadent ingredients.  However, it tasted like someone had soaked a bar of Dairy Milk in orange juice and squirted cream on the top, so jarring were the flavours.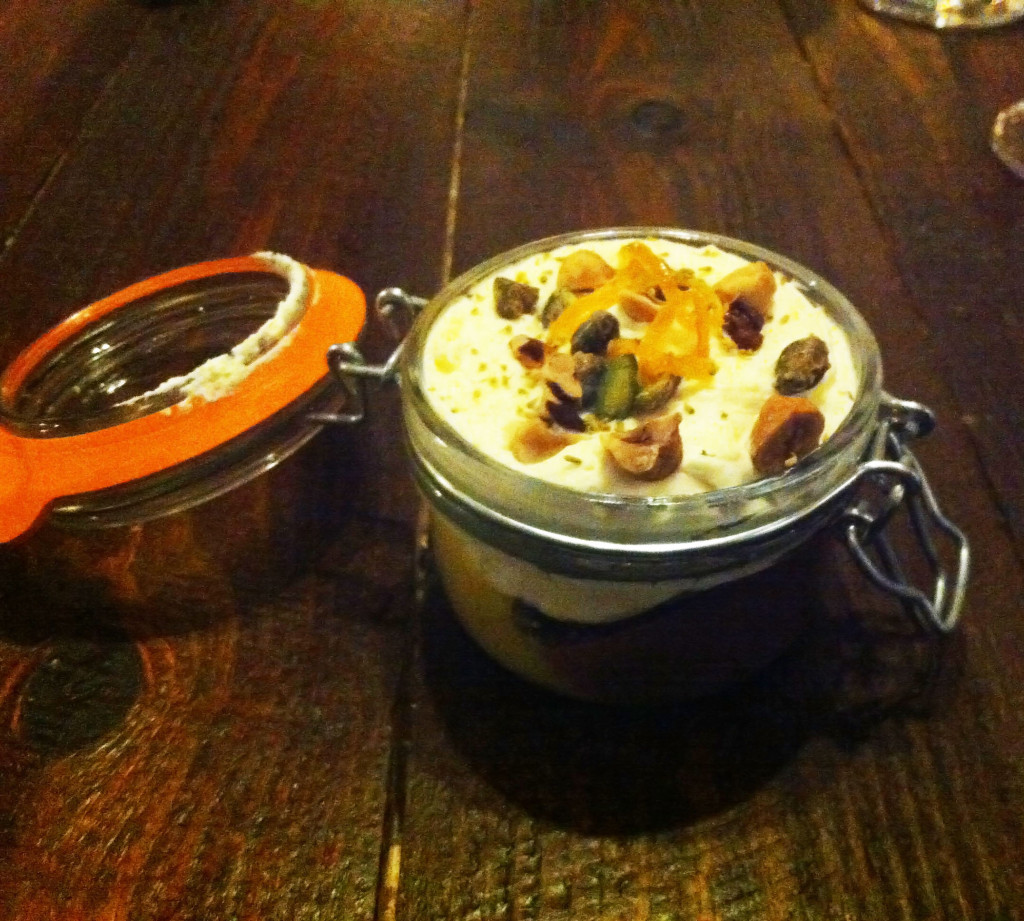 Three courses plus a glass of Prosecco for £35 at a restaurant of this bearing is a pretty good deal to be honest.  It was disappointing that the menu went from the sublime to the ridiculous, but the service was great and I would be interested to try some of the dishes from the a la carte menu on another occasion.  I still believe that Adam Handling should have won Masterchef and he is most definitely a chef to watch.  His future is as assured as he is.