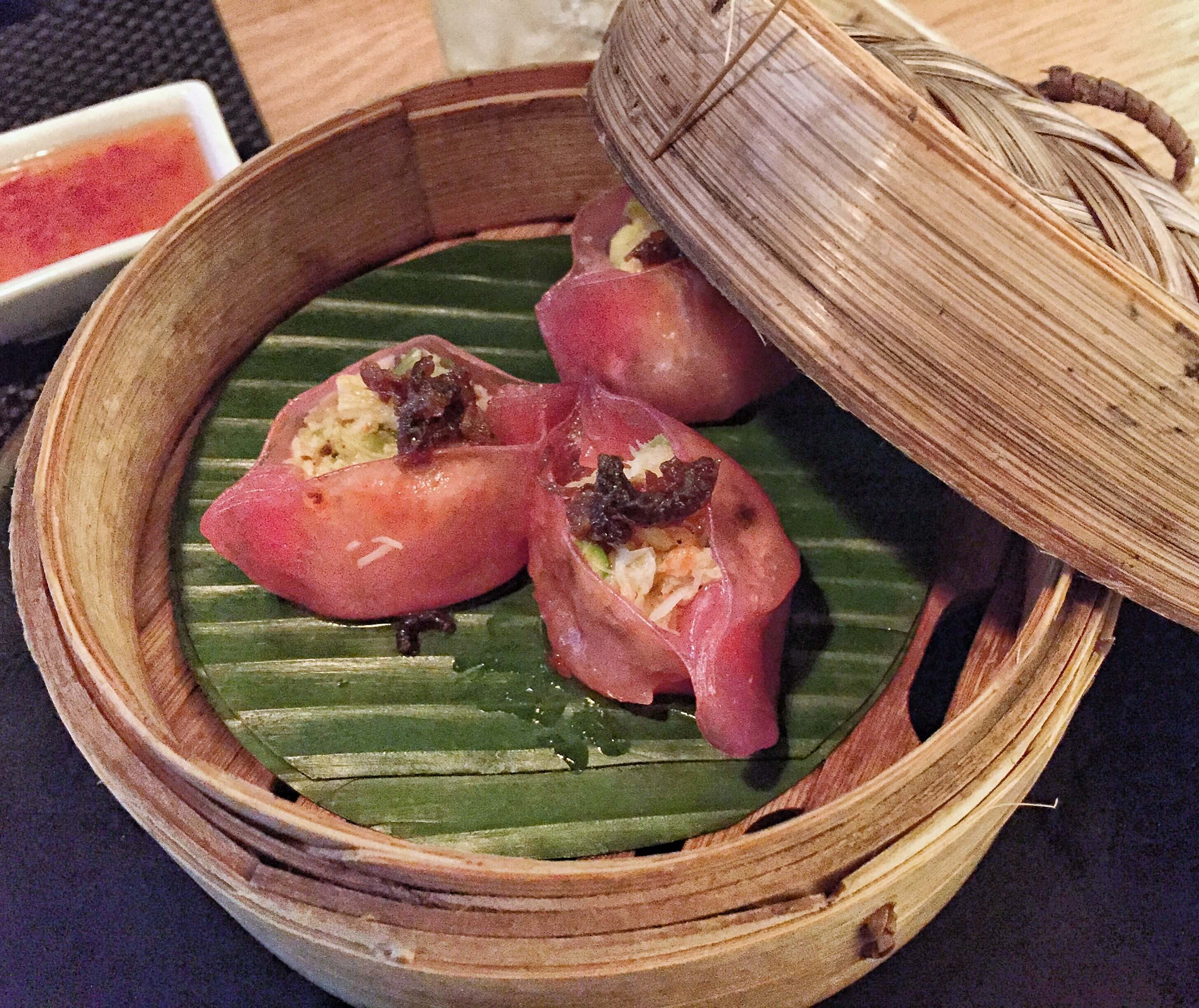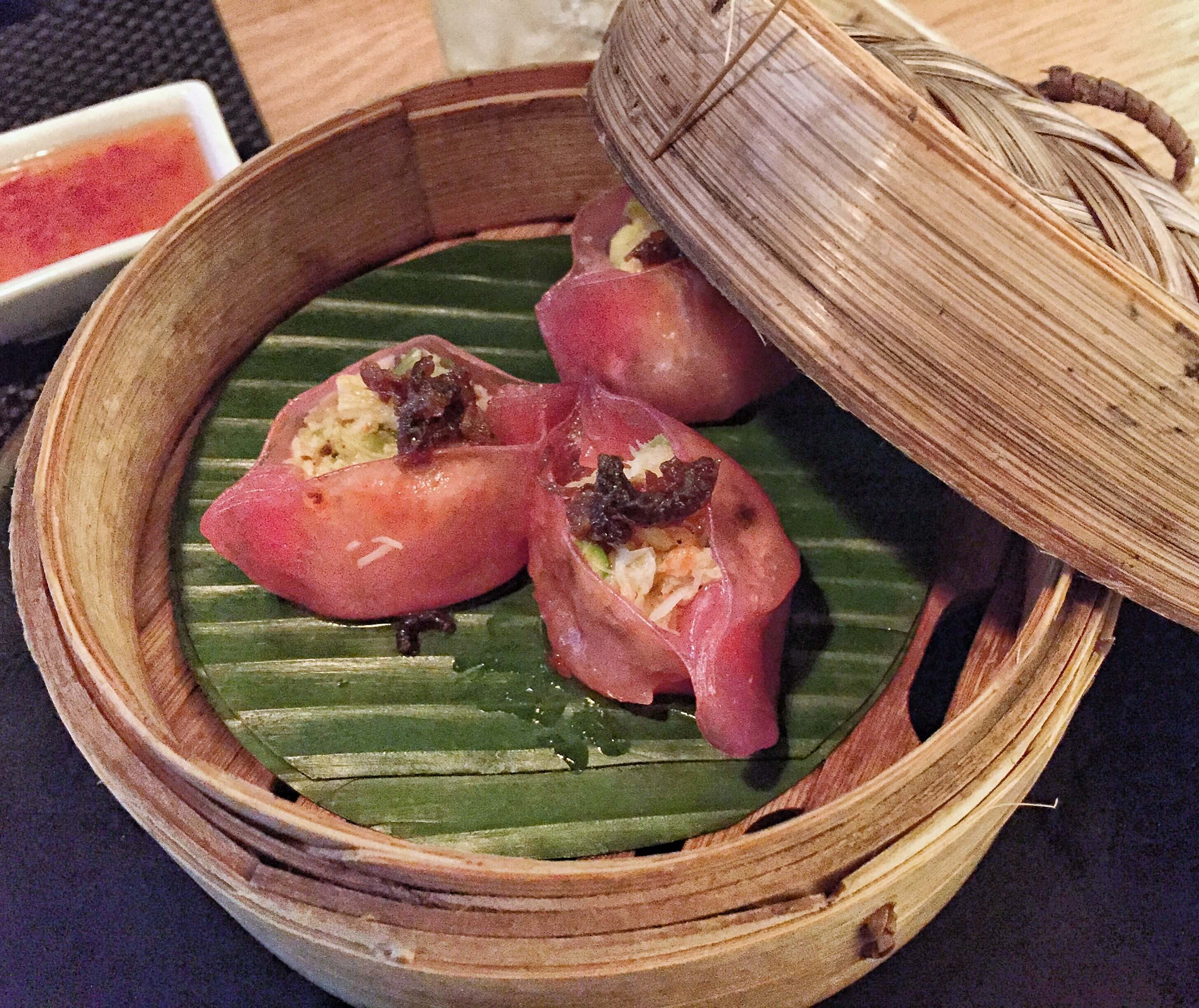 If I were to tell you that Debenhams on Oxford Street is the place to go for a really great meal, you would probably laugh in my face.  To be fair, I wouldn't blame you.  Department store eateries are generally a little bit sad.  Old ladies and bored husbands huddled around weak coffee and dry cake, surrounded by beige formica.  No thank you.  And Debenhams?  A middle-of-the-road shop with about as much character as a clothes peg; the one that's not as classy as John Lewis.  But…department stores are realising that shopping habits are changing and that it's going to take something extra to get customers through the door these days.  And that something is great food.  Selfridges, unsurprisingly, led the way with the likes of Hemsley + Hemsley and Aubaine.  John Lewis has outposts of Benugo and Comptoir Libanais.  Debenhams has welcomed Chi Kitchen.
Chi Kitchen is a pan-Asian restaurant, part-owned by Eddie Lim of the renowned Mango Tree in Belgravia.  The executive chef is 2014 Masterchef winner, Ping Coombes.  I remember watching Ping's Masterchef journey and thinking that her food looked amazing right from the outset.  So Ping Coombes plus Eddie Lim plus Debenhams added up to a very intriguing proposition.  "Pan-Asian", however, is a concept that always feels a bit wishy-washy to me.  Just because a group of dishes come from the same – vast – geography doesn't necessarily mean that they will all gel together harmoniously.  I guess this is where Ping's skill as executive chef comes in because, despite the humongous menu, nothing that we ate felt jarring or out of place.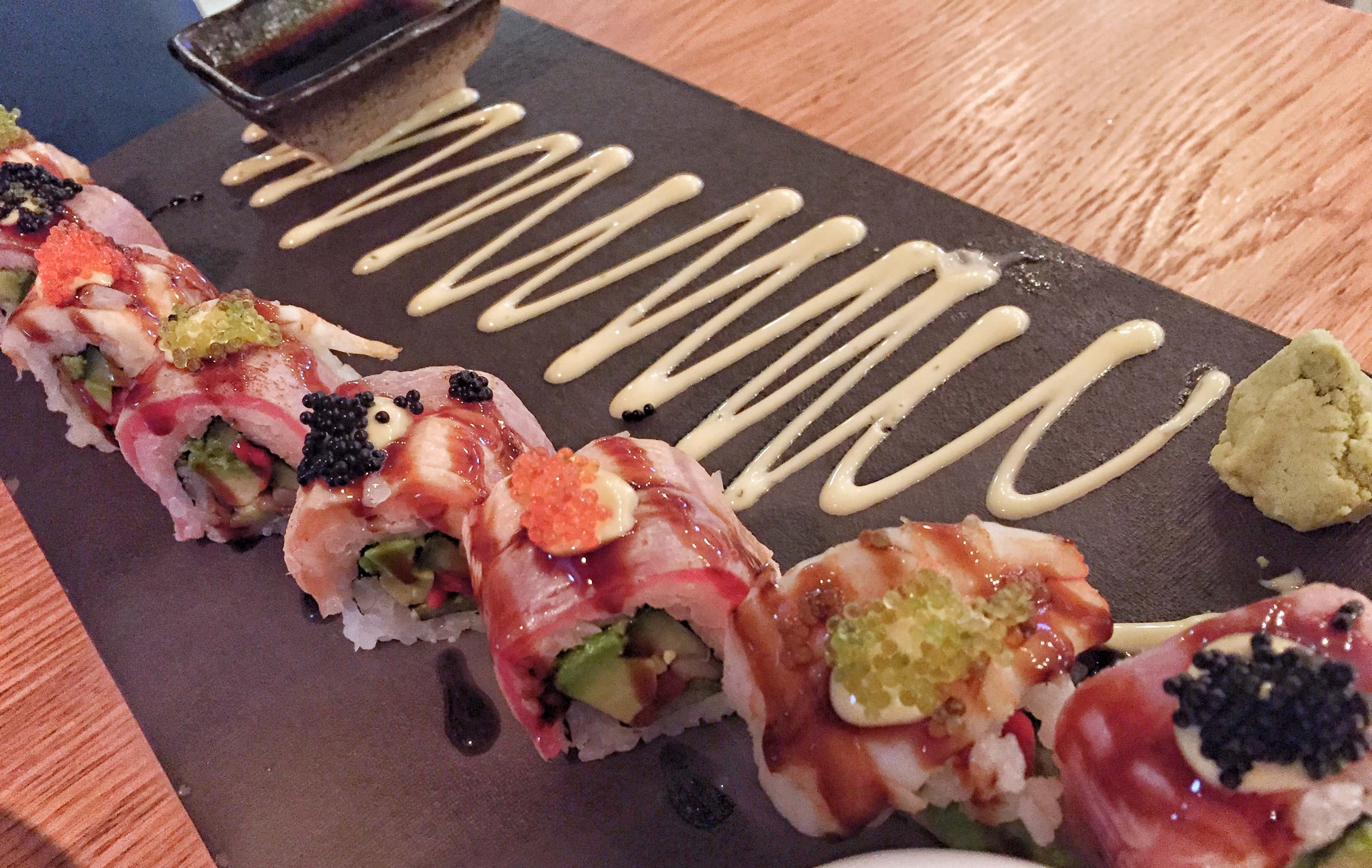 So, about that humongous menu.  I defy anyone to visit Chi Kitchen and not find something that they would like to eat.  There are a whopping 13 sections to choose from, including dessert and sides.  Two sections are dedicated to sushi alone.  This is before you even reach the small plates (i.e. starters).  Then you've got noodles, robata, signature dishes….  We had to enlist the help of the restaurant manager to guide us through this epic tome because, basically, I wanted to eat it all.
We started with a selection of smaller dishes to share – Alaskan crab and XO dumplings, salt and pepper baby squid, and the Chi Kitchen maki rolls.  The squid was perfectly moreish; the crispy exterior giving way to tender pieces of squid, with a chilli dipping sauce on the side.  I could have grazed on this all day long.  The dumplings looked pretty and were generously stuffed with crab.  Most importantly, the XO sauce didn't overpower the delicate flavour of the crab meat.  A huge slab of maki rolls was presented with a jug of dry ice on the side; a slightly pointless piece of theatre when the dish looked impressive enough anyway.  They, too, were loaded with seafood and avocado, with slices of extra fish laid over the top of each roll for good measure.  Again, very easy eating – well, except for the fact that I'm rubbish with chopsticks!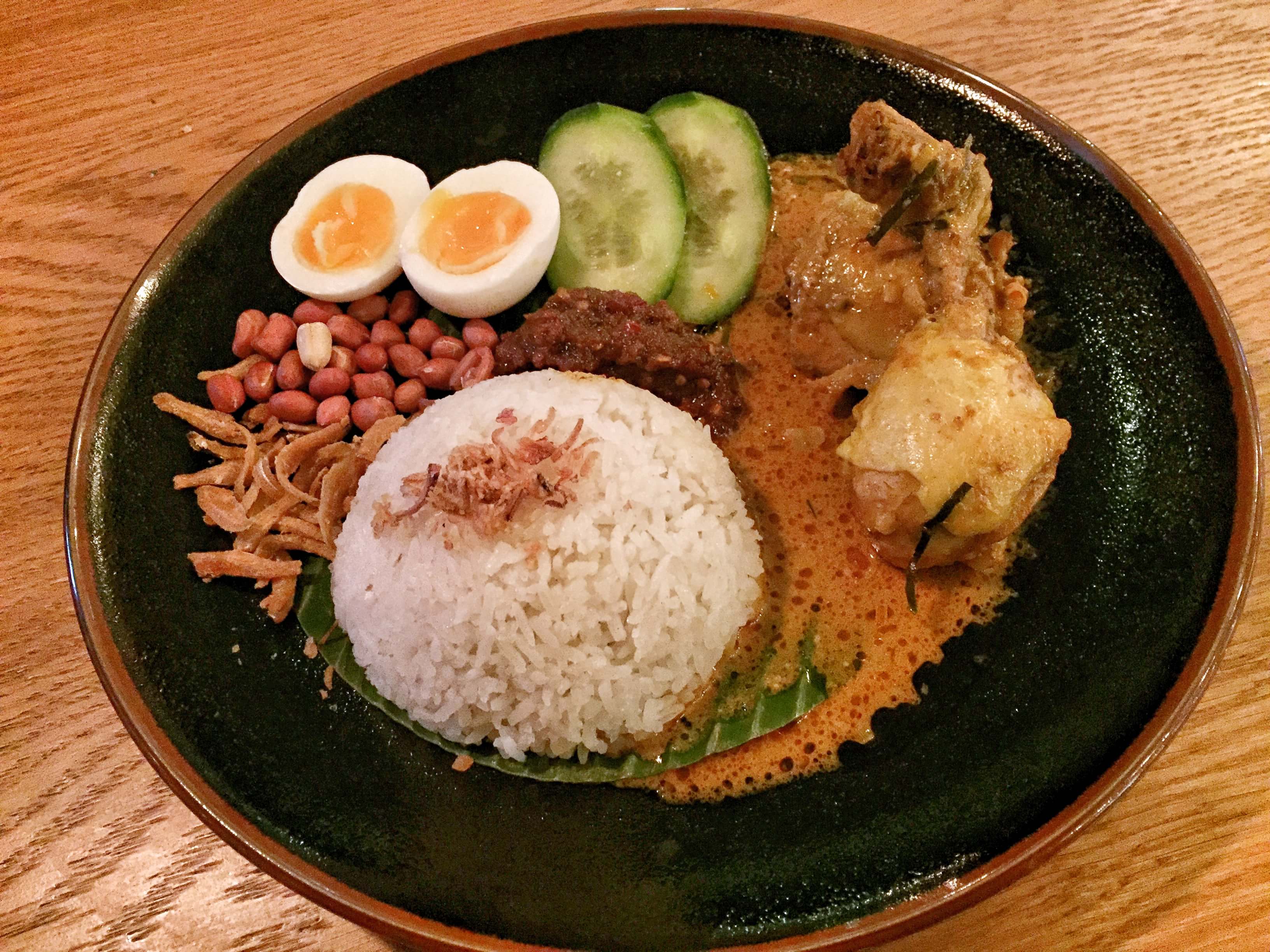 We ordered two of the signature main courses to share between us.  The Thai green chicken curry and the nasi lemak.  Thai green curry is pretty much a classic dish now, one that I have had many times.  Nasi lemak, however, was completely new to me.  It's from Malaysia and was described on the menu as "chicken curry, dried anchovies, sambal, peanuts, egg and fragrant coconut rice".  I totally expected it to be a big bowlful of curry but, in fact, it was daintily presented as separate elements on one plate.  We were advised to dive in and mix everything up together.  While it tasted good, the chicken curry bit was actually one thigh and one breast covered with a few spoonfuls of sauce, so I found the whole dish a little dry.  A little more sauce – and maybe a little more chicken – would have been ideal.
The Thai green curry, however, was on another level entirely.  As I mentioned, I've eaten quite a few versions of this dish over the years but this one is probably the best I've ever had.  The sauce was silky and soft with coconut cream; a big bowlful of warmth, spice and love.  Chunks of aubergine amplified the lusciousness, while a surprisingly fiery kick of chili kept everything from getting too rich.  If you only order one thing from the mega-menu, make sure it's this.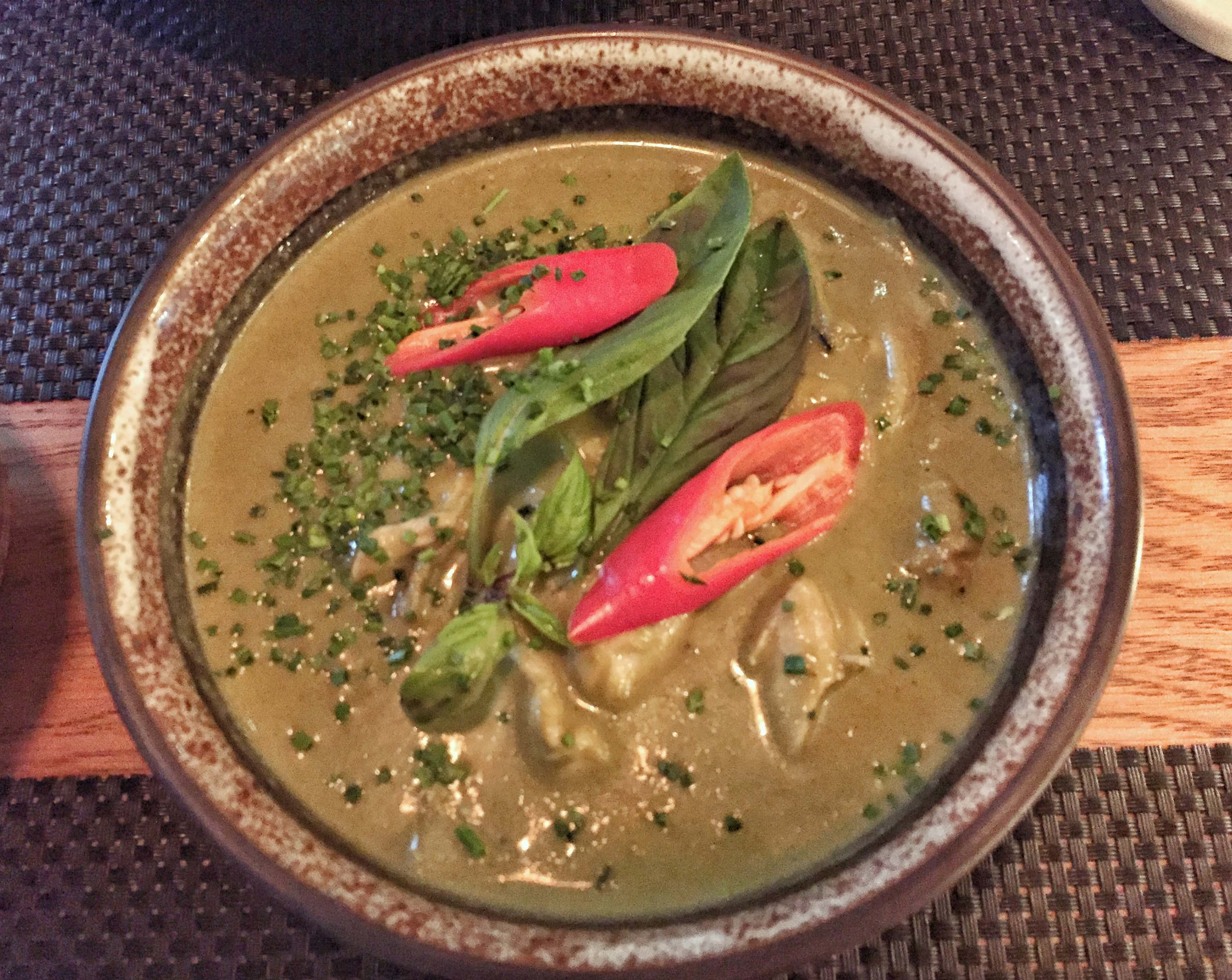 Sides included the usual rice, but I recommend getting the roti with Malaysian curry sauce on the side.  The bread was thin, flaky and finger-lickingly buttery.  And when I say "curry sauce", I don't mean the sort of thing you get with your chips on a Friday night.  This sauce was vibrant and velvety, with a little heat but not overwhelmingly so.  Just like the salt and pepper squid, if someone presented me with a plate of just this bread and sauce then I would be more than happy to sit there and demolish the lot.
Desserts in Asian restaurants can be tricky – unless you're a big fan of tropical fruit – and Chi Kitchen was no exception.  They have a couple of interesting dishes, particularly the baked green tea Alaska, but they didn't live up to the standards of the savoury courses.  This isn't to say that they weren't very good, but that Thai green curry was a lot to live up to!  My partner ordered the green tea Alaska, which looked super-cute, but the ice cream was rock hard.  Green tea is very much the in-thing at the moment, so if you're a dedicated matcha lover then it's worth giving this dish a whirl.
As for me, well it had to be the chocolate sphere with hot caramel sauce.  This dessert is getting to be a bit of Instagram staple, and rightly so.  Who doesn't want to see a chocolate ball slowly melt and ooze into a naughty, saucy puddle?  The waitress poured the hot caramel over the chocolate; a piece of theatre that was justified in this case.  The chocolate slid away to reveal a centre of vanilla ice cream and berries, now surrounded by a pure chocolate and caramel sauce.  The berries were a welcome surprise as the dish was more than a little sickly, so their fresh sharpness was exactly what was required.
The addition of Chi Kitchen is a savvy move on the part of Debenhams.  I'm not a fan of spending time on Oxford Street or in large chain stores.  But I'd definitely go back to Chi Kitchen, which means that I may well end up in Debenhams more often than I usually would.  And that also means that I may spend more money there.  Is department store dining the way forward?  Who knows…  Two things are certain, however.  I need to start working my way through more of the Chi Kitchen mega-menu and I definitely need more of that Thai green curry.
Chi Kitchen, Ground Floor, Debenhams, 334-348 Oxford Street, W1C 1JG
A meal for two people, excluding drinks, averages £40 per person
Many thanks to Chi Kitchen and Neil Reading PR for inviting me to visit.  All opinions are, as ever, my own.