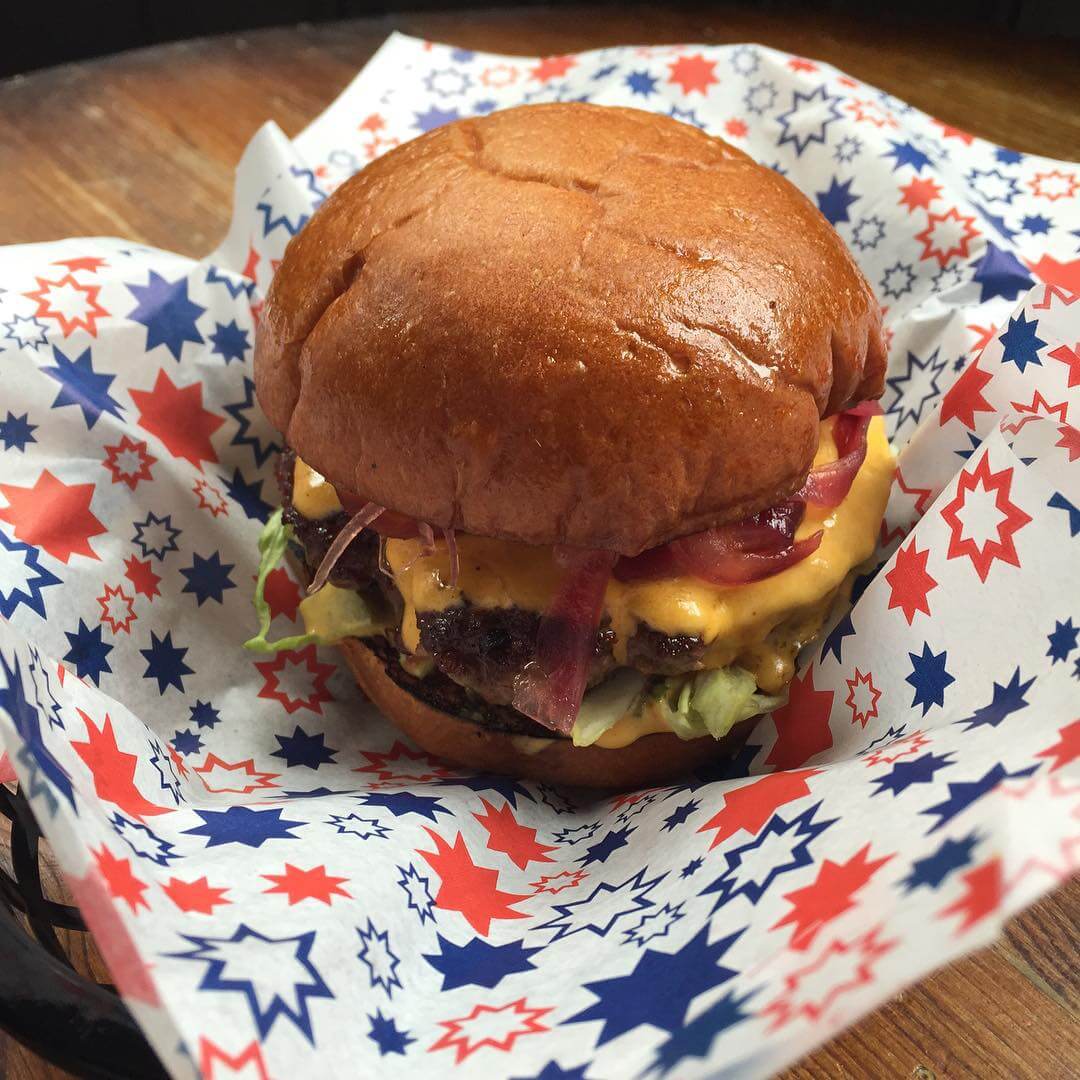 Jackdaw and Star/We Serve Humans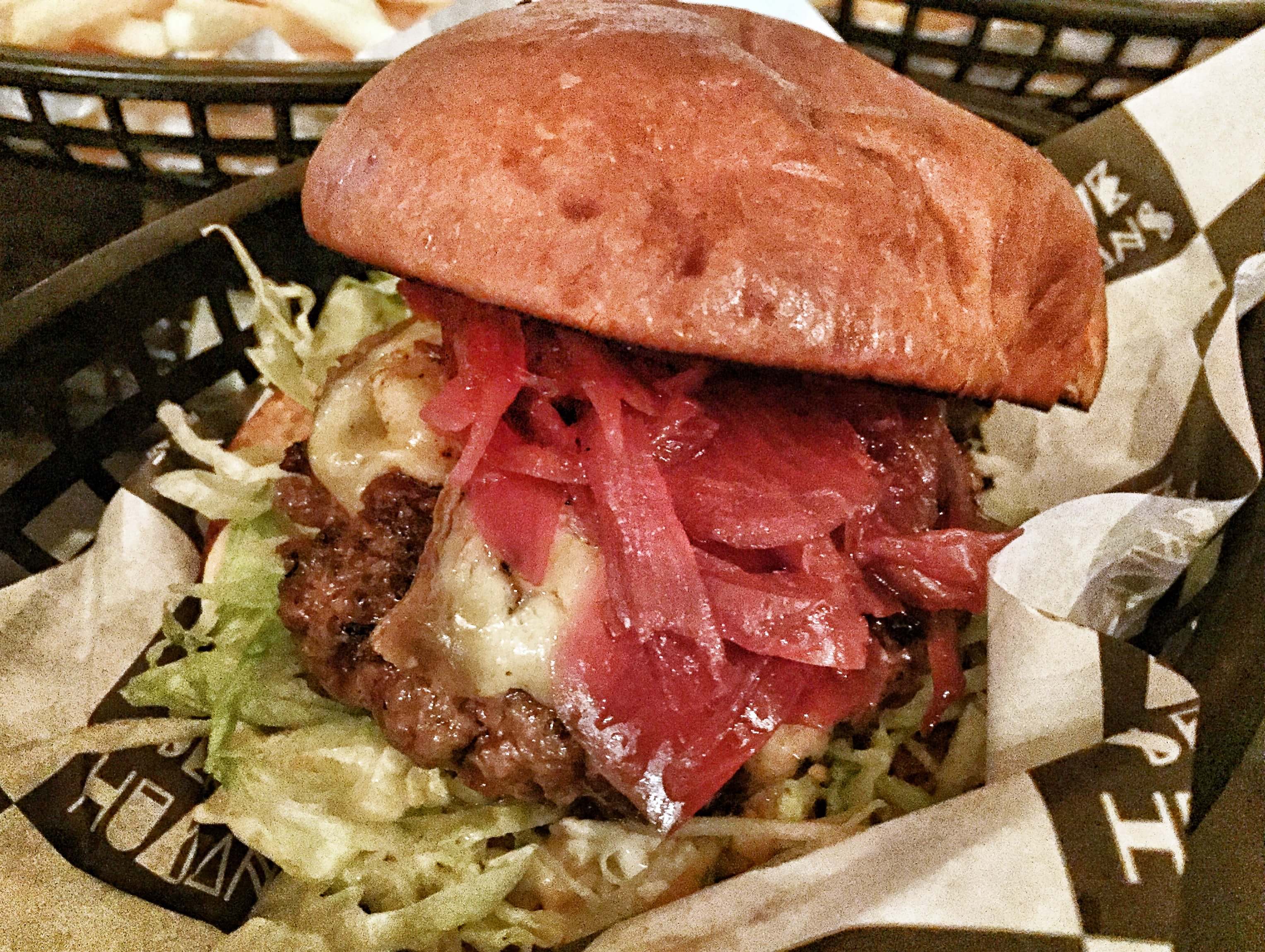 I have a theory regarding burgers which goes a little something like this.  If you need to eat it with a knife and fork then it's a good burger.  Of course, that theory does fall down from time to time.  I'm sure there are plenty of burgers that are stacked high and stuffed full and still taste rank.  But in general, a good burger is one that you most definitely can't pick up in your hands.  Case in point: McDonalds and their teeny, shrivelled "burgers".  I can easily eat a Big Mac one-handed and my hands are positively Donald Trump-esque in their dimensions.  So I don't care if I look silly or genteel or "posh" with my knife and fork; I want to eat a burger that I can't pick up.  I want a burger that is so full of meat and cheese and…stuff that it's in danger of collapsing.  If that's the sort of burger that you want too, then I recommend checking out the We Serve Humans residency at the Jackdaw and Star.
The Jackdaw and Star in Homerton is one of those hipster pubs that look unedifying from the outside, but turn into something achingly cool as you step through the doors.  It clearly used to be a scruffy old boozer but has been pimped up with a few licks of paint, crazy patterned wallpaper and squishy antique armchairs.  I particularly liked the fact that they've kept the beautiful Victorian tiles in situ, as well as the large central bar, retaining some of that lovely old fashioned pub vibe.
Staying very much on trend, the Jackdaw and Star doesn't have its own in-house chef.  Instead, they invite various street food vendors and pop-up chefs to take up residency for a few months.  I'm a big fan of this approach.  I think it keeps things fresh and gives people a reason to keep coming back, as well as providing a platform for up-and-coming chefs.  Currently, the Jackdaw and Star is playing host to We Serve Humans; burger-flipping purveyors of happiness.  And their food really does make you happy.  Just one look at the menu brought a smile to my face – an "angry" burger named after everyone's least favourite orange American…  They also do hot dogs, sliders, wings and the dirtiest chips in town.  So yeah, food that will definitely make you feel happy, although probably not healthy.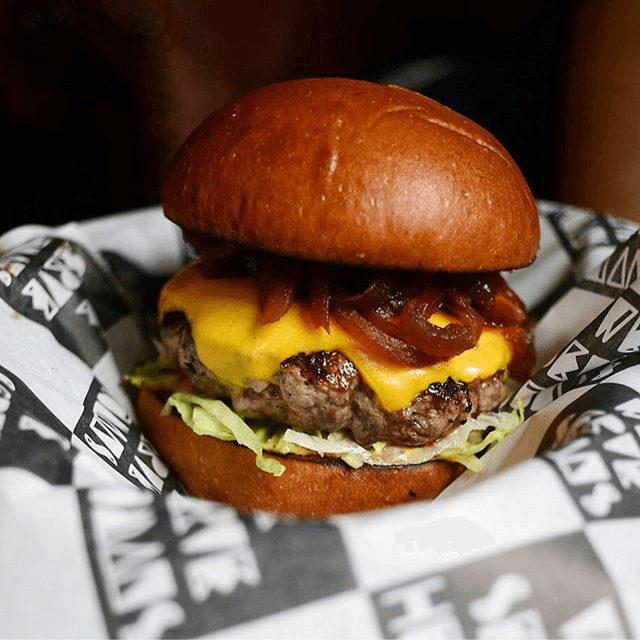 We ordered "The Frank" and the Donald Trump burger, the latter now renamed as "The End of Democracy".  It's still "angry" though, heaving with jalapeños and a generous dollop of beef chilli.  The Frank was an altogether classier affair.  This burger came with the addition of blue cheese and truffled aioli for those people who like their rich food to be served extra rich.  Both burgers were made with We Serve Human's signature brisket and short rib patty.  The meat was just the right side of medium rare and had that gorgeous griddled flavour that denotes a good burger.  "But could you pick it up?", I hear you yell.  Not a chance in hell.  These were like The Shard in burger form.  Even my friend, with his big man hands, had to use a knife and fork.  There was no skimping on ingredients here.
Because we're greedy and incapable of making a decision, we ordered two different portions of chips: the "standard" chips fried in beef dripping and chips with beer cheese sauce.  You see what I mean when I talked about them being the dirtiest chips in town?  Sure, you find beef dripping chips on lots of menus but the difference here is that you can actually taste the dripping.  The chips with beer cheese sauce were just as epic.  It tasted like Welsh rarebit, only with chips instead of toast.  And if that's not enough for you, you can also choose from chips with truffle and chips with slow cooked chilli and cheese sauce.  I swear my arteries are furring up just typing this.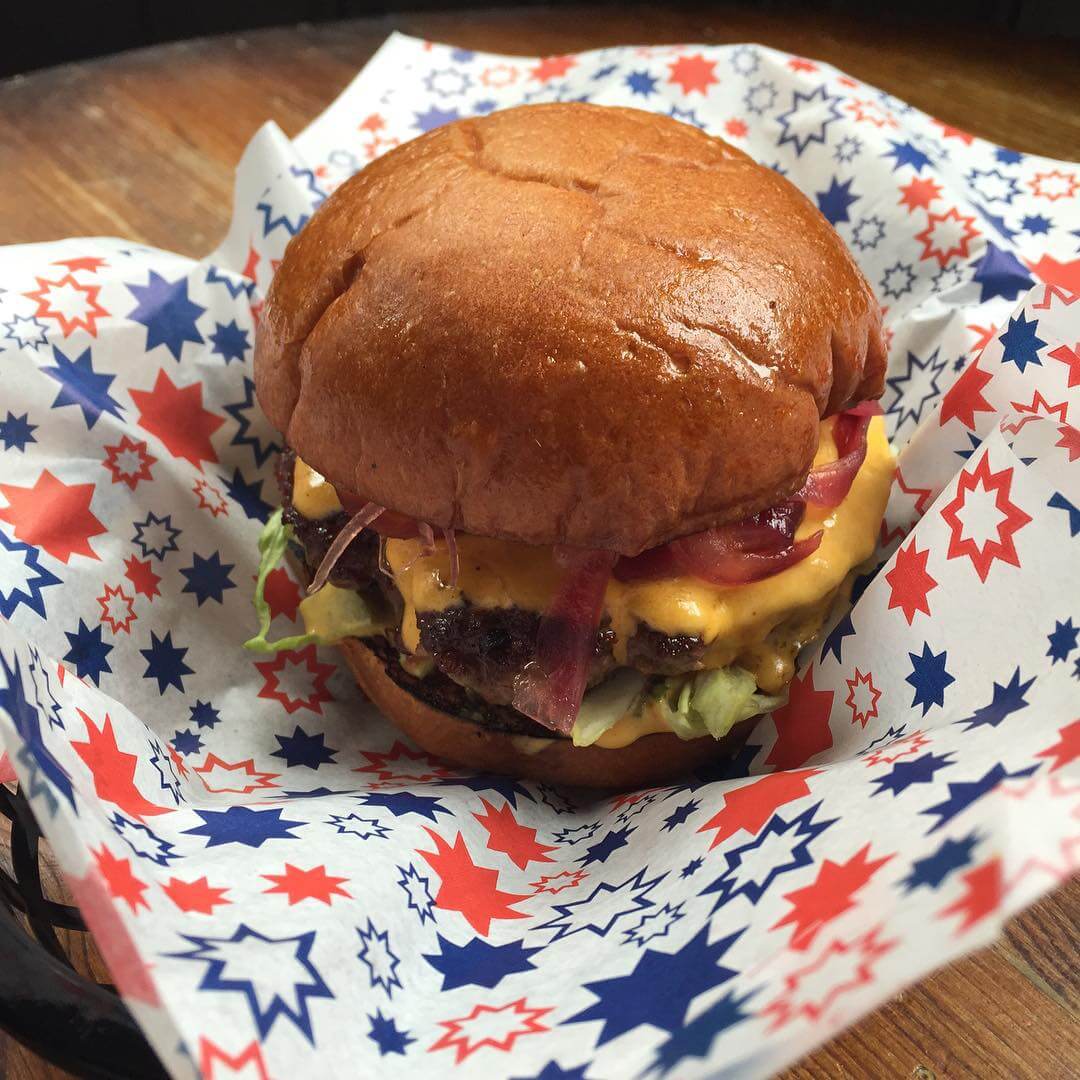 The Jackdaw and Star do a pretty sophisticated cocktail list, where you can choose from the likes of a fog cutter or a mezcal margarita.  My negroni was one of the best I've had in London – and I've drunk a LOT of them so it's safe to say I know my shit here.  The team were also able to recommend some decent soft drinks, such as Square Root sodas, to my tee-total friend, which made a pleasant change from the usual pint of Coke.
We Serve Humans clearly know that naughty food is the way to put a smile on anyone's face.  What's even better is that their version of naughty food is a step up from the bog standard burger and chips.  They've actually given their menu some thought, come up with fun ideas and then lifted everything by going hell for leather with their ingredients.  There's no worrying about calories or pandering to the "eat clean" brigade here.  Even their vegetarian options are mega (crispy truffled mac and cheese in a bun, anyone?).  This is the sort of food you eat for a treat, food that cheers you up, food that's minxy and indulgent.  So roll your sleeves up and get your knife and fork ready.  You're definitely going to need them for these burgers.
Jackdaw and Star, 224 Homerton High Street, E9 6AS
Many thanks to the team at both the Jackdaw and Star and We Serve Humans for inviting me along to sample their menu.  All views are, as ever, my own.
Due to a technical issue with my phone, I lost all but one of the images from this night.   The last two images are professional photos provided by the Jackdaw and Star and are not necessarily representative of our meal.