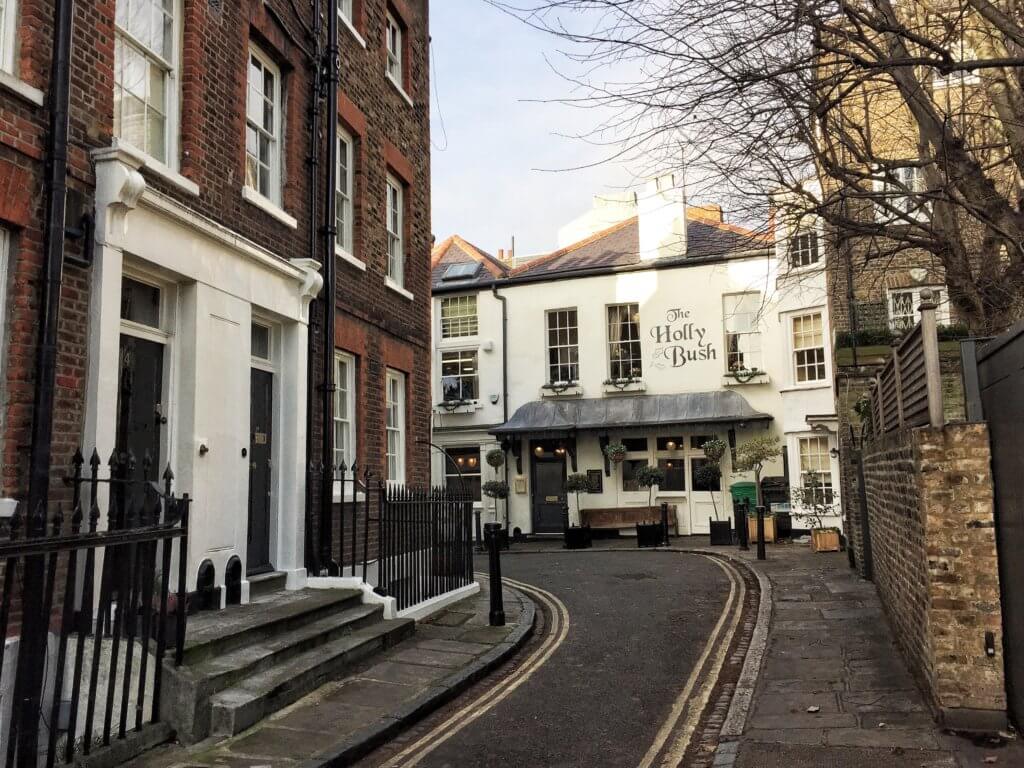 Picture the scene.  You plan a long-overdue visit to one of your favourite restaurants.  You sit down, browse the menu and immediately spot an amazing sounding dish.  This is definitely what you are going to order and you can't wait to tuck in.  But then – disaster! The waitress informs you that it's not actually available.  A mistake was made and the menu is incorrect.  Sad times….  This is exactly what happened on my visit to The Holly Bush in Hampstead and, needless to say, I was more than a little irritated.  However, all was not lost.  This story does have a happy ending…
The Holly Bush is a wonderful pub.  It's tucked away in a pretty corner of Hampstead, a neighbourhood that has more than its fair share of pretty corners.  One of my favourite things to do at this time of year is go for a wander on Hampstead Heath followed by a slap-up meal in The Holly Bush. The pub is made for cosy winter days – a warren of rooms, all wood panelling, log fires and hearty, seasonal food.  It's the sort of place that American tourists dream of when they think of an English pub.  It feels like the perfect country pub which means you can forget that you're in the middle of a big city.  And sometimes this is a very good thing.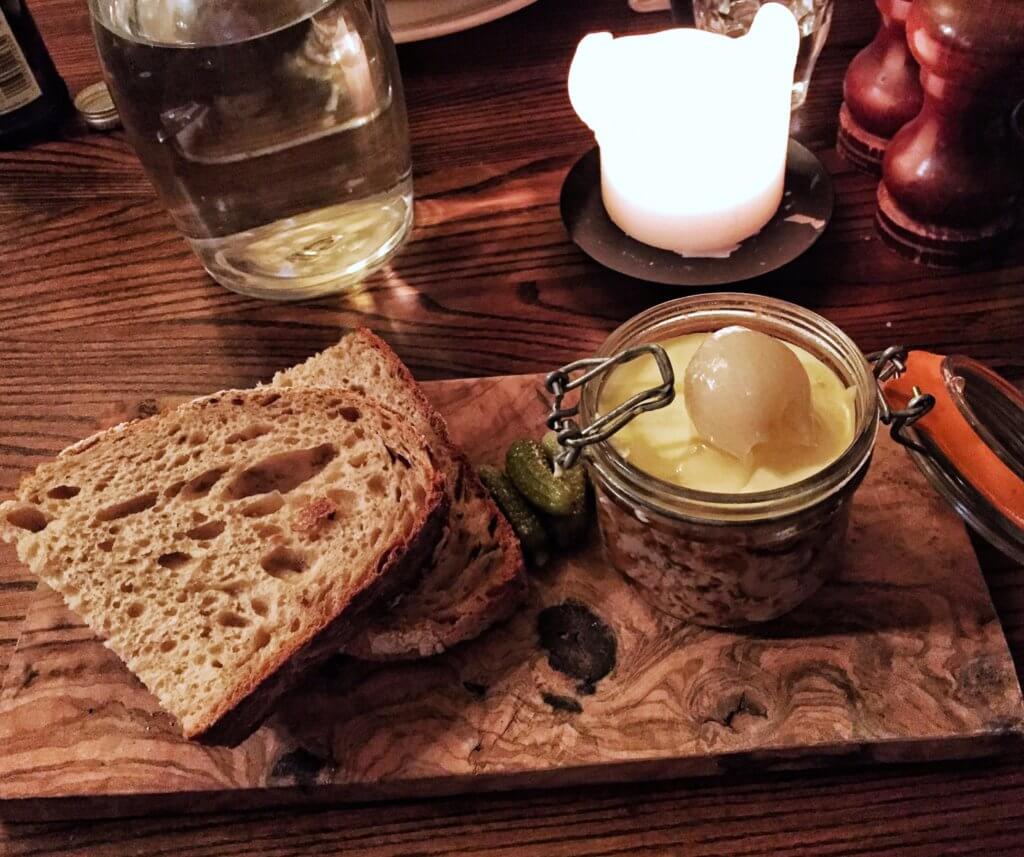 Disappointment over menu cock-up aside, we got stuck into our lunch. My starter of game terrine with pickles and bread might have frustrated the We Want Plates brigade, but I quite liked its rustic presentation on a wooden board.  The terrine – made with rabbit and duck – arrived in a sealed jar which was packed full of big chunks of meat.  While the serving was generous, the same can't be said for the flavour; I found the whole dish a little bland and under-seasoned for my tastes.  However, the meat was lovely and tender, and the pickles provided a welcome sharp note.  My friend ordered the ravioli with artichoke and ricotta in a lemon and poppy seed butter sauce.  This was perhaps an unusual choice but it tasted delicious.  Really light and tangy.
The main course was where I'd had to plump for a "second best" option.  I had wanted roast goose leg.  I got beef cheek pie.  I enjoy a good pie as much as the next greedy bastard, but they're a bit ordinary.  Or so I thought.  I must admit that I was fully expecting a fairly generic dish of stew with a puff pastry lid and a bit of veg lolling around on the side.  What I got was The Beast.  This was a pie of medieval proportions, the kind of pie that would do someone an injury if you lobbed it into their face.  It was fully encased in shortcrust pastry, which makes it a proper pie in my book, and was chock full of HUGE chunks of beef cheek.  The meat was velvety and just the right side of fatty.  The gravy was rich.  The pie arrived perched, castle-like, on top of smooth mashed potato and some token green veg (which was actually very tasty).  A moat of gravy and mushroom sauce swirled around it.  I tried to eat it all.  I failed.  Not because it wasn't absolutely bloody amazing, but because my eyes are bigger than my belly.  It did not go to waste, however, because my friend took offence to such a thing of beauty being ignored and gobbled it all up.  After having already polished off a steak.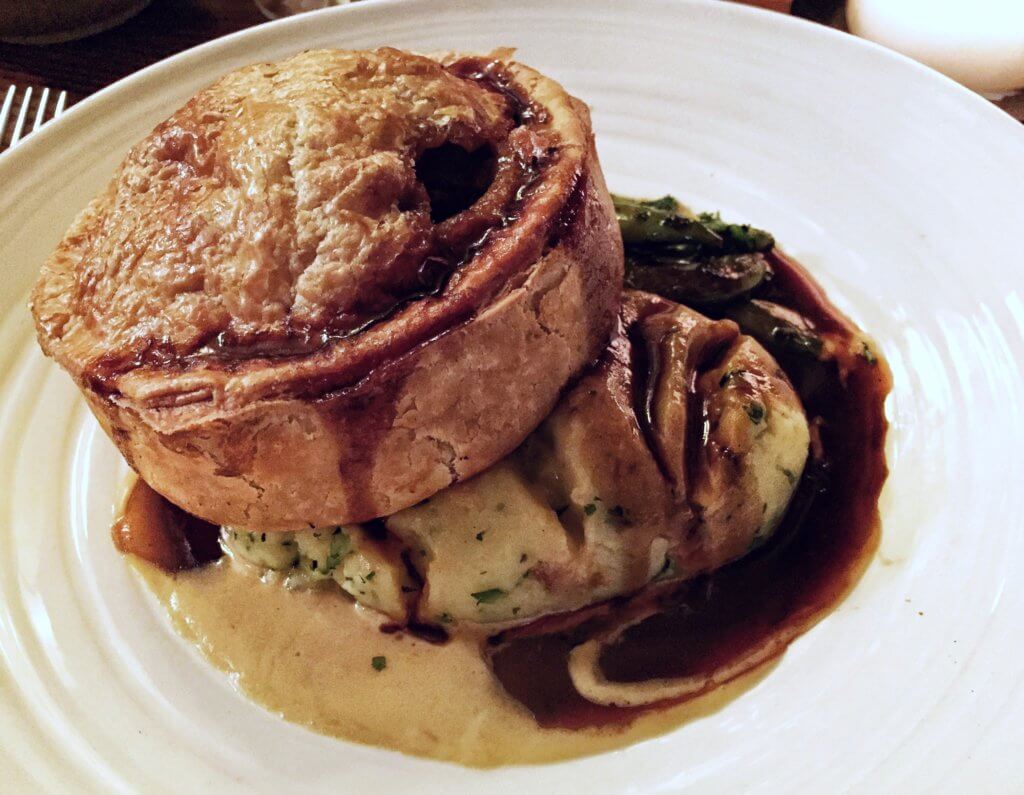 Despite being painfully full at this point, I still ordered a pudding.  This was for two reasons.  Firstly, there is such a thing as a pudding belly, which entirely separate to the main belly and therefore needs filling.  What do you mean "you just made that up as an excuse for your own greed"?  Secondly, The Holly Bush generally does really good puds.  We both chose the apple, pear and blackberry crumble which came with ginger ice cream.  The crumble element was the definitely best bit.  The fruit base hadn't been cooked down enough, so it was slightly watery and the fruit itself was a little hard.  The ginger ice cream, however, was lovely.  A great flavour to pair with a fruit crumble.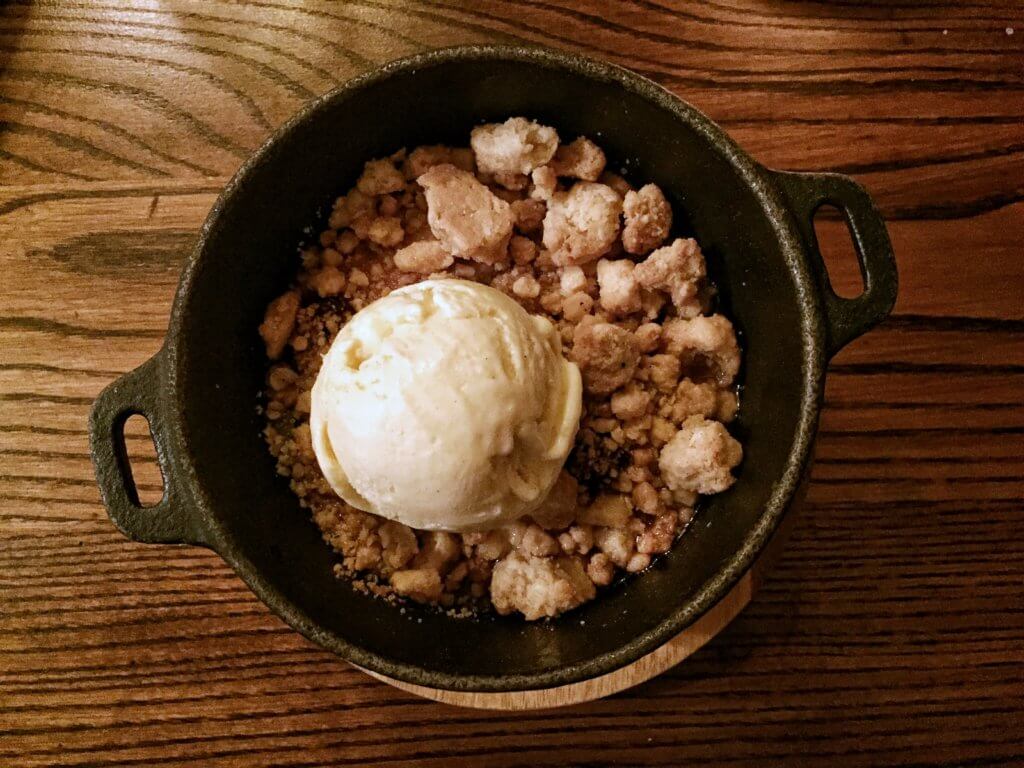 The Holly Bush is kind of a fairy tale pub and, like all good fairy stories, my lunch came with a few twists and turns.  I didn't manage to best The Beast single-handed but, with assistance from a trusty companion, the challenge was overcome.  Ultimately, we strolled off into the sunset (thanks to the short winter days) and lived happily ever after….
The Holly Bush, 22 Holly Mount, NW3 6SG
Approximately £80 for two people including drinks