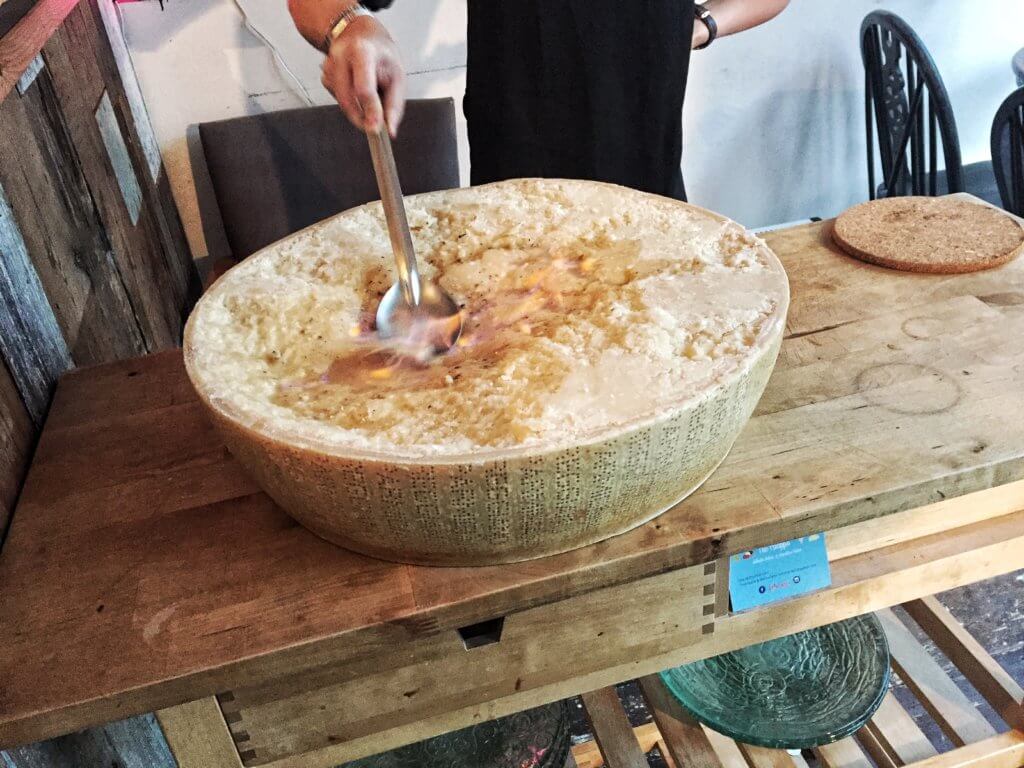 Beans on toast.  Steak and chips.  Wine and cheese.  All pretty familiar meal time combinations.  But Hungarian food together with Italian food?  Never heard of that one before!  While both of these cuisines rank pretty highly on my list of favourite foods, I've never eaten them in the same sitting.  There may well be a reason for that, which I shall come to later.  However, I found myself indulging in the staple food of both of these great nations thanks to The Plot Twist and their new pop-up restaurant in Holborn.  If comfort food is your thing then you need to hit these guys up because you won't be disappointed.
The Plot Twist are actually a couple – both in business and in love.  Tamas is Hungarian and Agata is Italian, hence the cuisine mash-up.  They have run a few other foodie events around London, but they have now teamed up with two Italian chefs (The Cuoppo) and opened their first ever pop-up bar and kitchen.  If there was ever a time of year to open a restaurant focusing on solid, stick-to-your-ribs food it's now.  The menu is fairly brief and comprises mainly of goulash and pasta, with a few lighter options to start.  We kicked off with the Hungarian-Italian charcuterie and cheese board.  This was a mixture of meats and cheeses from both countries, served with pickles and the most delicious little fried bread balls called zeppoline.  I had no idea what bits came from what country (apart from the bread and the pickles) but it was all tasty, standard charcuterie board fare.  I could have easily demolished a plate of the zeppoline alone – and, as they are a menu item in their own right, I would recommend you get stuck in.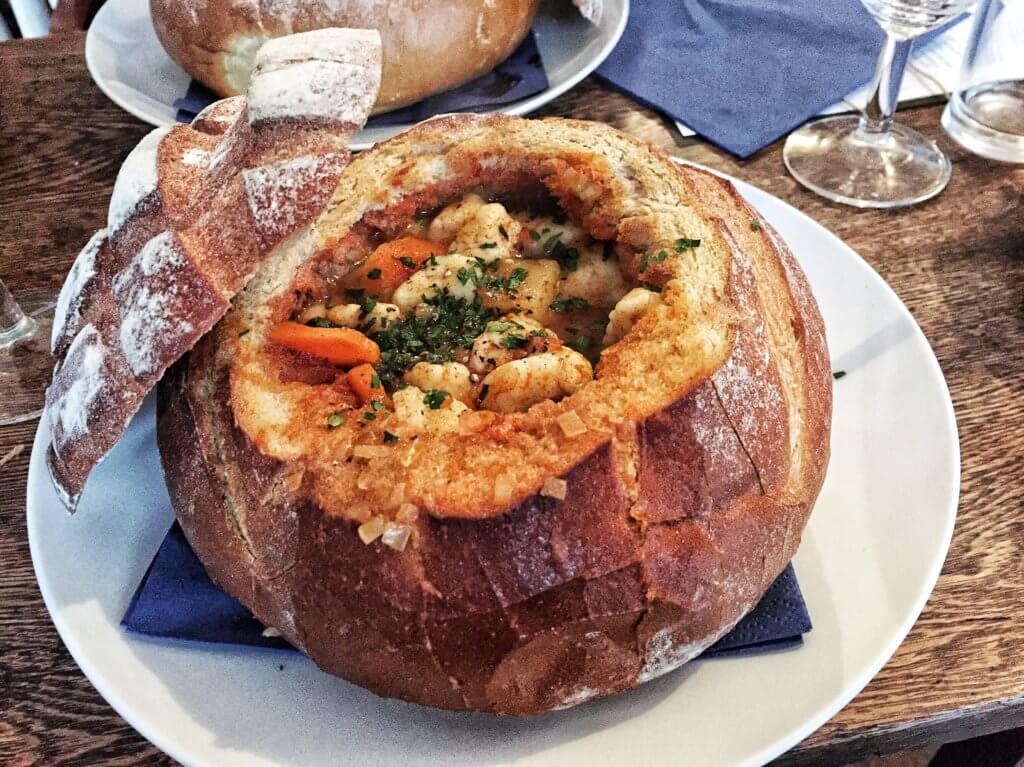 Next up was goulash soup served in a bread bowl.  I visited Budapest earlier this year where I ate a lot of goulash soup, all of it excellent and therefore a very tough act to follow.  The version by The Plot Twist lacked some of the layers of flavour, and the dumpling to meat ratio was a bit skewed towards the dumplings.  I do love dumplings so this wouldn't necessarily be a bad thing.  However, there was the slight issue of the huge loaf of bread/soup bowl already vying for space in my stomach.  When I'm faced with fresh, crusty bread that is soaked in a rich, meaty sauce then, of course, I'm going to eat it.  It's kind of a no-brainer.  Although it's perhaps not too sensible when you're munching your way through a carb-tastic feast of epic proportions.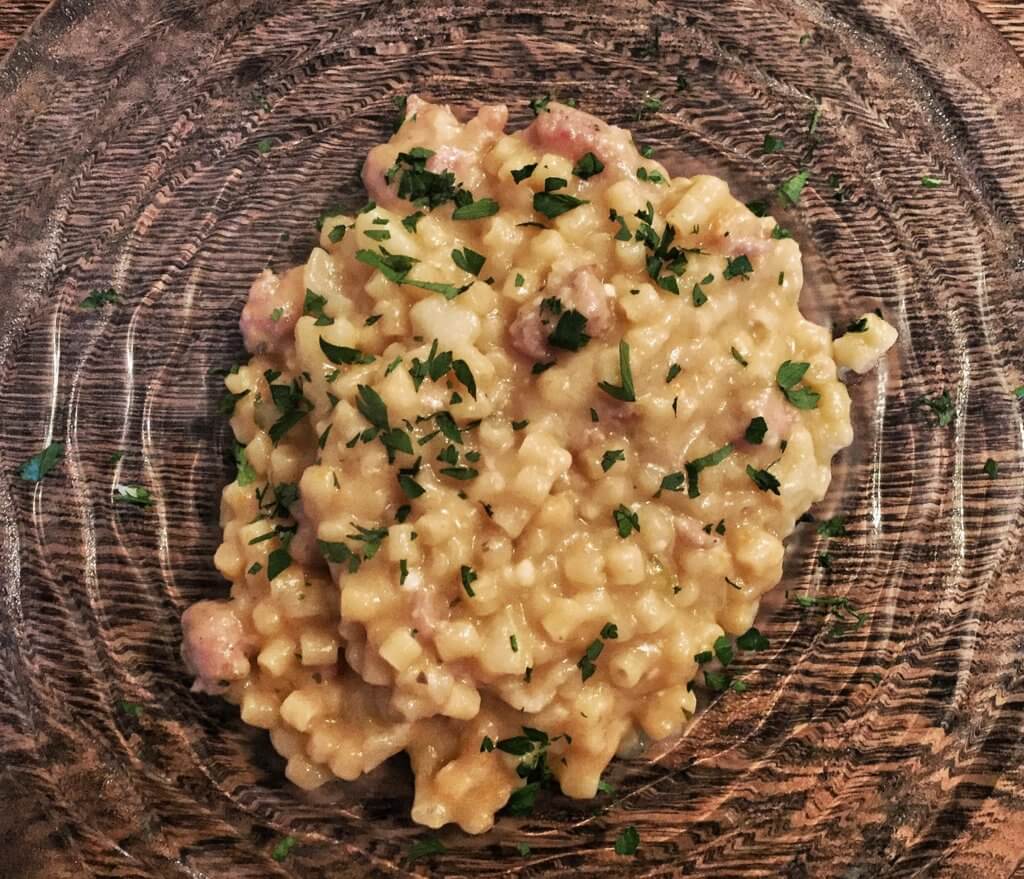 Speaking of which, the next stage of this culinary odyssey did not disappoint – both in terms of taste and its ranking on the carb-o-meter.  It was tubetti pasta with potatoes (yes, potatoes!) and sausage from a flaming wheel of Parmesan cheese.  This bears repeating: a flaming wheel of Parmesan cheese.  Our chef literally flambéed a huge slab of cheese in front of us, which was then used to make the pasta sauce.  There are few things better than melted cheese, unless you're talking about melted cheese with pasta.  And sausage.  This dish was rich.  Like, Bill Gates rich.  But the sausage had a lovely, slightly nutmeggy, flavour that really complemented the cheese and cut through some of the creaminess.  The whole thing was a fun spectacle and, like the goulash before, it was the perfect meal for a chilly November day.
No matter how full I am, I can always find room for pudding.  I was very excited that our dessert came from Hungary and, furthermore, was something I hadn't even heard of.  Túró Rudi is a curd cheese cylinder wrapped in a thin layer of chocolate, which came served with a sticky cherry sauce. Hungarian puds are notoriously rich, but this was pleasingly light and very easy to eat.  This might have something to do with the fact that it's not actually a pudding, in the strictest sense of the word, but was actually a chocolate bar that was popular in Hungary during the 1960s!  Of course, this version had been pimped up for us but I love the idea of retro chocolate.  It tasted pretty good too; just creamy enough with a welcome sweetness from the cherry sauce.  Maybe one day there will be a hipster pop-up specialising in retro desserts from around the world….?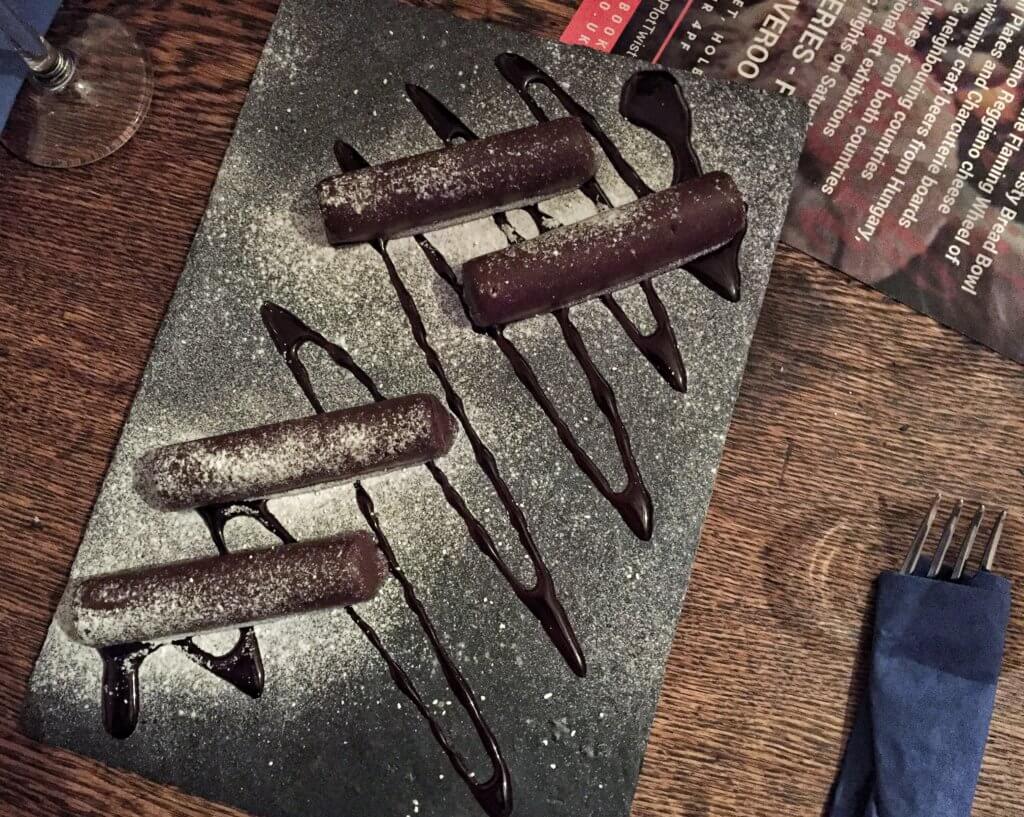 So, the reason why you don't usually eat Hungarian and Italian food at the same time?  It's heavy.  Really, really heavy.  With lots of carbs.  And it always tastes really good so you just keep on eating, even though you're already painfully full.  Both of these countries have a reputation for delicious food that is cooked by people who really like to feed you, and The Plot Twist ticks all of these boxes.  The menu is simple but tasty; homely, hearty food that you could imagine eating alongside Tamas, Agata and their families.  Plus they offer an excellent wine list which, as both Italy and Hungary make amazing wine, is another very good reason to visit.   They are only around until 21st December so you need to get in there fast.  But maybe don't eat for a few days first.
The Plot Twist x The Cuoppo, 51 Red Lion Street, WC1R 4PF
Many thanks to Tamas and Agata for inviting me to try their food.  All views are, as ever, my own.