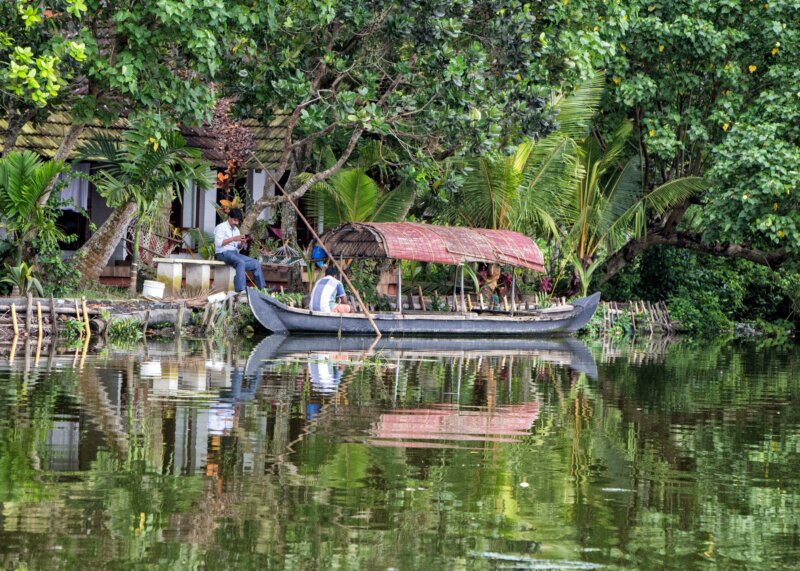 A houseboat in Kerala: How to relax like a pro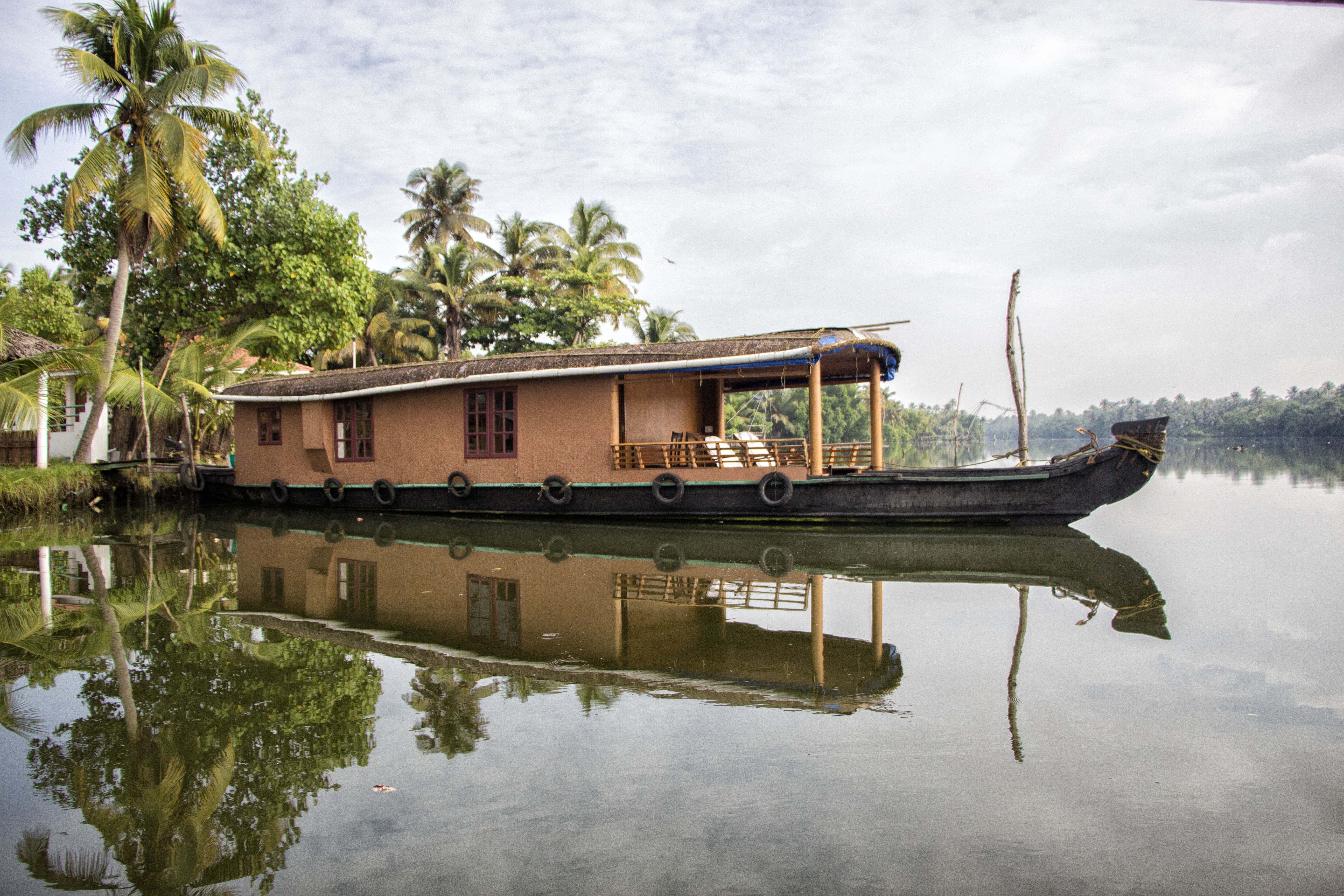 I don't know about you guys but I'm not great at switching off. Living in London does it to you; the constant thrum of the capital means you're pretty much always on the go. Even when I was vegging out in front of Netflix, my brain would still be processing the sensory overload of the city; thinking about what to do and where to go next. And I'm the same now I've left London. Contrary to my belief that giving up my full-time job would free up some time, I'm actually busier than ever, just in a different way. How would I cope staying on a houseboat in Kerala – a full 24 hours without the internet???
As the many road signs proclaim, Kerala is God's own country. This blissed-out, palm tree-strewn southern Indian state is pretty close to paradise on earth. If you only do one thing in Kerala, you should stay overnight on a houseboat. Kerala is known for its backwaters; silent lagoons linked by sleepy, meandering channels. The best way to explore this beautiful area is by houseboat and you will find lots of different tour companies offering various packages – either online or just by walking around Fort Kochi, for example. However, you'll most likely end up on a motorised boat around Alleppey, jostling for space on the water with a hundred other houseboats. This is not the chilled-out Keralan vibe that you're looking for.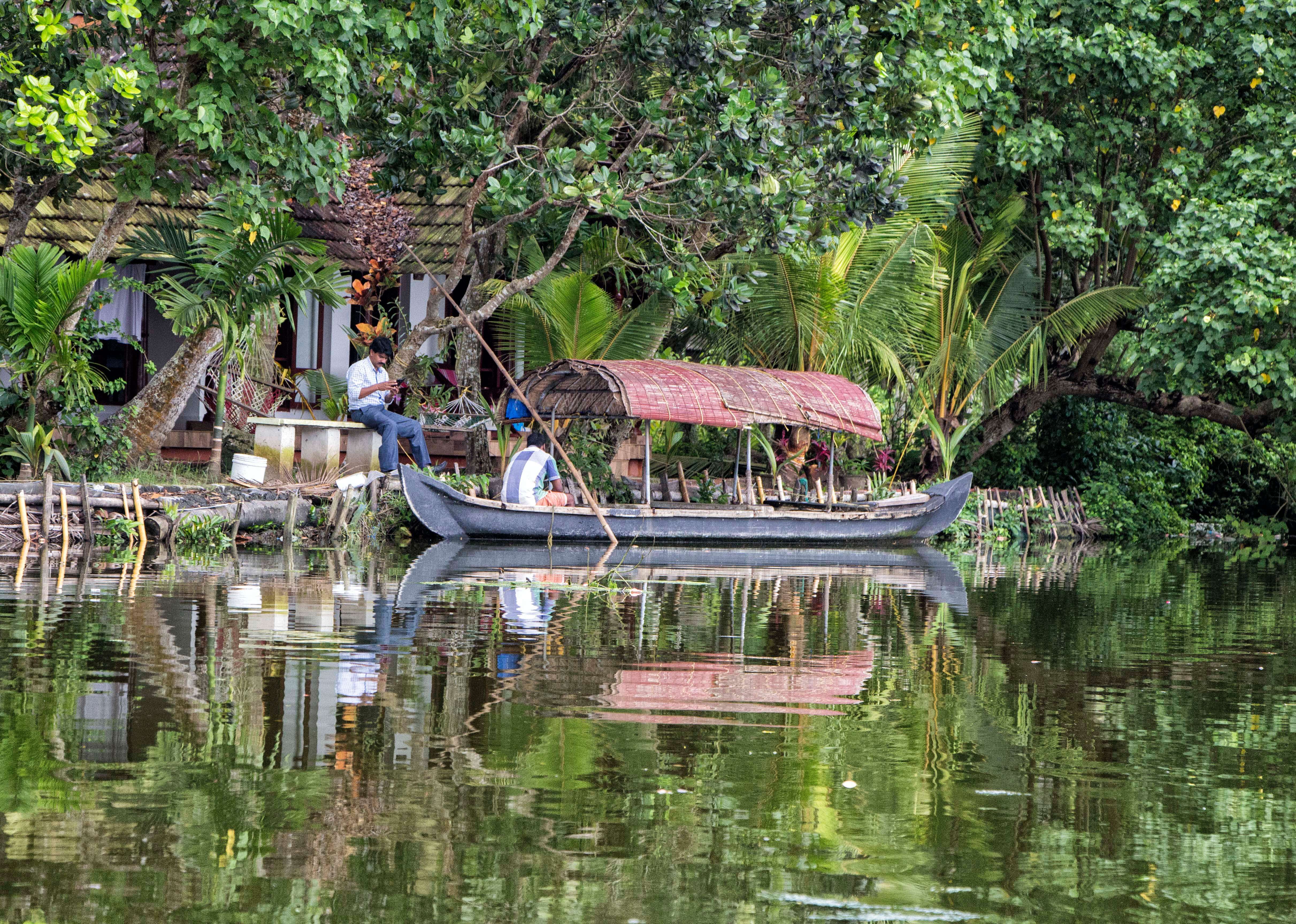 If you're going to do the whole houseboat thing in style then the trick is to escape from everyone else who wants to do exactly the same. And for that you need to avoid Alleppey. By chance, we wandered into the office of Wilson Tours in Fort Kochi where we were given a choice – take a motorised houseboat around Alleppey or a smaller, punted boat in a place where we would see no other tourists. Well, it was a no brainer really…. That's how, one slightly damp morning, we found ourselves boarding our very own houseboat in a tiny Keralan village. And it really was all our own – complete with two guys to punt and one onboard chef. It seemed like such a treat but actually only cost around £25 each.
The houseboat contained a bedroom with an en-suite bathroom, a kitchen and a deck area complete with two lounge chairs, a coffee table and a fold-away dining table for our meals. We settled into our seats, were given a pot of tea and a plateful of freshly made banana crisps (to die for) and off we went. There was literally nothing to do but read, write and watch the sleepy Keralan countryside glide by. And that's the beauty of a houseboat in Kerala – you're forced into a digital detox where the only thing you can do is relax. There was no noise other than the splash of the punt or the sound of the many birds along the backwaters – kingfishers, brahminy kites, fish eagles and loads more that I couldn't even begin to identify.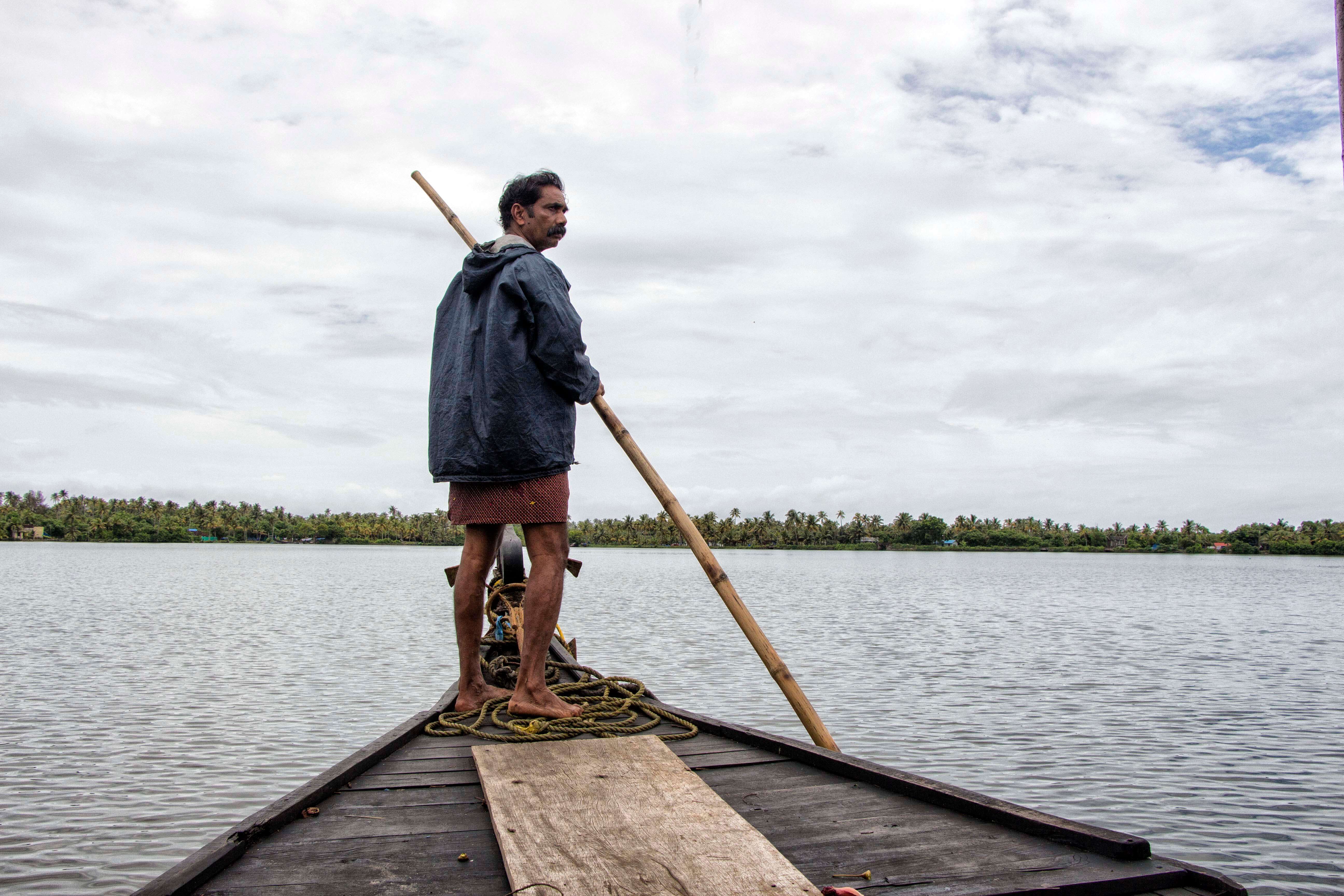 Wilson Tours were true to their word. We didn't see any other tourist houseboats on this trip. Occasionally we passed local people in canoes or fishermen on their way to check the large Chinese fishing nets that were dotted around. But that was about it as far as other people went. As the late afternoon light grew more golden and the shadows grew longer, I felt like I could quite easily doze off. Considering I have been on sleeping tablets for three years, this is nothing short of a miracle. Having absolutely nothing to do other than lazily float on calm, green waters while being fed incredibly well is clearly a winning strategy for relaxation.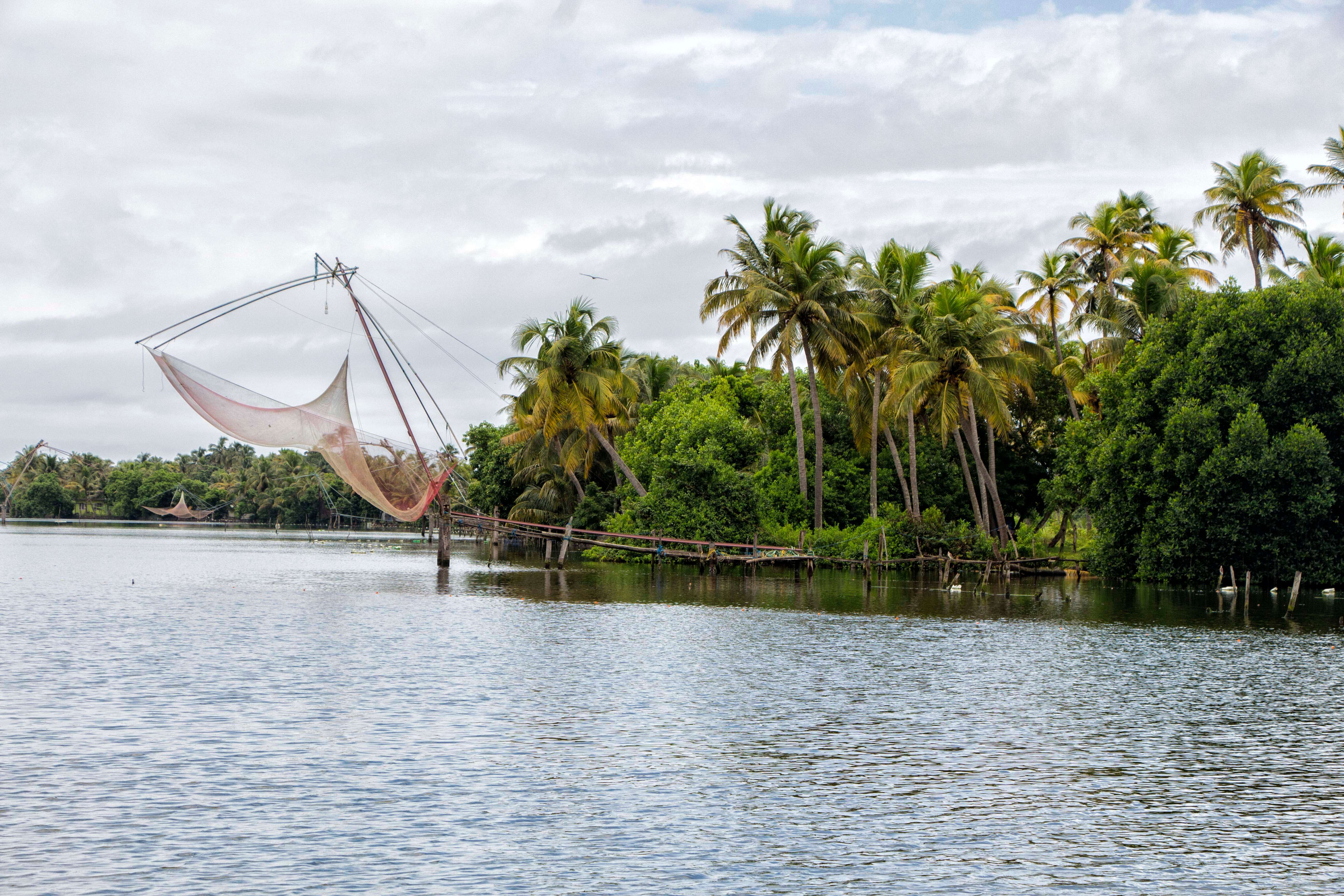 We moored up in a lagoon for the night and watched from underneath our canopy as rain fell gently around us. As it grew dark and we enjoyed our dinner of curry with freshly made chappatis, hundreds of fireflies darted around us; a beautiful sight I've never witnessed before. I was then more than ready to curl up in our cosy little wood-panelled bedroom and enjoy a nights sleep with zero light pollution. Waking up to a soft, Turner-esque dawn and settling down to watch as the morning mist gradually evaporated off the lagoon while fish eagles wheeled and dived around me beat that Tube commute any day.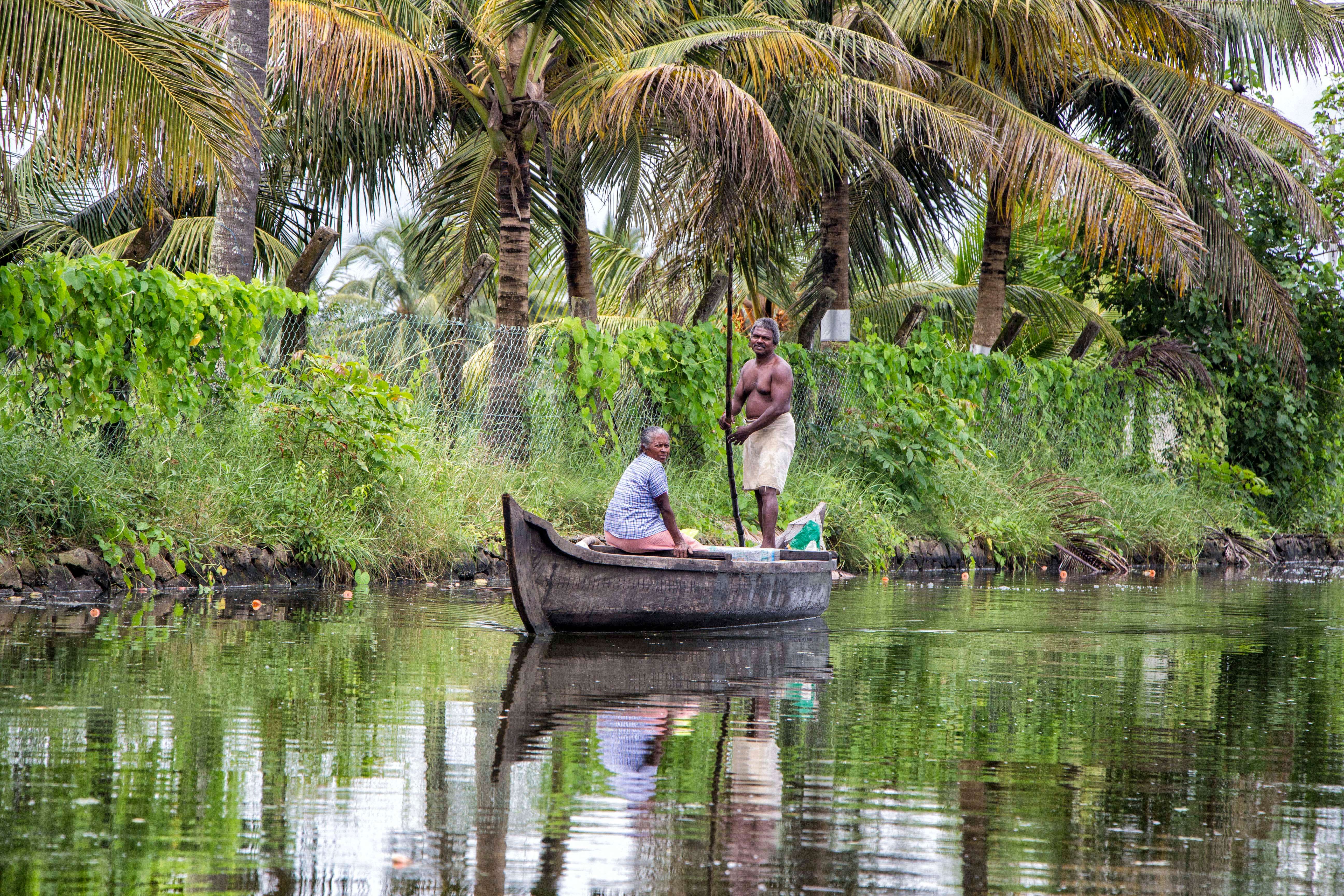 For someone who doesn't really know how to relax and who gets slightly twitchy whenever there's no internet, a houseboat in Kerala was the perfect tonic. Spending time away from the "black mirror" of my phone and laptop genuinely helped me to switch off and decompress. There are times when my decision to escape the rat race has been hard, but this definitely wasn't one of them.
Like it? Pin it!