London Cocktail Week 2016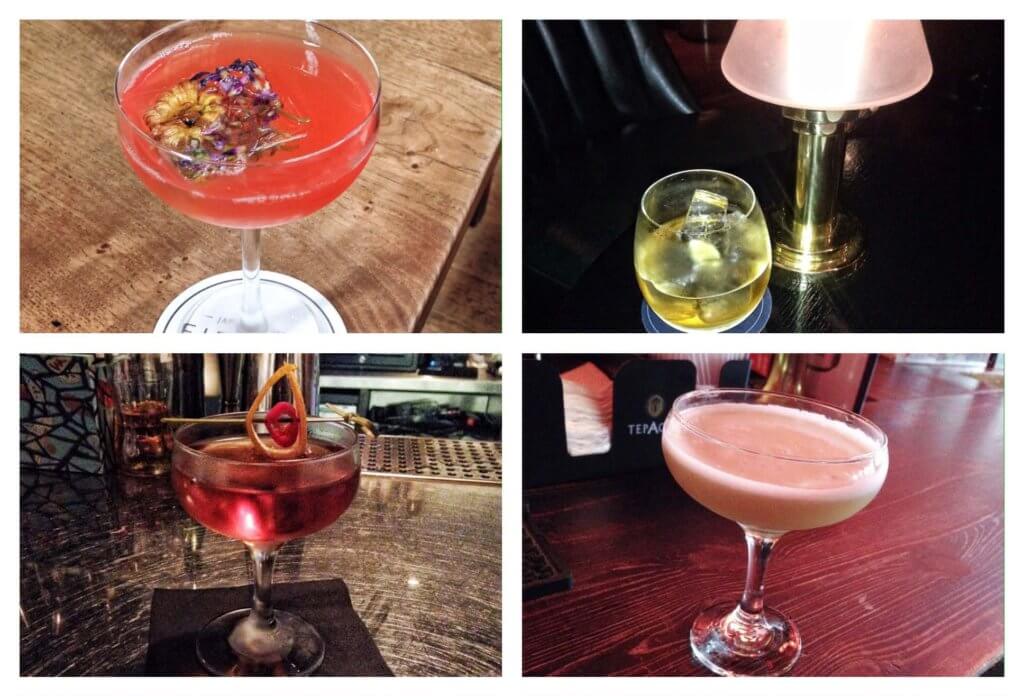 My poor liver.  It's taken a bit of a battering lately.  All in the name of research, you understand…. Recently one of my favourite events took place – London Cocktail Week.  Now, usually I try and pace myself, spread my "investigations" throughout the week, break it up a bit.  But this year?  No.  This year I decided to cram it all into the final weekend.  So it was less "London Cocktail Week", more "London Cocktail Weekend".  Never before have I planned a drinking sesh with such military precision, and never before have I necked drinks with such speed when it's not closing time.  However, I lived to tell the tale so here are my highlights from London Cocktail Week:
Strawberries & Cream – Fifteen
The recipe list for this cocktail read like a random collection of ingredients – including gin, tarragon and cider vermouth – so I was intrigued to see if the end result really would taste like strawberries and cream.  And do you know what?  It actually did.  In fact, it reminded me of one of those boiled sweets that used to be around when I was a kid.  It tasted deceptively simple for what was clearly a very complex drink.  What's more, it was one of the prettiest cocktails I have ever seen. Pure elegance.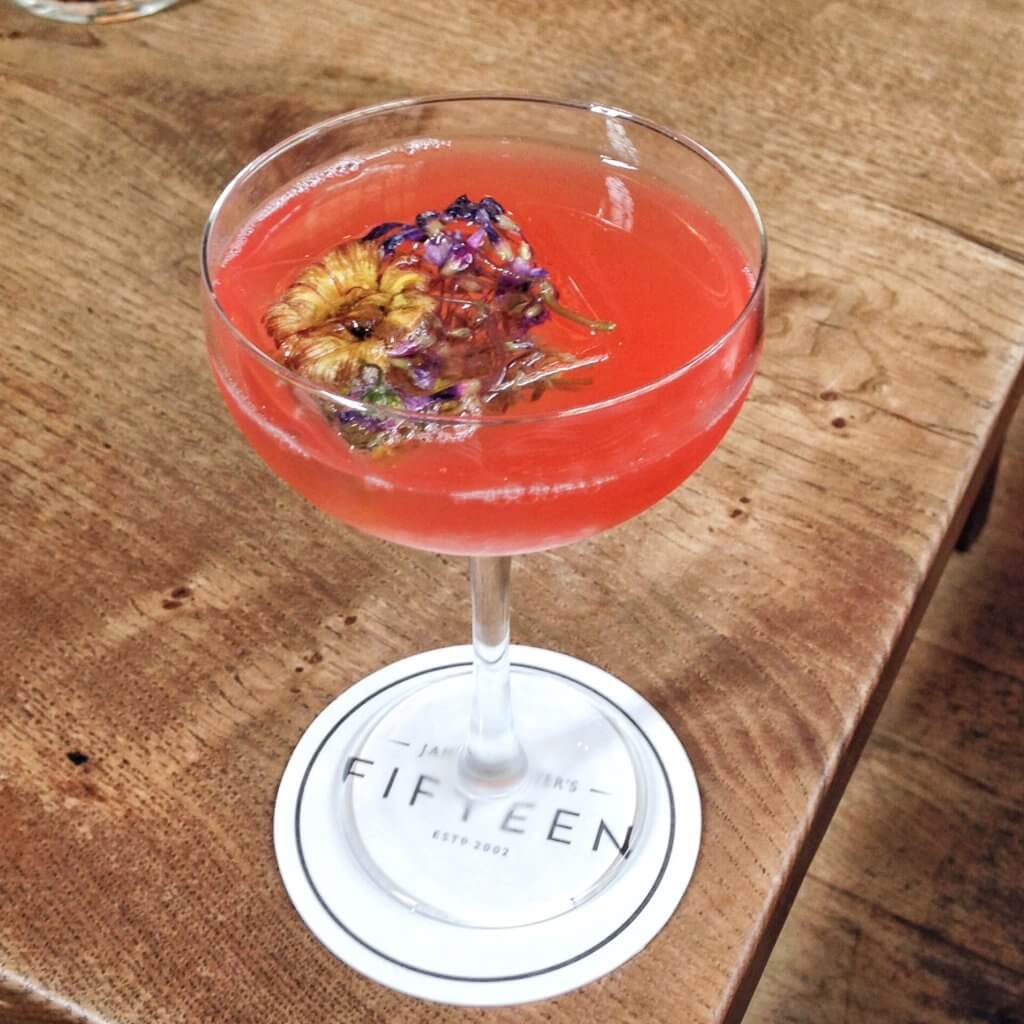 Rhubarb Margarita – The Drunken Monkey
The barman managed to totally confuse me by offering three different flavours; not helped by the fact that he was a bit of a mumbler.  It really doesn't take much, especially when I'm already a few cocktails down… Fortunately I guessed correctly and ended up with the drink I'd had my eye on: the rhubarb margarita.  All bars should offer this version of a margarita.  The tartness of rhubarb just works amazingly with tequila and triple sec.  This British twist on a Mexican classic was simply great.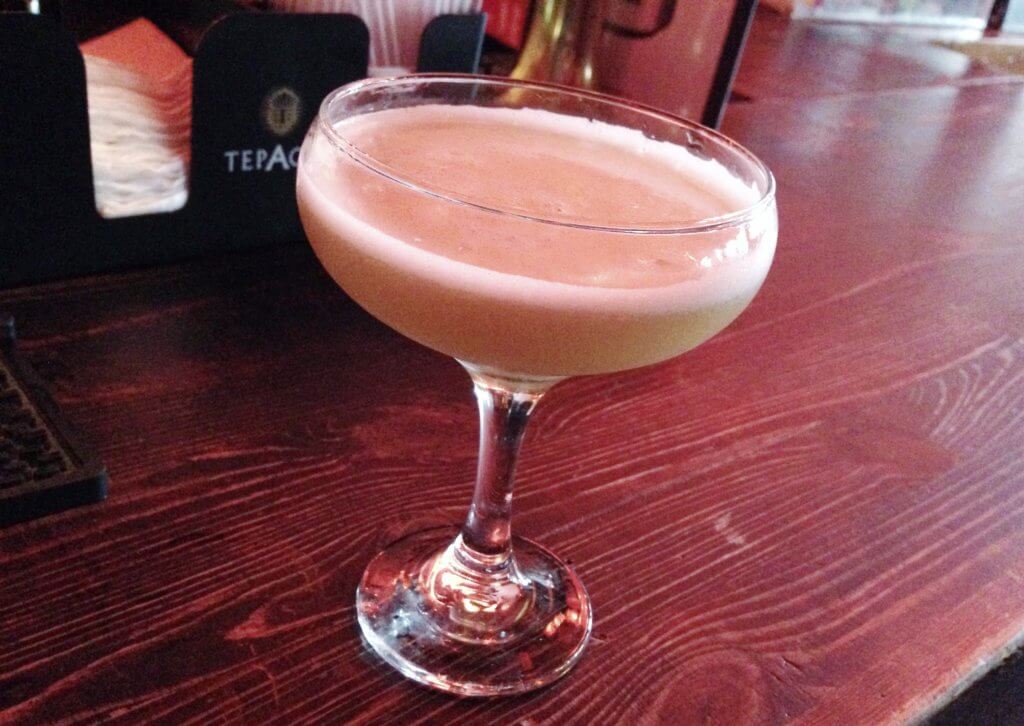 Hebrides & Ivory – Milroys
I often shop in Milroys – a gorgeous old whisky shop in Soho – but I've never stayed for a drink.  To be honest, their LCW cocktail wasn't up there with my favourites, although I'm not a fan of whisky cocktails to start with.  What I loved here was the atmosphere.  The amber glow of whisky fills the creaky old shop and it's probably one of the cosiest places to while away these chilly autumn evenings.  What's more, the staff are knowledgeable, friendly and funny. While I wasn't keen on their cocktail of Kilchoman Machair Bay Scotch whisky, Couer de Genepi, St Germain and grapefruit bitters, I'll definitely be back for their single malts.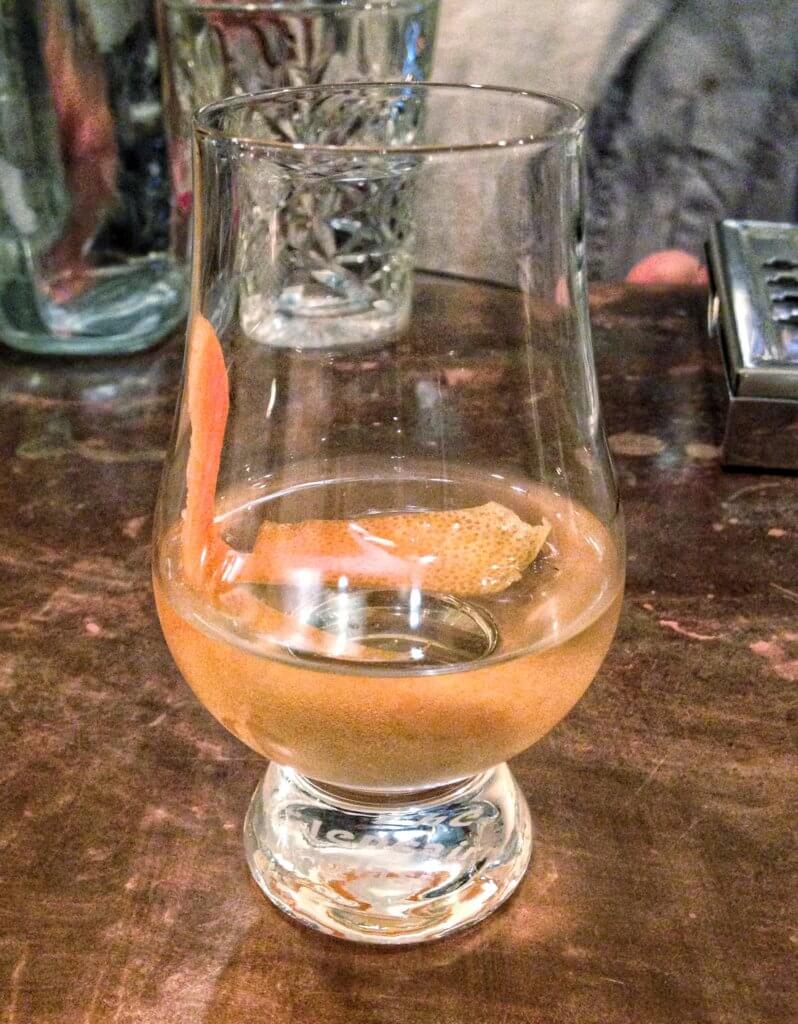 Langers in Manhattan – 46 & Mercy
These guys "won" the dubious honour of creating my favourite cocktail of LCW 2015, so I was intrigued by what they would pull out of the bag this year.  Langers in Manhattan did not disappoint (my Cork friends may well have a little titter here).  Made with only three ingredients – Jameson Caskmates Irish whisky, Cocchi di Torino vermouth and homemade chilli liqueur – this drink was incredibly interesting.  It was sweetness, sharpness and heat all in one glass, with a rich caramel taste before the bite of the chilli kicked in.  I probably couldn't drink too many and my lips did start to feel like they were melting but, once again, these guys have delivered a stunner.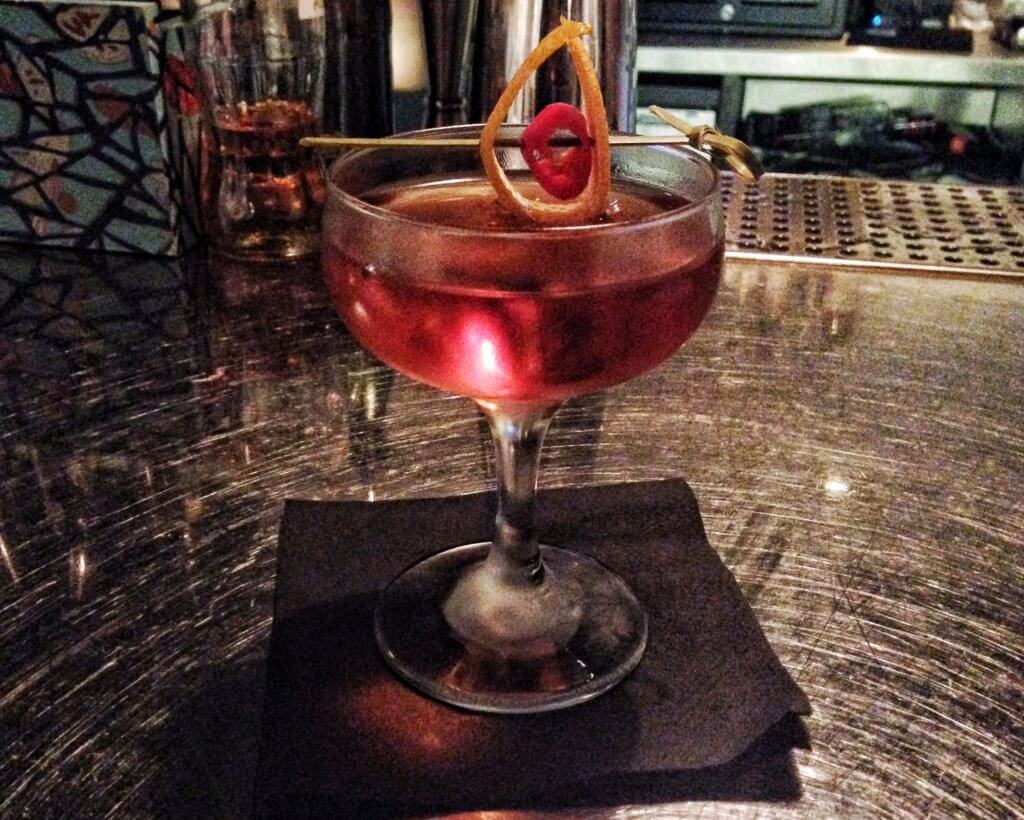 Blossom Martini – The Harcourt
Once upon a time I worked for an awful property company on Seymour Place.  I would regularly meet friends of mine for after-work drinks in The Harcourt Arms, which was an unassuming "Swedish pub" around the corner from my office.  It has had a bit of a makeover, dropped the "Arms" and is now an upmarket Scandinavian restaurant.  Their LCW offering was one of the new "Sip and Snack" deals introduced this year: for a bit of extra cash you get a cocktail with a paired snack.  The Blossom Martini was made with homemade lemongrass infused Absolut Elyx vodka, fresh lemon, ginger and pink peppercorn syrup, rose liqueur and cherry bitters, and was served with gravadlax on rye bread.  The cocktail itself was surprisingly sweet and refreshing, and it was clear that a lot of love and effort had gone into it.  I was also particularly impressed with their rye bread, which can often taste like a bit of cardboard.  Here, it was sweet, malty and soft.  If this is indicative of the quality of their food, then I'd love to go back for dinner.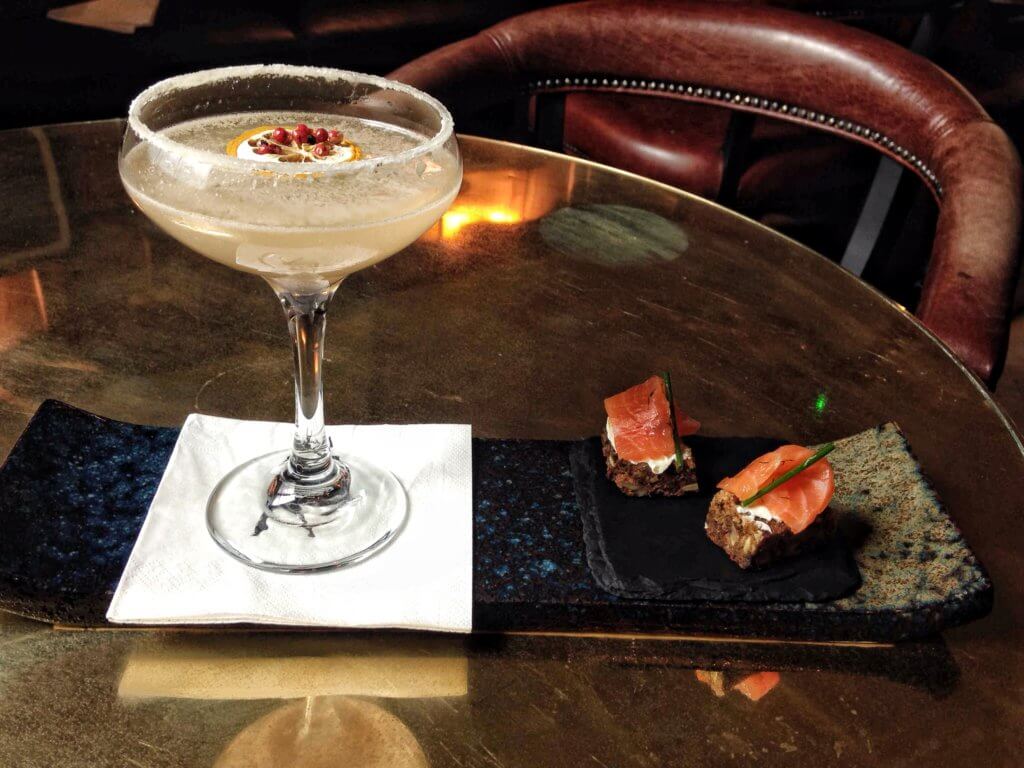 Leonard Woolf – The Bloomsbury Club
My reaction upon taking a sip of this cocktail was "ooooooooh that is SO good!".  Both the cocktail and bar were exactly what I needed on a wet, cold London afternoon.  The bar itself is a charming little bolthole in the depths of the Bloomsbury Hotel.  It's like stepping back in time, to a more charming era, with the exquisite service to match. The cocktail was another simple one: Maker's Mark bourbon, Monin ginger syrup and orange bitters.  It was comforting and rich – and would no doubt make a great variation on a hot toddy.  This is the first whisky cocktail I have ever liked, which is really saying something.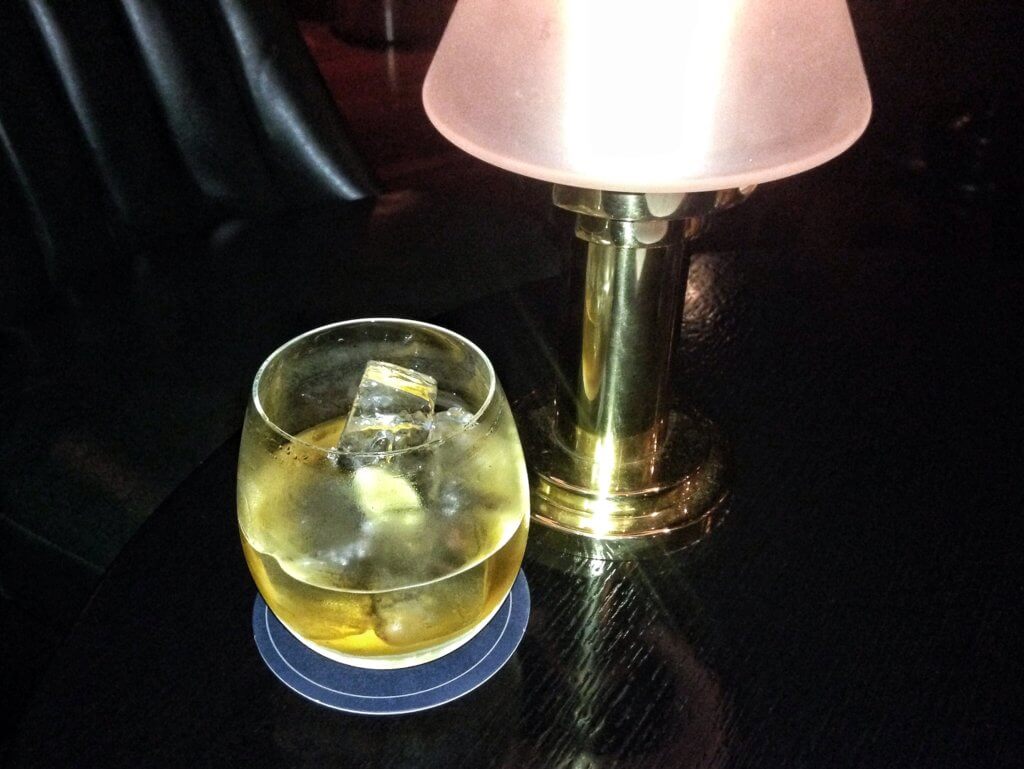 The Monkey Club – Graphic
Graphic is one of my all-time favourite bars, and was one of the few places where the cocktail-making process was explained.  Their take on a Clover Club included Monkey 47 gin and Cocchi di Torino vermouth.  It was fruity, sweet, bursting with berries and tasted a bit like an alcoholic smoothie.  It was so easy to drink that I was able to finish it off in record time, due to the fact that I was actually sitting at someone else's table. Kudos to the security staff who helped me find a spare seat.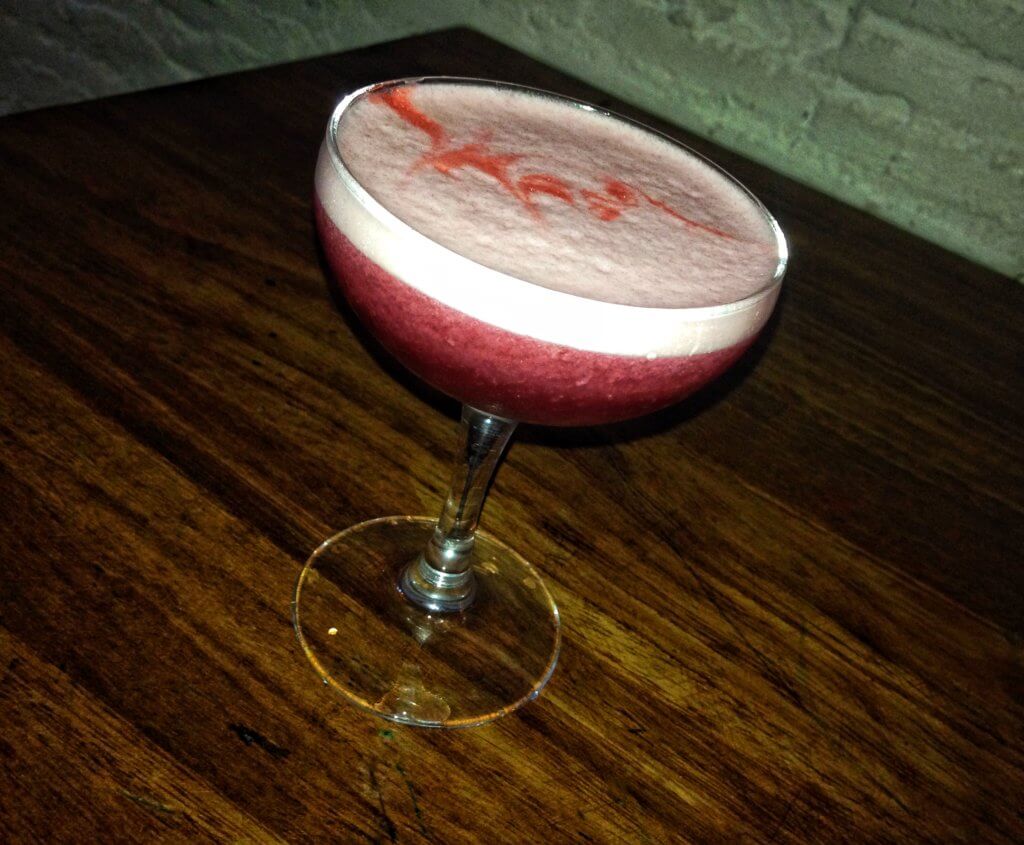 As usual, it was great to see such innovation and creativity on display – plus LCW is a fantastic excuse to try out new bars and visit some old favourites.  London really does have some of the best bars in the world.  There were so many amazing cocktails but my absolute top choice this year was the Strawberries & Cream by Fifteen.  It was so clever and was clearly created by someone who really understands flavour.  Not only did it taste delicious, it looked a treat too.
I'd like to say that I'm now going to detox for a bit but I think we all know that's a lie….