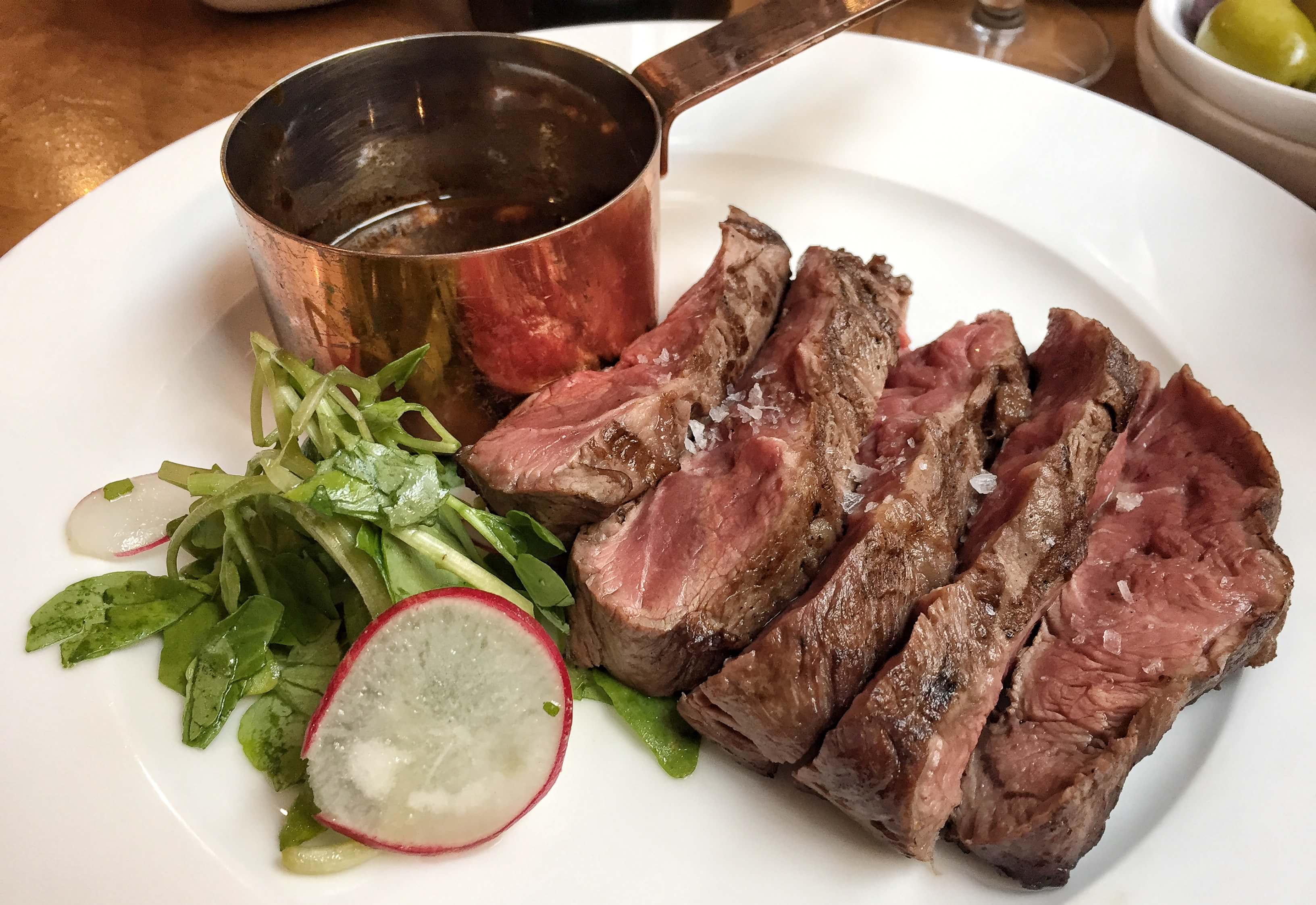 Bordelaise: French vibes in Tooting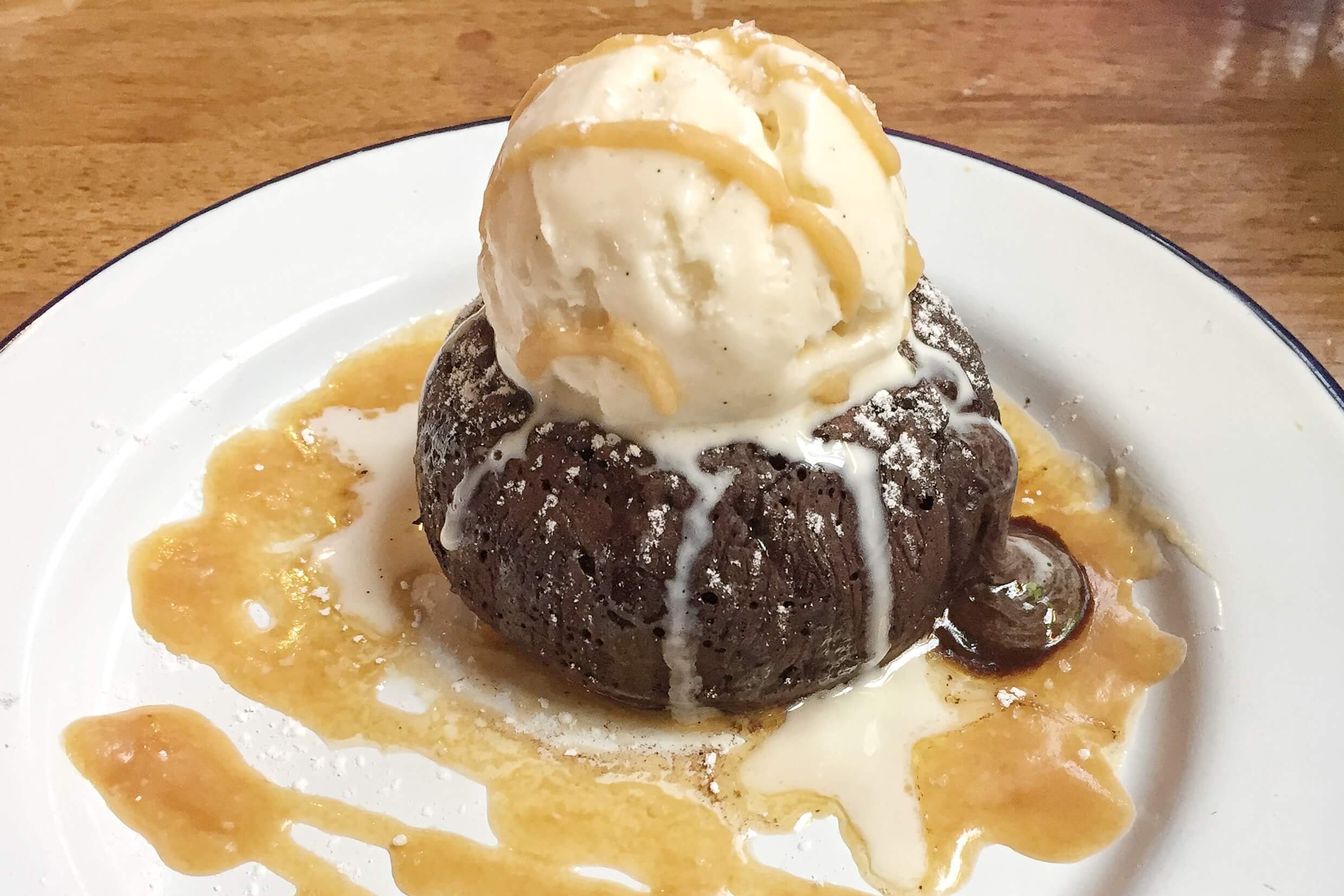 Before I say anything else, you need to know this. The chef at Bordelaise is a very bad man.  Despite being dangerously full after having demolished two large rounds of food, he insisted that my friend and I each have a pudding, rather than going down the more civilised route of sharing one. What's more, we were "coerced" into the richest, most decadent dessert on the menu. But more of that later…
Bordelaise is the latest offering by the power team behind The Little Bar and The Little Taperia in Tooting. These guys can't seem to put a foot wrong, so I was pretty confident that Bordelaise would be a winner too. I have previously written about The Little Taperia and waxed lyrical about how it's basically a direct portal to sunny Spain. I don't know what their secret is but these guys have achieved something similar with Bordelaise. Despite the fact that it's a tiny unit in Broadway Market, surrounded by braying butchers, fruit and veg hawkers and a wonderfully chaotic array of world food stalls, Bordelaise somehow manages to transport you to a quintessentially Parisien bistro. It becomes easy to block out the potential assault on the senses from the rest of the market and focus on the food and, of course, the wine.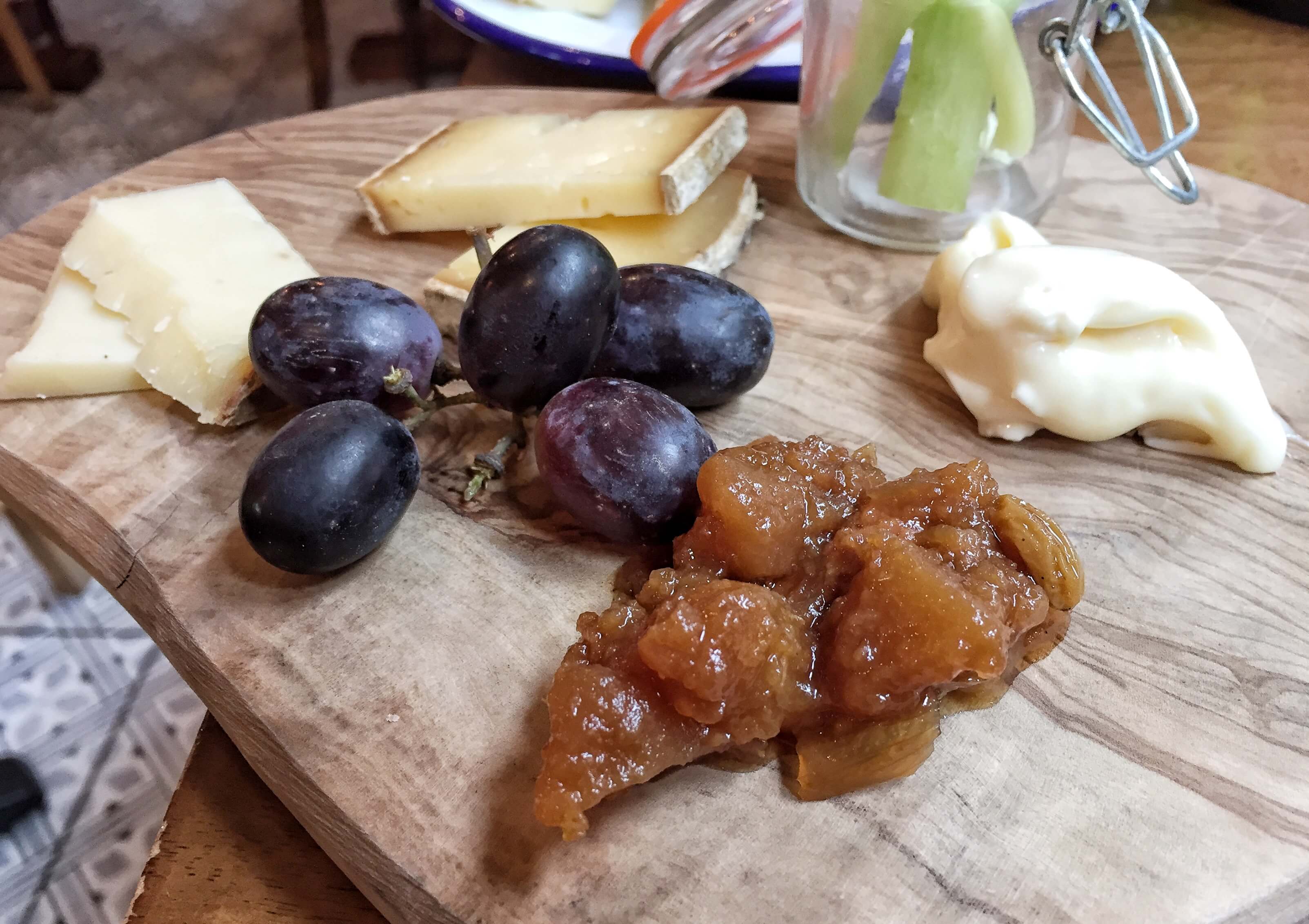 We started our foray into France (via Tooting) with a cheese and charcuterie platter. Our lovely French waiter brought over what he called "a 3D version of the menu", i.e. their cheese board. There was every kind of cheese on there, from hard to squidgy to running all over the place. Not wanting to spoil the rest of our meal, we showed enormous restraint and selected only three cheeses – Comté,  Tomme de Savoir and a wonderfully ripe Epoisses. Served with crusty fresh bread and a selection of cured meat, washed down with a glass of fizz…I was kicking back and feeling all sorts of joie de vivre.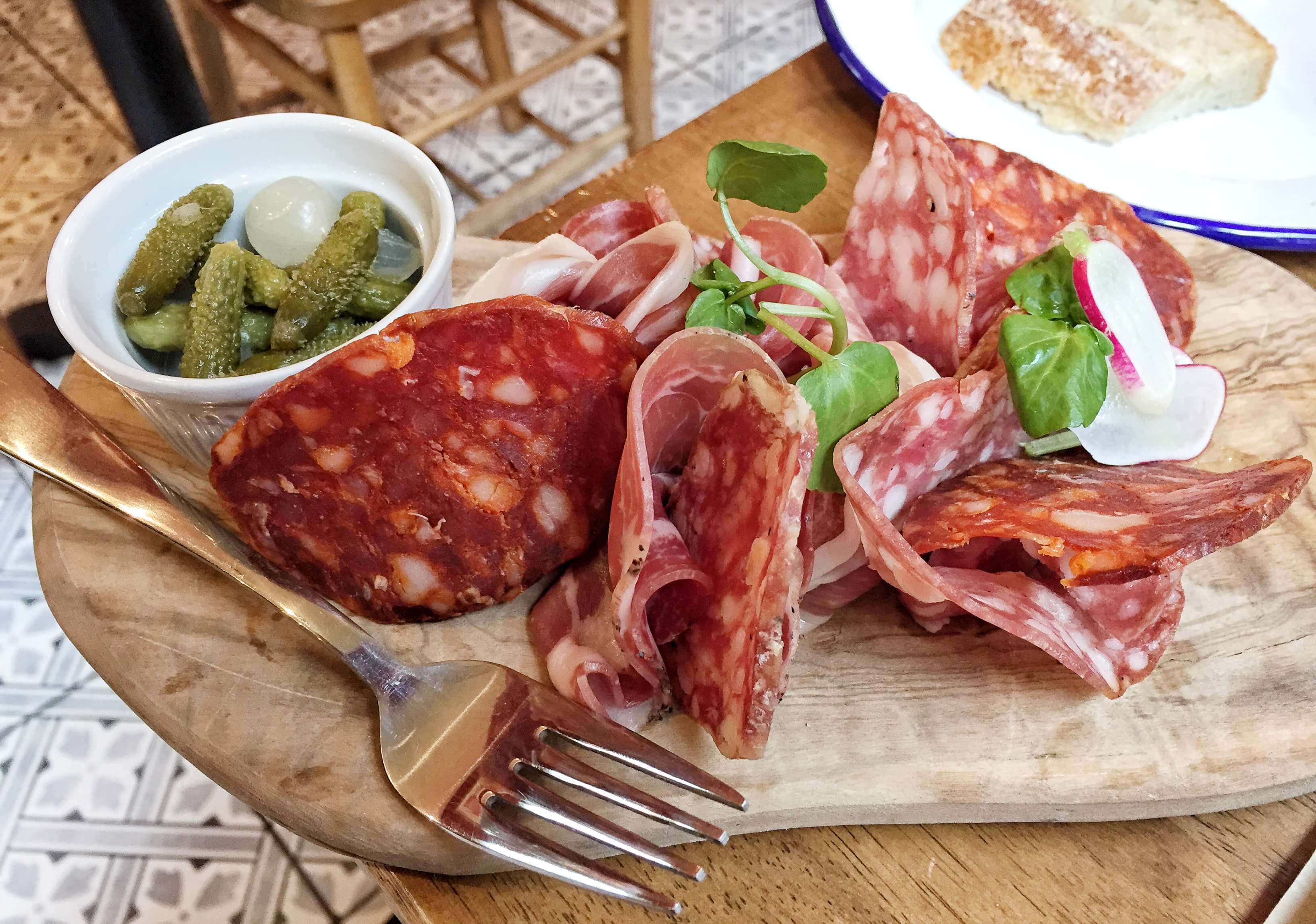 I could have happily sat there all day grazing on cheese and wine, but Bordelaise actually specialises in steak. They do offer other things if steak's not your bag, such as truffled mac and cheese, braised ox cheeks or a daily special. The menu is fairly limited, with just two cuts of meat available – a flat iron and a rib eye. We chose one of each together with sides of creamed spinach, beef dripping chips and a special of tempura baby artichokes. There are also only two sauces to choose from – a Béarnaise and their signature Bordelaise sauce. The Bordelaise is made with red wine and bone marrow, and takes a mega two days to reduce before they serve it. It oozed out of the little sauce pan, slow and luxuriant, generously coating the steak.
The steaks were cooked very well, although it was announced that they would be served medium rare. I get that this is easier for the kitchen, but it's a little bit lazy. However, I asked if my steak could be served rare and this wasn't a problem. The sides were scrumptious and rather naughty, especially the creamed spinach, where the cream to spinach ratio was most definitely in favour of the cream.  Beef dripping chips are all the rage right now and these were crispy, golden and moreish.  I have been very spoiled by the We Serve Humans version over at the Jackdaw and Star, however. There's not much that can compare to those beauties, I'm afraid.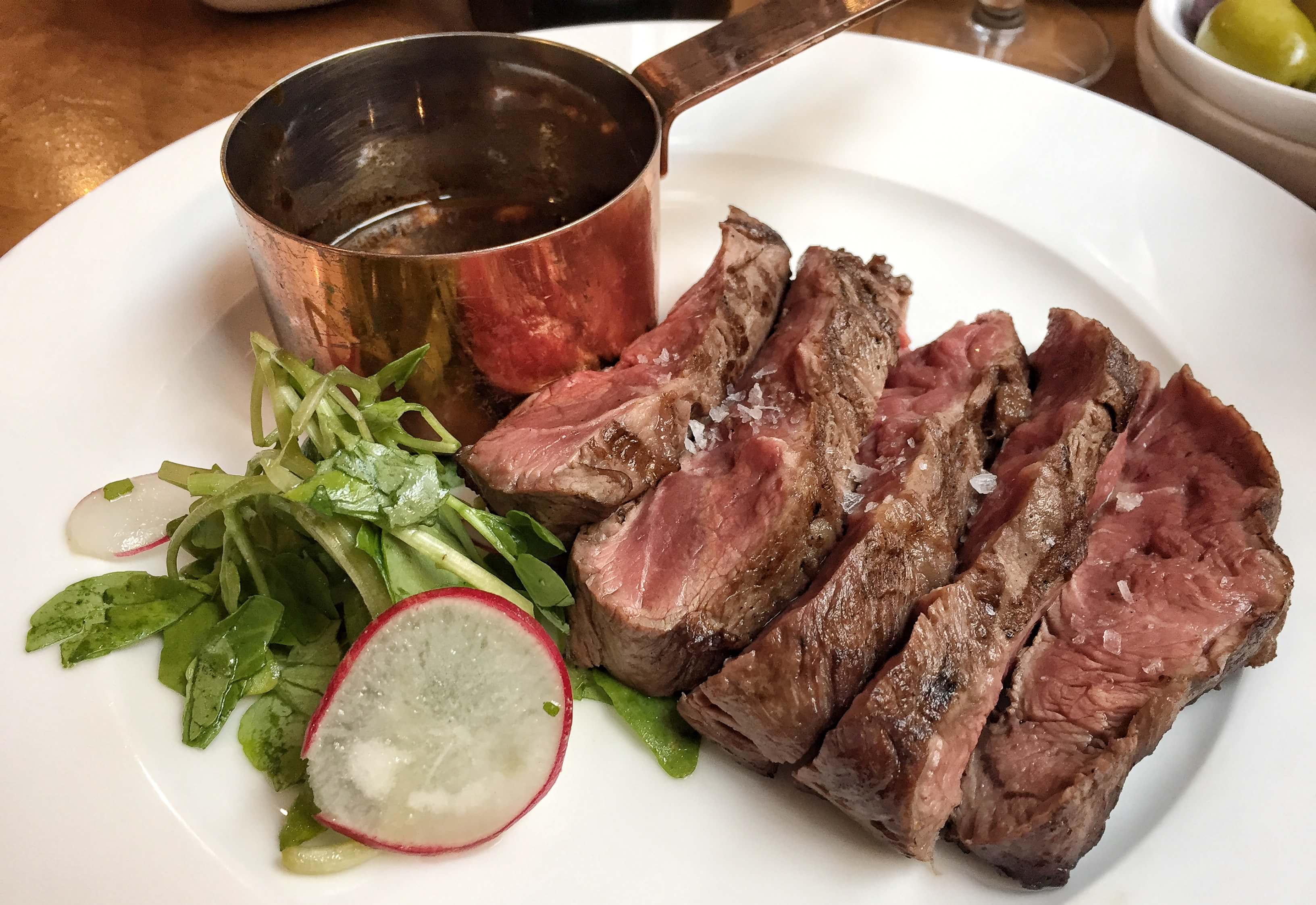 Anyway, on to that pudding. We were, of course, painfully full by this stage but I'm a big believer in the "pudding belly" (like Santa Claus and the tooth fairy, only it's real – honest!) so we had to take a gander at the dessert menu. Again, it's very limited with two regular dishes (chocolate fondant and a Coupe Colonel, which is lemon sorbet with a vodka shot) and a daily special. We decided it was wiser to share the special of a lemon tart – something light and palate cleansing.  The chef, however, had other ideas. I nipped out to the cash point while we were waiting for dessert to be served and, during the five minutes I was gone, the chef had persuaded my friend to order the chocolate fondant. And I thought I was weak-willed!
As it happens, this chocolate fondant is a bit of a chef's special at Bordelaise so they were keen for us to try it. It's not just any old chocolate fondant. It comes with salted caramel and salted vanilla ice cream. Yes, that's right. A scoop of good old fashioned vanilla ice cream with a pinch of rock salt sprinkled on top. Why has no-one ever thought about doing this before?? It's bloody amazing! In fact, the whole pud was amazing. A lava flow of chocolate sauce gushed into the salted caramel which, combined with the rapidly melting ice cream, created a perfect storm of foodporn. My friend and I approached it with all the grace and finesse of a pair of starving savages, smashing into the thing and shovelling it into our faces as quickly as possible. The poor old lemon tart almost got overlooked during our feeding frenzy, but I'm happy to report that it was a zingy thing of beauty.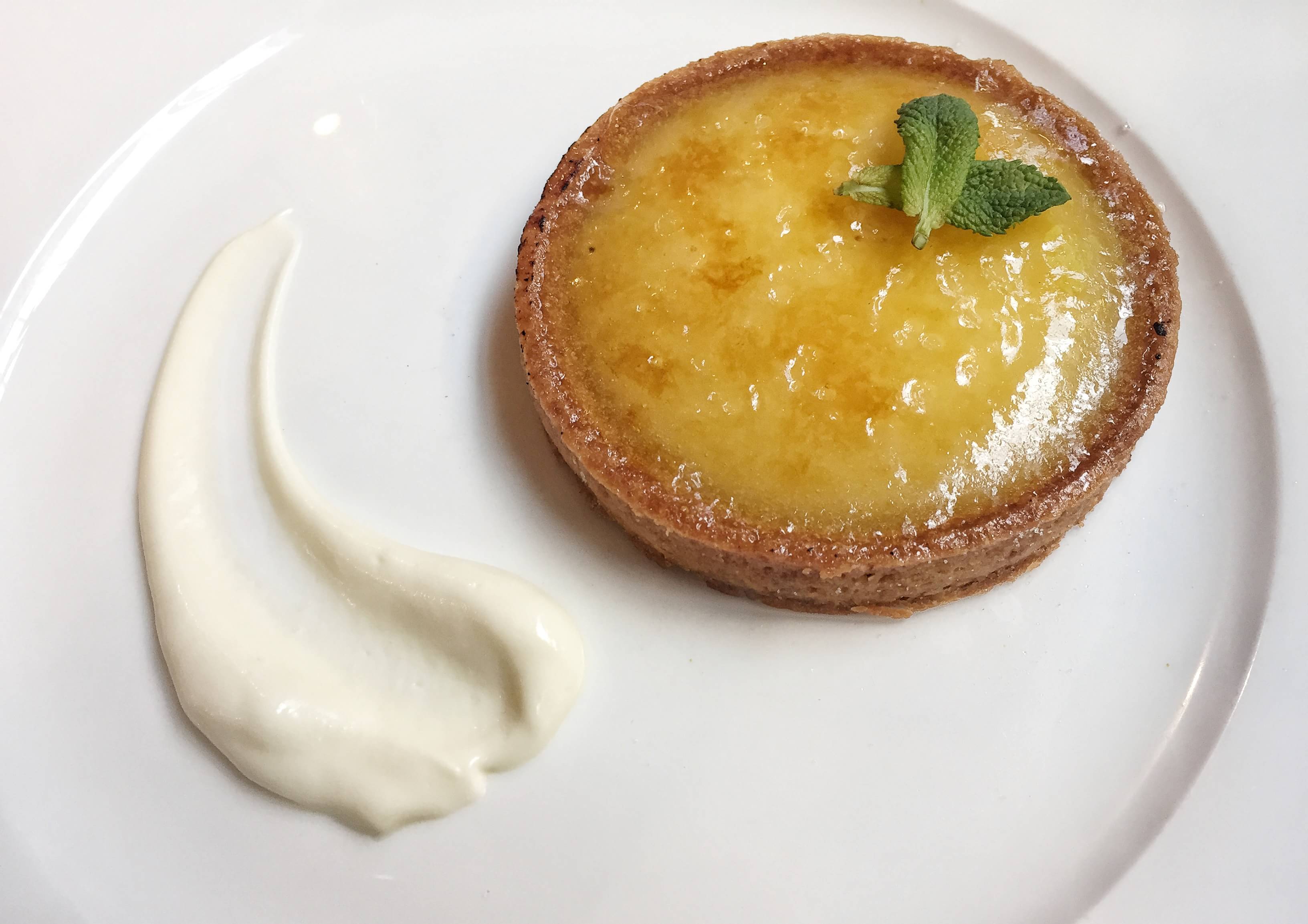 I think part of the secret to the success of the Little Bar, the Little Taperia and – now – Bordelaise is the attention to detail. It's the little, subtle touches that transport you to another place altogether. Of course, having a bloody good chef helps too! I know I've mentioned the "limited menu" a few times, but I don't mean that to be a negative. It was completely reminiscent of what you'd find in an old-fashioned bistro in France. You get what's fresh, what's seasonal and what they want to cook.  The food is straightforward, made with good quality ingredients and executed perfectly. What more do you want? Don't let the madness of a (brilliant) working market fool you; Bordelaise is your passport to Paris.
Bordelaise, Units 9-10, Broadway Market, Tooting High Street, SW17 0RJ
Many thanks to the team at Bordelaise for inviting me over for lunch. All opinions are, as ever, my own.