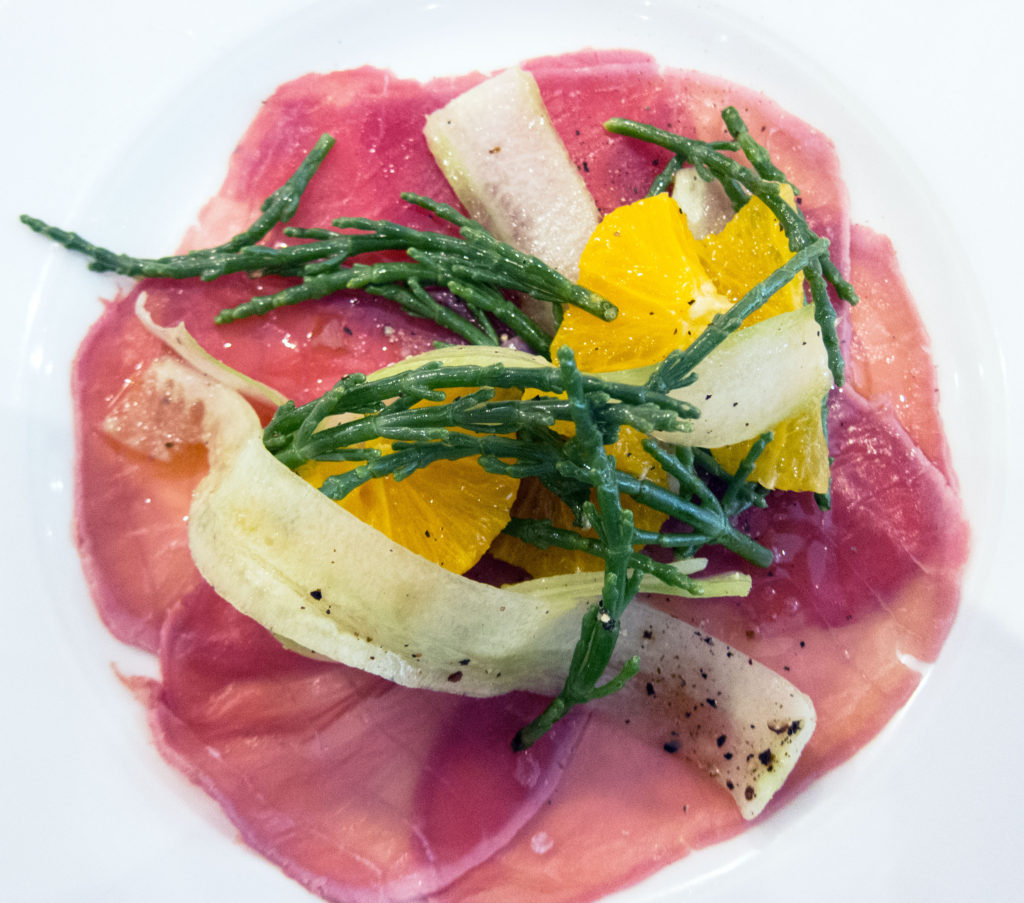 Mondays suck.  There is very little doubt about this.  Dragging yourself out of bed at an unreasonably early time, squishing onto the sweaty tube, dealing with emails before you've had a cup of coffee.  No thank you.  However, there are one or two things that can improve a Monday.  Leaving work at lunchtime always helps.  A visit from your mum and lunch at a top restaurant, like Cafe Murano, pretty much guarantees a better start to the week.
Here's the thing.  Cafe Murano isn't actually a cafe.  It's a rather sophisticated restaurant from Angela Hartnett, former chef-patron of The Connaught.  The "cafe" element comes from the fact that it's a more laid-back version of Murano, a fine-dining restaurant in Mayfair.  However, don't be fooled into thinking that this is a second class spin-off.  The quality of the food and service, as well as the sleek interior, ensures that you are in for a treat when you dine here.
Like most traditional Italian restaurants, Cafe Murano offers four courses.  We opted for just three which was sufficient for lunchtime.  I started with burrata, tomatoes and basil.  The burrata was creamy without being overly rich, and the tomatoes with basil gave a welcome flavour contrast.  Mum had the tuna carpaccio with orange, cucumber and samphire.  The exceptional quality of the ingredients used was evident in both of these simple dishes.  They were fresh, clean and incredibly tasty.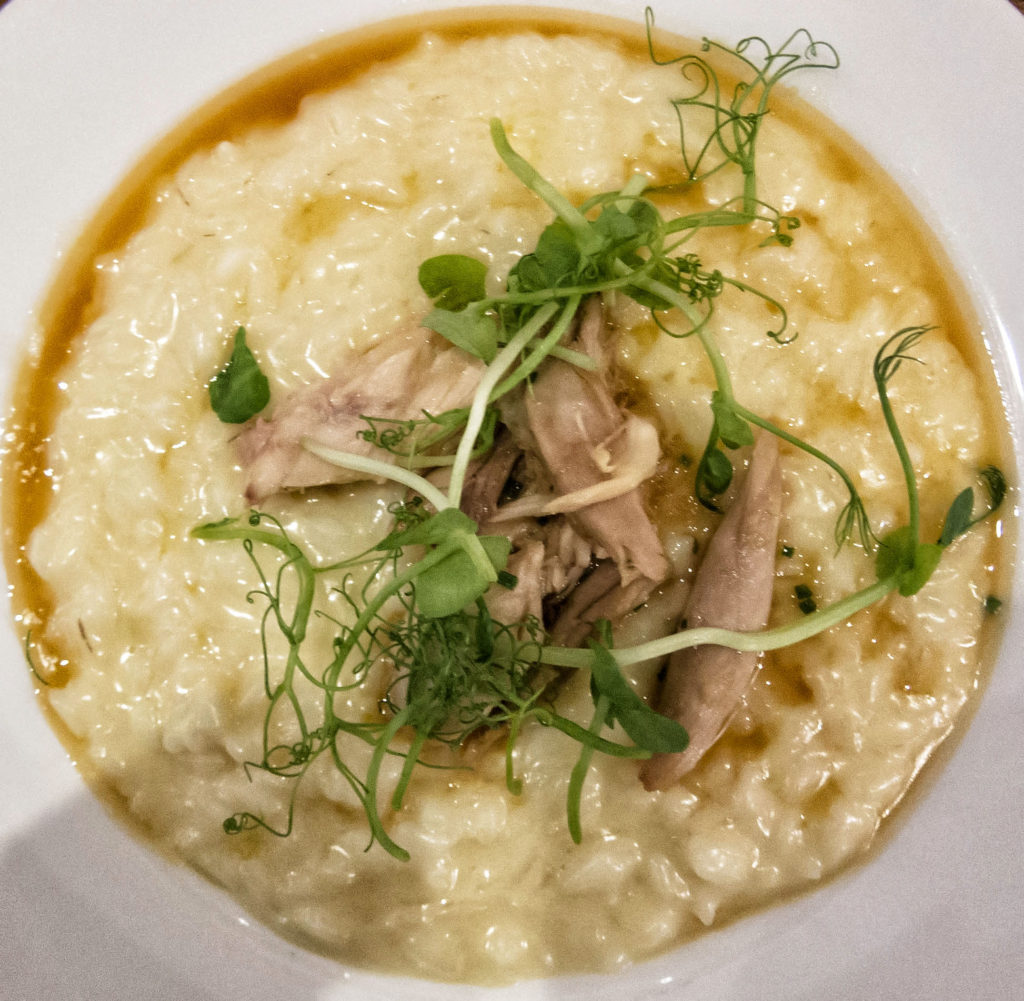 We chose dishes from the primi menu for our main course.  I'd had my eye on one dish in particular ever since I made the reservation: the rabbit risotto.  Fortunately this did not let me down.  I usually like the idea of rabbit more than the reality, which often turns out to be dry, tasteless disappointment.  The rabbit at Cafe Murano was exceptionally tender, falling apart to touch, and arranged on top of a creamy, wine-rich risotto.  Mum chose the garganelli with squid, tomatoes and samphire.  Garganelli may sound a bit like a Star Trek alien but it's actually flat, square pasta rolled into a tube.  The squid was so fresh and not even a tiny bit rubbery.  These were both extremely interesting dishes, a million miles away from the sort of thing you'd find on the menu of a more run-of-the-mill Italian restaurant.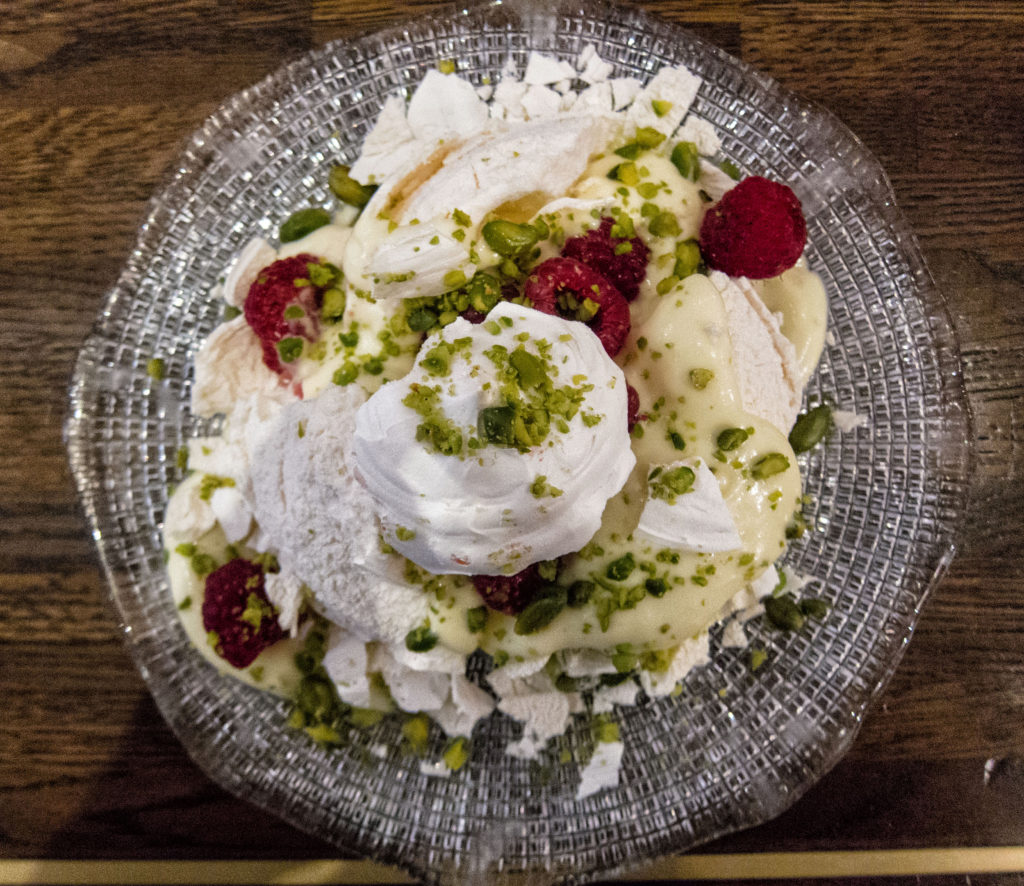 Dessert also illustrated Cafe Murano's use of excellent ingredients to create simple, yet delicious, food.  The meringue with pistachios and lemon curd was exactly what a meringue should be.  Crunchy with a hint of chewiness and generously heaped with lemon curd.  Pistachio nuts and raspberries provided some extra bite and a splash of colour.  I didn't think I'd be able to finish it but *somehow* I managed to clear my plate.  Possibly something to do with how ridiculously yummy it was.
You don't need the excuse of a Monday pick-me-up to visit Cafe Murano.  In fact, no excuse is needed at all.  Go on any day of the week, for any reason whatsoever.  You won't regret it.  This is food that makes you feel better about everything.
Cafe Murano, 33 St James's Street and 36 Tavistock Street (I visited the St James's Street restaurant)
£84 for three courses, including wine, for two people