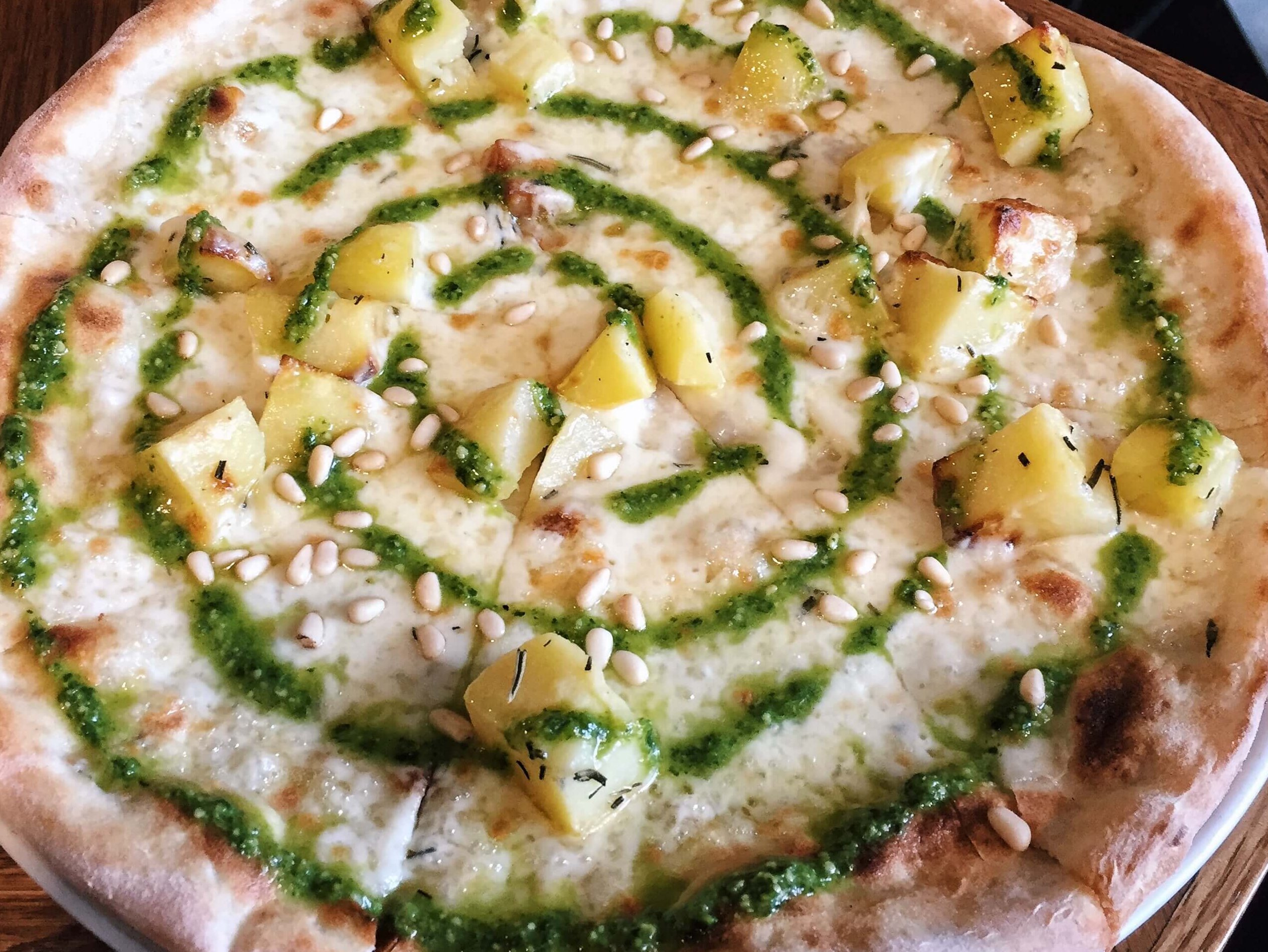 Firebrand Pizza: Potato pizza anyone?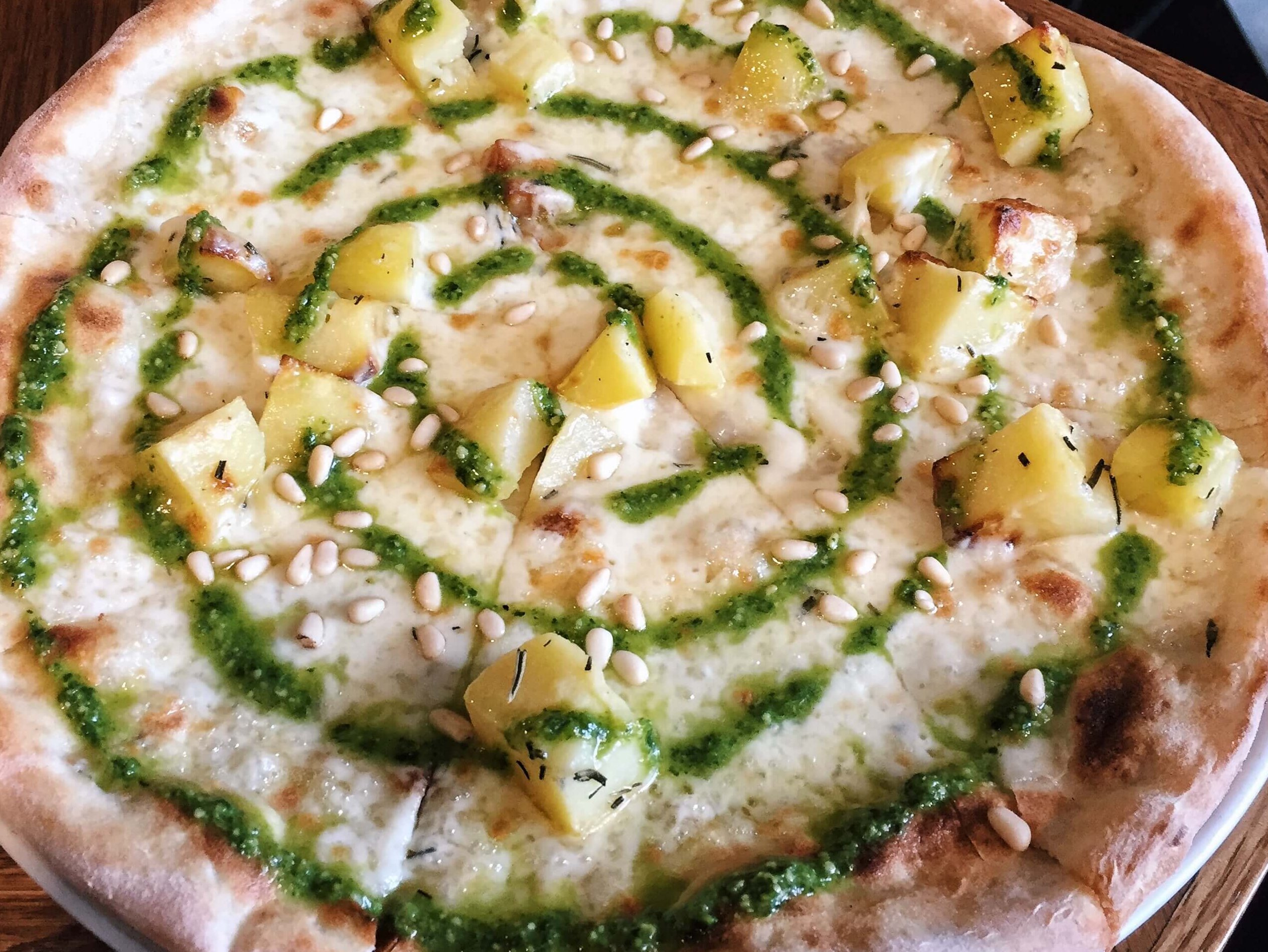 I don't need any excuse to stuff my face with carbs. I do it on a daily basis. The Atkins Diet? Forget it. Cauliflower rice? WTAF?? I've accepted the fact that I'm never going to be Giselle Bundchen and, having seen what she eats, I wouldn't want to be. Bring me all the bread, pile high the potatoes and pass me the pasta because I am carb-tastic. So when I saw that Firebrand Pizza use roast potatoes as a pizza topping, I knew that I had found my place.
Firebrand is located just a few minutes away from Marylebone Station, in one of those strange parts of central London that has managed to resist the inexorable steamroller of gentrification. Officially their thing is sourdough pizzas made with caputo flour from Naples. Caputo flour is very much on trend as far as London pizzerias go. It's considered to be the Godfather of pizza flours and lends an air of Neapolitan authenticity to a Marylebone pizzeria. It also gives your pizza base that all-important crunch. However, in reality, Firebrand's thing is roast potatoes. On pizza.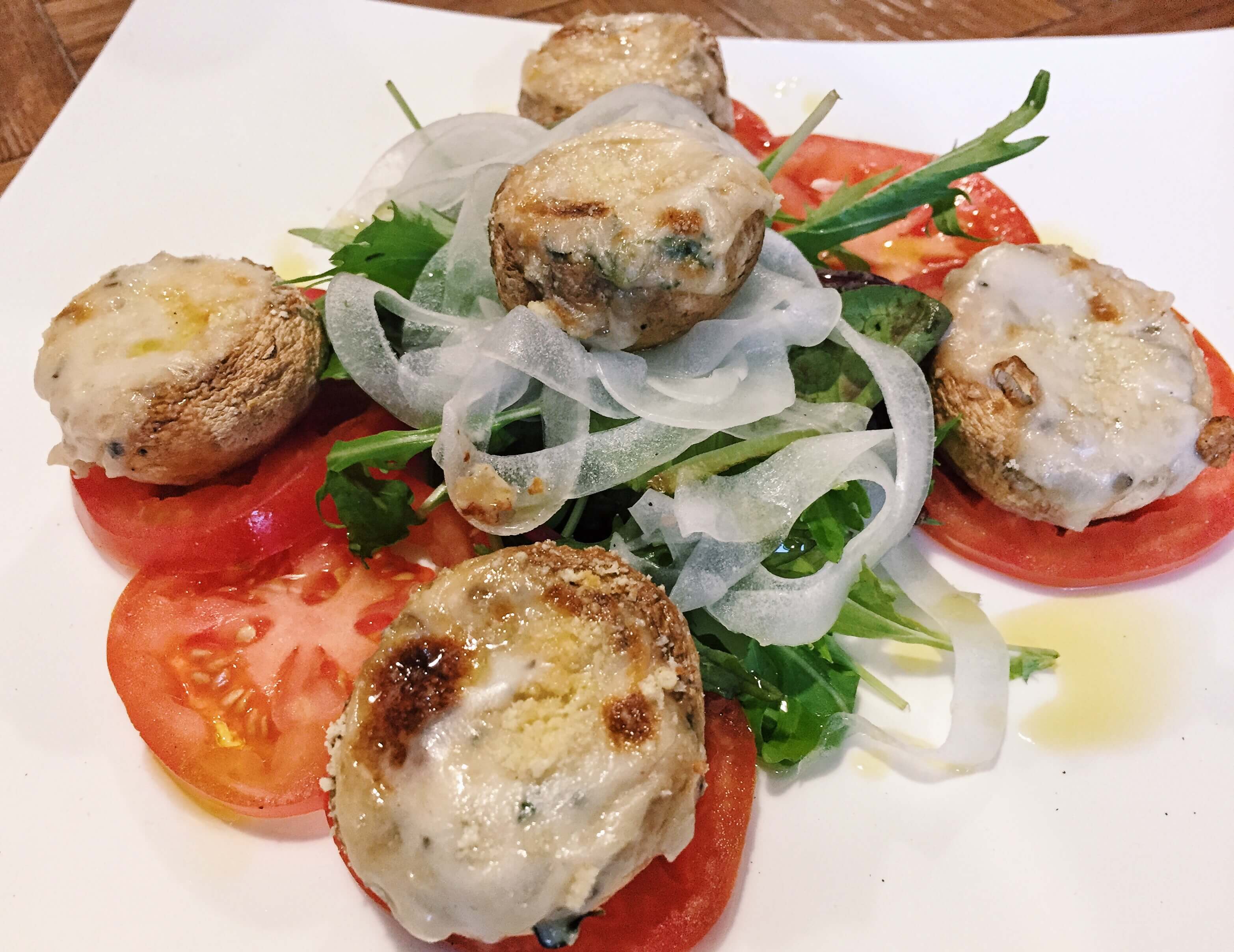 There are a handful of non-pizza items on the menu at Firebrand, such as lasagne and sea bass, but none of them were particularly interesting or exciting. It's all about those pizzas. We decided to order a couple of antipasti to start with – béchamel stuffed champignon mushrooms and parmigiana. Ok, so it may have been a little risky to order such rich dishes before tucking into a couple of pizzas but you know, YOLO. I needn't have worried. The mushrooms were watery and totally devoid of flavour, each containing a serving of béchamel sauce that can be politely described as "miserly". They were served with a salad that basically tasted of nothing; its only contribution to the dish was to make it extra watery. The parmigiana fared better; arriving at our table shimmering with heat, molten cheese bubbling away between each layer of aubergine, with yummy crunchy crozzled bits around the edge.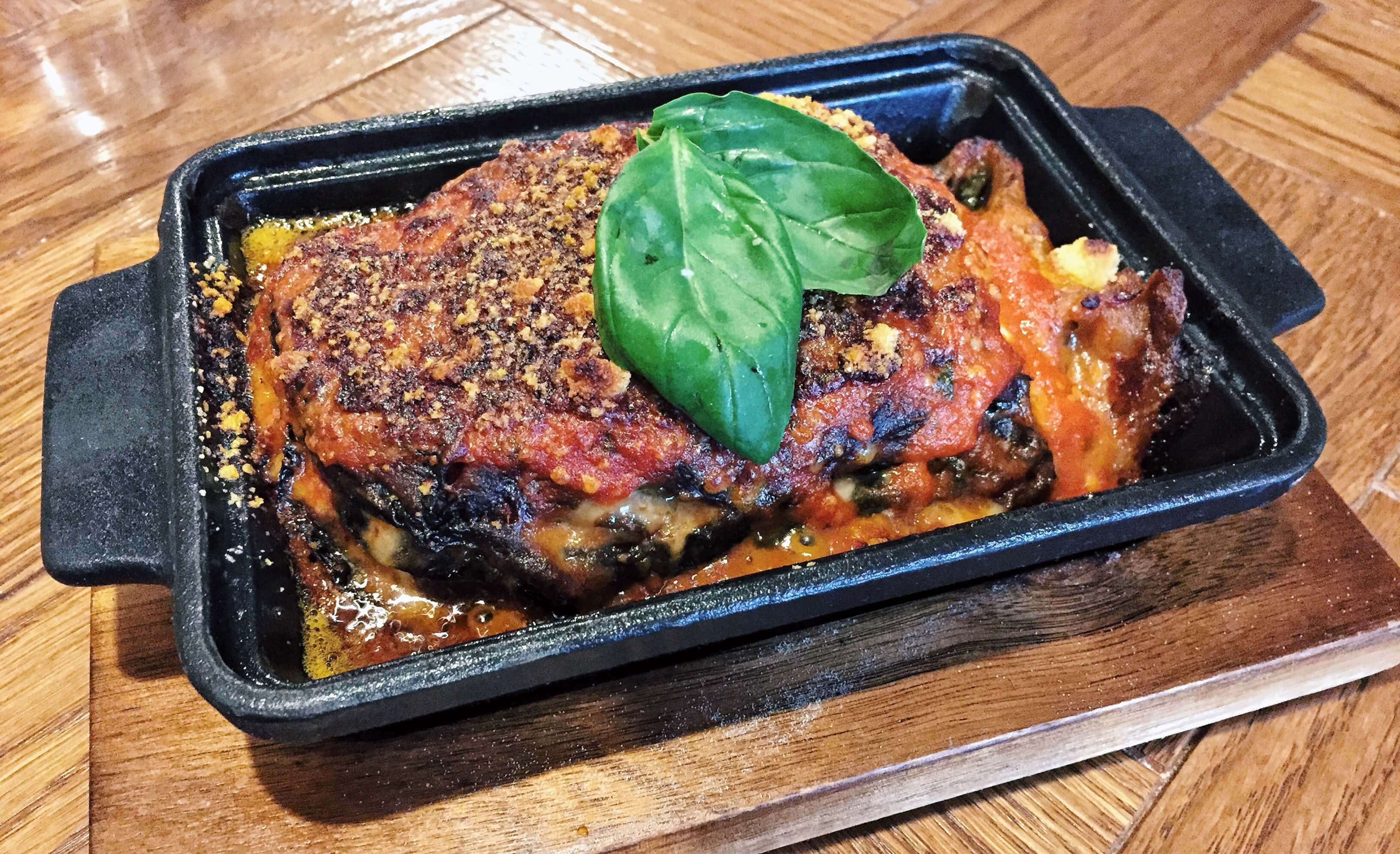 Pizza is such an ubiquitous dish that I automatically love anywhere offering a slightly different variation on the theme. It's easy to be bold and to experiment with pizza toppings, as long as you know what flavour combinations do and don't work. The Coach and Horses, for example, pulled it off with the likes of their breakfast pizza. Firebrand's twist on this is roast potatoes. There are no less than TWO roast potato topped pizzas on the menu and there was a third on the specials board when we visited. And who doesn't love roast potatoes, right? It was inconceivable that I wasn't going to order one of these, so I chose the pesto, pine nut, rosemary and mozzarella version. In the interests of diversity, my friend begrudgingly ordered a non-potato pizza – goats cheese, caramelised onion and black olives.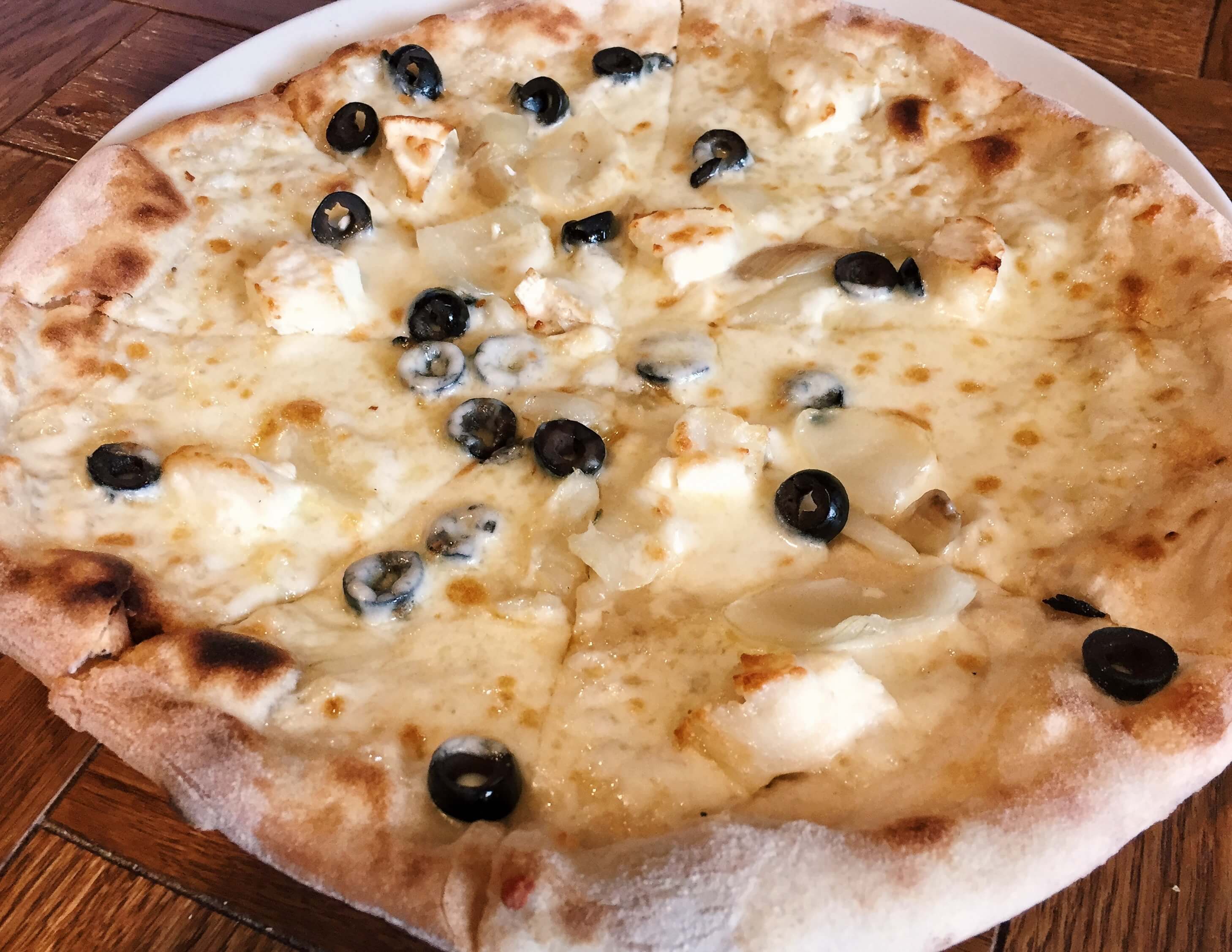 Yes, I know carb on carb is not particularly healthy. Yes, I know it's rather high up on the stodge scale. But who bloody cares because roast potato pizza is the marriage of two of the best food groups ever. Actually, no. Make that three of the best food groups ever because, of course, there is the addition of cheese. It wasn't elegant, even with the artsy spiral of pesto swirled around it. It was down and dirty, honest to god, don't give a f*ck comfort food. It was like a rosemary coated, cheesy chip buttie with a squirt of pesto for that token bit of greenery. The goats cheese pizza was also rather lovely thing. The combination of creamy goats cheese and sweet, jam-like roast onion is a classic and rightly so – it's bloody delicious. I did have to pick the olives off though because they are the devil's snack.
There is a limited list of desserts, although we were both so stuffed that eating a third course seemed almost impossible. Almost… We shared the salted caramel cheesecake, which arrived in one of those clip top jars that you see everywhere. It was a smart way of presenting a cheesecake, which is a fairly simplistic dessert and can often look like a sad sloppy slice on a plate. As far as flavour goes…well, it's difficult to go wrong with salted caramel and cream to be honest. We hoovered it up.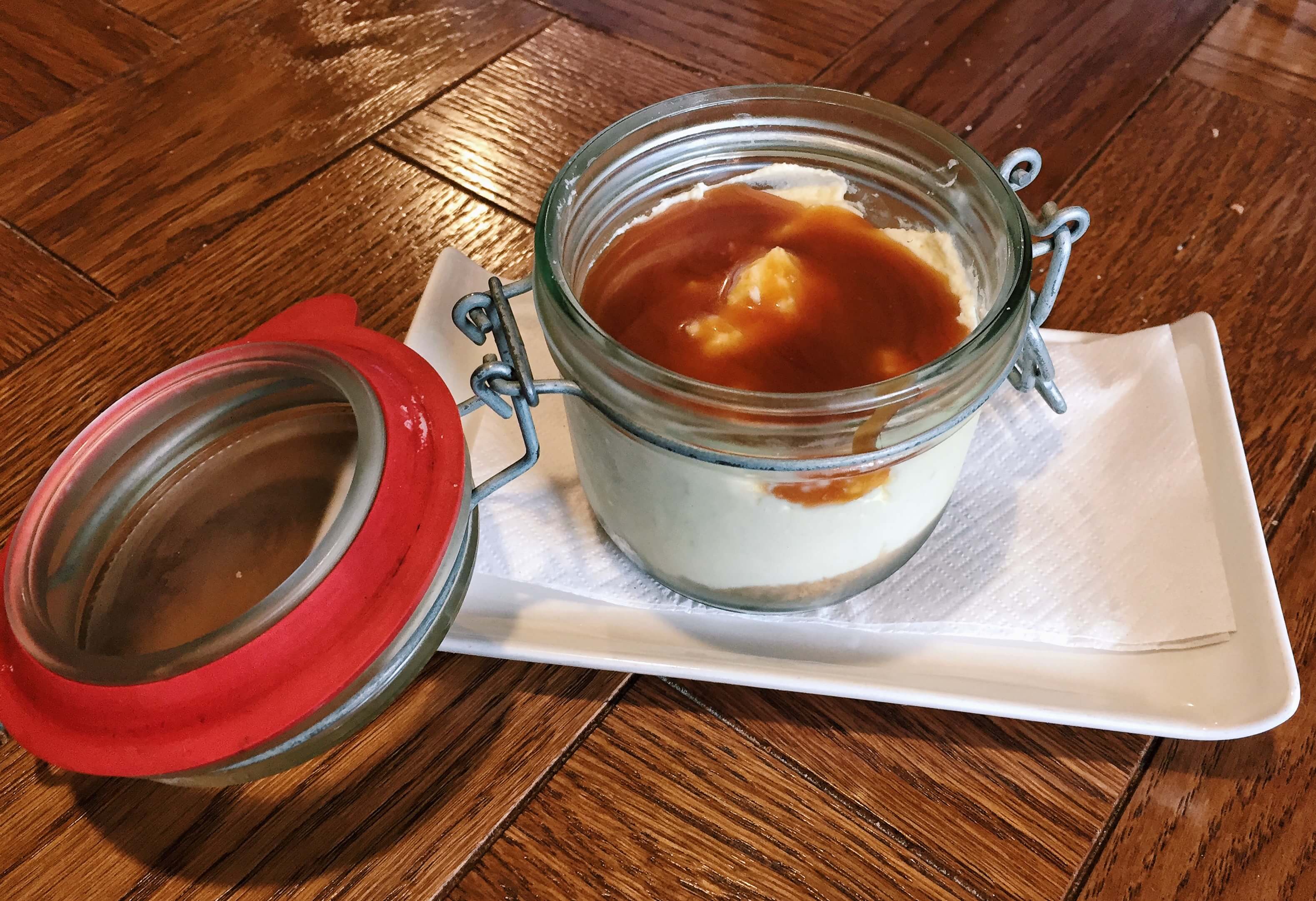 Pizzerias in London are a dime a dozen; from the monolithic chains like Pizza Hut and Pizza Express to a plethora of independents across the capital. It can be difficult to differentiate yourself when everyone is doing kind of the same thing. This was the first time I had ever seen roast potatoes as a topping, so kudos to Firebrand for offering something a bit different. It may not be the place to visit if you're on a diet, but if you're in training for a marathon or just love a bit of stodge then Firebrand could be your place too.
Firebrand Pizza, 41-43 Lisson Grove, NW1 6UB
Many thanks to Captivate Hospitality and Firebrand Pizza for inviting me to dine there. All views are, as ever, my own.