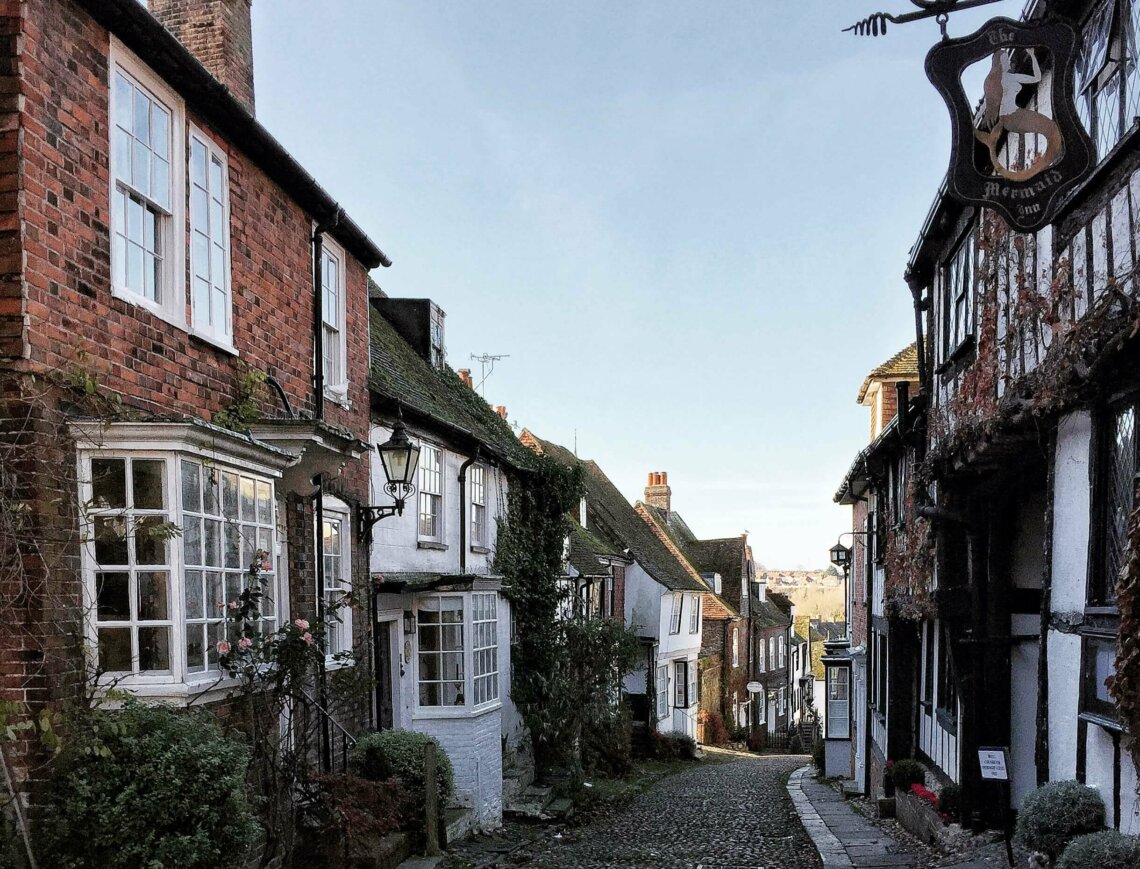 Taking A Bite Out Of…..Rye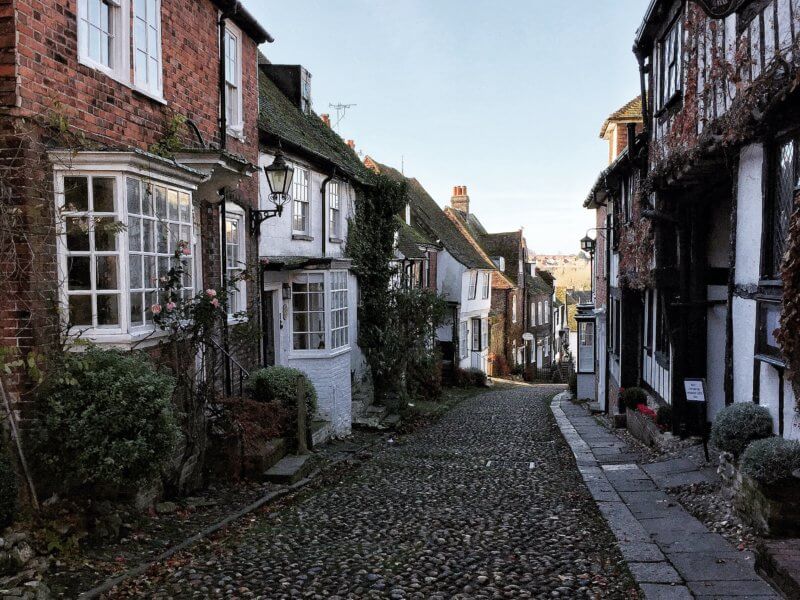 With cheap flights to Europe seemingly a dime a dozen, it's easy to overlook the delights of our very own green and pleasant land.  For a start, travel in Britain is expensive!  So, of course, it's tempting to forgo a trip to the English countryside in favour of something a little more…well…foreign.  That's a real shame though, because there are some darling destinations right on London's doorstep.  The historic town of Rye, on the border of East Sussex  and Kent, rises up out of the endless flats of Romney Marsh as if it wants to flaunt its medieval beauty to the world.  And rightly so, because Rye is movie-set stunning.  What's more, it is a haven of independent shops, cafes and restaurants.  You won't find a Starbucks or KFC.  Instead you get to discover the likes of Edith's House and the Rye Deli.  Rye puts you in a situation where you have to take a punt on an unknown quantity.  And isn't that what makes travel exciting?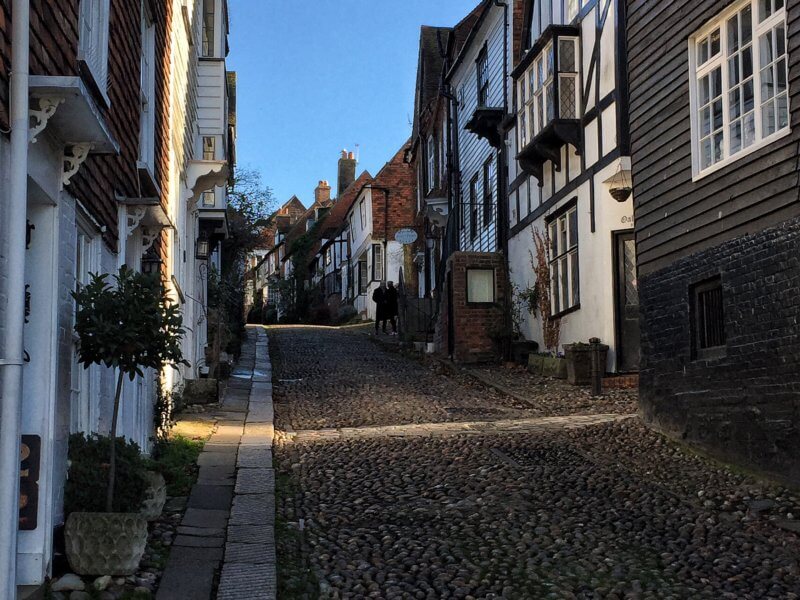 I'd made a few day trips to Rye several years ago, but this time I was staying for a whole weekend.  I had booked myself into The Quarter House – a cosy medieval retreat in the heart of the town.  I was looking forward to a break after a particularly difficult few months, and the thought of escaping into the misty silence of a wintery Romney Marsh was really appealing.  As usual, though, I was looking forward to exploring new places to eat.  Even before I arrived, I had decided to treat myself to dinner at the Mermaid Inn, which is one of the oldest buildings in town (making it positively ancient).  Taking up prime position on the impossibly beautiful Mermaid Street, this hotel was rebuilt in 1420 but has cellars dating as far back as the 12th century.  Never mind the food; just spending time in a building like this is an experience.
The hotel restaurant has been awarded 2 AA rosettes and the menu celebrates local produce; something that always get a big tick from me.  However, something about the place was reminiscent of the hotel restaurants I'd experienced as a child in the 1980's.  Obviously it was going to be dated – see above.  However, the dried hops and "Old Masters" decorating the walls, plus the rather formal service, all combined to create a weirdly "bad retro" vibe.   Furthermore, the staff were all dressed in a strange mix of historic costumes, although I'm not sure whether they do that all the time or if it was just because it was almost Christmas.  Their awkwardness was palpable.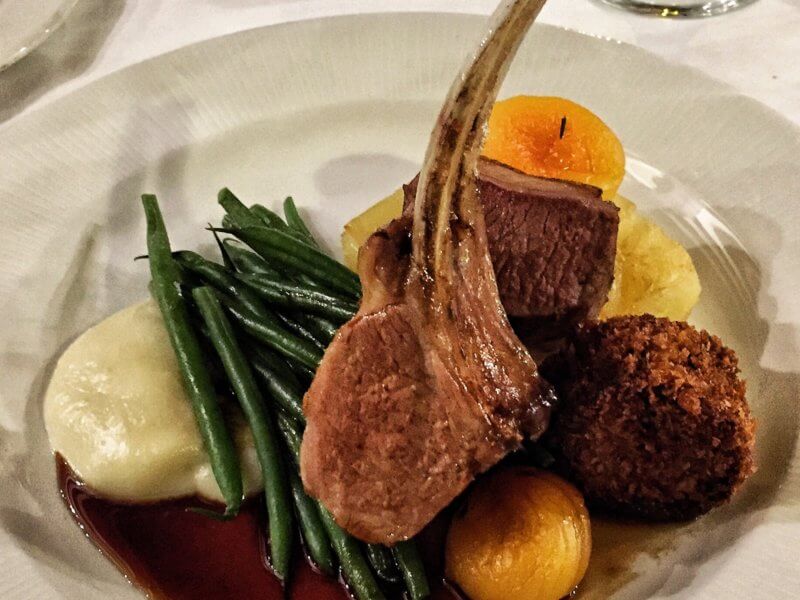 Anyway, onto the food.  The Mermaid offers a set menu with two courses for £29.50 or three for £38.50.  I opted for a main and dessert, in a half-assed attempt to save money.  Thingskicked off with an amuse-bouche of butternut squash soup.  They may have thought that this would have been welcome on a cold, December night – and they wouldn't have been too far off the mark.  The soup was tasty and comforting, as butternut squash should be, but also fairly average.  I'm also unconvinced by the effectiveness of aheavy soup as an amuse-bouche.
I was particularly excited about my main course: trio of Romney Marsh lamb.  Locally sourced lamb is usually fantastic and this was no exception.  Thelamb arrived in the form of a cutlet, a cricket ball of pulled lamb that was deep fried in breadcrumbs and some kind of fillet (the waitress wasn't sure what).  It was accompanied by a potato mille-feuille, Jerusalem artichoke puree, poached apricots, green beans and a curry jus.  It was like one of those dishes you see cooked up by some hapless Masterchef contestant, desperate to show off all their skills in one go.  The lamb was cooked perfectly, the puree was earthy and the apricots added some welcome sweetness.  However, the potato mille-feuille could have done with being cooked for a bit longer in a lot more butter, and I couldn't detect any curry flavour in the jus.  Although I wasn't too sad about that last point.  The addition of curry probably wasn't necessary.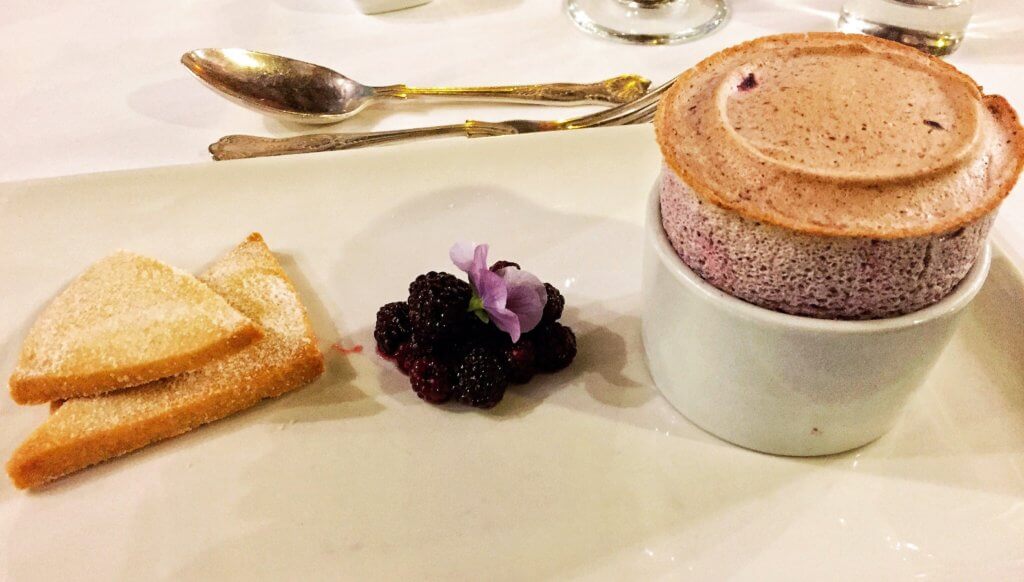 Choosing dessert was particularly tricky, as there were so many tasty options on the menu.  After much hemming and hawing I eventually asked the waitress for her recommendation.  She suggested the blackberry souffle, with honey and vanilla infused blackberries and shortbread.  Now, I have a MASSIVE sweet tooth, but eating this was like licking a pot of  blackberry jam.  Don't get me wrong, it did taste really good (albeit slightly under-cooked).  But I suspect it's probably given me diabetes.
I was a little underwhelmed by the Mermaid Inn.  The food was ok, but the main draw is the beauty and the history of the building.  For really good food, head to another inn: The Ship Inn.  As with most places in Rye, the Ship is housed in a historic gem; the building dates from 1592, when it was a warehouse used for storing contraband seized from smugglers.  These days it's a super-cosy restaurant with rooms, owned by the former proprietors of The Engineer in Primrose Hill.  That tells you everything.  Imagine a fabulous London gastropub transplanted into a medieval warehouse.  Squishy sofas and fairy lights mixed with wooden beams and flagstone flooring.  The atmosphere was warm and welcoming, and I could tell straightaway that this was the kind of place you could easily lose a few hours in.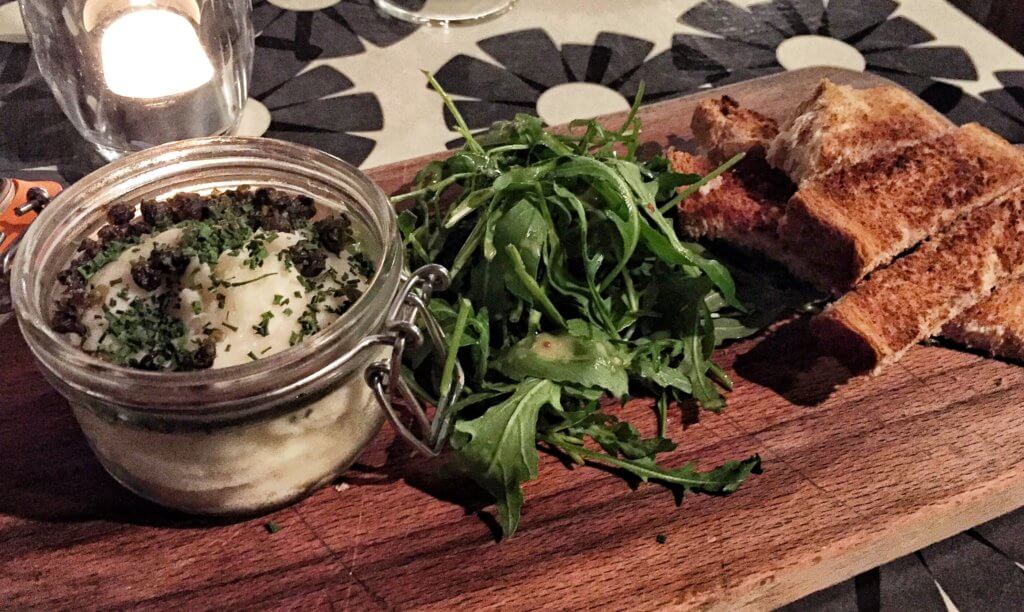 This was helped by the food.  The menu consists largely of straightforward comfort food, like steak or cottage pie.  The sort of thing you can you demolish without too much effort.  I actually decided to order a couple of things that I'd never tried before, starting with potted smoked cod.  This arrived in a jar with some wholewheat toast soldiers on the side.  The cod was blended to a pate-like consistency, making it easy to spread onto the toast, and had a surprisingly delicate flavour.  They could probably have got away with a bit more smoke, but overall it was an interesting and tasty dish.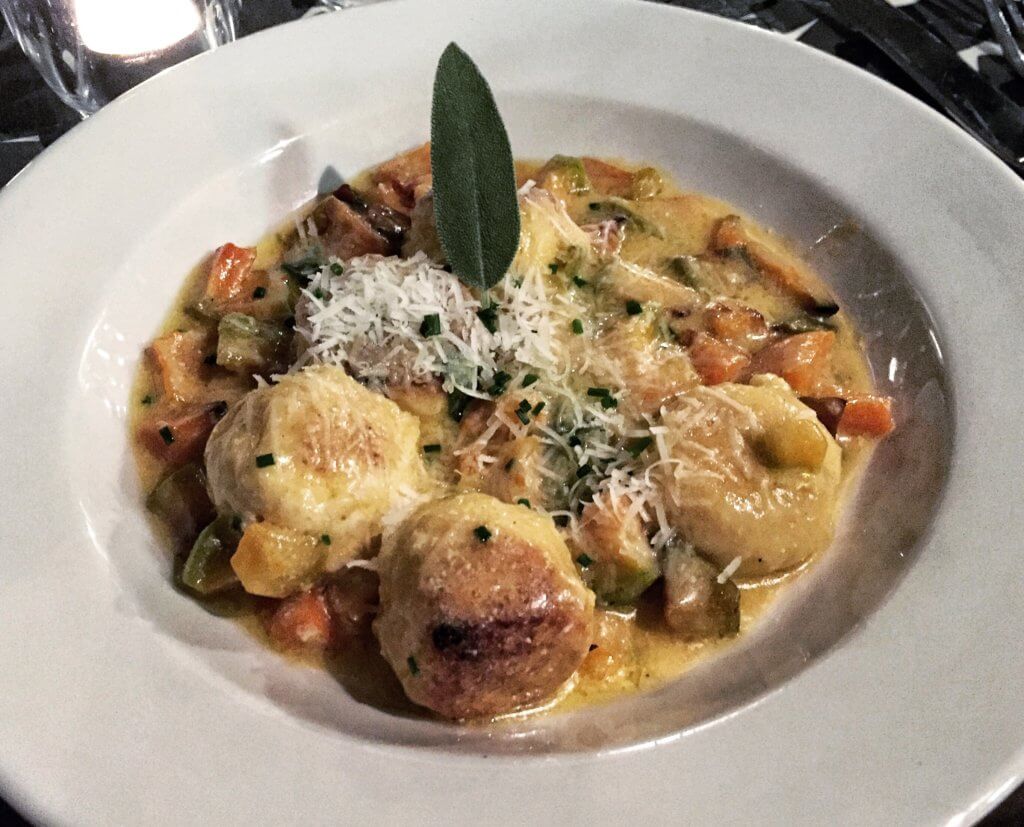 The main course was where things got really good.  I ordered ricotta dumplings with butternut squash and sage.  Again, I wasn't too sure what to expect, but I was delighted to be presented with a dish containing ricotta-stuffed dumplings the size of my fist, smothered in a cheesy sage and butternut squash sauce.  I use the word "sauce" rather loosely as it was actually more just like melted cheese.  It was the stuff dreams are made of.  I could feel myself melting into my chair with every creamy mouthful.  Admittedly, that might also have been because this dish was incredibly rich and therefore made me feel incredibly fat.  It was pure decadence.   It also meant that dessert was totally out of the question!
Rye is really easy to reach by train from London and there's plenty to keep you occupied for a weekend.  It's easy to forget just how much of a tonic it is to escape from the Big Smoke, even if that's only taking a train to somewhere an hour away.  Rye may not be as exotic as Reykjavik or Rome, but it's hard to beat when it comes to quintessential English beauty.  Sometimes a staycation can be just as rewarding as a trip across the Channel after all.
What are your thoughts on staycation vs vacation? Let me know in the comments.