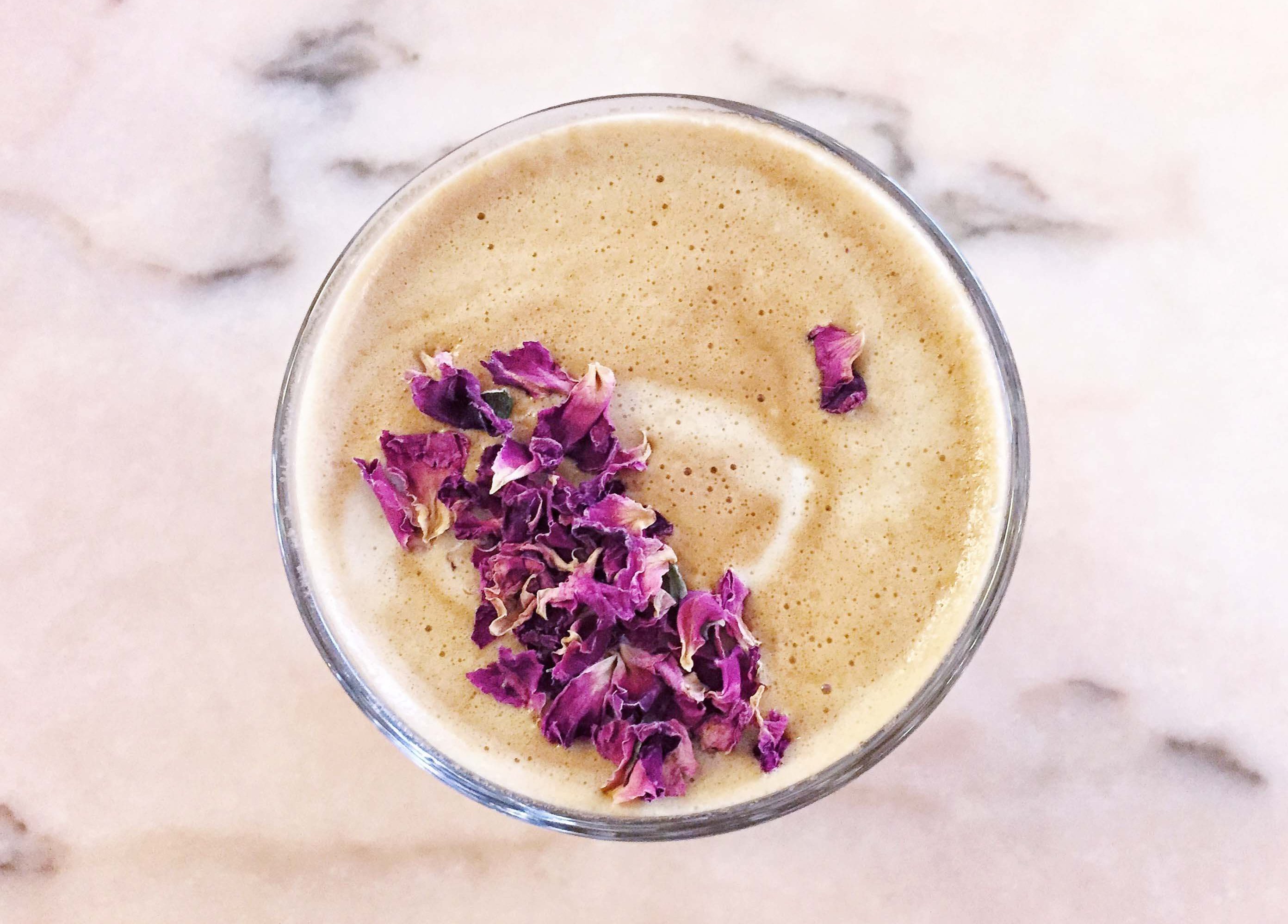 7 of the prettiest cafes in London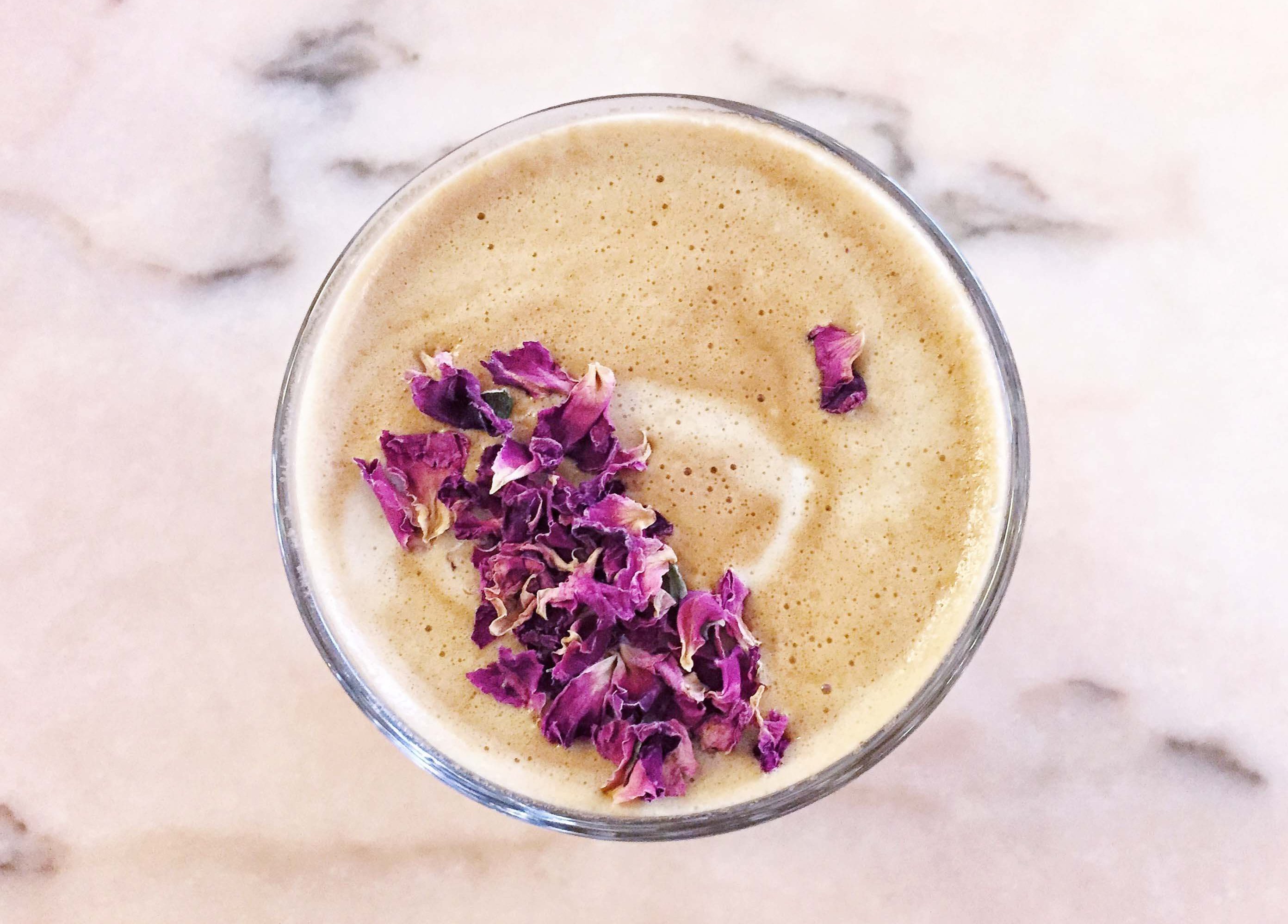 London's cafes have got so much more going on than the stereotypical greasy spoon (although I do love a good old fashioned caff fry-up). And there's NO excuse to head for a Starbucks or Cafe Nero. Although the march of the bland chain cafes relentlessly continues its grubby, tax-dodging way across town, there are a vast number of gorgeous and inherently Instagrammable independent cafes waiting for your business. Here's my pick of the prettiest:
Palm Vaults, Hackney
It's an obvious choice, but it's obvious for a good reason. IT'S BLOODY LUSH! Palm Vaults has already graced the Instagram accounts of a thousand Londoners, with its exposed brickwork, its baby pink and pale green colour palette and its overflowing hanging baskets. It has a cool Miami Beach vibe. Even the food and drink gets in on the act with vivid beetroot or lavender lattes, smoothies and an array of colourful cakes. It's a teeny little place so make sure you book a table or get there early. People were queuing out of the door by the time I left.
411 Mare Street, London, E8 1HY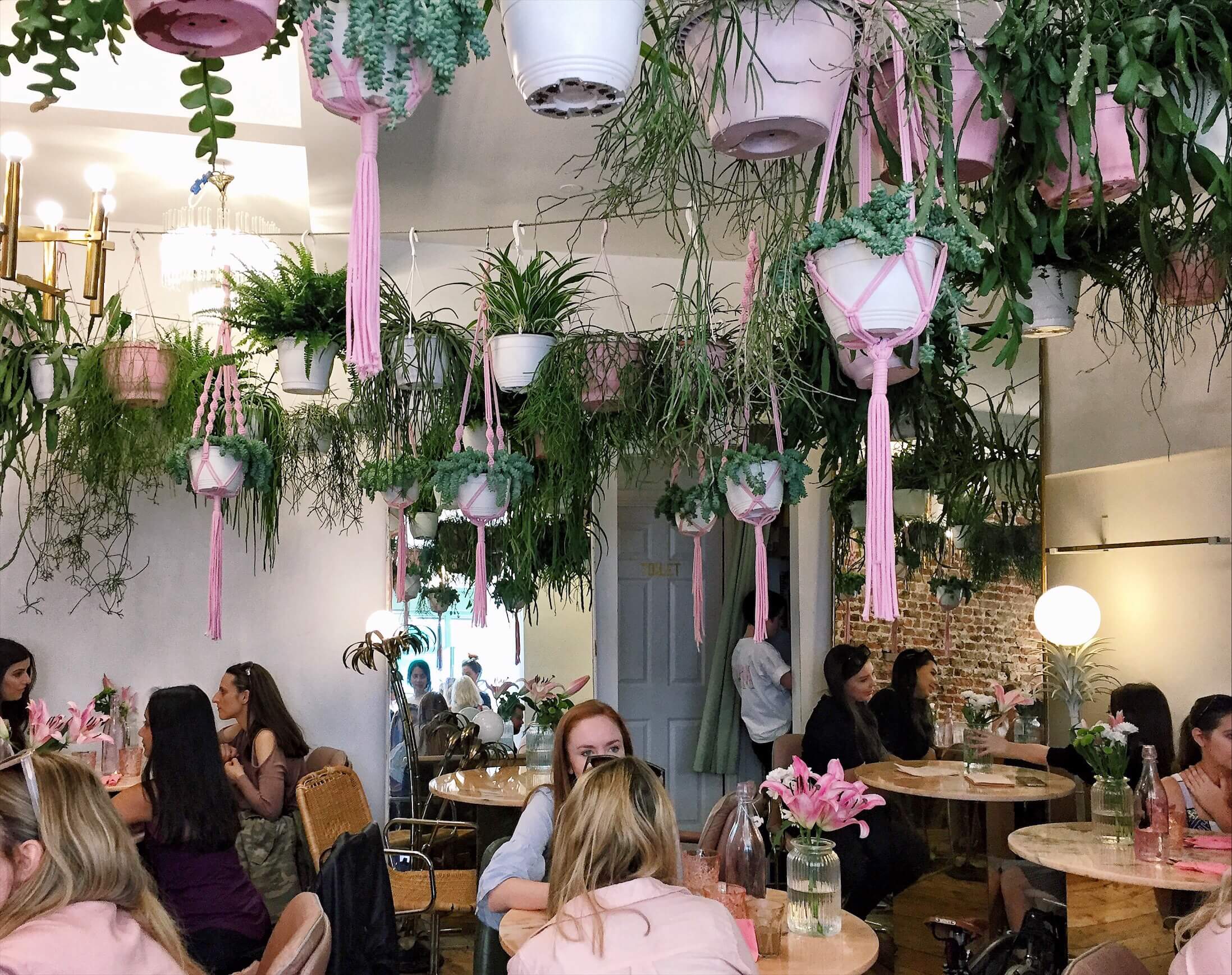 The Ship of Adventures, Dalston
If it sounds like the title of a children's book then it's because this cafe is run by the Hackney Pirates; a charity that helps young people develop their reading skills.  It's a gorgeously cosy little place; higgeldy-piggeldy with bookshelves and assorted nautical accessories – including a boat hanging from the ceiling! Stop off for a coffee and one of their sourdough sandwiches or browse the shelves for kids books, greetings cards and gifts. They also have an events space for hire. Get a warm fuzzy feeling from helping a very worthwhile cause, as well as from the caffeine.
128 Kingsland High Street, London, E8 2NS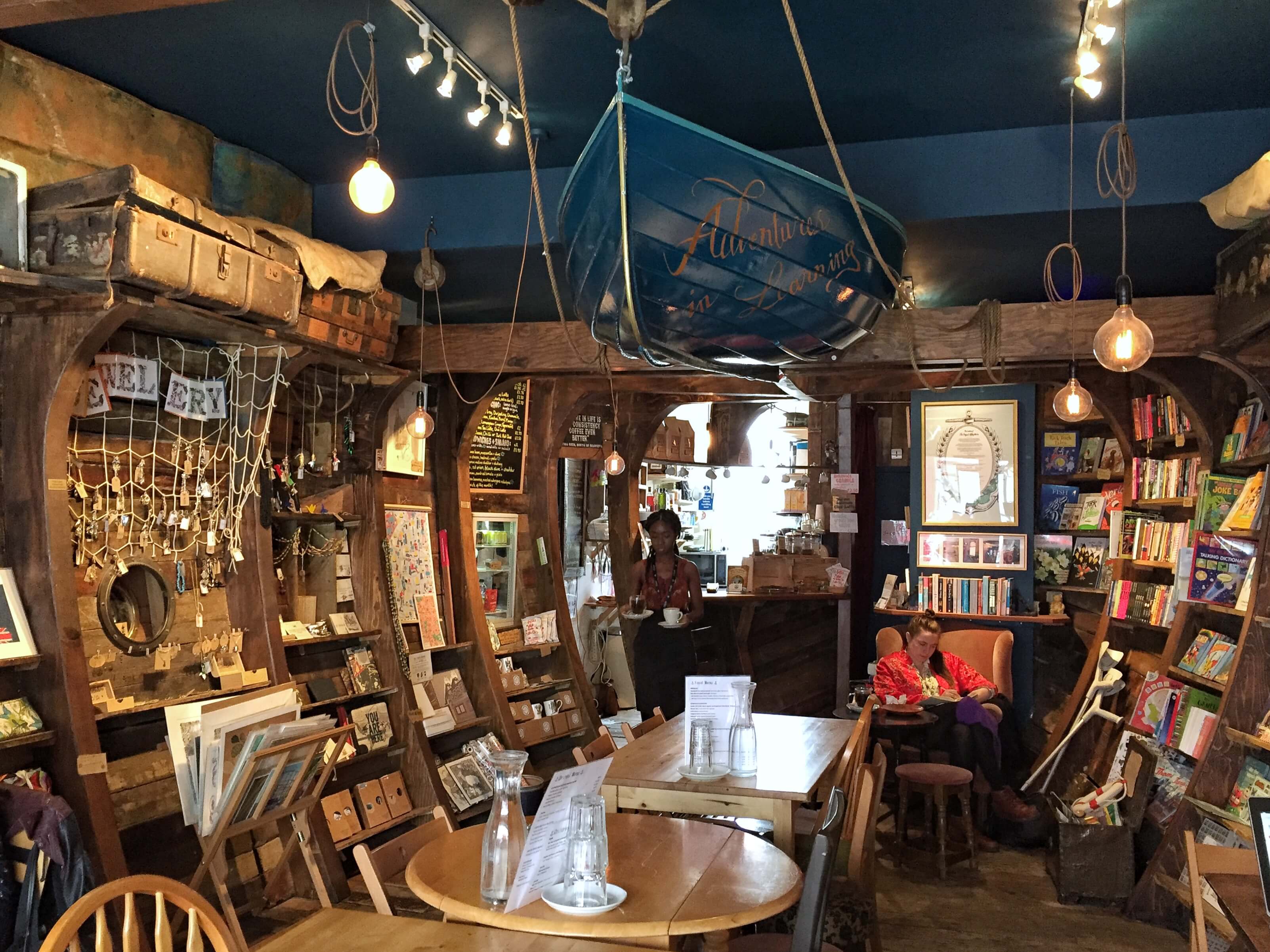 Monocle Cafe, Marylebone
The Monocle brand has diversified even further; from a magazine to a radio station and, now, a cafe. Based on elegant Chiltern Street, it hits all the current trends. Avocado? Check. Japanese food? Check. Scandinavian pastries? Check. It's an achingly cool, weird hipster mash-up but I love the little "living room" at the back of the cafe. This cosy nook has squishy sofas, bookshelves, a transistor radio and even a TV in the corner. It looks like a set piece from the V&A – modernism crossed with IKEA. Get there early, lounge on a sofa with a cardamom bun and a copy of Monocle mag, and soak up all of the stylish vibes.
18 Chiltern Street, London, W1U 7QA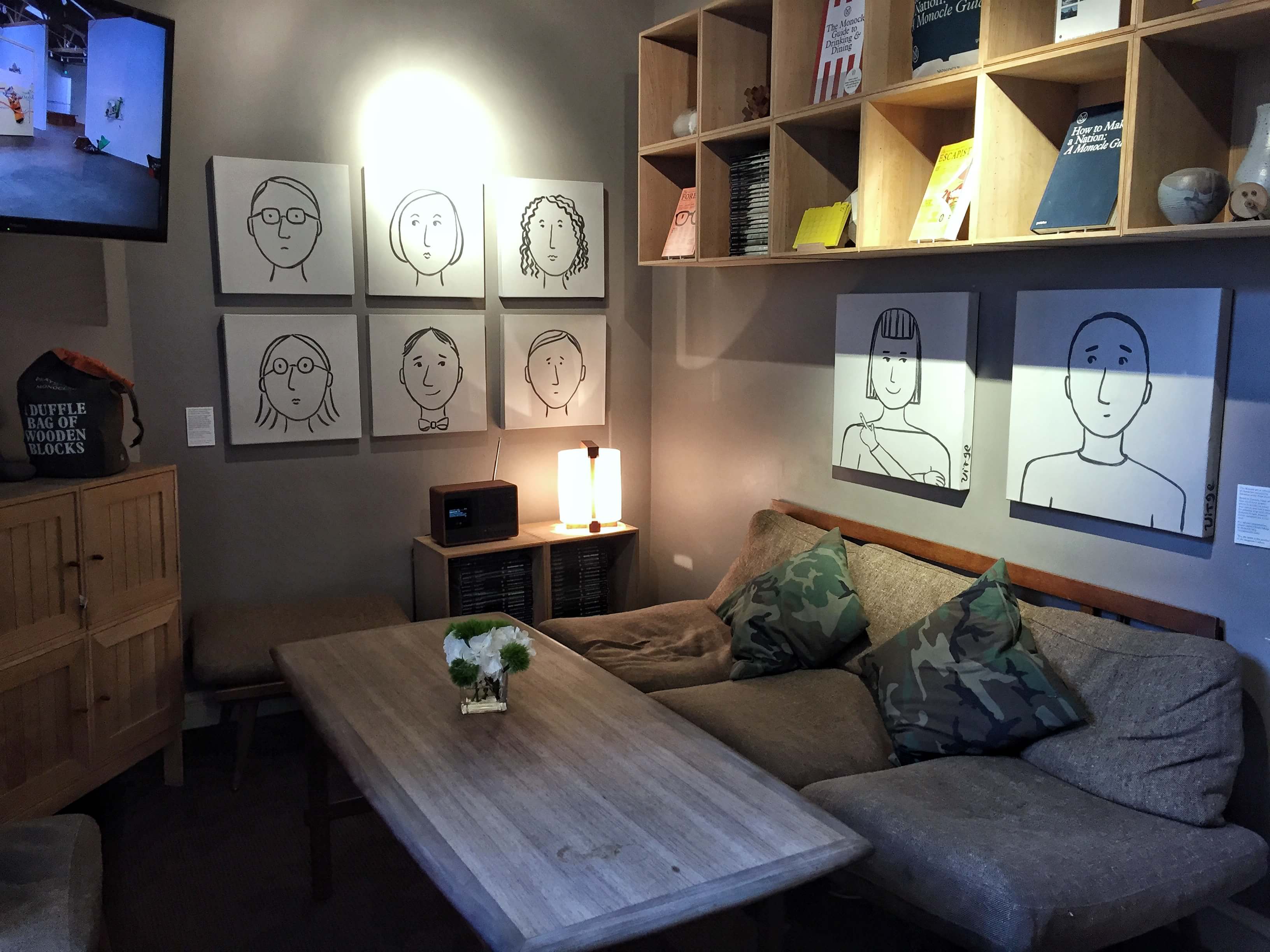 Katsute 100, Islington
Katsute 100 is a gorgeous Japanese tea house located in the equally adorable Camden Passage. I actually stumbled upon this little gem while looking for another cafe, and couldn't resist the lure of its zen-like interior. You can find a vast range of Japanese teas, including some unusual options like pickled cherry blossom or black bean. Expect beautiful ceramics, dainty cakes and a badass selection of Japanese whiskies. Like Monocle, Katsute also has a stylish little space at the back of the cafe where you can relax over a pot of green tea and escape the madness of the outside world.
Passage Apartments, 100 Islington High Street, London, N1 8EG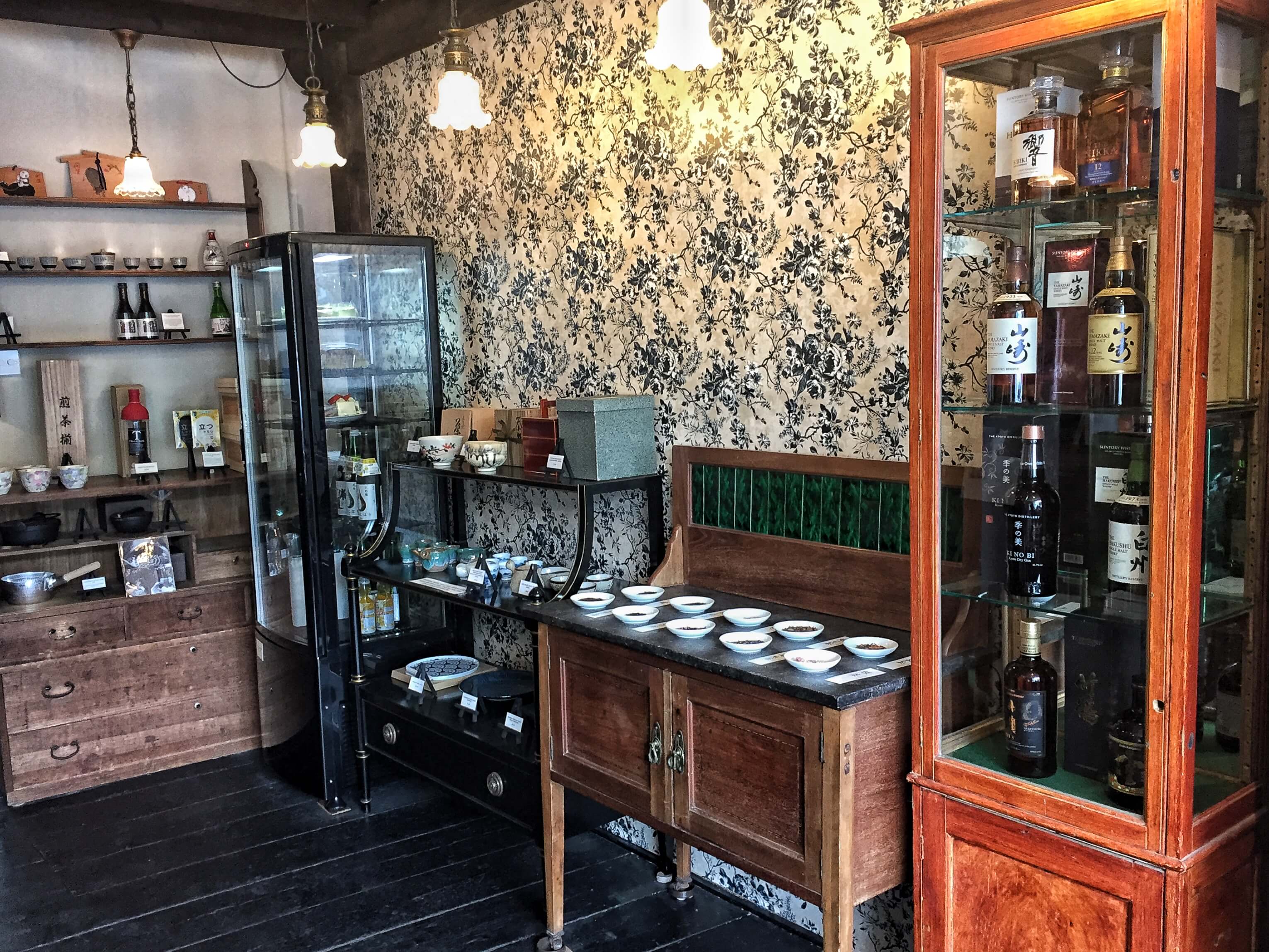 Wringer + Mangle, London Fields
Wringer + Mangle is so east London. I walked past it several times when I first visited, as it's housed in a singularly unappealing former office block. Step inside, however, and you get industrial chic crossed with a rainforest. This cafe/bar/restaurant is a lovely, light-filled spot where you can linger over a large glass of wine or grab a healthy breakfast. They also do an incredibly reasonably priced bottomless brunch and their Collins-heavy cocktail menu is ideal for warm summer nights. I'm looking forward to returning for more lazy drinks and their delicious-looking evening menu.
13-18 Sidworth Street, London, E8 3SD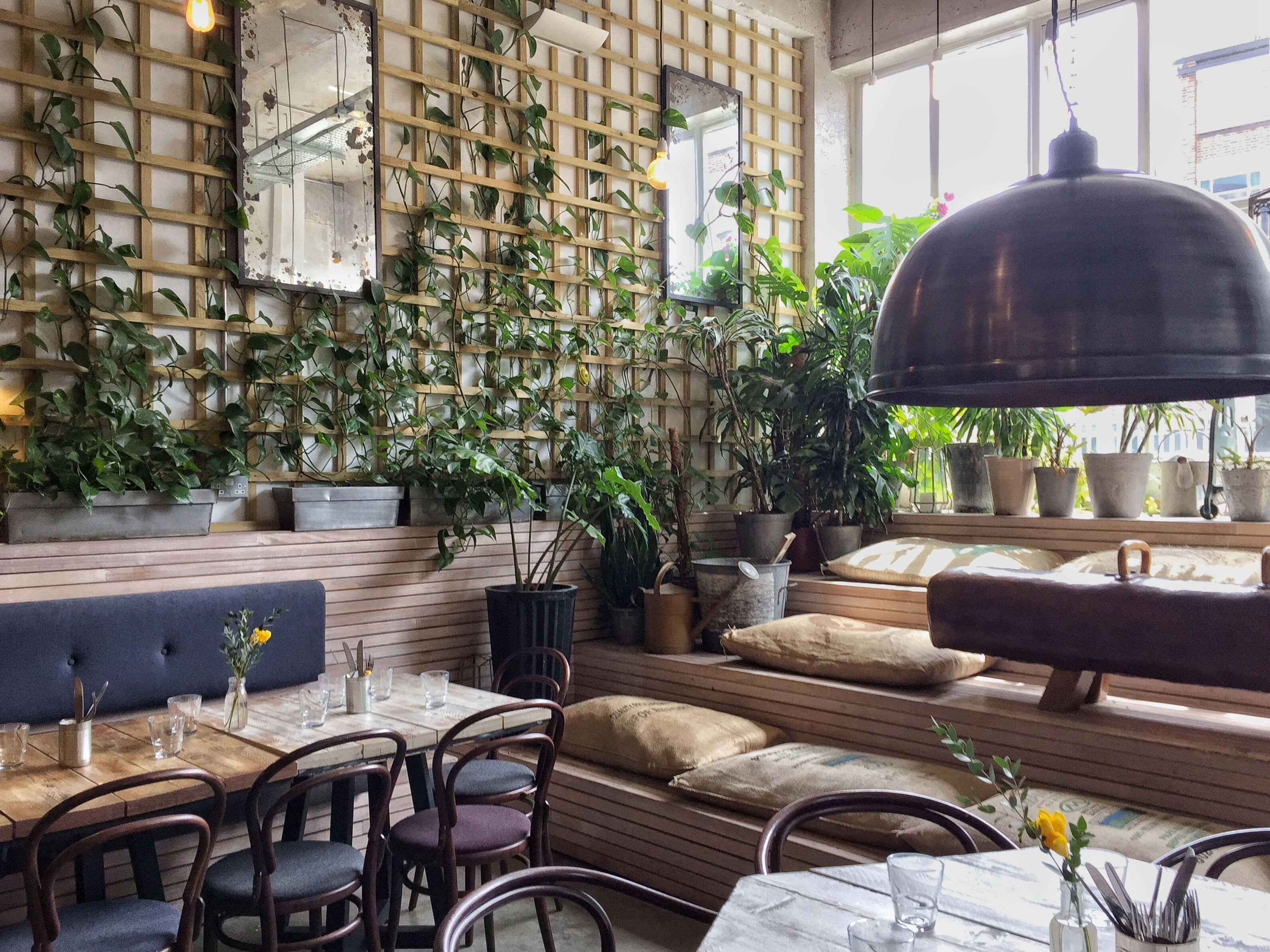 Fuckoffee, Bermondsey
Ok, so it may it may seem surprising that a place with a name like Fuckoffee is in my list of "pretty" places but stay with me here. This cafe – one of three by the Jonestown group –  isn't a classic beauty but I love its chaotic, vibrant, graffiti-covered, neon-signed interior. I also love their DGAF attitude. Fuckoffee has already been at the centre of controversy thanks to its name (which they dealt with by a strategically placed asterisk) and some of their "near to the knuckle" signs. But, judging by the queues out of the door, it's clearly true that there is no such thing as bad publicity.
163-167 Bermondsey Street, London, SE1 3UW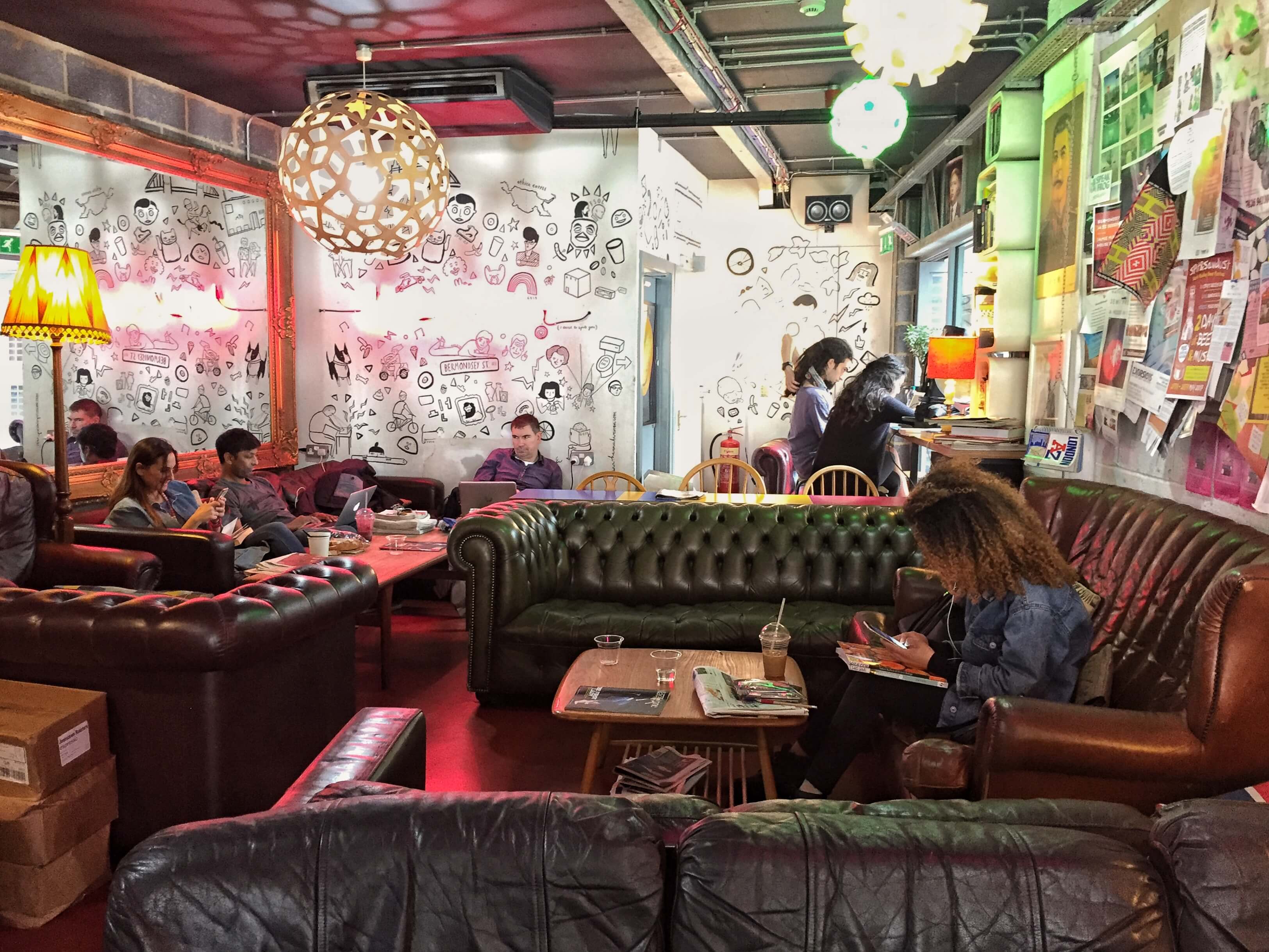 Lady Dinah's Cat Emporium, Shoreditch
This is a strange, strange place but one that's worth checking out at least once. Unless you hate cats, in which case you need to give it a wide berth. I was slightly disappointed when I first arrived, as my table was in the poky and dated upstairs room. It looked like one of those old fashioned small town caffs – but with cats. Downstairs, however, is a different story. Dimly lit and spangled with fairy lights, this room is decked out like a kitty cat forest playground. Tree trunks twist up from the floor and across the ceiling, the walls are ivy-clad and cute kitties lounge lazily or chase after toys. Book in advance for cream tea, high tea or just a cup of tea with a difference.
152-154 Bethnal Green Road, London, E2 6DG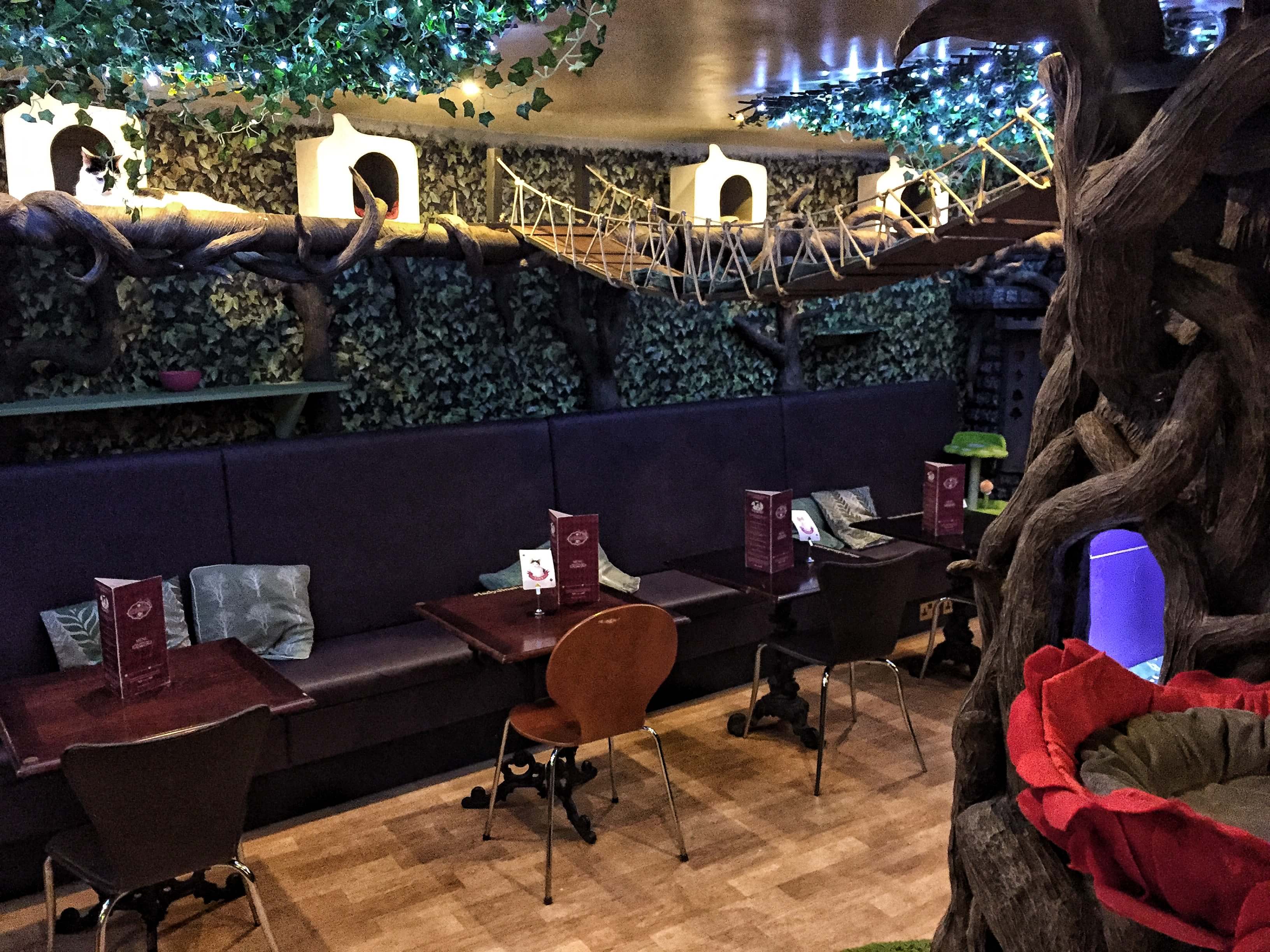 What are your favourite London cafes? Let me know in the comments.
LIKE IT? PIN IT!