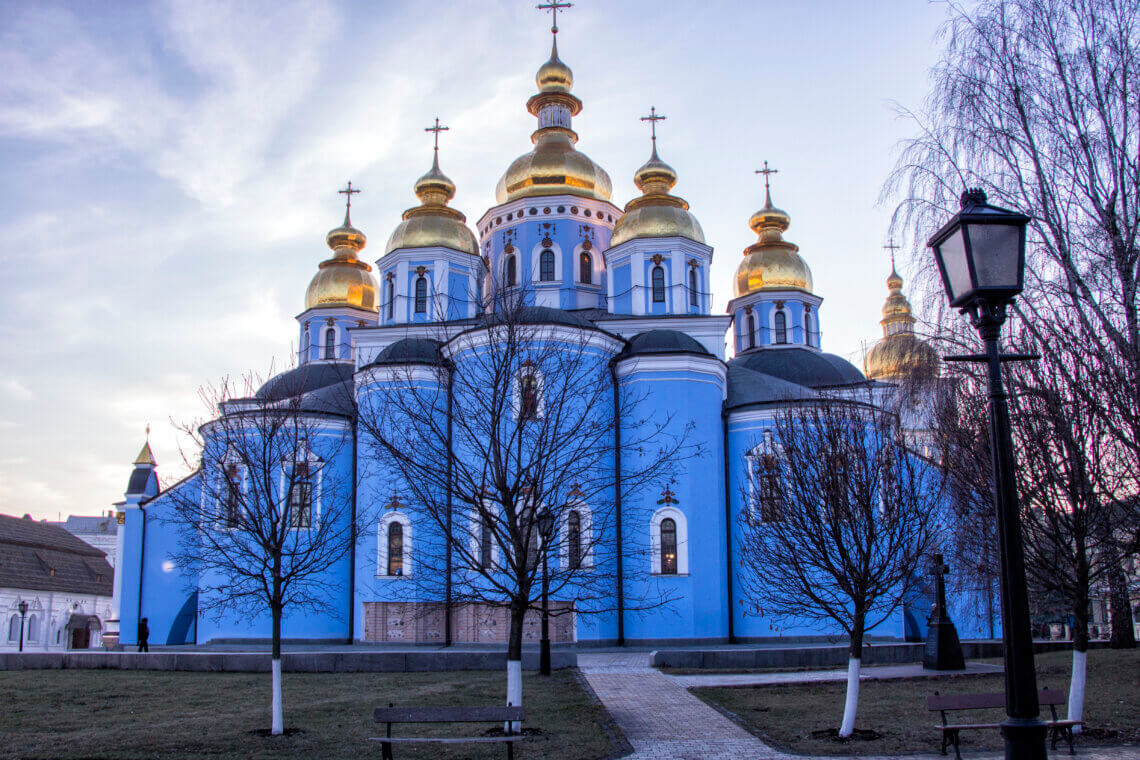 How to spend one week in Ukraine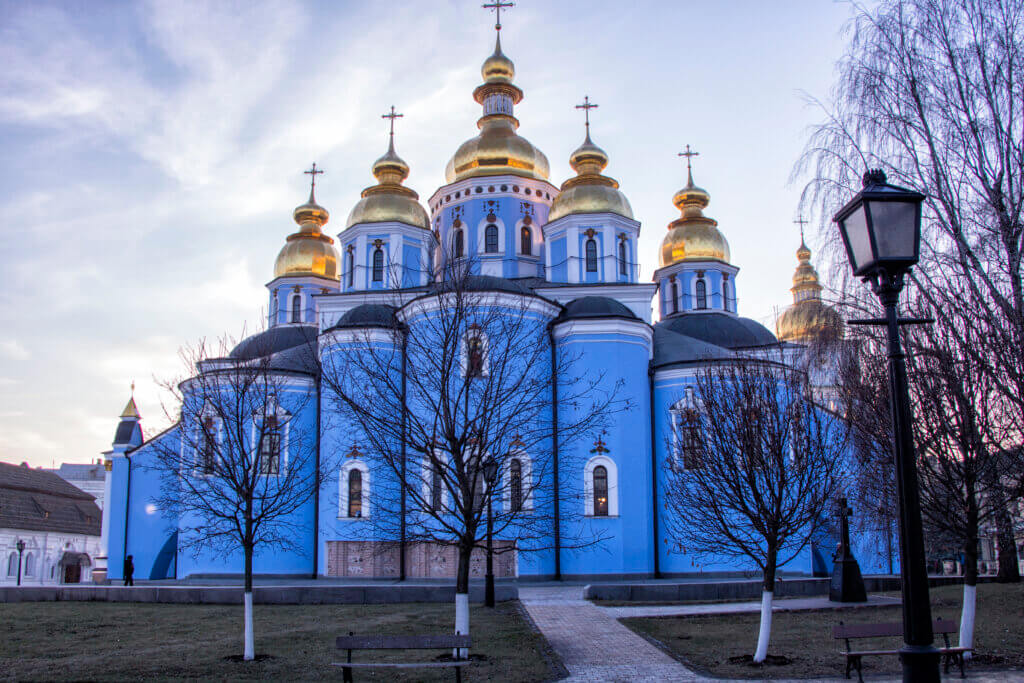 What do you imagine when you think of Ukraine? The endless fields of wheat that earned it the nickname "bread basket of the Soviet Union"? Little old ladies wearing headscarves? Or perhaps your thoughts immediately turn to darker issues. A war zone? A nuclear disaster? Donald Trump's latest scandal? Until you actually visit a country, you're only getting half the story. Ukraine may not seem like an obvious holiday destination but then I'm not an obvious holiday destination sort of person. However, it is safe to visit (the war with Russia is only affecting areas on the eastern border), it's beautiful, offers great value for money and the people are lovely. There's also plenty to keep you occupied – two weeks would really be ideal – but if your time is more limited, here's a suggested itinerary for one week in Ukraine.
Day 1: Old Kiev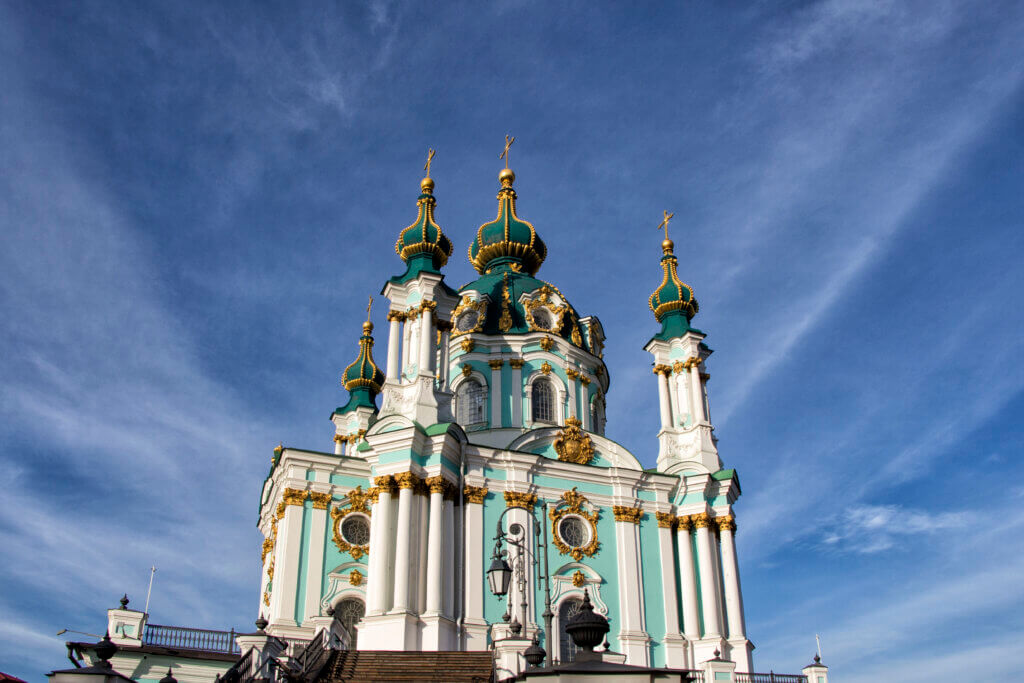 Kiev's centre is fairly compact and many of the big ticket items are based in the area known as Old Kiev. It's here that you'll find bold, brassy onion-domed churches, museums and the pretty, cobbled hill of Andriivs'kyi Descent (Andrew's Descent), also known as "the Montmartre of Kiev" thanks to the many artists and antiques dealers who line its slope. A great way to kick start any trip to a new city is to look for a free walking tour and the "Ancient Kiev" tour by Kiev Walking Tours will familiarise you with the Old Kiev area while teaching you about the city's history.
Not included in the tour – because there's an entrance fee – is St Sophia's Cathedral. The fee is actually minimal but even if it was up there with the exorbitant price of St Paul's Cathedral in London, it's worth paying because St Sophia's is STUNNING. I've seen a lot of cool stuff all over the world but I still whispered "wow" when I walked through the door. The fairly plain exterior gives way to a jewel of an interior with mosaics and frescoes that date from the eleventh century. Stalin wanted to bulldoze it. Thank god – and the French – that he wasn't able to.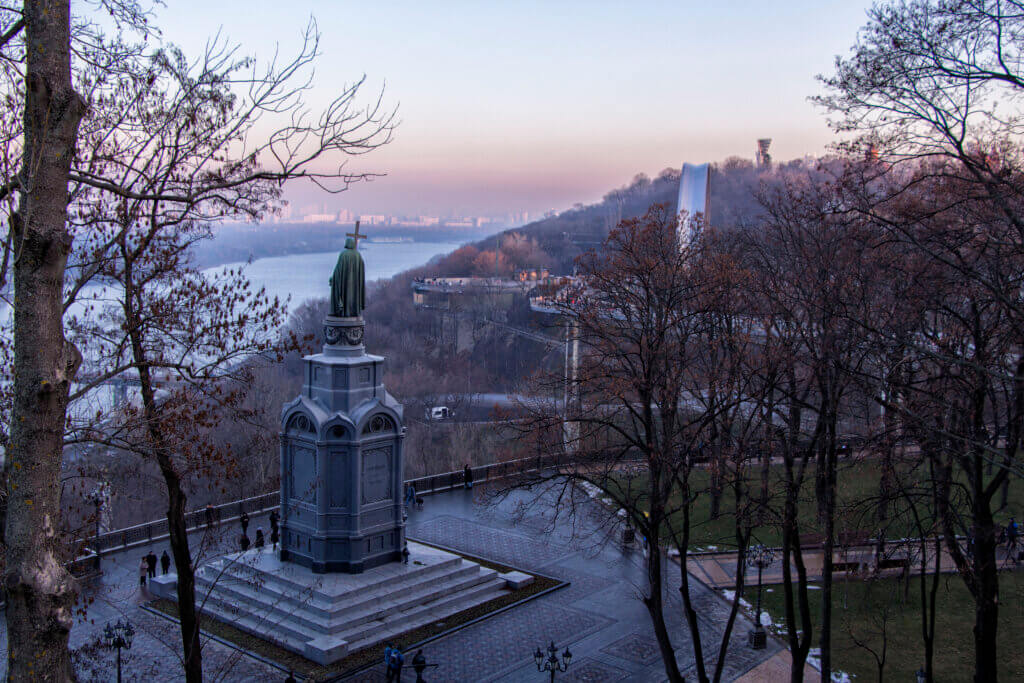 One thing that I really loved about Kiev was Volodymyrska Hill and the footbridge linking it to the Friendship of Nations Arch and the rest of town. Volodymyrska Hill is a park at the top of Andrew's Descent and offers stunning views across the Dnieper River. The artists of Andrew's Descent have spread into the park too, meaning you get to enjoy a mini art gallery as well as an escape from the bustle of the city. On a winter's week day, you can almost have the place to yourself.
Day 2: Kiev Pechersk Lavra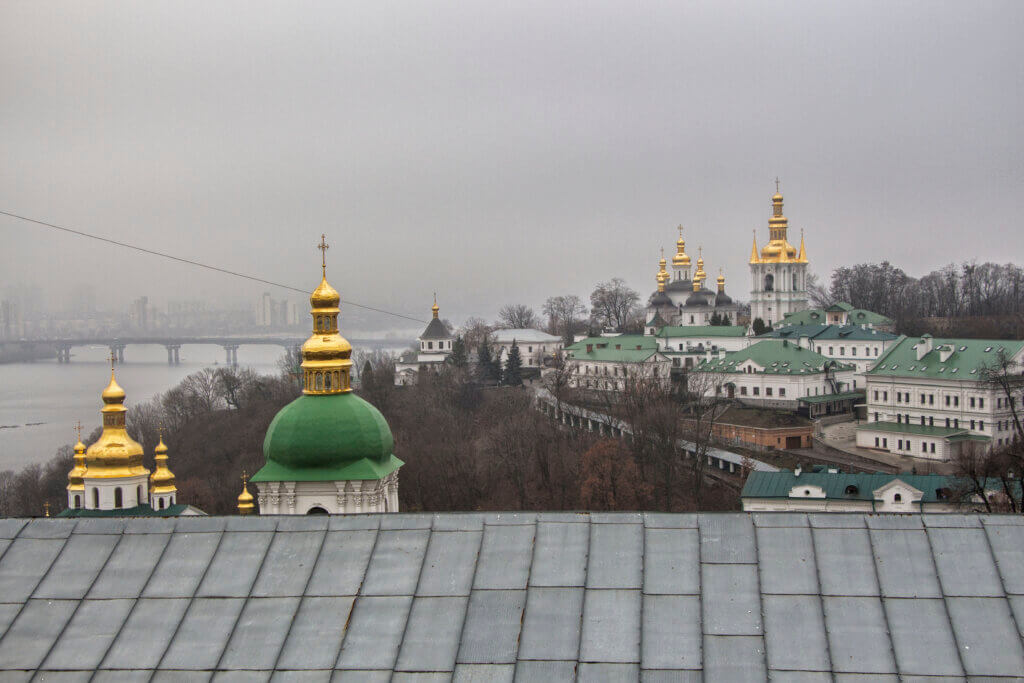 The UNESCO World Heritage site of Kiev Pechersk Lavra was a new experience for me. Eastern Orthodox Christianity is not something I knew much about and, until visiting Kiev, I had never even been inside an Orthodox church. Pechersk Lavra is a vast monastery complex – still in use today – that was founded as a cave monastery all the way back in 1051. And whether you give AF about Eastern Orthodox Christianity or not, it's definitely worth visiting.
The cathedral alone is stunning (although not on a par with St Sophia's) but what makes Pechersk Lavra so fascinating is the fact that it's still a working monastery. You'll see black-gowned, black-hatted priests, often adorned with blingtastic crucifixes, swooping up and down the steep paths of the complex. You'll see cluster upon cluster of shiny golden domes, inching their way down towards the Dniepr River or framing the staggeringly enormous Motherland Monument (more on that later). Unfortunately for me, my visit was a slight letdown for two reasons beyond my control – the weather (freezing fog) and the fact that I couldn't enter the caves without a guide. Most of the time, visiting somewhere with extremely few tourists is brilliant – but sometimes it's not, like when there were no English language tour groups heading down into the Pechersk Lavra caves. The caves sound great in theory, previously home to monks and now full of ancient burial vaults, but you'll have to go and see for yourselves.
Right next door to Pechersk Lavra is the catchily-named National Museum of the History of Ukraine in the Second World War. The name's actually no joke – it used to be called the Museum of the Great Patriotic War until the phrase "Great Patriotic War" was outlawed in 2015.  It's a fairly interesting place to spend an hour, mainly to get up close to the Motherland Monument – a giant 203ft tall statue that's the source of much controversy thanks to its associations with the Soviet Union. There is some debate about it being pulled down, so see it while you can.
If you feel like walking a bit further on, you'll find another monastery. St Michael's Vydubytsky Men's Monastery or Vydubychi Monastery also dates from the eleventh century and is set within the national botanical gardens. As it's beyond Pechersk Lavra, it generally receives fewer tourists – not that I was beating a path through the hoards at any point during my time in Kiev.
Day 3: Chernobyl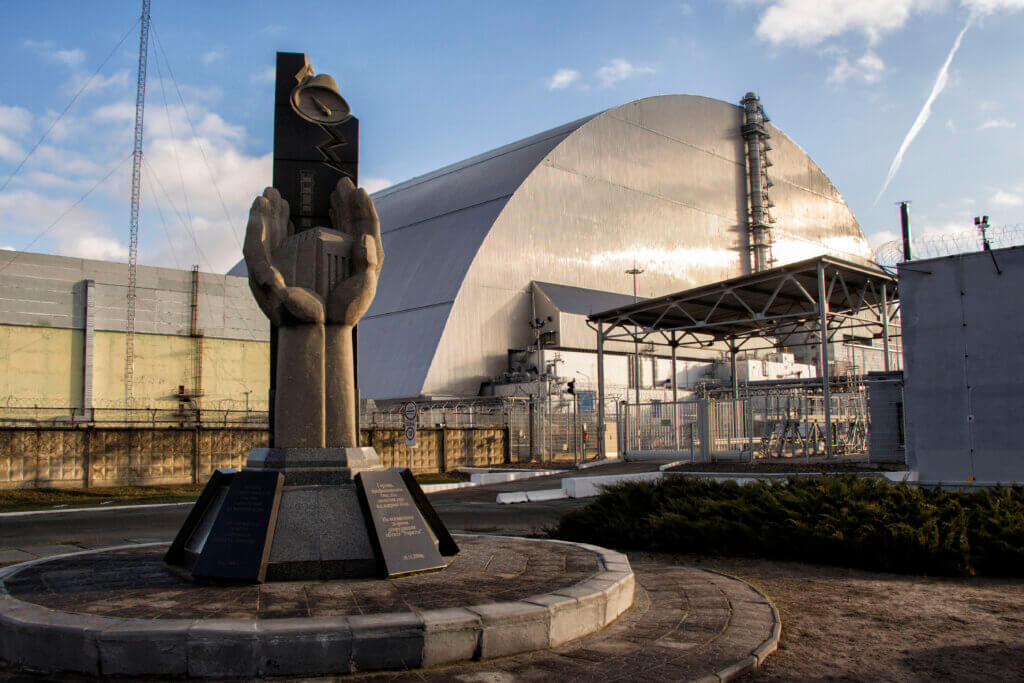 I'm going to start by saying that I completely understand how Chernobyl will not be for everyone – whether you have safety concerns, whether "dark tourism" isn't your thing or any other one of many reasons people can have for not wanting to visit. However, if you do want to see Pripyat and the exclusion zone, it's extremely easy to do this as a day trip from Kiev. I booked in advance using Viator (the tour company are Solo East), just based on the many positive reviews, and was pretty happy with what I got. My biggest concern was that the area would be full of assholes after the HBO series but, like Kiev, it was actually pretty quiet.
We spent the morning exploring some of the abandoned villages in the exclusion zone and it was so haunting to see everyday items, like saucepans, just left on the ground as the forest reclaimed the area. We were given the freedom to wander in and out of the buildings although, of course, our guide did share some information about what we were seeing. We also visited the Duga radar – vast wall of antennae designed to mitigate the threat of long range missiles. Embarassingly for the Soviet Union, this Cold War relic never actually worked but it was still kept top secret, hidden deep in the forests and "disguised" as a holiday camp complete with fake bus stop.
After lunch we headed to the infamous Reactor 4, now entombed in a metal bunker, before entering the ghost town of Pripyat. This was the highlight of the tour for me; it was extremely thought-provoking, especially when our guide held up photos of what some of the buildings looked like before the accident. Now, nature has taken over and reclaimed the area, making it even more atmospheric. It's a sobering reminder of the damage humans can cause.
Day 4: Travel to Lviv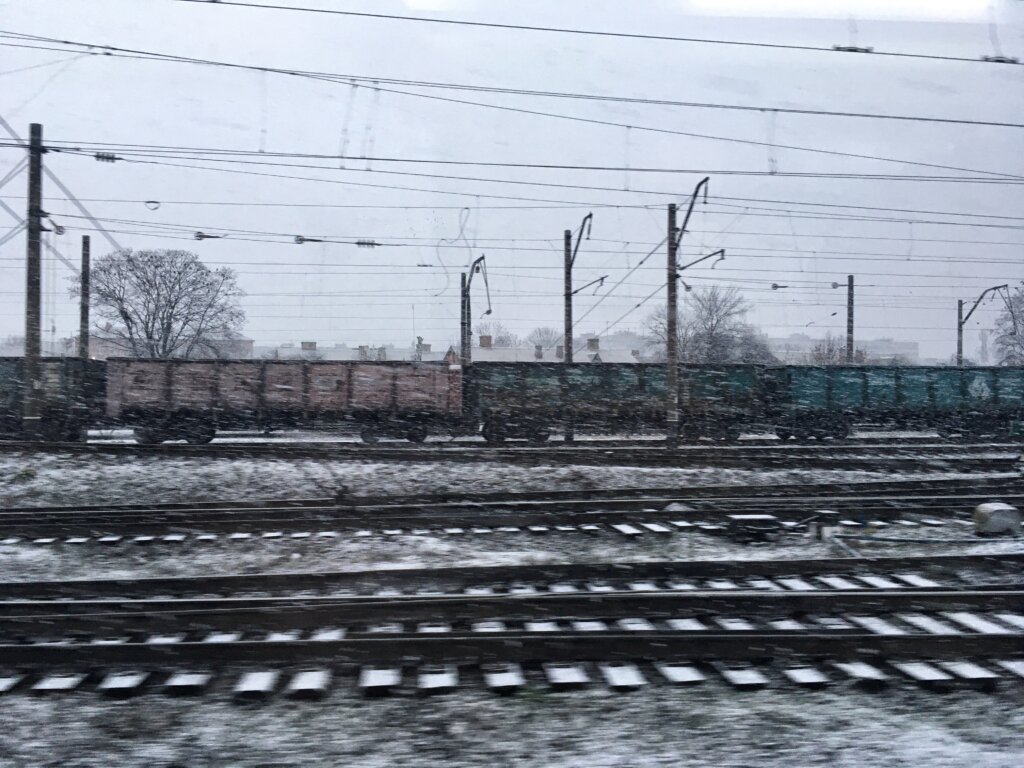 Getting from one major hub to another in Ukraine is actually pretty straightforward but it can be time consuming. The train is the best way to get from Kiev to Lviv. However it takes 7 hours, which is why I've blocked a full day out for travel in this itinerary. My top tip? Splash out the extra cash for a first class ticket. It cost me around £34, including a hot lunch, and I was super comfy for the entire time. It beat train travel in the UK hands down!
Day 5: Lviv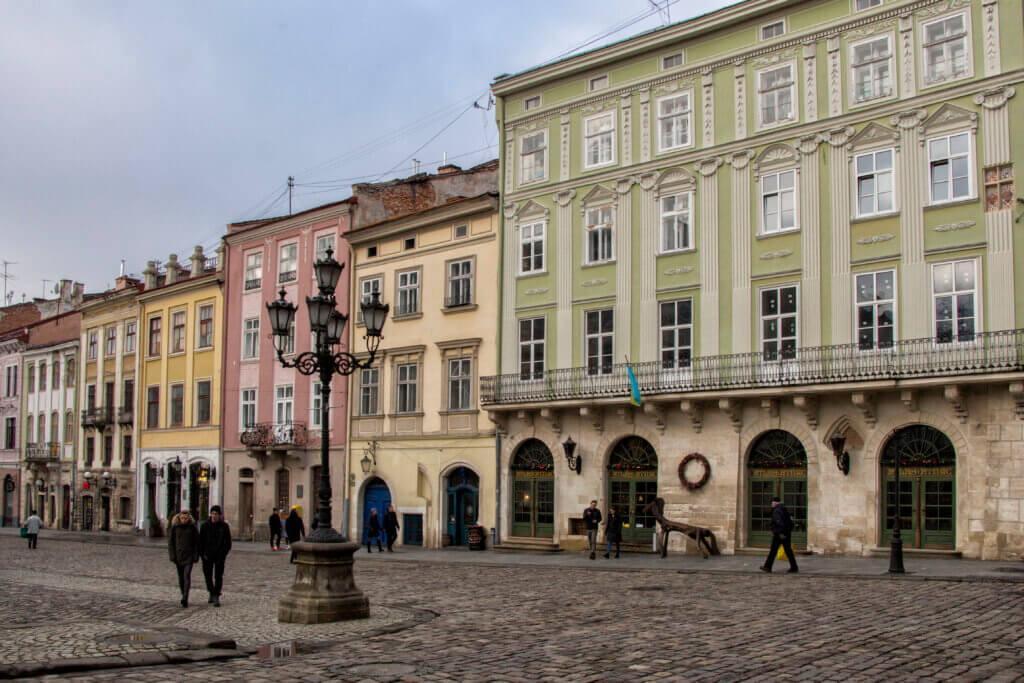 Lviv is very different to Kiev, which is one reason why I've suggested it for this itinerary. Kiev feels very "eastern" and perhaps closer to Russia in terms of atmosphere. Lviv is similar to the kind of towns you can find in central Europe and it did, in fact, used to be part of Poland. It's a truly lovely place, with a small yet characterful Old Town which can be easily explored in one day. A good place to start is Rynok Square, home to the town hall, a couple of museums and a host of cute cafes and restaurants. From there it's only a few minutes walk to the Armenian cathedral, what's left of the Golden Rose Synagogue, the beautiful Bernadine church and monastery, and the pharmacy museum, which is the oldest existing pharmacy in Lviv and used to go by the great name of Under the Black Eagle (the sign remains).
Lviv is low key in terms of sightseeing. Personally, I found it the sort of place where you drift from one cafe to another  soaking up the atmosphere rather than hitting up big ticket items. And that's perhaps not surprising when you consider the central role coffee plays in Lviv culture. The Lviv Coffee Mining Manufacture (also on Rynok Square) is a must if you are a coffee lover. Lviv is also where people go to drink stuff stronger than coffee – it's definitely got that party town vibe. Fortunately it hasn't been discovered by the British stag and hen contingent (yet) so it still feels relatively civilised – fun without the f*ckwits.
Day 6: Lviv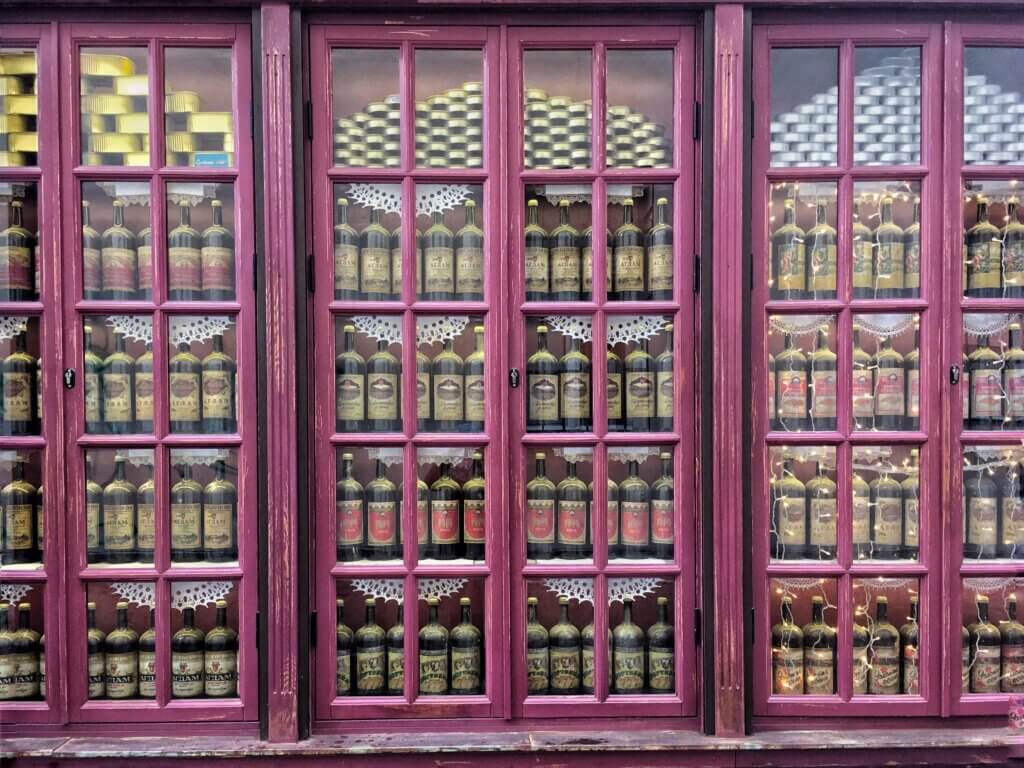 The free walking tour principle applies in Lviv too, so you could spend your first day in town orienting yourself with a walking tour of the Old Town. These tours run every morning; however, depending on when you're in town, I also recommend trying one of their alternative tours. I highly recommend the tour on World War II and Jewish Lviv for an insight into another side of Lviv. It's a long tour, which takes you a way out of the main tourist area, but I feel it's important to educate ourselves about this dark phase of history so as not to repeat the same mistakes.
Stretch your legs even more by strolling up to the High Castle, the highest point in the town and the site of the former medieval castle. There's not a huge amount to see up there other than a view over the Old Town so plan your visit when the weather is on your side.
I'm not the best at being sensible when I know I have to travel the following day – I prefer to spend my final night in a place doing things I probably shouldn't, that always involve alcohol. As mentioned before, there's plenty of choice in Lviv when it comes to drinking and you certainly won't be short of spirits – Ukrainians are fond of herbal and fruit "tinctures" as they call them in English. The Drunken Cherry is a popular choice with locals – it only sells its own cherry liqueur which you can have cold or hot – and Libraria is a chic speakeasy with live music and great cocktails.
Need to know:
The best areas of Kiev to base yourself during your stay are Old Kiev, Podil or Vozdvyzhenka (which is pretty much part of the Podil area). I stayed in Podil, which is apparently the "hipster" part of town, and loved it – there are plenty of bars, restaurants and cafes, it felt safe but wasn't overtly touristy. The downside is that most tours meet at Independence Square which is a bit of a walk away (up a very steep Andrew's Descent) but there is a metro station if you can figure out how to use public transport. Sky Hostel is the best option for accommodation in this part of town. Be aware that accommodation is Kiev isn't cheap.
Deciding where to stay in Lviv is easier – anywhere within walking distance of the Old Town is a winner. I stayed in an Airbnb about 10 minutes walk from the Old Town, which suited me as it was quieter but within easy reach of everything.
Uber operates in the Ukraine and, as is always the case, fares are considerably cheaper than local taxis. I got a taxi from Lviv train station to my apartment for 200 hyrvnias whereas my Uber to the airport was 74 hyrvnias. However, when compared to prices in the UK, it's all still incredibly cheap.
Most people do speak English but at varying levels so it's a good idea to download the Ukrainian language file to the Google Translate app on your phone. This means you can use it offline – the translations show up phonetically as well as in Cyrillic. It's also a good idea to figure out how to switch your phone keyboard between English and Ukrainian.
Book train tickets online rather than buy in person. You don't need to print them off to travel, just show your phone.
Like it? Pin it