Syrian Supper Club – Part 2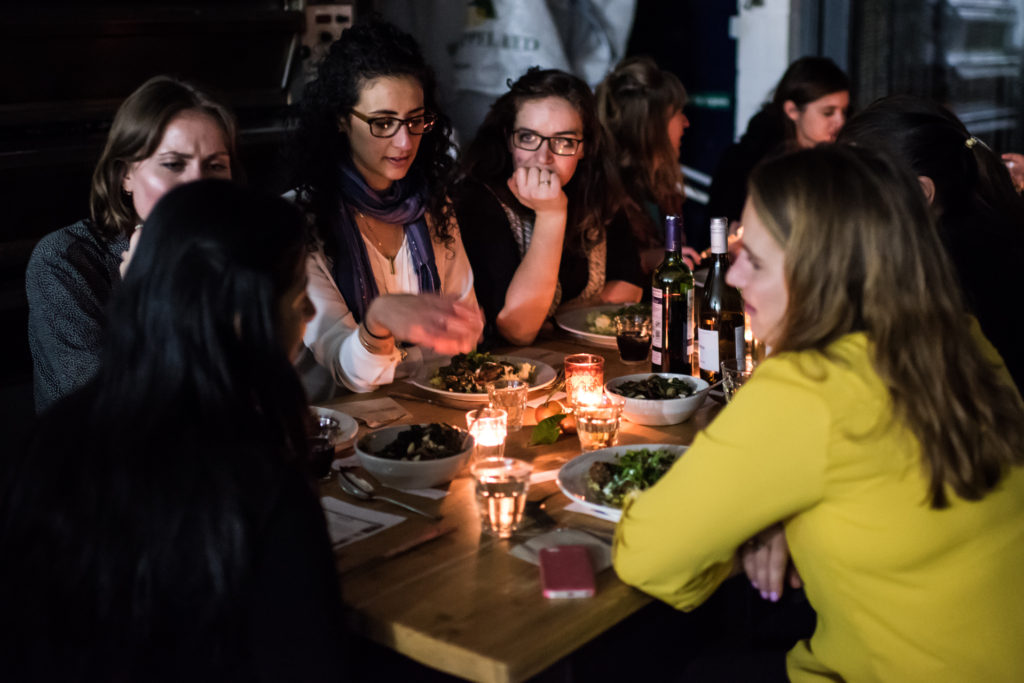 A little while ago I wrote about the Syrian Supper Club and the Hands Up Foundation; a group of young people who were motivated to start a pop-up event aimed at raising money for those affected by the crisis in Syria.  Well, the sound of all that Middle Eastern food made me really hungry so I decided to put my money where my mouth is and check out one of their supper clubs.
Supper clubs are very much on trend at the moment, but I'm a bit ashamed to admit that I had never been to one before.  There are so many to choose from, where do you even start?  So I had no idea what to expect when I arrived at the E5 Bakehouse in London Fields, clutching my bottle of red wine.  The first thing I noticed was the incredible smell coming from the kitchen.  It was the scent of spice, warmth and the exotic.  The second things were the delicious welcome cocktail and the array of mezze dishes dotted around the room.  Waves of these plates were brought out to us and included shwander (beetroot dip), the softest homemade Turkoman flatbreads, little filo pies made with leek and halloumi, and a spiced pistachio soup.
After a short introductory talk about the Hands Up Foundation and the causes that they support, we headed through the kitchen to the candlelit dining area.  Our main course was mehshi halabi – Aleppo-style potatoes stuffed with beef in a tomato and tamarind sauce, with saffron and barberry rice.  This was what had been creating that intoxicating Middle-Eastern scent.  The beef was minced and formed into meatballs, smothered in a sauce so full of flavour you could tell it had been simmering away all day.  The addition of a yoghurt "raita-style" dressing was a lovely touch that cut through the richness of the tomato sauce.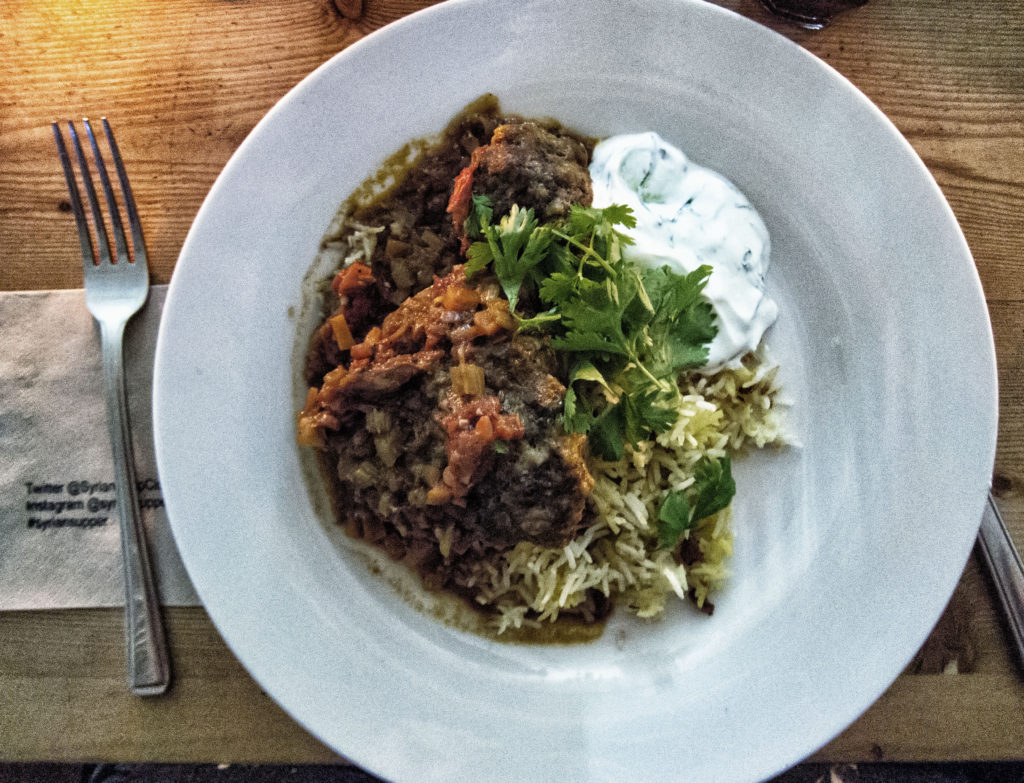 Just in case we weren't already as stuffed as the potatoes, we were then presented with two desserts.  The first was halawiyyat – a meringue roulade with rhubarb, MarmalAid, rose petals and pistachios.  This was a delicious Middle-Eastern twist on a classic dish.  The roulade was supplemented with ma'amoul which are shortbread pastries filled, in this case, with rhubarb, walnuts, cinnamon and orange blossom.  I'm glad there were only enough for one each, as I might have found myself engaging in a feeding frenzy worthy of an entire flock of herring gulls.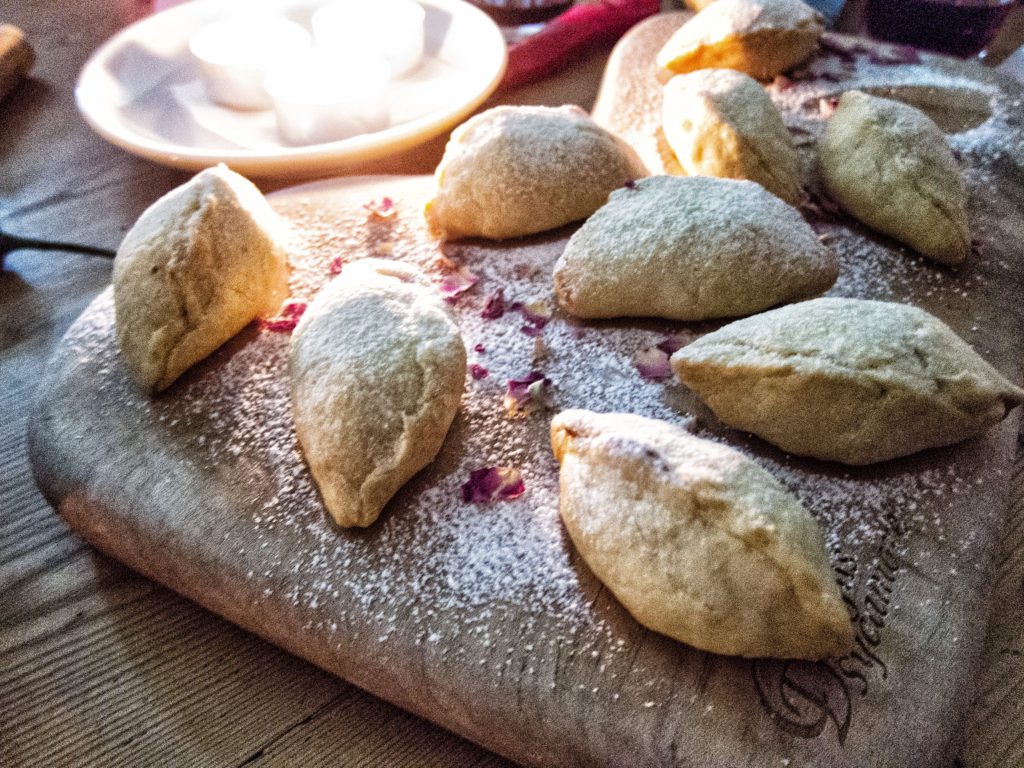 I felt a little apprehensive about attending a supper club alone, but the nature of the event meant that it was easy to chat to people.  And while it all felt very lovely and enjoyable – drinking red wine by candlelight, being served course after course of amazing food – it's important to remember why we were all there in the first place.  The money raised from the supper clubs goes towards funding medical staff and equipment in Aleppo, as well as projects like a prosthetic limb clinic on the Turkish/Syrian border.  This particular supper club raised a grand total of £1,283.16, every penny of which will go to people who desperately need it.  It's such an easy way of contributing towards an excellent cause that there's really no excuse not to go along.
Syrian Supper Clubs are held monthly at E5 Bakehouse and cost £35 (BYOB)
http://www.syriansupperclub.com/