W15 Escape: A Sri Lankan escape from the rat race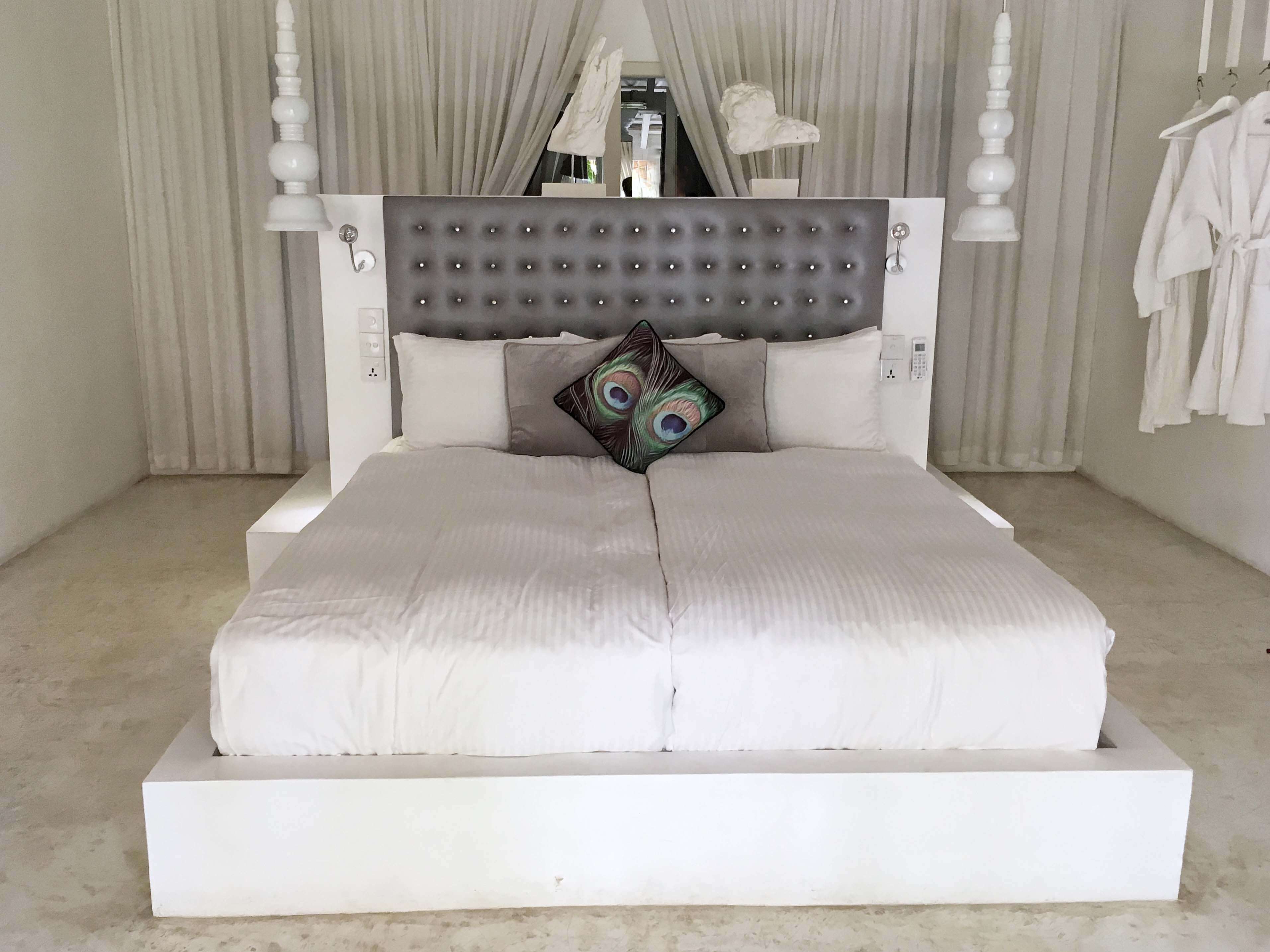 Sri Lanka was the first country I visited after I quit my job, my house and my life in London, and I'm sad to say that I probably didn't do it justice. A two week dash through half of the country while trying to get my head around what the hell I had done was not exactly conducive to a fun time. But when we arrived on Sri Lanka's sleepy, surfy south coast and checked into the gorgeous W15 Escape for a few days, I finally felt like things might just be ok.
As a backpacker, you don't often get to stay in luxurious hotels. Of course, there's the occasional exception when you may decide to throw caution to the wind and treat yourself to a five star hotel for a night… But one of the great things about travelling from the UK to Asia is that you really do get some serious bang for your buck. W15 Escape is the kind of place I could never usually afford to stay if it were in Europe, for example. So it felt like a real treat to check in to an Instagram-worthy hotel at long last; a place where there was nothing else to do but unwind.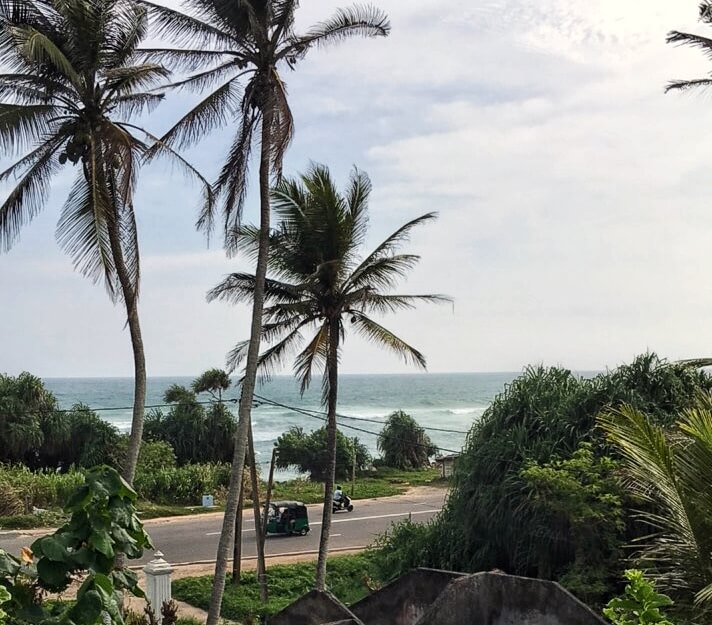 And unwinding was definitely on the cards for us after our journey to W15 Escape. Life on the road in a foreign country is rarely without a hiccup, especially when you're trying to work out how to get from A to B. Sri Lanka doesn't have the greatest public transport system, as we discovered after we arrived, so we had to hire a succession of drivers to deliver us to each destination. Not the cheapest mode of transportation but surely one of the most convenient? No schlepping across town to the bus or train station with your bags, no spending hours squished into a cramped seat. You can stop whenever you like and relax in the back seat of a car safe in the knowledge that your bags are tucked away in the boot. Until your driver gets lost. And pissed off.
We had made the long journey from Tissamaharama to Weligama without incident but all that changed when we realised that our driver actually had no idea where the hotel was. Things were complicated by the fact that there's another W15 in Weligama – and our driver had assumed that's where we were going. What's more, we hadn't realised that W15 Escape isn't even in Weligama but is actually a few kilometres west, near the town of Ahanagama. We drove around and around and around. And around a bit more. Every time we stopped for directions we were sent to the other W15 – mainly because the language barrier meant that our driver hadn't fully grasped that there were two hotels with similar names. He was getting increasingly irritated and we were feeling increasingly uncomfortable. Fortunately, someone eventually realised where we wanted to go but, as we drove away from the town and down some little back road to a set of gates, I have to say that my heart sank a little. I hadn't expected to stay in the middle of nowhere…
All concerns vanished, however, when the gates opened and, as if they were the pearly gates to paradise, we entered a world of pure, gleaming white. W15 Escape is an unusual combination of Scandinavian and Sri Lankan influences – two design styles that you rarely find together. Yet, in these circumstances, they work. The clean white lines and washed out wood that characterise Scandi style are softened by local touches such as peacock-patterned cushions and an emphasis on nature. That manifested itself in outdoor dining and bathrooms that were open to the elements – luckily for us, the weather was nothing short of glorious when we stayed. And of course, no luxury hotel would be complete without an outdoor swimming pool surrounded by palm trees and white-draped cabanas for lounging. Pure bliss….
We stayed in one of W15 Escape's garden suites; a set of pristine white rooms arranged around the communal outside area, overlooking the dining "room" and pool. After staying in some fairly basic rooms over the last couple of weeks, our suite felt like heaven. A huge double bed in the centre dominated the room, there was loads of space for us to spread out, oversized fluffy dressing gowns, a choice of seats (gasp!) and then there was *that* bathroom. Separated from the bedroom by a set of French windows and floaty, gauzy curtains for modesty, it opened onto a small plant-filled patio so you could gaze at the greenery while going for a wee. The shower was one of those fancy rain showers AND there was plenty of hot water – not that we really needed it in the Sri Lankan sun but it's always nice to have the option. Using a bathroom with a wall missing took a bit of getting used to. It felt "wrong" to me and I was a little paranoid at first, thinking someone would be able to see me. But, of course, it's completely private.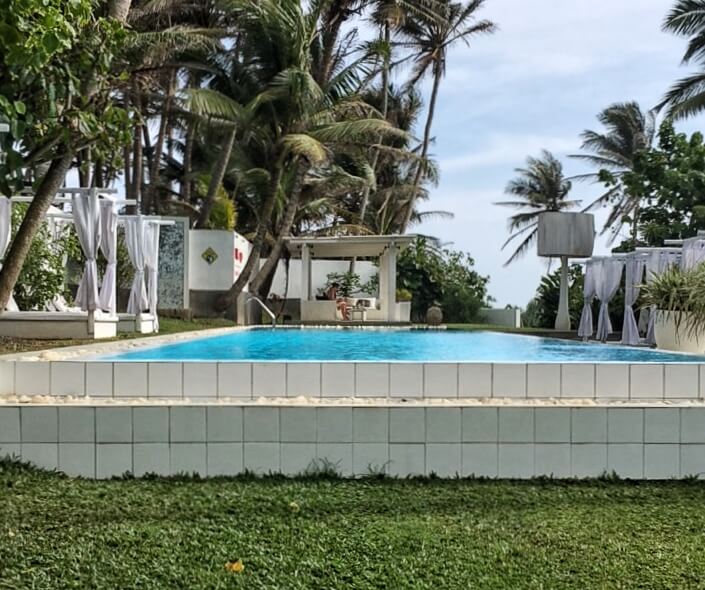 I also loved the fact that there was a little seating area outside each suite and that the staff would come over and take your order for any drinks or food. It felt very decadent to be able to have a glass of chilled white wine brought over to me while I worked just outside of my room. The drinks menu at W15 Escape is extensive, with a great selection of cocktails. I particularly enjoyed their mango daiquiris. As the hotel is located a little way from town we ate there every evening, in the lovely outdoor dining area overlooking the pool. The menu offers a mix of local and Western dishes, with lots of locally sourced seafood to choose from. Portions were generous and the service was second to none. Breakfast was equally brilliant. I never quite got to grips with the whole "curry for breakfast" thing that's so common in Asia so I was glad to have options like porridge, French toast or eggs.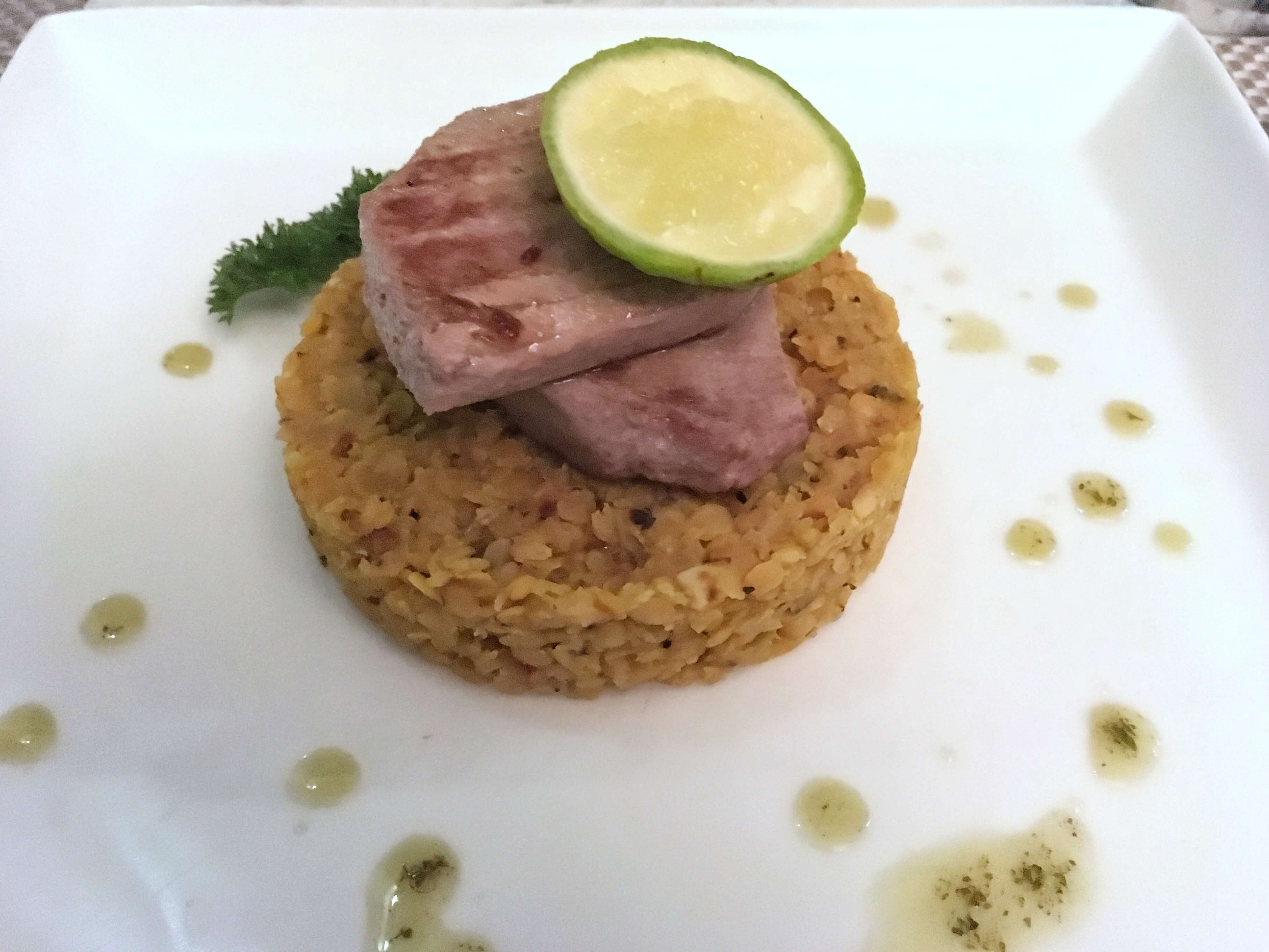 We did end up visiting the "other" W15 during our stay; having passed it so many times, it felt like the right thing to do. Located right on the popular surf beach of Weligama, it was a pleasant spot to enjoy a few cocktails and watch the surfers doing their thing. The town of Weligama was what I would describe as "interesting" rather than lovely. Despite the emphasis on surf tourism, it felt very much like a local's town and I really enjoyed seeing daily life unfold, particularly the fantastic range of seafood stalls along the beach. If it's the beach bum lifestyle you're after then the other direction from W15 Escape will take you to Unawatuna. Here you'll find a gorgeous beach, loads of great restaurants and plenty of spas should you feel like a massage. Some of the restaurants offer beach cabanas which are "free" to hire as long as you order something from the menu – and that something only has to be a drink.
Luxury hotel? Cocktails? Lazy beach days? Ayurvedic massages? Yep, things on the Big Travel Adventure were definitely looking up…
W15 Escape pros:
Huge, gorgeously decorated rooms
Great food and drink options
Excellent service
Swimming pool with a view over the ocean
W15 Escape cons:
Mosquitoes!! The pesky blighters made sitting outside from early evening onwards bit of a nightmare
The wifi connection wasn't great if you're doing the whole digital nomad thing
Not within walking distance of any town
Like it? Pin it!