Borough
,
Comfort food
,
Drinking
,
Elephant and Castle
,
Hampstead
,
Hungarian
,
Italian
,
London
,
Soho
,
Something A Bit Different
,
St James
,
Street food
,
Tooting
,
Travel
The Best Food and Drink of 2016
Yes, everyone keeps saying that 2016 has been the worst year ever.  But when it comes to food and drink, this year has been a cracker.  With more new restaurants and more foodie entrepreneurs than ever, there is no excuse to eat badly.  Here are the best things that I snaffled into my greedy face this year:
Chicken and pistachio shish from Arabica Bar & Kitchen
I wanted to eat everything on Arabica Bar & Kitchen's menu.  I've eaten a lot of samey mezze over the years, but these guys really know how to sex it up.  It's easy to be bamboozled by choice; however, you should definitely include the chicken and pistachio shish in your order.  Forget all about those dry old shish kebabs you may have had the misfortune to eat in the past.  These little skewers are succulent, dripping with meat juices and are infused with the flavours of the Middle East.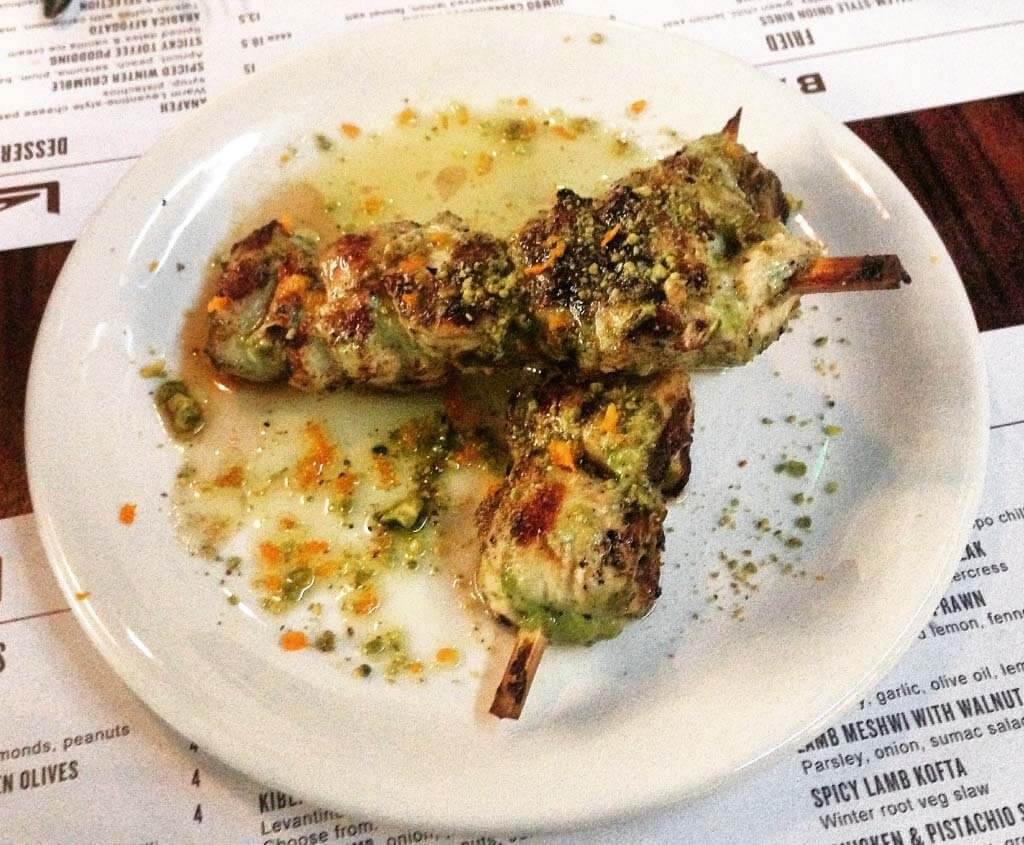 Kürtöskalács in Budapest
Yeah I have no idea how to pronounce it either.  But that won't be a hinderance to you when you visit Budapest because you can find it everywhere.  It's a chimney cake made from a doughnut style dough and rolled in sugar.  It's served hot with various toppings, like nuts or desiccated coconut, but I chose good old fashioned cinnamon.  It was huge but worth every stomach-straining bite.
Fried chicken waffle from Waffle On
You're spoiled for choice when it comes to eating at Maltby Street market.  However, I can definitely recommend the fried chicken waffle with maple syrup butter from Waffle On.  Street food is generally naughty but this is really decadent.  The chicken is fried to perfection, and the combination of sweet and savoury flavours here is sheer bliss.
Rabbit risotto from Cafe Murano
Rabbit's another one that is so often dry and dull.  And a perfect risotto sometimes feels like the holy grail. Not so when these things are in the hands of the chefs at Cafe Murano.  The risotto was creamy, topped off with chunks of juicy rabbit meat and a drizzle of stock.  It's a wonderfully, sinfully rich dish that stood out on a menu that was full of wonderful dishes.
The Meihua Shan at Oriole
Many bars claim to be "speakeasies" but Oriole probably comes closest to the real deal.  For a start, it's genuinely hard to find.  I walked past it a couple of times in increasing confusion.  But once you're in, you're truly through the looking glass.  Their incredible cocktail list – inspired by the golden age of exploration – helps to transport you to another era and another world.  Again, you can be bamboozled by choice (and some unusual ingredients), but the Meihua Shan is worth splashing the cash on.  Made with Hendricks gin, plum rosolio, juniper chou syrup, egg white and lemon, it manages to be both refreshing and creamy.  And, as with all the cocktails from the team behind Nightjar, it looked like a work of art.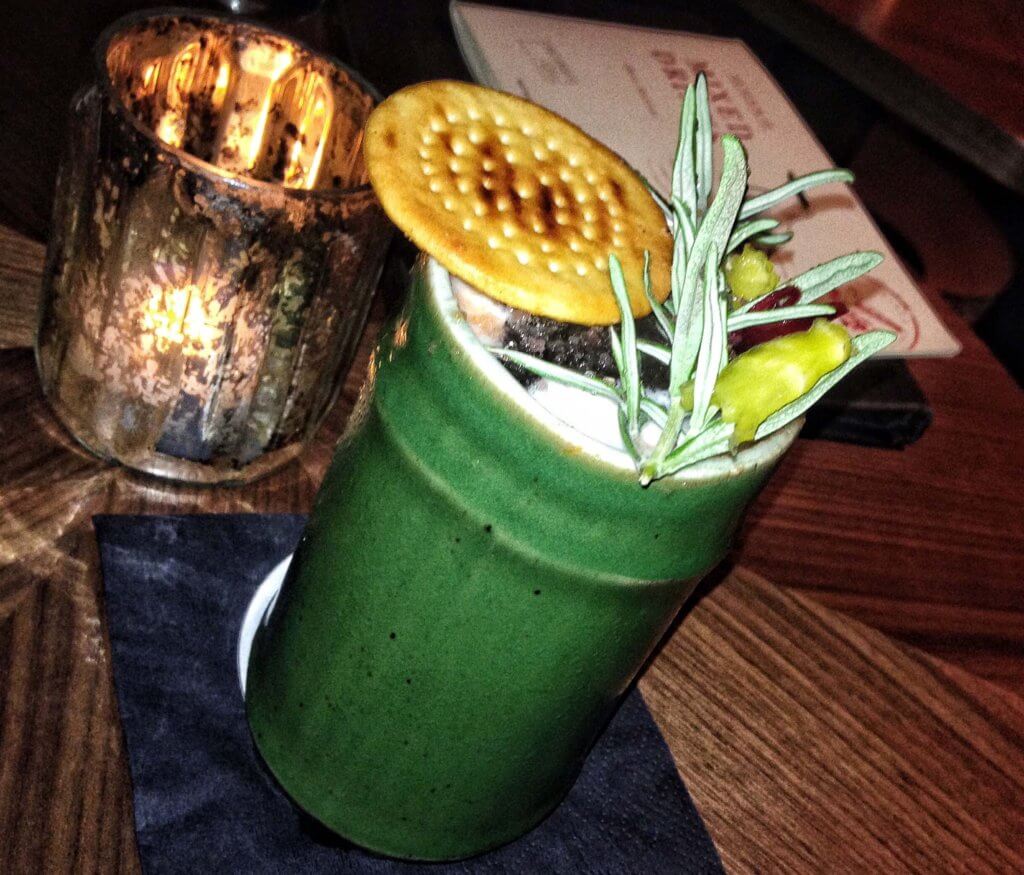 All of the cheese from La Latteria
La Latteria specialise in mozzarella, stracciatella and ricotta.  And they do this exceptionally well.  Scoffing down a plate of their ricotta felt incredibly naughty – it was that creamy.  Then I did the same with their stracciatella.  Seemingly simple produce that, when done well, tastes exquisite.  Find them at newbie food destination, Mercato Metropolitano.
Pork confit bao from BAO
Yes, this has become a bit of "a classic" but justifiably so.  Judging by Instagram, I think everyone in London has now eaten this but, if you haven't, then brave the queue at the door of BAO.  This little squidgy mouthful is worth it.  As is the rest of the menu.
Goat kofte salad from Gourmet Goat
Goat is a much under-rated meat but, when it's handled well, it's delicious.  Gourmet Goat know exactly what they are doing and their goat kofte salad is delightful.  The meat is tender and flavoursome, and the salad is one of the tastiest I have eaten.  It was packed with beetroot, chickpeas, goat kurd and came with a punchy chilli "pistou" – and I gobbled the whole thing up in a matter of minutes.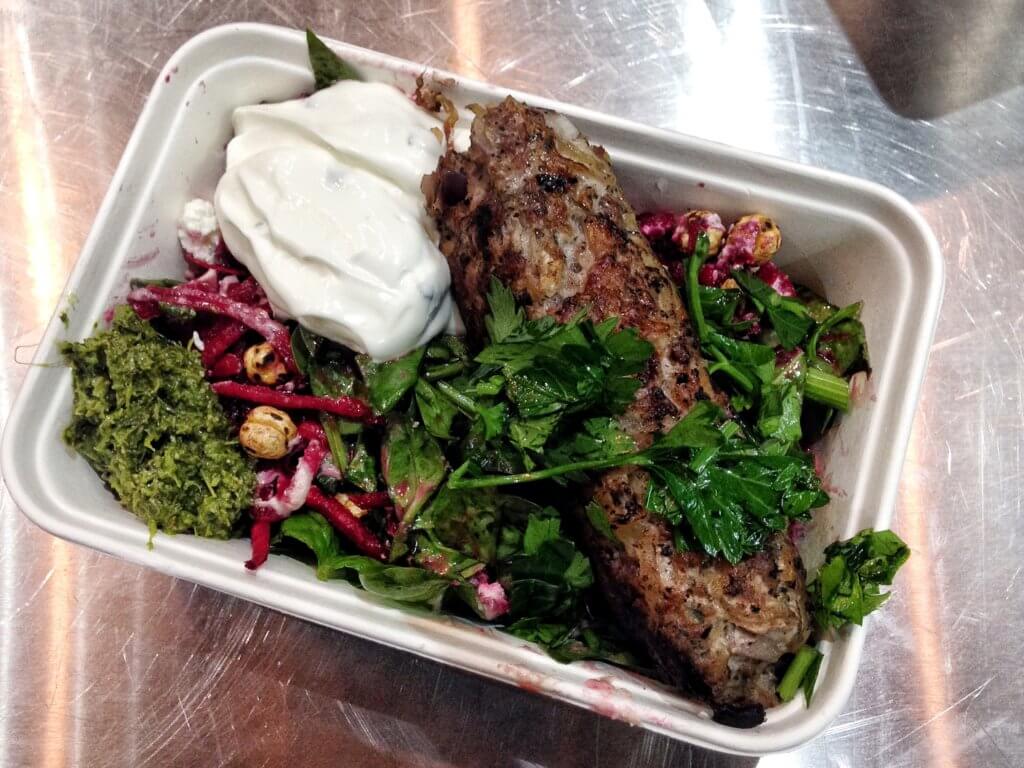 Everything I ate at Rotorino
Admittedly, I'd had a few shandies before my friend and I decided to grab a bite here.  But everything I ate here was delicious.  So much so, that it managed to make an impression through the fog of gin that surrounded me – and one that has lasted.  My starter of marinated mackerel with pinenuts, almonds and breadcrumbs was fresh and zingy.  The roast chicken on toast (yes, toast!) that followed was one of the tastiest roast chooks I have eaten (although annoyingly a little under-cooked in places).  The buttermilk pannacotta with rhubarb for dessert was perfectly executed.  Can't wait to go back.
Chicken livers with pomegranate molasses from Meza
It's taken me 7 years to get around to going to Meza in my 'hood of Tooting.  I now can't believe that I have gone without their chicken livers for so long.  Melt-in-the-mouth with a sticky, sweet, tangy dressing and a great smack of Middle Eastern spices.  I think I might have to nip up the road and get some now….!
"Strawberries and Cream" from Fifteen 
This wasn't a dish of strawberries and cream.  It was actually a cocktail, made for this year's London Cocktail Week.  The list of ingredients was as long as my arm but the end result was simple and elegant.  It really did taste of strawberries and cream, reminiscent of those old fashioned boiled sweets.  And of course it looked as pretty as a picture.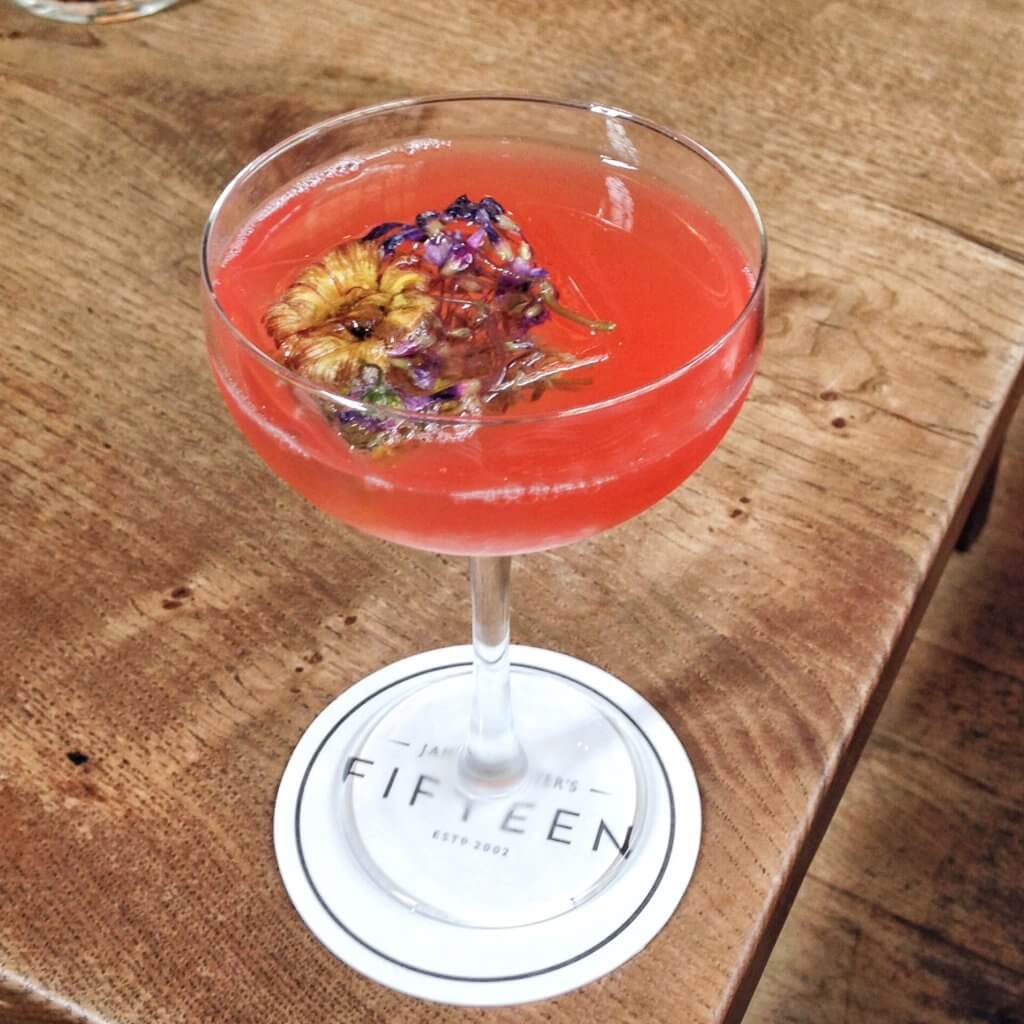 Slow cooked beef cheek pie from The Holly Bush
My second choice dish from the menu at The Holly Bush in Hampstead actually turned out to be the right decision after all.  This "proper" pie was fully encased in buttery shortcrust pastry and stuffed full of the most tender chunks of beef cheek I have ever eaten.  It came with a rich, dark gravy and every mouthful was a pleasure.  Comfort food at its best.
Ricotta dumplings from The Ship Inn, Rye
This dish.  My God.  Ricotta, sage, pumpkin all forming a perfect storm of flavour.  It was so delicious and so comforting to eat.  The cheese was rich and gooey, counterbalanced by the sweetness of the roast pumpkin.  Exactly the sort of thing you want to eat on a dark, chilly winter's night on the Sussex marshes.
Disappointment of the year: Hatchetts
Hatchetts, a new arrival in 2016, had a limited, unimaginative menu that was very over priced for what they offered.  Weirdly, they had a "Christmas dinner" on their standard lunch menu when I visited.  I ordered it because the other three main courses available appealed to me far less than this one did (which is saying something).  It was average.  So was their chocolate fondant dessert.  The plates were stone cold and the restaurant was empty.  When you charge premium prices then you should deliver a premium experience.  This was just lazy and complacent.
I ate a lot over the course of 2016, but I barely scratched the surface of all the amazing restaurants and bars that are only in London  I tend not to make New Year's resolutions but I think, for 2017, I'm going to have just one: eat more.
If you have any recommendations for me then drop me a line.  I'd love to hear them.  Happy New Year!